Additional reporting by Lara Grant
Hay! How about a visit to the 'ole barnyard for your next getaway? Hotels on working farms allow you to leave the fast-paced city life behind -- at least for the weekend -- and hit the country to hone your farming chops. But don't worry; the farmtastic resorts that make our list offer all the amenities of a swanky hotel. It's more like they just happen to encourage guests to rise with the roosters as well. With so many animals roaming about and so much open land to explore, you may just want to pull in the reins on your texting habit and take a digital break during your stay, too. (Again, not to worry -- you don't have to.) Just be sure to pack the overalls, buckaroo -- your hands may get dirty!
Set on a 10,000-acre working cattle ranch in California's , is the kind of place that breeds cowboys. It's a step back in time to the Old West, but with all the amenities. Expect charming, , and plenty of ranch activities. At the Barn Yard, guests can help bottle-feed goats, calves, miniature horses, and sheep. Animal lovers can also gather eggs, and groom and exercise the animals in the corral. Cart rides with miniature horses are a favorite among younger guests, while grownups can ride into the sunset on one of the property's beautiful thoroughbreds.
The now-inn at is in fact a converted 19th-century horse barn and farmhouse. The old milking parlor and hay loft may now be used as a wedding reception facility, but there are still signs of a working farm on the premise. The organic farm offers plenty of veggies for the taking, and this lovely B&B offers incredible views (sweeping over 245 acres) and plenty of fresh air. It has a decidedly romantic ambiance, with rooms that have whirlpool tubs; some have working fireplaces.
This offers the full storybook experience: There's a big rustic barn, 40 acres to roam, ponds for rock skippin', a waterfall, and farm animals grazing in the fields (the adorable baby goats are a major draw). The farm stand next door sells fresh eggs, goat cheese, and seasonal greens. Rooms look straight out of an interior design magazine, with a near-perfect combination of rustic, warm, quaint, and stylish touches. One perk here is an inviting wrap-around porch with Adirondack chairs for admiring the scenery. Be prepared to hunker down and eat on-site, as has little more than a general store to offer.
Ireland's homey , tucked between two medieval villages, gives wannabe farmers the ultimate hands-on experience. Guests can experience to the fullest through outdoor activities that include fishing on the river and feeding the goats, sheep, and chickens. There's little else quite like it in the area, and prices are pretty reasonable for this level of cozy comfort. This rustic property is a solid pick for travelers seeking a slice of traditional .
This resort is a treehugger's dream. Spread over 60 acres in Maine, features 36 suite-like bungalows and two-bedroom cottages. Guests here are encouraged to get their hands dirty, and pluck away at veggies and flowers from the organic farm located on the property. Guests will also discover a tree house built about eight feet above ground, which serves as the resort's . This attracts couples with its tranquil environment and top-notch restaurants, as well as families with its cottages that include full kitchens. The hotel also provides a free shuttle to the beach, which is just a five-minute drive away.
This gorgeous farm hotel is a secluded, serene haven for foodies and nature lovers. Guests can immerse themselves in the beauty of the Appalachians by enjoying the venue's 4,200 acres of land and all the various activities offered. The restaurant, The Barn, offers a true farm-to-table dining experience as a majority of the produce is picked from the property's garden. Being that the farm is known for its food and drink, there are many culinary activities to partake in, such as wine tastings, cooking demonstrations, brewery tours, and gardening.
The four-pearl Inn at Serenbe is a charming retreat surrounded by expansive farms and hiking trails in Georgia's countryside. A small vegetable garden is next to the inn's main pool and The Farmhouse restaurant uses its produce. It also gets produce from the larger 25-acre organic farm, which guests can tour for a fee, and buy produce from at the on-site farmers' markets. Rooms are country-chic, and a treehouse and animal village are just outside, plus there are shops, eateries, stables, and wellness facilities within the larger Serenbe community.
Set on a farm about a 10-minute drive outside of Port de Sant Miguel in Ibiza, the five-room Agroturismo Sa Vinya d'en Palerm is a natural pick for those looking for quiet. The restaurant serves a free healthful breakfast made with fresh produce from the on-site farm and vegetable garden every morning and is open for lunch and dinner on request. A cattle farm, vegetable garden, and a vineyard are all part of the same estate.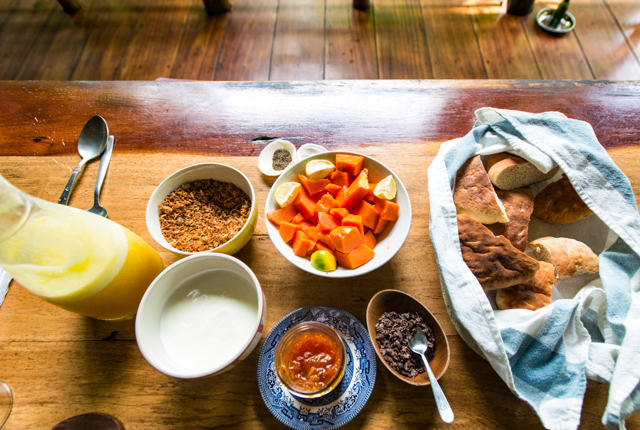 La Loma Jungle Lodge and Chocolate Farm is a mid-range property with 57 acres extending through tropical forests and cacao, banana, and coconut groves. All meals are included and made with organic ingredients from the on-site garden, and guests get free chocolate farm tours. Everyone is encouraged to get involved and get their hands dirty here, whether it's digging up vegetables and catching snapper for dinner, or pulling on rubber boots and helping to harvest and grind the cacao.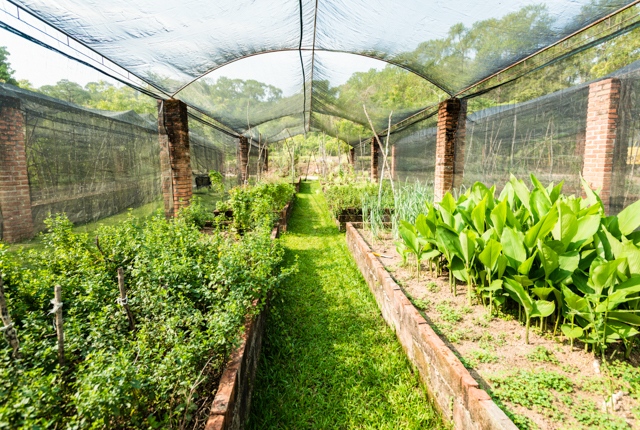 Villa Azalea is an upscale, eco-friendly boutique resort and organic farm on 10 acres of countryside just outside of Puerto Vallarta. Greenhouses grow several varieties of lettuce, tomatoes, chives, lemongrass, chicory, mint, basil, and dozens of other exotic herbs. In the outdoor gardens, crops include jackfruit, mangos, papayas, avocados, banana trees, soursop trees, and different kinds of coconut. A grove of agave plants are used to make organic tequila, which can be sampled and purchased inside. There's an outdoor chicken coop where hens lay farm-fresh eggs.
The 33-room Masseria Torre Coccaro is a charming and luxurious farmhouse property located in the rustic Italian countryside in Puglia. Chefs lead cooking classes for guests, walking around the estate's organic farm to pick fresh vegetables, fruits, and herbs before heading back to the kitchen to learn to make traditional dishes as well as homemade pasta. Additionally, children can also participate in cooking classes and olive harvesting during season.
An upscale farm-stay property in the country between Itatiba and Braganca Paulista, Hotel Fazenda Dona Carolina offers a secluded location and plenty of recreational opportunities. Housed in a Portuguese colonial-era coffee plantation built in 1872, the hotel evokes Old South America. The hotel produces its own coffee and cachaca, the rum-like distilled spirit used in caipirinhas, the quintessential Brazilian drink, on-site.
You'll Also Like:
All products are independently selected by our writers and editors. If you buy something through our links, Oyster may earn an affiliate commission.