Summer is just around the corner, and if a trip to the Grand Canyon is on your bucket list (as it should be), there's no better time to visit! Whether you're planning a day-trip or a week-long stay at the national park, these luxe hotels are the perfect place to come home to after exploring the natural beauty -- and they're all within driving distance. Check out our top ten favorite luxury hotels within driving distance of the Grand Canyon.
Driving time to the Grand Canyon: 3 hours, 32 minutes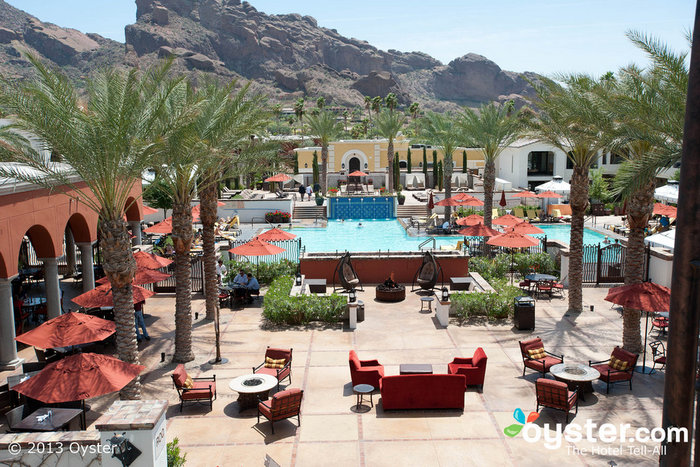 This Spanish villa-style property with great views of Camelback Mountain is one of Scottsdale's most luxurious desert retreats. The grounds feature pretty floral-lined walkways and arched entrances, and sophisticated rooms have lots of Spanish-inspired details, including dark woods and big mirrors.
Driving time to the Grand Canyon: 2 hours, 6 minutes
L'Auberge de Sedona has one of the most stunning natural settings in not just the Southwest, but the country, with the picturesque Oak Creek running underneath shady trees, and Sedona's soaring red rocks suspended in the background. The guest rooms and woodsy cottages are spread across 11 acres, allowing guests plenty of privacy, and most come with fireplaces and private decks. It's a premier destination for a romantic getaway or a corporate retreat.
Driving time to the Grand Canyon: 4 hours, 23 minutes
An elder statesman among the Strip's megaresorts, the 3,000-plus-room Mirage relies less on thematics and a booze-fueled party scene for its appeal — opting instead to emphasize comfortable, well-designed rooms, an enormous pool, diverse dining options, and attentive service. Numerous on-site attractions are aimed at a multi-generational clientele.
Driving time to the Grand Canyon: 3 hours, 30 minutes
This Westin high-rise is luxurious and business-friendly, and offers great views of Phoenix through floor-to-ceiling windows. The large rooms are sleek and modern, and seem bigger than they are under 10-foot ceilings.
Driving time to the Grand Canyon: 3 hours, 39 minutes
This 250-acre Starwood resort and conference center is a luxury property ideally situated on the edge of Camelback Mountain in Phoenix's Sonoran desert. The massive property makes a striking first impression, with its lush green landscaping, waterfalls, koi ponds, and palms set against a rugged backdrop. Meanwhile, communal interiors have an old-world luxury appeal with marble floors and chandeliers. For activities, there is a USGA 27-hole golf course and pro shop, 11 tennis courts with various surfaces, and a winding cactus garden for beautiful sunrise walks.
Driving time to the Grand Canyon: 2 hours, 10 minutes
This upper-middle-range boutique in Uptown Sedona has stylish, contemporary rooms with up-to-date technology. Some have views of the red rocks, but the tiny balconies don't allow for outside seating. The Rouge also boasts a lovely spa, a heated outdoor pool, and daily yoga classes.
Driving time to the Grand Canyon: 3 hours, 21 minutes
This 869-room megaresort north of Phoenix with two 18-hole golf courses is so massive that even the street is named after it — Marriott Drive. The resort mostly attracts families who keep busy with an unending list of activities, as well as large conference groups gathering in one of the ballrooms. The fitness center is small, but it does come with floor-to-ceiling windows, or guests can make use of the 4.2-mile jogging course around the property perimeter. One of the highlights is the 1,600 foot Lazy River pool, for relaxing inner-tube rides along the beautiful grounds.
Driving time to the Grand Canyon: 4 hours, 24 minutes
After roaring back from the brink of death after its construction was stalled for years, the Cosmopolitan quickly established itself as one of the trendier spots on the Strip. The typical Vegas kitsch has been swapped out for aggressively modern design and futuristic touches (guests sign in on an iPad). Fanfare aside, rooms are large and feature comfortable, designer furnishings and modern, open bathrooms. All types of travelers seem to come here, from frat boys to gambling grandmothers, but the nights decidedly belong to the younger crowd with popular clubs and a lively pool scene.
Driving time to the Grand Canyon: 3 hours, 36 minutes
The Four Seasons is one of the top luxury resorts in Scottsdale, with a gorgeous bi-level pool, an intimate setting in the Sonoran Desert, and beautiful grounds that blend with the surrounding landscape (expect tall cacti, flowering shrubs, and natural stone formations). The property comprises a cluster of low adobe-style buildings; the 210 rooms and suites are housed in 25 casitas, giving the Four Seasons the feel of a small village.
Driving time to the Grand Canyon: 3 hours, 37 minutes
Considered one of the top resorts in the Southwest for nearly a decade, the serene yet scene-y Sanctuary continues to impress its high-profile guests with its cuisine, spa, and gorgeous suites. It's not perfect — few resorts are — but it undeniably has the most desirable location in Scottsdale, overlooking Praying Monk Rock and the desert, not suburban sprawl.
All products are independently selected by our writers and editors. If you buy something through our links, Oyster may earn an affiliate commission.