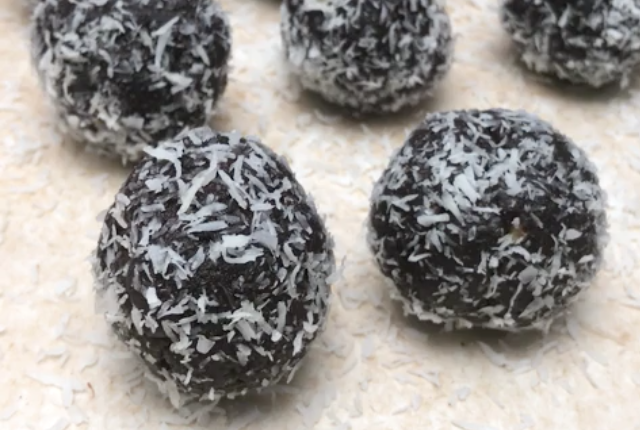 When it comes to getting your carry-on bag through the TSA checkpoint, there are a lot more "don'ts" than "dos." There's a massive list of things you're not allowed to bring into a plane's cabin: liquids larger than 3.4 ounces, baseball bats, dynamite, etc. (Okay, those last two might be a little obvious, but still.) But as it turns out, there are a fair number of things you certainly are allowed to bring onto a plane, and one of those things is food. Sure, there are caveats -- you're not allowed to bring liquid food, like sauce or gravy (loophole: you can bring them on if they're frozen). But the vast bulk of food is actually A-OK to bring onboard, after it goes through the X-ray machine, of course. So we've got a great recipe for no-bake brownie energy bites that are a perfect snack to take on your next flight. They're healthy (but delicious), super easy to make, AND they can make it through airport security. Read on for the recipe -- and scroll down for a video lesson -- and make your next flight just that much more enjoyable.
Ingredients
1 cup pitted dates
½ cup walnuts
¼ cup unsweetened cocoa powder
½ cup unsweetened shredded coconut
1 ½ tsp. vanilla extract
Steps
Combine all ingredients (except for ¼ cup of shredded coconut) in a food processor.
Blend on medium to high speed until a paste forms.
Roll the paste into 12 tablespoon-sized balls.
Coat the brownie bites with the remaining shredded coconut.
https://www.youtube.com/watch?v=-6q6DzBoAX4
You'll Also Like:
All products are independently selected by our writers and editors. If you buy something through our links, Oyster may earn an affiliate commission.