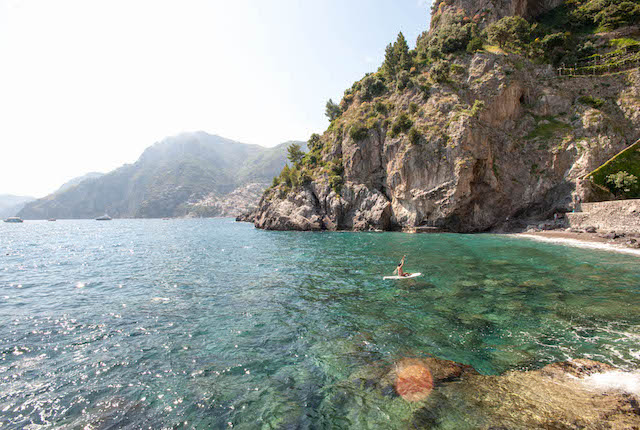 With engagement season behind us (16 percent of proposals take place in December), it's time to plan the most important part of any wedding: the honeymoon. Unfortunately, only one in four couples go on their dream honeymoon. And though that's likely due to budget and scheduling conflicts, we want to make sure that newlyweds aren't missing out on a dream trip because they don't know which destination to pick. Europe remains one of the most popular international honeymoon destinations for Americans, and for our money, two of the best honeymoon hot spots are the Greek island of Santorini and Positano on the Amalfi Coast in Italy.
At first glance, the two glamorous sea-facing destinations have a lot in common. Italy's Amalfi Coast is an idyllic stretch of cozy towns and buildings with stucco walls and colorful roofs built on jagged cliffs above the crystal clear Mediterranean Sea. The Greek island of Santorini is a volcanic rock with whitewashed Cycladic buildings and blue roofs hugging the coast above the sparkling Aegean Sea. But there are some key differences to the vertical villages, so we broke down the two destinations to help you choose your dream honeymoon. Don't become a sad statistic.
Getting There and Around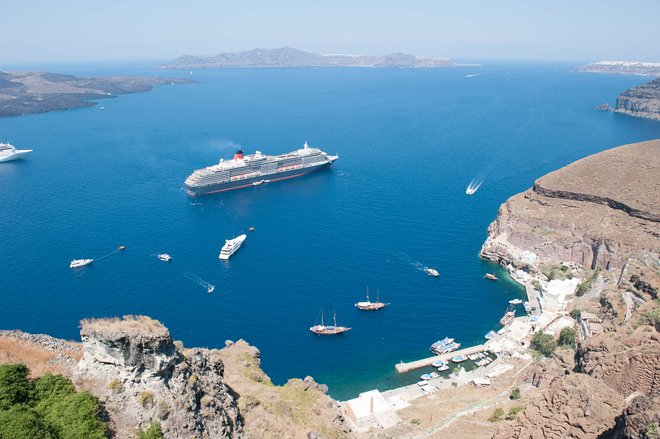 Both destinations require some careful planning to reach. Getting to Italy or Greece from the United States is definitely going to mean a long plane ride (around 10-plus hours from New York City) and then a ferry crossing, car ride, or second flight to reach Santorini and Positano.
The main transportation hub and airport for Positano is Naples. It's over an hour's drive to Positano, and there are a number of coach buses and private cars that make the scenic and sometimes scary drive down the winding, two-lane road. In the summer, ferries crisscross the Gulf of Naples, but there are no direct ferries from Naples to Positano. Be warned that the summer ferry schedule isn't usually published until May. Once in Positano, many visitors hire private drivers or book hotels with shuttle services to get to the beaches and neighboring villages.
The bulk of Santorini visitors arrive via cruise ship or ferry, as there are no direct flights to the island from the United States. It's possible to fly to Santorini from many European cities during peak travel season (generally May through mid-October), and the flight is a quick 45 minutes. Ferry service from the port of Piraeus (about an hour outside of Athens) takes much longer than a flight. There are three options that vary by price and time: the regular ferry costs about $30 and takes almost 10 hours; the Blue Star ferry costs around $40 and takes seven hours; the high-speed ferry costs around $50 and takes five hours to reach Santorini. All the ferries are massive and equipped with restaurants and restrooms. Once in Santorini, it's best to hire a private transfer to reach any hotels built on the cliffs (Fira, Oia, and Imerovigli), as the cliff-facing properties are notoriously difficult to find down steep steps. Another easy option is to take a cruise that ports in Santorini.
Beaches and Water Sports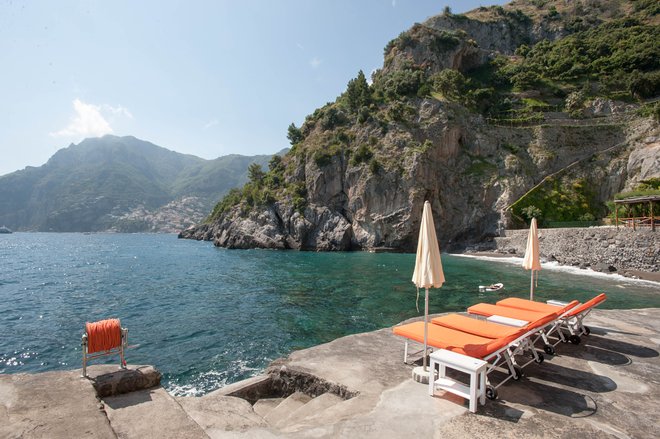 Both Positano and Santorini have gorgeous beaches and excellent amenities, but they're vastly different and neither destination offers the white sands of the Caribbean.
Positano's beach scene is glamorous and lively (though there are many quieter and hidden beaches on the Amalfi Coast for those that want privacy). Marina Grande, the main beach in town, is the central social scene and it's lined with beach chairs and umbrellas for rent from two chic beach clubs. There's dedicated free space for throwing down a towel. The 300-meter-long stretch of sand offers picturesque cliff and Li Galli views, plus there's a string of bars and the notorious disco, Music on the Rocks. Many hotels offer beach access, but very few of them are actually on the beach (Hotel Buca di Bacco is one exception). Some hotels, like Il San Pietro di Positano, work around their clifftop locations by offering private elevators down to the water. The Mediterranean is clear and sparkling, and generally calm enough for swimming and paddleboards. Expect brownish small pebble beaches and man-made cliff jumps to get into the water.
Santorini's beach scene is about a 30-minute drive from the famous villages of Oia and Fira, so for honeymooners who want a full beach vacation, book a hotel in Akrotiri or Kamari (also closer to the wineries). Thanks to a volcano, the stunning beaches are mostly made of either black or red pebbles. Red Beach is the most striking stretch of shore and the most difficult to access. It either requires a winding drive down a partially washed out road or a 20-minute hike that'll have you scrambling down some hills with rope railings. The breathtaking red cliffs and excellent snorkeling conditions are worth the struggle for many visitors. For those who would rather have cocktails served to a beach chair, the black pebble beach in Kamari is far more upscale. Water sports rentals and beach chairs are easily available.
You Might Also Like: The Ultimate Guide to Santorini's Best Beaches
Book Your Stay at Il San Pietro di Positano:
Food and Restaurants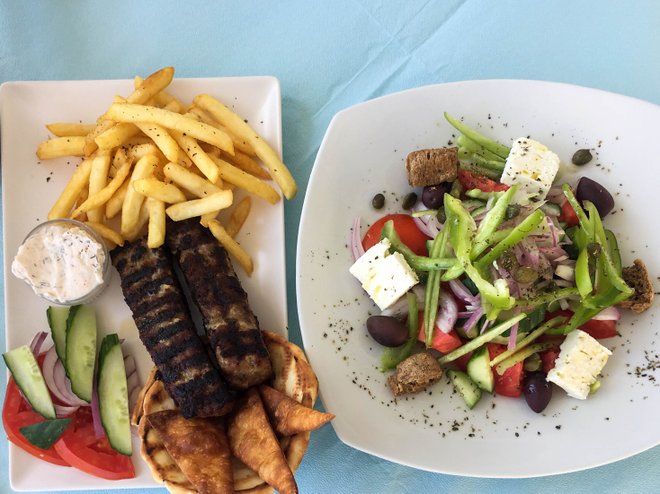 Italian food versus Greek food is like choosing between, well, Italian and Greek food. Both destinations have epic food scenes and incredible (ancient) winemaking traditions.
Positano has the market cornered on pasta, an array of fresh seafood, and tart lemons — the citrus fruit grows profusely on the Amalfi Coast. The region is known for handmade pasta, but it's usually eaten as a smaller first course or a side dish, accompanied by seafood (frutti di mare). Apart from gooey mozzarella made in the nearby Monti Lattari mountain chain, Provolone del Monaco is one of the most famous local cheeses, a semi-hard sweet cheese with a yellow rind. Second courses usually focus on seafood. It's almost sacrilegious to skip the post-meal limoncello, considered the best lemon liqueur in the world. It's hard to pick a bad restaurant in the region, as even the rest stops sells prosciutto and mozzarella sandwiches. Chez Black, a Positano institution, is well-known for pizzas overlooking the beach and is a popular destination for celebrity visitors.
Santorini does an excellent job at focusing fully on Greek restaurants, with very little variation of the theme. As an island, there is seafood and fresh fish to be had, but octopus and calamari are the highlights. Many of the restaurants that overlook the caldera for sunset are overpriced, but the food quality is good. Greek favorites include moussaka (a casserole-like dish made with melted cheese and eggplant), stuffed peppers and tomatoes, and broiled feta cheese topped with sesame seeds and honey. Fresh Greek salads and succulent pork skewers are cheaper and no less delicious options to be found away from the main tourist areas. For an authentic and memorable home-cooked Greek meal, check out Katerina's Traditional Restaurant in Fira. Surprisingly, there are a handful of traditional wineries on the island. Santo Wines has the best wine flights and incredible Aegean Sea views.
Book Your Stay at Sea Side Beach Hotel:
Weather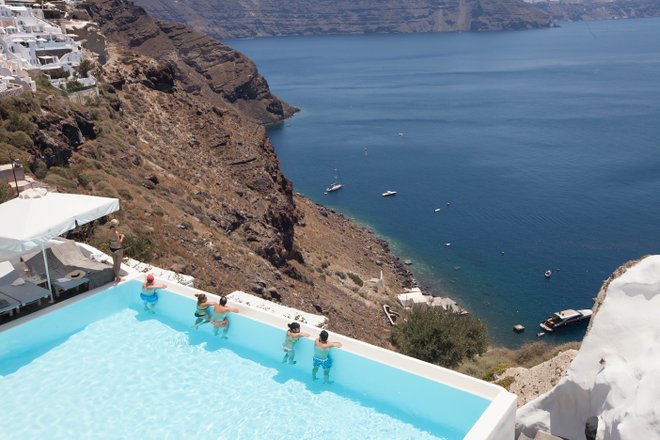 The winter season can be a dramatic and moody time to visit both Positano and Santorini. The crowds (and many of the residents) disappear and high winds spray the cliffs with sea water. Though hotel prices drop dramatically, many hotels and restaurants close completely. The ferry service shuts down in Positano and there's limited ferry service to Santorini.
The Amalfi Coast's best weather is from April to June, when spring opens the flowers and warms the sea. Crowds are still relatively light and prices are lower than during high season. July and August are easily the hottest and most crowded months, but arguably the most fun thanks to a crush of festivals, like the fireworks display and parade to honor Feast of Santa Maria Maddalena on July 22. September through November tends to see the most rain.
Santorini is much further south than Positano, and the island rarely sees rain in the summer months. Much like Positano, temperatures are pleasant in the spring and then dramatically warm up for the busy summer season. By the end of September and through October, it'll likely be pretty chilly for swimming in unheated pools and the Aegean Sea.
Activities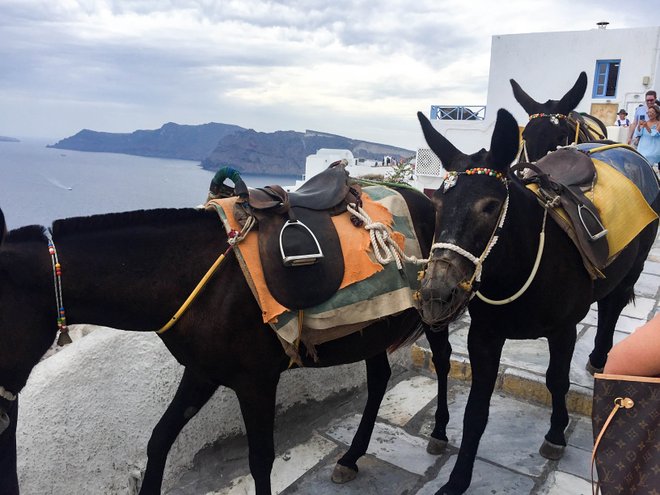 Both honeymoon destinations cater to all kinds of couples, with activities ranging from relaxation to adventure. Of course, you could easily spend an entire honeymoon in either place eating, watching sunsets, and taking a dip in the hotel's pools.
Positano is an ideal starting point for those who want to explore the area's villages, beaches, and mountains. Many honeymooners make time for a day trip to Capri or a spa day in nearby Conca dei Marini.
The main action in Santorini takes place on sailing and catamaran excursions or at the wineries. Active couples should consider hiking along the caldera from Fira to Oia. A donkey ride makes the trek easier on the steepest part of the climb.
Hotel Expectations
Hotels are expensive in Santorini and Positano, especially in high season. And while most properties are kept clean and in good shape, it's important to have a realistic expectation of what you'll get for your money in either destination.
Positano offers a mix of cliffside and beach level hotels, though the views from the higher vantage points are usually worth the hassle of steps. Most of the hotels are on the small side and many were once private mansions that have now been converted to boutique hotels. Some honeymooners find the antique furnishings and fussy bedspreads favored in the region to look too old-fashioned, while other visitors find the style to be charming. Other complaints usually center around old plumbing and lack of soundproofing.
Cave-style hotels are incredibly popular in Oia, Fira, and Imerovigli. And while whitewashed rounded walls and private terraces with caldera views provide an excellent sense of place and history in this ancient fishing village, some people find the rooms to be dark and claustrophobic. Cliff hotels are built directly on top of each other (in most cases), so "private" whirlpools usually aren't that private. The island doesn't have potable water, so expect to drink bottled water and take slightly brackish showers.
Book Your Stay at Covo Dei Saraceni:
You Might Also Like: Rookie Mistakes to Avoid in Santorini
They say that scent heightens romance, so find your scent with Scentbird for a staple to your honeymoon.
You'll Also Like:
All products are independently selected by our writers and editors. If you buy something through our links, Oyster may earn an affiliate commission.