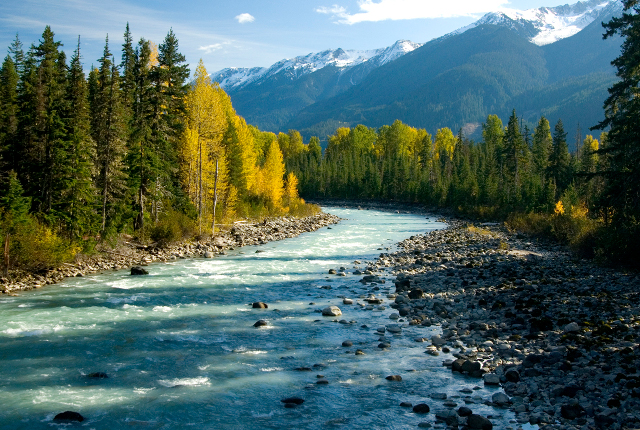 Welcome to Oyster! Your online authority on all things hot springs. And Canada. Just kidding -- as you know, we're hotel experts, but perhaps you've noticed our obsession of late with geothermal hot springs and Canadian travel destinations. Of course, outdoor hot springs in Canada are a mind-blowingly magical combo of the two. Soaking in restorative hot springs is the perfect antidote to hiking (or skiing, or snowboarding, or even just driving) through the wilderness. The mineral-rich waters work wonders on relieving muscle tension, and besides, just imagine the gurgling warm water accompanied by crisp, Canadian air. Through the steam is insane alpine scenery -- snowy river banks, jagged mountain peaks, vast forests of pines, aspens, and spruces. Take a look at some of Canada's extraordinary hot springs (and let us know your favorites, too!).
1. Fairmont Hot Springs in Southeastern British Columbia
https://www.instagram.com/p/BQ3rrzXDm1t/
Let's begin with the largest natural hot springs in the country, Fairmont Hot Springs. Here, it's hard to say what's more therapeutic: the warm, fresh spring waters (whose mineral makeup includes calcium, magnesium, potassium, sodium, and silica) or the stunning panoramic backdrop of the Rocky Mountains. More than a million gallons of the mineral-rich water circulates through the three pools (which range from 86 to 102 degrees Fahrenheit) each day at Fairmont Hot Springs Resort. This on-site, eponymous hotel can't be beat for travelers who want to be as close to the springs as possible, but for another amazing Canadian experience, stay within Banff National Park, about a two-hour drive away. We recommend the Fairmont Banff Springs.
2. Harrison Hot Springs in Southwestern British Columbia
https://www.instagram.com/p/BSOlexejkU1
Long before it became a wellness destination for Europeans in the 1800s, Harrison Hot Springs was a healing site for native Sts'Ailes First Nations people, who called the hot springs Kwals, meaning "boiling water." Located on the southern banks of Harrison Lake, the waters here reportedly have one of the highest mineral concentrations of any hot spring in the world. Staying at Harrison Hot Springs Resort & Spa is a bit of a no-brainer, as the resort has its own hot-springs-fed pools, including a family pool, a lap pool, and an adult-only pool with an underwater bench for those who'd rather soak than swim. The resort's Indoor Hot Pool — the warmest on the property — is designed for soaking up minerals. Harrison Beach Hotel (with a lakeside location) and Harrison Lake Hotel (slightly farther inland) are simpler hotel picks with fewer features than Harrison Hot Springs Resort, but both are closer to the town's public hot springs pools and have slightly lower rates.
3. Liard River Hot Springs Provincial Park in Northern British Columbia
https://www.instagram.com/p/BPGvnyTAl17
Just off of Alaska Highway's Historical Mile 496 is one of Canada's most remote, most rustic, and most remarkable hot springs. Liard River Hot Springs Provincial Park is located in the northernmost reaches of British Columbia, about 50 miles south of the Yukon Territory border (remote). It's the second-biggest natural hot springs in Canada after Fairmont, but its facility checklist doesn't come close to corresponding with its large size. Here, bathrooms are pit latrines, changing rooms have no heat (or lockers, or showers), and food outlets are non-existent, other than picnic tables and fire pits (rustic). And even though Liard River is north of the 55th parallel, its natural pools bubble at about a balmy 100-plus degrees year round. The warm waters support a surrounding microclimate that is practically subtropical, with hundreds of flora species, including ferns, flowering plants, and about a dozen varieties of orchids. Many of these plants are visible from the wooden boardwalk leading to the pools. Lucky soakers might also get a glimpse of a moose, black bear, or, depending on the season, the Northern Lights (remarkable). Overnighters have two options: pitching a tent or parking an RV at the on-site campground, or booking a room at the log-cabin-like Liard Hot Springs Lodge, which has a restaurant and a fueling station, across the highway.
4. Miette Hot Springs in Western Alberta
https://www.instagram.com/p/BMBSjBgh02b
The strenuous Sulphur Skyline hiking trail weaves far above the tree line, delivering some of the most magnificent vistas in Alberta's Jasper National Park. Afterwards, trekkers typically treat themselves to a dip in Miette's series of hot, warm, and cold pools, which provide breathtaking aspen-covered-Canadian-Rockies views of their very own. Unlike Liard, Miette is a well-developed and long-commercialized spring with a concrete four-pool deck, plus showers, lockers, towel rentals, vending machines, and a snack/coffee bar. Admission is cheap and there are no time limits. You can even buy a suit here if you forgot to pack one. Miette's water — abundant in sulphate, calcium, magnesium, bicarbonate, and sodium — rushes from its source at a whopping 129 degrees, then cools to a pleasant temperature somewhere between 98 and 104 degrees. Visitors who find themselves sufficiently rejuvenated and up for more trekking can walk up to the source and check out the ruins of Miette's original early 20th-century bathhouse. Our hotel picks for the area include 99-room Crimson Jasper, which perfectly blends a modern look and a mountain vibe, and Alpine Village Cabin Resort – Jasper, where log cabins feature stone fireplaces, kitchens, Athabasca River views — and regular elk sightings.
5. Lussier Hot Springs in Southeastern British Columbia
https://www.instagram.com/p/BRHr94mFuDJ
Lussier Hot Springs is not a destination for the faint of heart. Getting here requires driving on a curvy and unpaved logging road through the steep mountains — a journey whose nerve-wrackingness is ironically at odds with its relaxation end-goal. Drivers plucky enough to ply the lonely winding route to Lussier are rewarded with a cluster of natural stone pools along the river's edge, each one simmering with crystal-clear thermal water. All around is nothing but pure — often snowy — BC wilderness.
Lussier might not have "provincial" right in the name, like Liard River, but, as you can imagine, it is similarly simple. Facilities are pretty much limited to a couple of outhouses and a chained trashcan. (We trust that anyone intrepid enough to visit Lussier knows how to exercise caution, but we'll say it anyway: the absence of chlorine means the presence of algae on the river rocks. So be careful.) There are several campsites in the area — Alces Lake Campground at Whiteswan Lake Provincial Park is about a five-minute drive down the logging road — and Elizabeth Lake Lodge is an hour-and-15-minute drive down the river. You can also stay near Banff National Park, just shy of a three-hour drive away, at the Copperstone Resort.
6. Banff Upper Hot Springs in Southwestern Alberta
https://www.instagram.com/p/BJMyyo8ASk7/
Miette Hot Springs' facilities were modeled after those at Banff Upper Hot Springs, a well-equipped hot springs in the ski resort town of Banff. The late-19th-century chalet-like bathhouse presides over Banff Upper Hot Springs's concrete pools, which in turn look out over towering pines and snow-capped Rockies. Amenities include changing rooms, a cafe, and a deck lined with colorful Adirondack chairs. Suits and towels are for sale, and the pools are lifeguarded. The handsome and elegant Rimrock Resort Hotel is a five-minute walk from the spring, and for those who want to stay in Banff's charming historic downtown, we recommend Moose Hotel & Suites.
7. Radium Hot Springs in Southeast British Columbia
https://www.instagram.com/p/BSrfZbCgWYR
Radium Hot Springs is one of the major attractions in Kootenay National Park. In fact, the popularity of the historic springs led to the development of the village of the same name. The midcentury-modernist facilities here (multiple large pools, a restaurant, a spa with massages) are a big departure from the chateau-style look of Upper Banff Hot Springs, which has a distinctly turn-of-the-last-century character. The springs are located in the valley of a deep ravine, so swimmers gaze up at the encircling scenery, rather than take it in from a staggering viewpoint, like at Miette or Upper Banff. For lodging, we like the charmingly simple, slightly retro Crystal Springs Motel in town or Delta Banff Royal Canadian Lodge an hour and forty minutes away.
8. Ainsworth Hot Springs in Southeastern British Columbia
https://www.instagram.com/p/BHQoMtBjaFi/
Like Harrison Hot Springs, Ainsworth's waters have long been revered for their healing power by local First Nations people (here, the Ktunaxa). The modern-day resort built on top of the springs doesn't have the solemn, wellness-focused atmosphere that you might expect from a place with such a venerable and curative pedigree; instead, Ainsworth's folksy vibe is family-friendly, with a healthy dose of western-style kitsch. Kids might enjoy swimming through Ainsworth's horseshoe-shaped, stalactite-filled cave, while more mature guests might appreciate the views of Kootenay Lake. The hot-springs pools can get quite crowded with visitors relaxing after a day of downhill or cross-country skiing, but Ainsworth Hot Springs Resort guests have exclusive access to them for two hours each day. That's a good incentive to stay on-site, but we also recommend overnighting at Hume Hotel & Spa, an 1898 landmark hotel in the quaint town Nelson, about a 45-minute drive south.
9. Takhini Hot Pools in Yukon Territory
https://www.instagram.com/p/BBs-04OtMKf/
Remember when we described Liard River as one of the most remote hot springs in Canada? Takhini Hot Springs in the Yukon Territory's Boreal Forest is a full day's drive to the north and west from Liard, making it the most far-flung hot spot on this list. Water rich in calcium, iron, magnesium, potassium, sodium, and silica continuously flows from the spring source at about 118 degrees, with Takhini's two paved pools hovering around 97 and 108 degrees.
Basking in steaming water in the Yukon backcountry is pretty high on the once-in-a-lifetime experience scale, but here's how you can make it even more extraordinary: Rent one of Takhini's two pools during Northern Lights season. Takhini is open year round and, every February, is host to the International Hair Freezing Contest, where participants dampen and sculpt their hair, then let it freeze in bizarre formations (many frozen coifs resemble a heap of frost-covered, gravity-defying spaghetti). There are a campground and hostel on-site; guests at both receive a discount to the springs. Travelers wanting to stay in the Yukon capital of Whitehorse, about a 30-minute drive south of the springs, could try booking one of the seven cabins at Sundog Retreat, which has a sauna and an outdoor hot tub.
10. Keyhole Hot Springs in Southwestern British Columbia
https://www.instagram.com/p/BSq88miFl0w/
Keyhole Hot Springs is in the same spirit as Liard and Lussier — perfect for travelers who like their soak with a side of adventure. Getting here means navigating a dirt road and hiking — or snowshoeing — a mountainous trail along the Upper Lillooet River before easing into one of Keyhole's aerie-like stone hot pools, which were masoned by local volunteers. Perched above the river, the string of hot springs provide much-needed relief from the cold air and, of course major bragging rights. Pemberton, about a two-hour drive to the southeast, is your best bet for a hotel room; try the cozy Pemberton Valley Lodge, nestled into the Coast Mountains.
What are your favorite Canadian hot springs? Let us know in the comments below!
Also, check out:
All products are independently selected by our writers and editors. If you buy something through our links, Oyster may earn an affiliate commission.