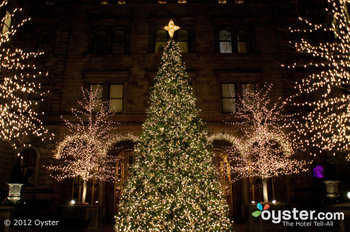 [js_single_hotel_rates_cta hotel="76746" /]
Christmas markets, or Christkindlmarkts as they are known in Germany, originated in the Late Middle Ages as a way to celebrate the beginning of Advent — the four-week lead-up to Christmas Day. Usually hosted in town squares, these street fairs offer all kinds of seasonal charm, including handcrafted Christmas decorations and gifts, and tasty treats like mulled wine and gingerbread. From Scotland to Chicago, German-style Christmas markets are offering a jolly dose of holiday cheer to people around the globe. Here are some of our favorite Christmas markets the world-over — and the charming hotels to call home so that visions of sugar plums are sure to dance through your head all night long.
Berlin's Christmas Markets
With over 60 Christmas markets held each holiday season in Berlin, those seeking some magical winter charm need look no further than the German capital. The creme-de-la-Christmas-creme, however, can be found at the historic Gendarmenmart, which is bordered by the French and German Cathedral on one side and the Concert House on the other. Visitors can wander the many booths lining the streets, or visit the heated craftsmen tent where toy makers, goldsmiths, and wood carvers show off their talents. The market stays open through New Year's Eve, when visitors can hear various bands, toast the New Year with fireworks, and dance a traditional waltz after midnight. There is a one-Euro entrance fee (which is odd for a Christmas market) and New Year's Eve tickets cost 10 Euro. Other historic Christmas markets in Germany include Dresden's and Nuremberg's charming fairs.
Where to Stay: Bleibtreu Hotel
A boutique property that has managed to ingratiate itself with its neighborhood, the Bleibtreu Hotel offers a charming bistro/diner and a flower shop with an outdoor garden that is often frequented by locals. Rooms are stylish and functional, if small, and are decorated with natural materials; some have balconies.
Edinburgh's German Christmas Market
Edinburgh has been consistently voted as one of the best cities in the United Kingdom to spend Christmas — and for good reason. Its renowned German Christmas Market features unique craft items, steaming cups of Gluhwein (red wine heated with cinnamon, cloves, vanilla, citrus, and sugar), and German biscuits and venison burgers. Visitors can ride the Edinburgh Big Wheel, offering spectacular views of the city, or go skating around Europe's largest open air ice rink. Fairy lights will guide you through Edinburgh's charming streets to one-of-a-kind boutiques during the city's extended late-night shopping hours.
Where to Stay: The Scotsman Hotel
The Scotsman is an upscale historic boutique located right off the Royal Mile, in the heart of Old Town. The building is a former printing house, and many of the original features are preserved, including an Italian marble staircase, ornate ceilings, and oak paneling. Luxurious amenities include a relaxing spa complete with an indoor pool, a large fitness center with classes and personal trainers, and a wonderful brasserie.
Chicago's Christkindlmarket
Inspired by Nuremberg's ancient market, Chicago's Christkindlmarket serves traditional German fare (including sausages, sauerkraut, potato pancakes, and plenty of German brews) and features vendors from around the world selling holiday wares. Nativity scenes, ornaments, and Swarovski crystals can be found at the various stalls in Daley Plaza, as well as jewelry, teas, and clothing. There are also plenty of kids' activities, such as caroling and coloring.
Where to Stay: Hotel Sax Chicago
This 354-room hotel is centrally located right on the river, minutes from The Loop and the Christkindlmarket, and across the street from the iconic House of Blues. It features a modern but smallish fitness center, many dining and drinking options on-site (including the sexy Crimson Lounge and the Bin 36 restaurant), and in-room spa services. The decor is sleek, modern, and neoclassical — it's a great pick for those looking for a chic, urban experience smack in the heart of the city.
Quebec's Christmas Market
Quebec's German community organizes and constructs this small Christmas village each holiday season. Charming wooden booths feature scrumptious snacks such as German Christmas cakes and gingerbread, as well as bratwurst, hot chestnuts, and mulled wine. Free concerts are held on the weekends, and vendors sell quality crafts. Throughout Canada, there are other Christmas markets for visitors to peruse, including ones in Toronto, Vancouver, and Kichener.
Where to Stay: Fairmont le Chateau Frontenac
This grand Quebec City landmark is housed in a 19th century castle — making it perfectly picturesque for a holiday retreat — and is full of ornate design features, such as a double staircase, wood paneling, coffered ceilings, and chandeliers. Rooms are elegant, and some have fantastic river views, but they start at just 175 square feet.
Bolzano's Christmas Market
Just over two hours from Venice, the charming city of Bolzano hosts Italy's largest Christmas market each year in the shadow of the Alps. The city has a deep German heritage — it was originally part of the Austro-Hungarian Empire until it was annexed by Italy in 1927 — and today, 25 percent of the populace speak German as their first language. During the festival, holiday aromas (chief among them mulled wine and hot chestnuts) fill the air of Piazza Walther as the picturesque streets of Bolzano are bathed by flickering candles and twinkling lights. Booths selling handmade candles, honey, musical instruments, and hand-colored glass ornaments dot the square, while Christmas concerts take place in the surrounding churches.
Where to Stay: Hotel Palazzo Stern
This boutique hotel is housed in a restored historic building on the Grand Canal, with sections dating back to the 15th century. The room decor is in a traditional Venetian style, with crystal chandeliers and luxurious curtains. And as the hotel is just 15 minutes away from Venice's train station, visitors hoping to experience Bolzano's Christmas charms will be able to easily purchase a ticket and visit the city for a day or a weekend. For those looking for other Italian Christmas markets, the ones in Naples, Rome, and Trento are also top-notch.
Paris's Marche De Noel
France's Christmas markets are among the most beautiful in the world, particularly those that dot the French-German border. Cities like Lille and Strasbourg — which boasts France's oldest Christmas market (this year will mark its 442nd birthday) — host charming fairs that feature nativity plays, carolers, ice skating, and mulled wine served in boot-shaped mugs. Delicate ornaments and nativity figurines are for sale, as is seasonal fare such as bredele cookies and flamed cakes (thin pizzas of bacon, onions, and creme fraiche). Not to be outdone by its pseudo-German neighbors, Paris has dozens of Christmas markets lining its streets, the largest of which stretches from the Champs-Elysees to the Place de la Concorde.
Where to Stay: Hotel de l'Empereur
The Hotel de l'Empereur is a 31-room boutique with jaw-dropping views of the imposing Hotel des Invalides in Paris. Elegant rooms, renovated in 2010 and now offering modern bathrooms with walk-in showers, as well as air-conditioning, are tastefully decorated with patterned wallpaper and dramatic drapes. The wonderful location is within walking distance of the Eiffel Tower and various Christmas markets in Paris. Lille is a two and a half hour drive or one hour train ride away. Strasbourg is most easily reached by train; the trip lasts two and a half hours.
New York City's Holiday Shops at Bryant Park
Over 125 vendors set up shop in Bryant Park each holiday season. Artisans of varying trades are clustered together in this 10-acre park, selling everything from clothing and accessories to food and home decor. After perusing the shops, take a glide around Bryant Park's skating rink (for free!) or grab a bite at Celsius, the glass-enclosed restaurant constructed each November for the shops. The approach is decidedly more New York than traditional German, but the chic setting and bounty of vendors make this a requisite holiday stop if you're visiting NYC. Other jolly spots include the holiday gift shops at St. Bartholomew's, the Union Square Holiday Market, the Grand Central Holiday Gift Fair, and the Columbus Circle Holiday Market. In the boroughs, the Astoria Market and Artists & Fleas Brooklyn Holiday Bazaar are both popular.
Where to Stay: Bryant Park Hotel
If being in close proximity to the holiday shops at Bryant Park, you can't get much better than the Bryant Park Hotel. One of New York's sexiest boutiques, conveniently sandwiched between Grand Central and Times Square, the Bryant Park Hotel caters to fashion and entertainment types and discerning Europeans. The combination of friendly, personalized service, a great bar and restaurant, and cool, comfortable rooms — all within a 128-room art deco building — makes it a distinctive pleasure, especially during the holiday season.
RELATED LINKS:
All products are independently selected by our writers and editors. If you buy something through our links, Oyster may earn an affiliate commission.