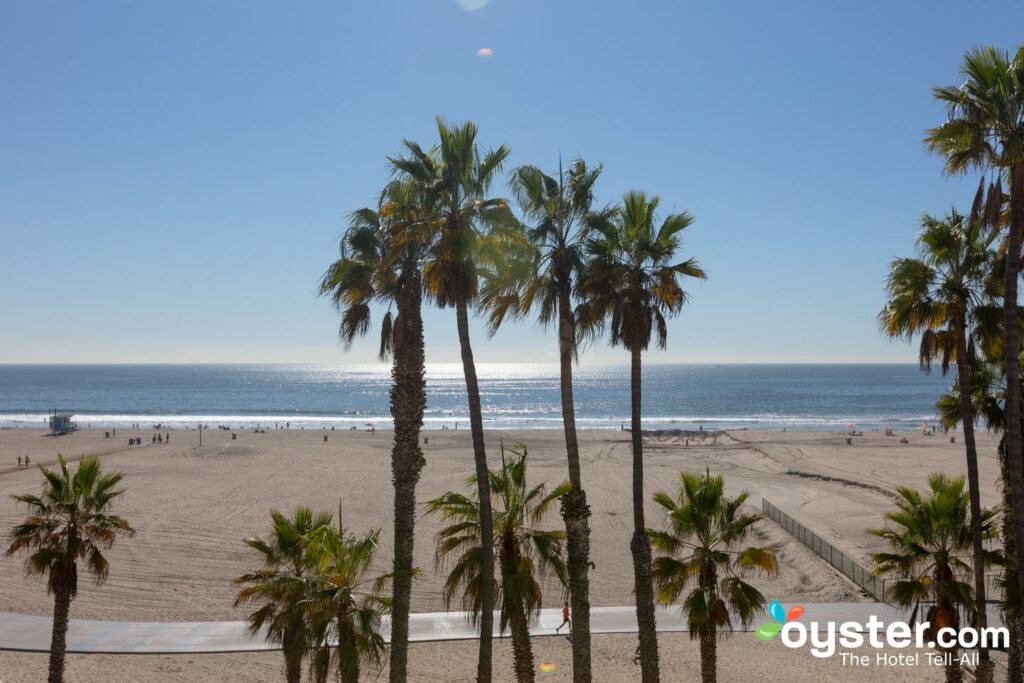 With trendy enclaves, celebrity-approved spots, and tourist epicenters, Los Angeles has a lot to offer. Throw in perfect weather, beautiful rooftop pools, Hollywood glamour, and stunning architecture, and you've got the ingredients for a memorable itinerary. However, as alluring as Los Angeles is, the city is also expensive -- and that includes its hotels. That being said, it's not only the pricey properties that possess plenty of charm. Here are five luxurious hotels in Los Angeles and their cheaper, but similar, alternatives.
Pack your swimsuit — you're heading to one of the most exclusive rooftop pools in Hollywood. Open from 8 a.m. to midnight, the pool at The London West Hollywood offers panoramic views over the city plus a laid-back patio area with a firepit, a tiled waterfall, and food service. The hotel itself is just as luxe as the pool, appealing to a showbiz set with its blend of understated Hollywood glamour and chic, cutting-edge design. Rooms are huge — none are smaller than 750 square feet — and feature soothing color schemes, beautiful furniture, and Waterworks-designed bathrooms with sunken tubs and double-headed showers.
The Standard's pool and iconic blue deck brings in celebrities and scenesters, especially during the fun weekend pool parties. It's one of the few pools in Los Angeles that provides food and drink service until midnight, making it a popular hangout day or night. When you're not sunbathing or swimming, enjoy the free pingpong tables and telescopes for spying around the city.
No, this hotel is not located in Hollywood, but it has plenty of big-screen cred — it starred in the 1990 film "Pretty Woman." That being said, don't let its iconic status fool you. Although the hotel is a classic, it feels surprisingly lively and unpretentious. The luxury property, located in the middle of the Beverly Hills shopping and dining district, lures couples, families, and business travelers with its beautiful guest rooms, Wolfgang Puck restaurant, great spa, pool, and fitness center. And to top it off, every guest — no matter who they are — can expect the A-list treatment: Upgrades are common, and the concierges will assist with any request.
For a dose of Hollywood glamour without the high price tag of the Beverly Wilshire, try the upscale Art Deco Sunset Tower. Formerly a luxury apartment building for famous faces like Marilyn Monroe, this Sunset Strip landmark still serves a magnet for VIPs. Rooms and suites feature old-school Hollywood style, and guests have access to the buzzing bar, gorgeous pool with city views, and full spa. Plus, the hotel's prime location puts it within close proximity of clubs, restaurants, and shops.
Overlooking Santa Monica beach from its exclusive location, the Hotel Shangri-La Santa Monica is an Art Deco classic. Built in 1939, the hotel evokes a subtle maritime theme, starting with its exterior, which resembles a cruise ship thanks to its curved corners. While the ocean is situated across the street, a lovely outdoor pool with a wooden deck is also on offer. For those staying at the hotel, the elegant rooms strike a balance between Art Deco and minimalist. Other extras include the Xanadu Spa for massages and other treatments, as well as the rooftop ONYX bar, which hosts lively parties for guests and non-guests.
Offering great value for the neighborhood, the Avalon Hotel Beverly Hills has plenty of eclectic charm to go with its affordable prices. Built in 1949, but renovated in 1999 with interiors by Kelly Wearstler, the hotel updated its look while maintaining much of its original character. The result is a retro-chic aesthetic — for some, rooms feel very 1960s Hollywood; for others, they may feel a bit too 1980s Florida. At the heart of the hotel, the hourglass-shaped outdoor pool — a throwback to the days when Marilyn Monroe romped here — is a relaxing spot to kick back.
While this hotel may be housed in the massive L.A. Live complex, where numerous theaters, restaurants, and entertainment options can be found, the interior decor delivers all the luxury and intimate exclusivity you'd expect from the Ritz brand. From the gorgeous wood-paneled lobby to the big, beautiful rooms, The Ritz Carlton, Los Angeles impresses through and through. A rooftop pool, an awesome fitness center, and a fine-dining Chinese restaurant helmed by Wolfgang Puck round out the offerings.
Opened in 1923, the Millennium Biltmore Los Angeles was built by the same architect who designed the iconic Waldorf Astoria in New York City. The attention to detail here is impeccable, from the ballrooms with chandeliers and gilded balconies to the historic bar. (It should come as no surprise, then, that John Legend, Jennifer Lopez, and other stars have filmed on the property.) The 683 rooms sport a classic style, and some add extras like walk-in closets and club level lounge access. When it comes to amenities, there's a charming indoor pool and four assorted restaurants to choose from.
One of only two hotels built directly on Santa Monica State Beach, Shutters on the Beach offers instant access to the water, boardwalk, and pier. The luxury hotel exudes a chic ocean cottage vibe, including in the immaculately designed rooms, which feature huge bathtubs, poster-style beds, and cozy details. Some even come with ocean views. If you don't fancy the ocean, you can take a dip in the ocean-facing pool, or hit the spa, three gourmet restaurants, or living room lounge for breezy cocktails by the sea.
The other hotel located on a coveted stretch of Santa Monica Beach, Hotel Casa del Mar offers unobstructed views of the Pacific Ocean along with a hopping Hollywood bar scene, luxe spa, and beachside pool. Rooms — some of which have beach views — were designed by Obama White House designer Michael Smith, and have a soothing, ocean-inspired color palette. The downsides? Resort and valet parking fees, but the nightly room rates are lower than Shutters on the Beach.
One of the newest hotels on the famed Sunset Strip in West Hollywood, The Jeremy West Hollywood certainly fits the hip and trendy bill. Communal working spaces, healthy gourmet food, and succulents, art books, and textiles — all artfully arranged in the lobby — win over millennials. The highlights, however, are Harriet's Rooftop cocktail lounge and the elevated outdoor pool — both of which offer epic views. That being said, the property still has a slightly buttoned-up vibe that brings a sense of order for business travelers looking to spend the night. Sophisticated rooms and suites feature floor-to-ceiling windows and mid-century modern and industrial touches.
Opened in 2014, the 182-room Ace Hotel Downtown Los Angeles is housed in the historic United Artists building in the Broadway Theater District, a trendy area with restaurants and attractions. Expect artfully eclectic decor and quirky vintage details here: Many of the industrial-chic rooms come with Martin Guitars and Ace x Rega turntables, plus a curated selection of vinyl records. The on-site restaurant, L.A. Chapter, serves American cuisine, Moon Juice offers cold-pressed beverages, and the Coffee Counter satisfies your caffeine fix. Meanwhile, the rooftop bar hosts events every night, and there's also a rooftop pool with excellent views.
You'll Also Like:
All products are independently selected by our writers and editors. If you buy something through our links, Oyster may earn an affiliate commission.