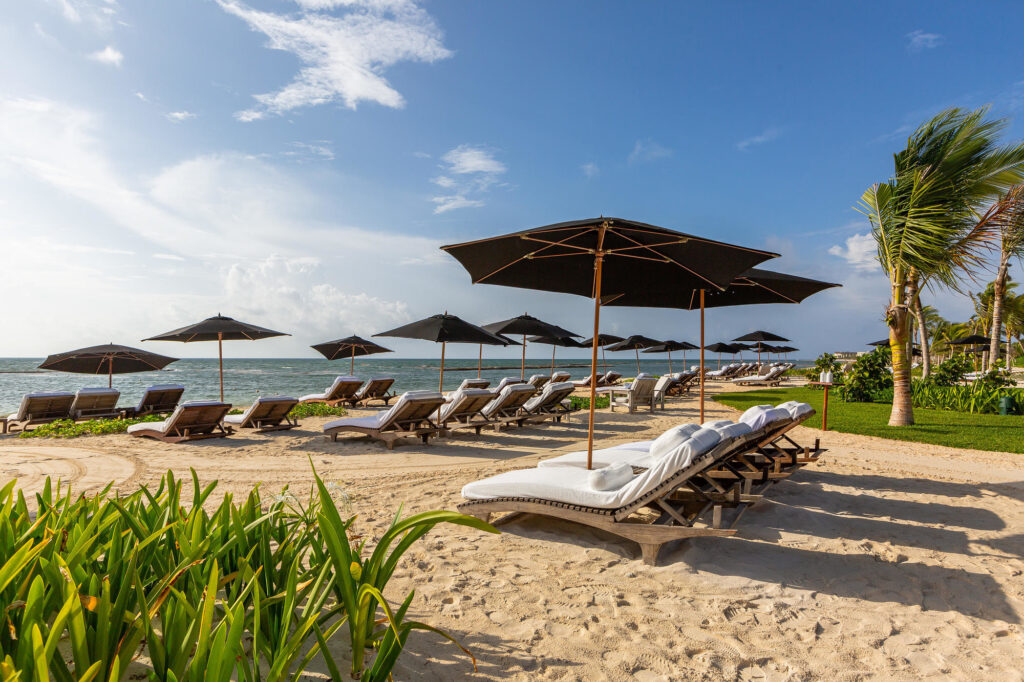 The Rosewood hotel chain is well-known for its polished portfolio of luxury properties, and the Rosewood Mayakoba is certainly no exception. Located in the upscale Mayakoba enclave just north of Playa del Carmen, the resort enjoys an exclusive setting along a mile-long stretch of beach. The 129 suites all have plunge pools, and some have private boat docks in the lagoon. There are several pools, including options for families and adults only, plus a secluded spa with treatments inspired by ancient Mayan culture — the resort even has a resident shaman. Rates reflect the hotel's ranking as one of the Riviera Maya's finest.
While still part of the high-end hotel group, the Andaz offers a cheaper — though not cheap — alternative in the Mayakoba complex. The vibe here is distinctly hipper and younger than the Rosewood next door, with Mayan-inspired decor and colorful murals painted by a local artist. Similar to its neighbor, the resort is divided between the lagoon and beach areas, with bikes or buggies available to get between the two. The guest rooms don't scream luxury, but are chic and modern, with top-end amenities like Bluetooth systems and Nespresso machines. The more modest Naum Wellness & Spa also offers Mayan-themed treatments. Parents can get pampered here while little ones are kept entertained at the excellent kids' club.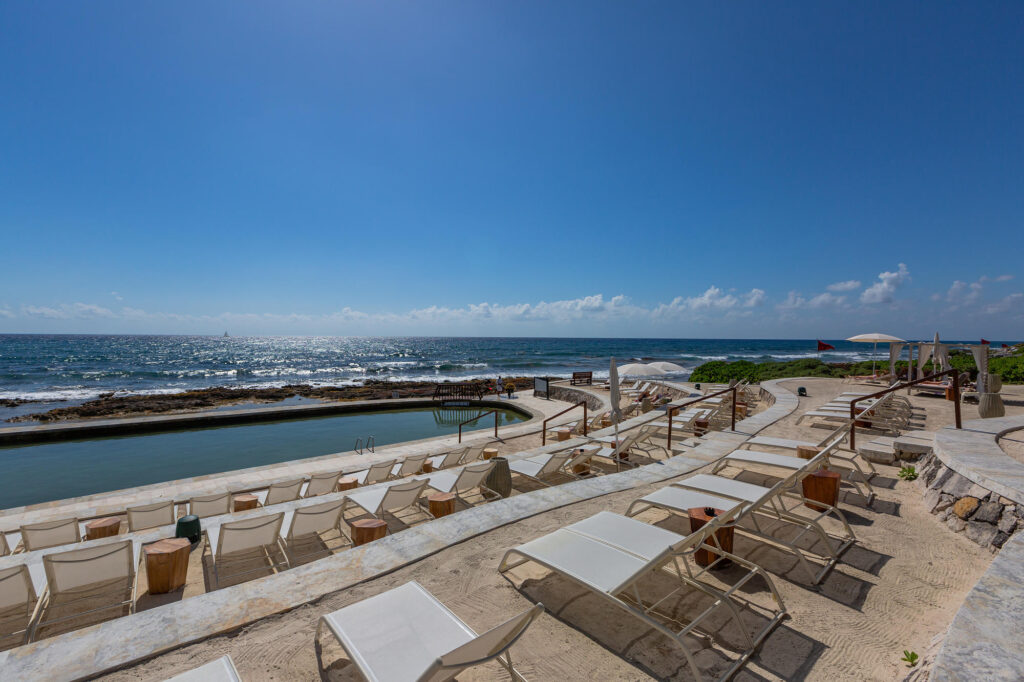 Set about halfway between Playa del Carmen and Tulum, this property is the smallest, quietest, and most luxurious in the five-resort Grand Palladium Riviera Maya complex — and the only one just for adults. And while you will pay significantly less for this all-inclusive experience, you won't notice it in the range and quality of dining available, which includes eight restaurants across the complex. Rooms here are also the best in the enclave, with comforts such as memory-foam mattresses and pillow and aromatherapy menus; upgrade to Junior or Royal Suites for hot tubs located on the balconies. Note: The area is surprisingly popular with wildlife, with various furry critters often spotted strolling through the grounds.
While there's no shortage of top-notch luxury hotels in Cancun, we rate Le Blanc Spa Resort among the best. This adults-only all-inclusive delivers on pretty much all fronts, from its right-on-the-beach setting to its above-and-beyond service. The design can be described as mostly minimalistic, while the laid-back ambience will certainly appeal to couples looking for total relaxation. Romance here comes in several forms, including beachfront dinners, private cabanas, and a spa that provides private suites. Guest rooms feature two-person whirlpool tubs — many with sea views — and you can expect premium brands for everything from complimentary liquor to bath products. You can also expect prices that put this property out of the range of most budgets.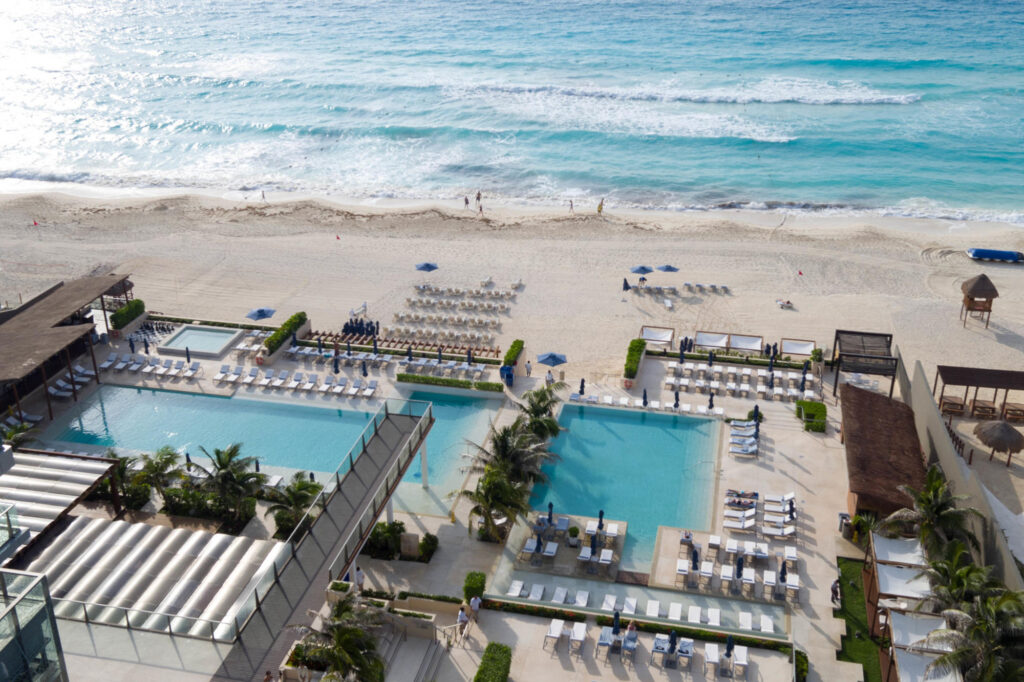 Another outstanding all-inclusive option in Cancun's Hotel Zone, but without the same eye-watering rates of Le Blanc Spa Resort, is Secrets The Vine Cancun. It's located on the slightly more crowded middle section of the famed resort's golden strip, overlooking crystalline turquoise waters. Its generous all-inclusive plan covers all a la carte dining, 24-hour room service, and top-shelf spirits. With almost 500 rooms, it's a big hotel, but its four pools, numerous eateries, and large spa means an atmosphere of stress-busting calm is maintained throughout.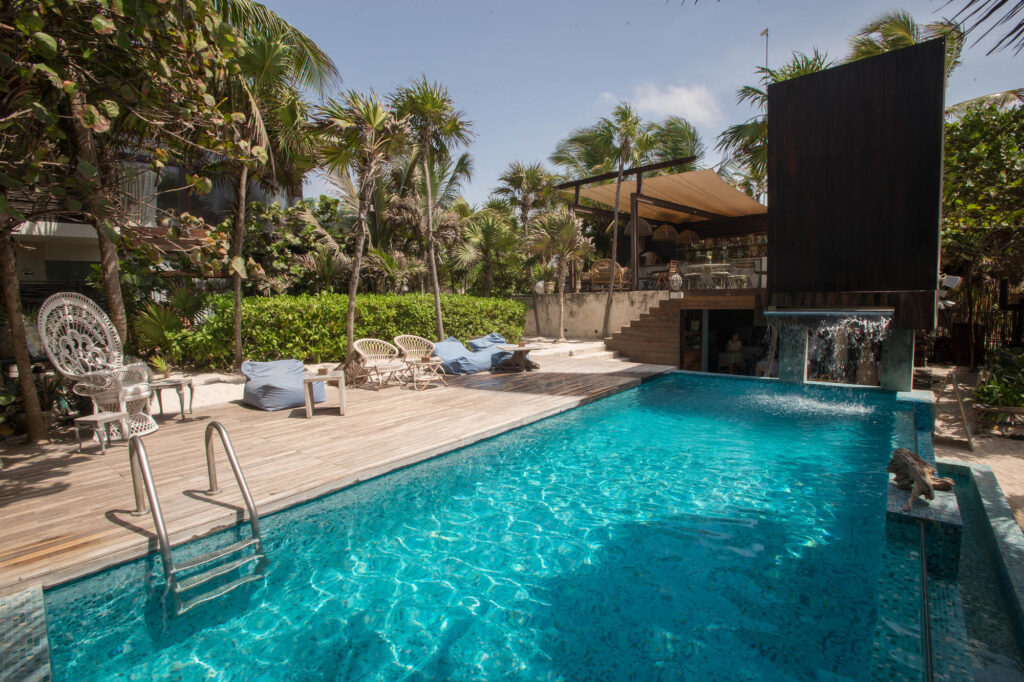 A scattering of backpacker beach huts have given way to some of the most swoon-worthy hotels in the Riviera Maya — and Be Tulum is up there with the finest. Fusing boho-chic decor with polished concrete and rustic timber furnishings, this trendy design-conscious boutique hotel attracts a hip and youthful crowd comprising mostly couples and groups of friends. Of the 20 guest rooms, no two are identical, though all share a similar style with strong natural elements such as leather, stone, and reclaimed wood. Most suites include plunge pools or whirlpool tubs. A small communal infinity pool is dappled with shade from palm trees, while daybeds offer beachfront lounging steps away. Indigenous spa treatments and daily yoga sessions round out the amazing, but pricey, offerings.
While Maria del Mar can't compete in terms of outright beauty, you certainly get plenty of bang for your buck at this beachfront boutique hotel. The 18 rooms come with rustic-tinged decor and tech that includes Wi-Fi and Bluetooth speakers. Guests can also expect eco-friendly touches, like reclaimed wood (from defunct fishing boats) and biodegradable coconut toiletries. There's also a palm-lined L-shaped pool, but it's the hotel's semi-private beach that really makes it special – rocks rise at both ends, creating a particularly secluded and scenic stretch of coast.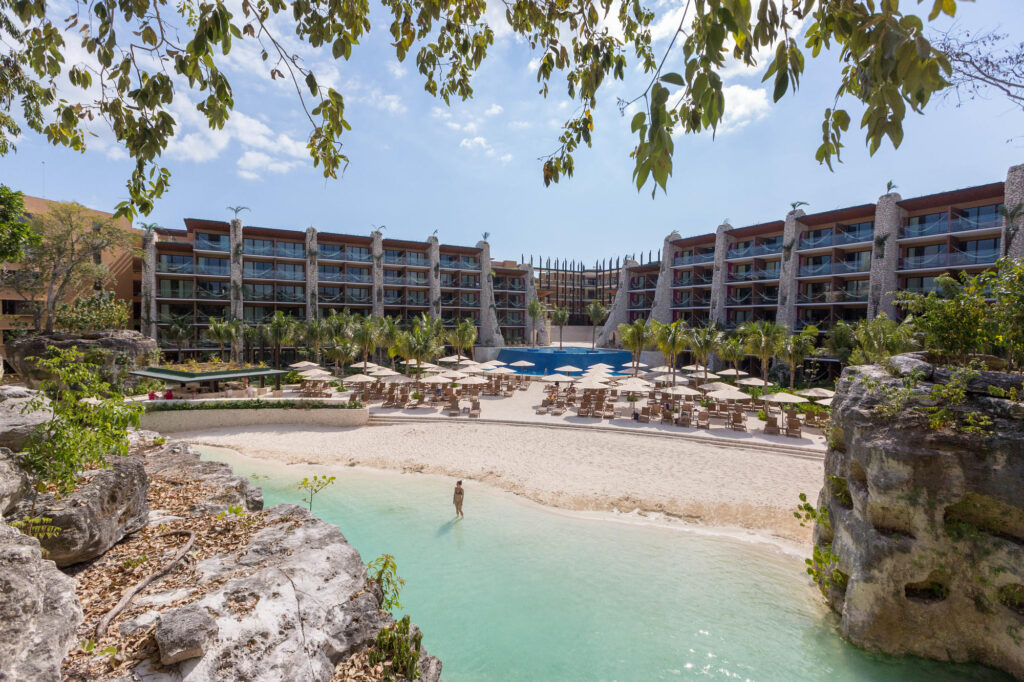 With a whopping 900 rooms, Hotel Xcaret is one of the largest of its kind in the Riviera Maya – and it has an abundance of family-friendly facilities to match. The extensive, eco-conscious resort blends in elegantly with the area's natural rock formations, rivers, and jungle, as well as offers wonderful views of the Caribbean coast. Multiple pools include a family-friendly kids' pool with waterslides, plus a kids' club has organized activities all day. Wristbands provide access to the resort's extensive all-inclusive facilities, and also act as room keys. Bonus: Guests can enjoy unlimited access and free transport to seven of the area's top attractions, including Xcaret, an eco-park next door.
Families looking for a spot that's a little easier on the wallet should check out this all-inclusive property. Given its location in the middle of Cancun's Hotel Zone, there's no shortage family-focused fun nearby, plus guests can enjoy direct access to the hotel's beach. Little ones like the pirate-themed splash pool with various slides as well as the kids' club that caters to four- to 12-year-olds. Even standard rooms can sleep a family of four, while Family Junior Suites add bunk beds. The reasonable rates do inevitably also attract some partying elements, but the overall vibe is family-friendly.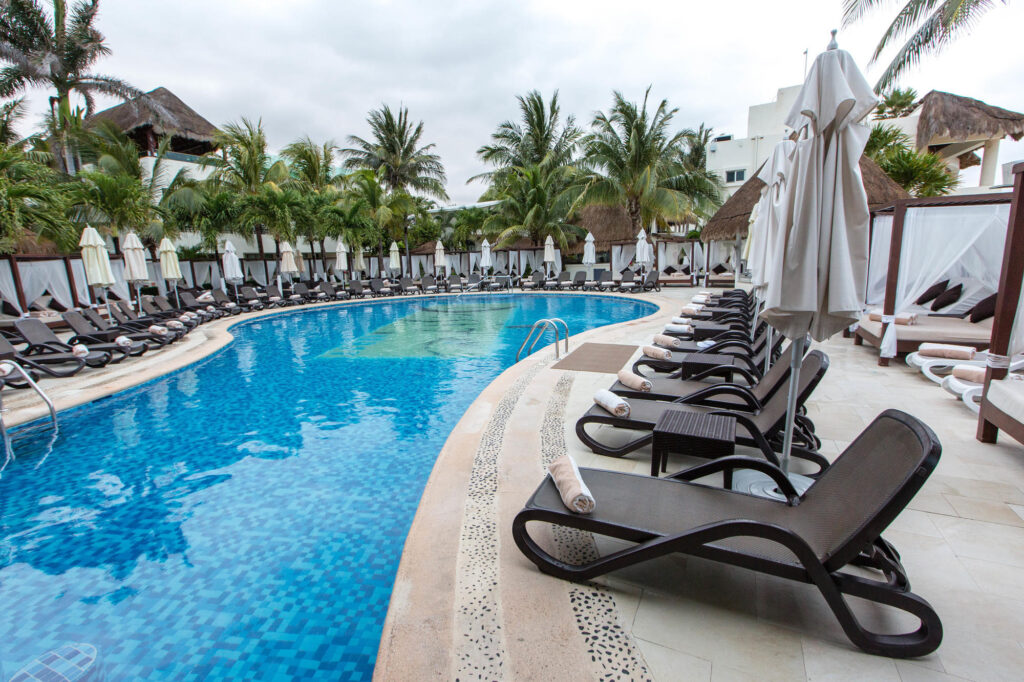 This clothing-optional hotel pulls out all the stops for those wanting to spice up their Mexican vacation. Only couples are allowed at this Puerto Morelos property, offering an environment designed to facilitate X-rated interaction between guests. This includes areas where sexual activities are permitted, including a large whirlpool area and the Sin Room, complete with circular beds and straps. A Fantasy Menu also offers a range of sensual experiences, either as a couple or with other guests. The hotel is also set on a lovely sandy beach, where nudity is pretty much de rigueur.
For those seeking a sensual, adults-only environment that is a little more on the subtle side, this seafront boutique hotel is more likely to press the right buttons. Look a little closer, however, and the naked statues, porn TV channels, and nude sunbathing rooftop terrace point to the hotel's steamier side. Unlike the Desire Riviera Maya, sexual activity here is restricted to the spacious guest rooms, many of which have understated seductive flourishes (think black four-poster beds, whirlpool tubs, and deep purple rugs). A narrow infinity pool overlooks the Caribbean and Playa Paraíso, while the all-inclusive plan covers restaurant dining and room service.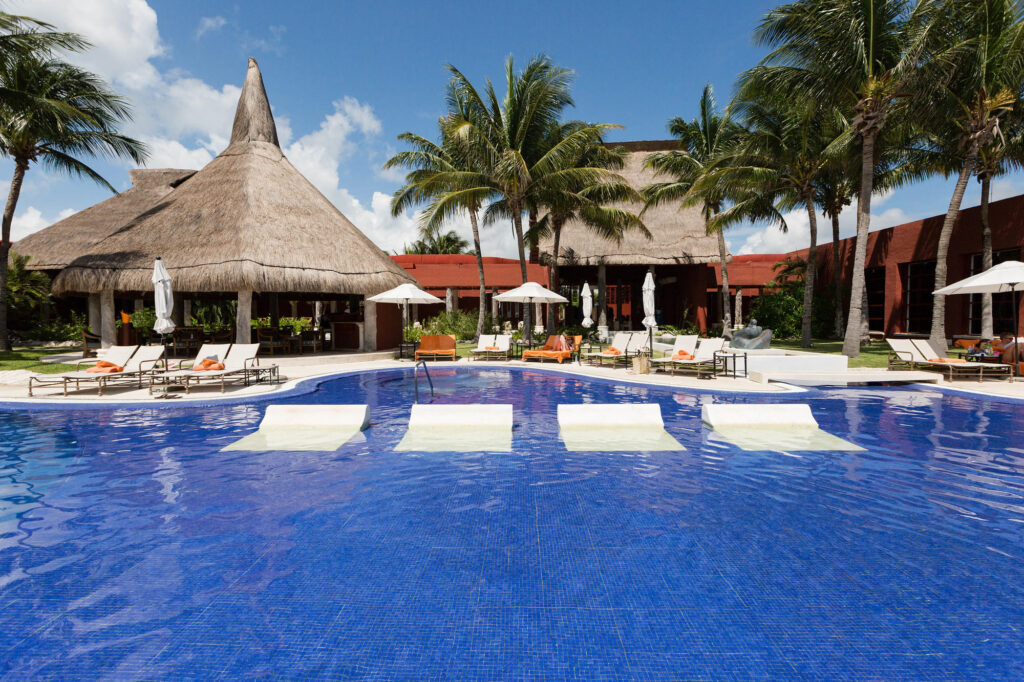 Bored of the cookie-cutter chain hotel vibe, but still want the classic all-inclusive treatment? This Riviera Maya property might just be your ticket. Designed by an architect for his wife, much of the resort was inspired by the couple's travels — the place is scattered with fascinating souvenirs and curios from around the world. All 100 oceanfront suites offer sea views from large terraces, with some adding private plunge pools and sunken marble bathtubs. The generous all-inclusive plan includes some superb dining options, premium drinks, spa treatments, chauffeured airport transfers, a welcome bottle of tequila, and numerous other freebies (that inevitably crank up the nightly rate).
For around half the outlay, guests at the Royal Hideaway Playacar still get plenty of amenities — mostly in the form of free meals at any of the hotel's six excellent restaurants. This adults-only property is set on a particularly picturesque stretch of coastline on the outskirts of Playa del Carmen. The hotel's 200 rooms and suites are housed in several two- to three-story buildings set among manicured grounds dotted with ponds and fountains. There are six large pools, including one infinity option with a poolside bar (all drinks are included in the plan).
The Holbox Island Hotel Pick: Ser CasaSandra
While not strictly part of the Riviera Maya, we would be remiss not to include the Mexico's hottest destination, Holbox Island, and its unique Ser CasaSandra hotel. Originally conceived as a secluded hideaway for artist Sandra Perez, the retreat has evolved into a magical place to stay on the car-free Holbox. An artistic and unplugged ethos continues — albeit with the trappings (an impressive restaurant and a freeform swimming pool among them) and steep rates of an upscale hotel.
While this villa hotel lacks the personal touch of Ser CasaSandra, a charming vibe is still present in the form of playful architecture topped with palm-thatched roofs set among lush beachfront gardens. Accents such as hanging lanterns with seashells, terra-cotta tiling, and colorful serapes add to the quaint details. Accommodations combine Mayan motifs and Mexican fabrics with modern conveniences such as fridges, air-conditioners, and free Wi-Fi, plus some open to sea-view balconies. A secluded pool is nestled between thick vegetation, while a beautiful stretch of beach is just a few steps away.
Taking its name from the secluded nature reserve situated around the southern lip of Cancun's Hotel Zone, the NIZUC Resort and Spa feels far from its neighboring over-developed party resort. Its design also rejects the flashy and bombastic for an undeniably more grown-up and sophisticated aesthetic that combines cool minimalism with understated rustic-luxe details. Accommodations ooze smart elegance, many with sweeping views and some with private pools. But it's the world-class spa that takes this hotel to another level. Built around a collection of hot- and cold-tiled pools, it specializes in hydrotherapy treatments with exclusive ESpa products.
Set on a relatively undeveloped stretch of coastline between Puerto Morelos and Playa del Carmen, El Dorado Royale has a certain illusion of remoteness, even despite its enormous size. The upscale complex offers a dizzying number of on-site activities, plus no less than a dozen pools scattered around the grounds. Dining and drinking options are equally numerous, though food quality can vary between eateries. Undeniably impressive, however, is the hotel's Naay Spa, which offers a 45-minute water journey ritual – perfect for pre-treatment relaxation. The spa treatment menu features dozens of options, including sunrise and moonlight massages.
You'll Also Like: