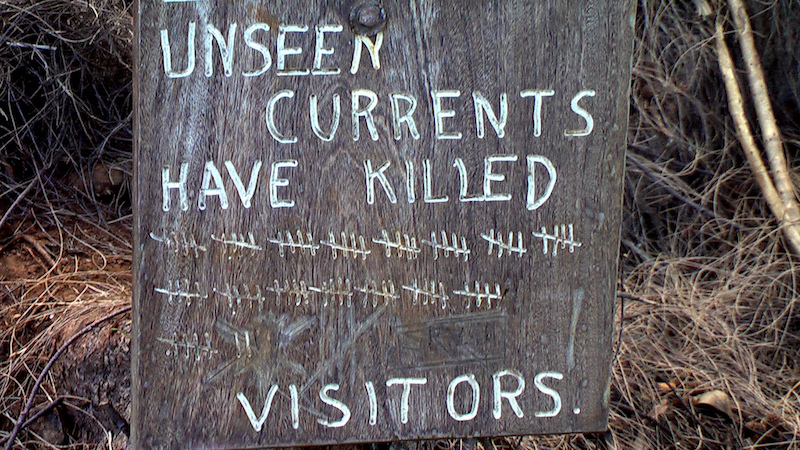 In terms of do-not-enter-the-water danger, Hanakapiai Beach on Kauai's Na Pali Coast tops the list. It can be reached via a stunning hiking trail that will leave you sweaty, sun-kissed, and achy — enough to tempt you to dive into the water. But be warned: The absence of a reef to hinder ocean swells, a hazardous high surf, dangerous shore breaks, and super-strong rip currents have contributed to many drowning deaths between 1970 and 2010. A famous warning sign shows over 80 tally marks, representing those killed by unseen currents on the beach. It serves as a stark reminder to stay away from the water.
Where to Go Instead: One of the island's safest beaches (though it's worth remembering that any beach can be dangerous depending in the conditions), Lydgate Beach Park is on the opposite side of the island than Hanakapiai Beach. With a natural rock enclosure circling the beach, the water here is calm and suited for snorkeling. It's ideal for those who want the sea to feel more like a swimming pool.
Kauai Hotel Pick:
Sometimes, it's not necessarily the beach that's at fault, but the environment around it. In 2018, Myrtle Beach in South Carolina was ranked 32 out of a 100 on a list of America's most dangerous cities, and it took the 20th spot in 2019. There's a one in 62 chance of being a victim of a crime here. These crime statistics mean you should be on your guard here more than most beach destinations in the U.S.
Where to Go Instead: For a safer — and somewhat more luxe — array of beaches, head beyond Charleston's city limits. In particular, Isle of Palms beach is great for families, plus there's plenty to do besides swimming and lounging on the sand (think golf, water sports, fishing, and boat trips).
Myrtle Beach Hotel Pick: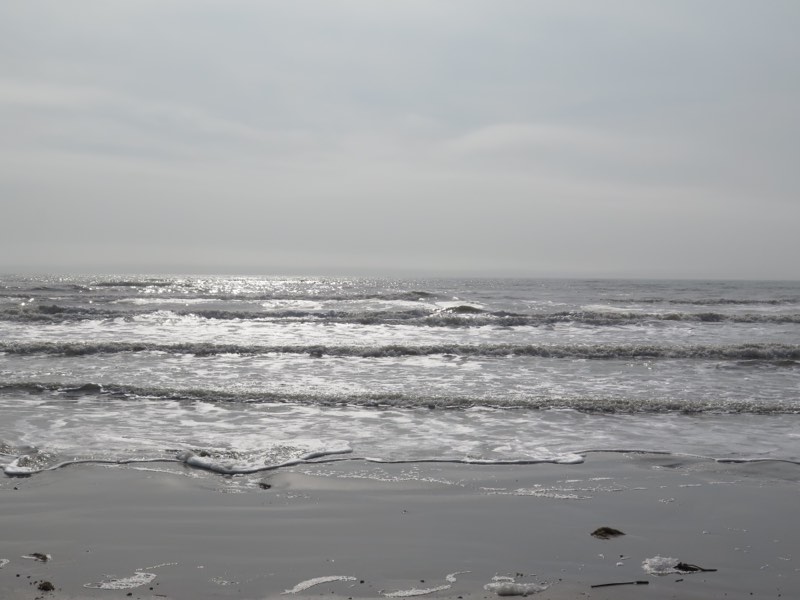 With 'Swim at Your Own Risk' signs posted on some beaches along Texas' coastline, we'd probably think twice about dipping our toes in the water. The reason for the warnings? Many beaches on the coast here have dangerous levels of pollution, with large amounts of fecal bacteria in the water caused by storm runoff and sanitary sewer overflow. In 2017 and 2018, three beaches in Galveston County (Helen Boulevard, Magnolia Lane, and Rettilon Road) had some of the highest levels of pollution in the area. While the levels do change frequently, you should check the latest water findings before risking a swim and picking up something nasty.
Where to Go Instead: Get your southern beach fix in Alabama, where 32 miles of coast provide cleaner beach alternatives than some of Texas' spots. Gulf Shores Main Public Beach is a great stretch for families, thanks to its walking paths, boardwalk, and full lifeguard protection.
Gulf Shores Hotel Pick: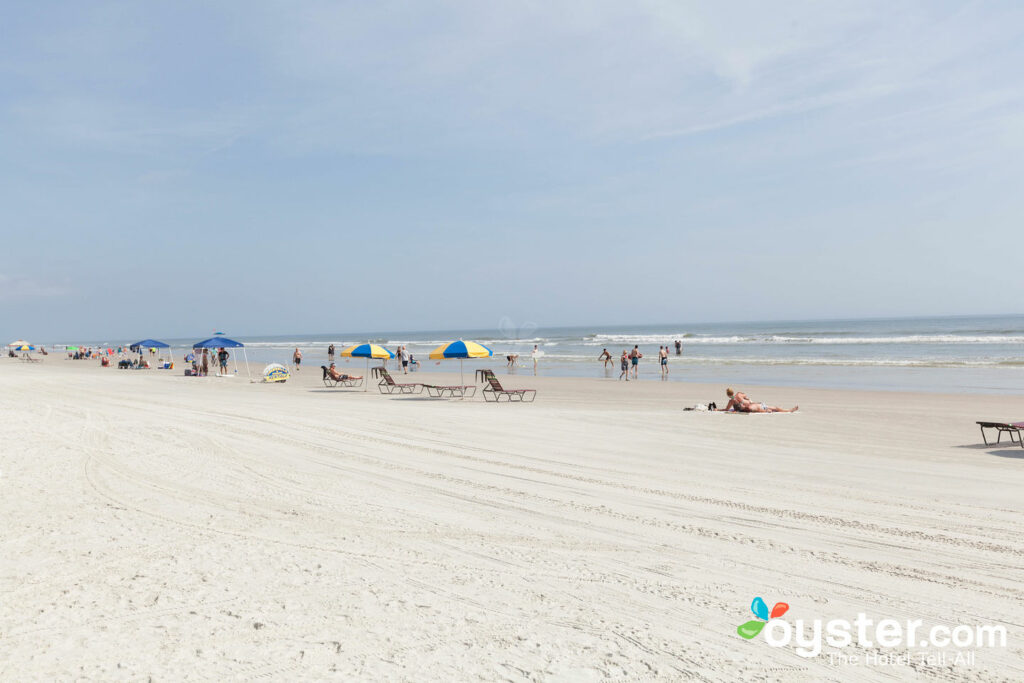 While most shark phobias seem irrational (the chances of encountering one are typically slim), visitors to New Smyrna Beach in Florida have plenty of cause for concern. Labeled the 'shark attack capital of the world,' New Smyrna Beach had 16 shark attacks in 2018, while the five previous years saw an average of 30 attacks per year. Attracted by the sheer number of people — primarily surfers — crammed into a relatively short stretch of beach, sharks present a real threat here. In fact, the attacks around the beach and in the rest of Florida accounted for 24 percent of the worldwide annual total in 2018. (Yes, nearly a quarter of all recorded shark attacks in the world happened here!)
Where to Go Instead: Traverse the width of the state and head to the Gulf of Mexico and Clearwater Beach, a long stretch of sand regularly ranking high on lists of the best beaches in Florida. Popular with families, the beach here is safe and patrolled by lifeguards.
Clearwater Hotel Pick: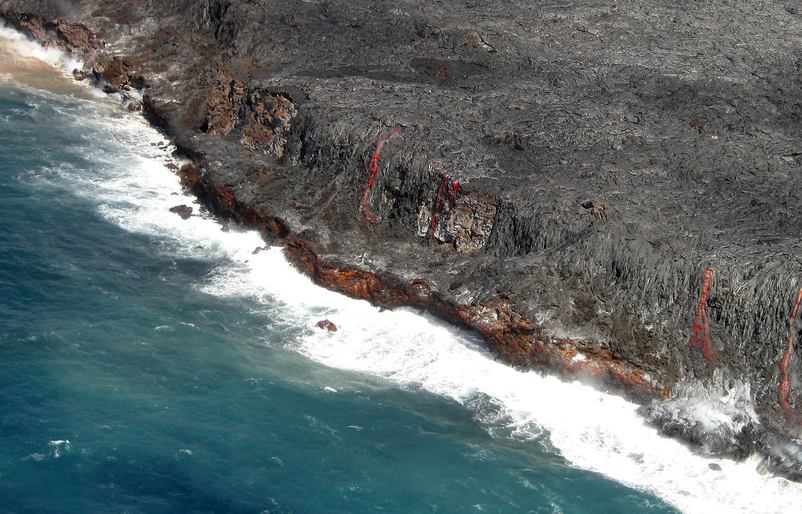 At the heart of the Hawai'i Volcanoes National Park, Mount Kilauea is one of Big Island's most beautiful, yet destructive, sights. Active since 1983, the volcano frequently erupts, forcing lava into the sea, and in turn, raising the water temperature to unbearable levels. Visitors are warned of the risks should they choose to venture farther than the volcanic black-sand beaches and into the water. A major eruption occurred as recently as 2018, leading thousands to evacuate their homes and creating a new black-sand beach at Kepo'okalani Hale Beach Park. Visitors have been cautioned to swim here at their own risk, due to the dangerous currents and hazards associated with the flowing lava.
Where to Go Instead: Leave the lava behind and head to Hapuna White Sand Beach, an award-winning beach on the opposite end of Big Island. A lifeguard patrols the half-mile sandy beach year-round, and while wave breaks are big enough for bodyboarding, they're rarely too big that children of all ages can't enjoy them.
Big Island Hotel Pick: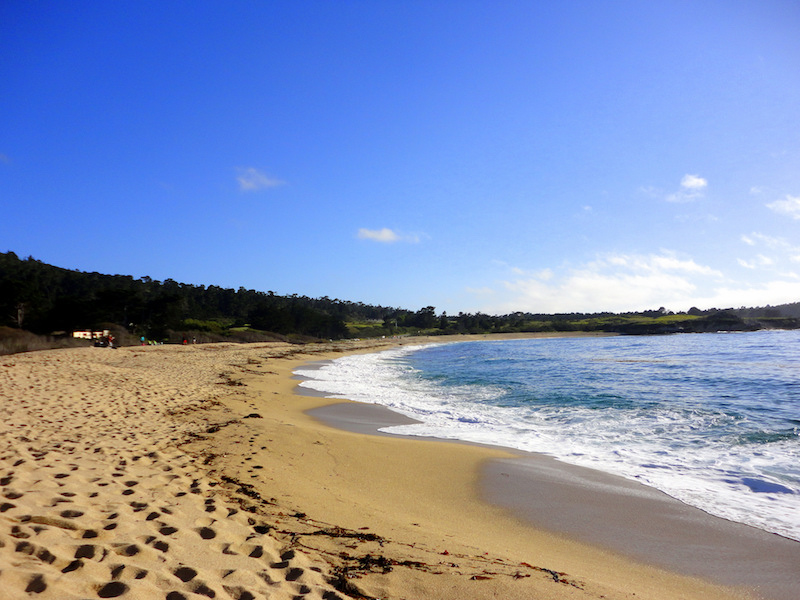 Nicknamed 'Mortuary Beach' for its high drowning rates, Monastery Beach in Carmel, California, is a beautiful spot that should be admired from a safe distance up the beach. The combination of freak waves that break on the shore, strong rip currents, and a deadly undercurrent caused by a sharp drop-off in the shoreline all make this beach one of the most deadly places to swim in the country. Sean James, superintendent for the State Parks Monterey District, called it the deadliest beach in the region, with annual deaths occurring as people are swept out to sea.
Where to Go Instead: To avoid the sneak waves and rip currents, head down the Pacific Coast and visit Coronado Beach just outside of San Diego. Lifeguards are present here, so visitors can feel safe while enjoying the wide open shoreline. Plus, children and weaker swimmers can enjoy the shallow tidal pools that form along the beach.
San Diego Hotel Pick:
You'll Also Like:
All products are independently selected by our writers and editors. If you buy something through our links, Oyster may earn an affiliate commission.