A version of this story previously appeared on The Business Journals.
The hotel landscape in New York City is constantly reinventing itself -- new hotels open, old hotels renovate, hotel restaurants and bars change. It can be hard for travelers to stay up-to-date on their choices, or even keep tabs on their go-to hotels. So we've done the sleuthing for you to keep you on top of what's new on the NYC hotel scene.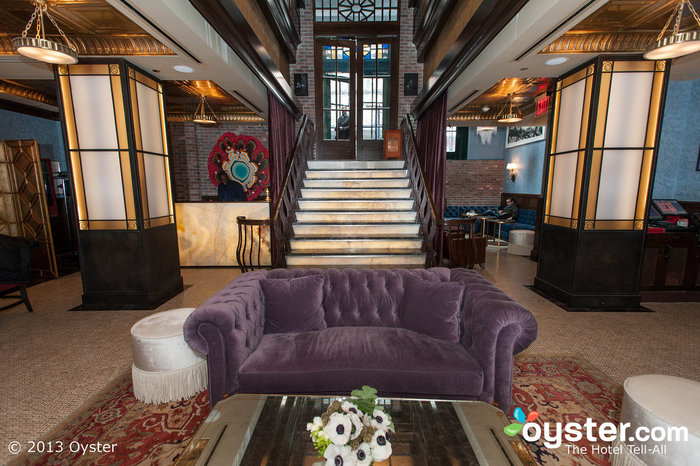 New Additions
When It Opened: February 2013
Why It's Noteworthy: From the curated library to the retro rotary phones in every room, no detail has been left out at this sexy boutique. Its 113 stylish rooms have tasteful decor inspired by the Paris of the 1920s, and feature top-notch amenities, including high-definition TVs, Tivoli radios with iPod hookups, and free Wi-Fi. Grape & Vine, a bar and restaurant reminiscent of the old New York speakeasies, attracts a varied clientele with its intimate yet casual vibe and French-inspired menu.
When It Opened: May 2013
Why It's Noteworthy: This stylish urban boutique hotel in New York's Garment District is located in a historic building that was once a tea salon and hat factory. The property's past inspired its present industrial-chic design, and small details such as decorative milliner's tools pay homage to the building's former function. In the lobby, cool white stone and Gothic arches are contrasted against colorful contemporary art, while in the rooms, a minimalist black-and-white motif is warmed up by the oak hardwood floors. Features include a fitness center, a lobby bar (named for the historic tea salon's owner), Parker & Quinn bistro, and a cool rooftop bar. The location is within walking distance of popular sights such as the Empire State Building, Bryant Park, and Herald Square.
When It Opened: March 2012
Why It's Noteworthy: The hotel's 168 guest rooms are luxurious (there are Sferra linens, Frette towels, and robes), and successfully evoke a bygone era with Persian rugs, old maps, and antique-looking fixtures. Plus, business travelers will be spoiled for choice as to where to meet associates for a meal or drinks. The hotel's eponymous bar and restaurant features five separate-but-connected spaces that sprawl along the ground floor, and guests can order cocktails in the cozy, book-lined Library or order brunch in the sun-filled Atrium room (but be prepared for price tags that match the high level of style).
When It Opened: March 2012
Why It's Noteworthy: This stylish luxury option is right next to the Goldman Sachs building in Battery Park City. Its soaring atrium lobby with large art installations makes a dramatic first impression; the gourmet restaurant is a buzzing after-work drink spot; and there is 30,000 square feet of flexible meeting space. Rooms are enormous, particularly for New York City; all have separate living rooms and sliding partitions. High-end amenities include Nespresso machines, quality toiletries (three different brands are available), fluffy robes, and a wet bar. The location is a bit far from popular tourist sights in Midtown, but there are excellent restaurants in the immediate vicinity and numerous subway stops are within walking distance.
When It Opened: July 2012
Why It's Noteworthy: The idea of the 366-room Pod 39 hotel, opened July 2012, is to offer very small rooms for low prices (by New York City standards). Rooms range from 55 to 140 square feet, and prices start at $119 per night. The smallest rooms, or pods, only fit one person, but all have private bathrooms and smart design touches, like storage under the bed and double flat-screen TVs for guests in bunk beds. There are three seriously cool — and colorful — public spaces: an upscale Mexican restaurant, a rooftop bar with unique architecture, and a hangout space called the Playroom.
Old Faithfuls — Renovation News
Completed Renovation: April 2012
What Changed: The rooms, lobby, and fitness center
What It's Like: Located in business-focused Midtown East, this famous hotel is a favorite among visiting dignitaries, politicians, and extended-stay business travelers. The veteran staff greets guests by name and the one-bedroom suites with kitchenettes offer about three times more room than most New York hotels. A complete renovation in 2012 only made this stately hotel better.
Completed Renovation: May 2012
What Changed: Rooms and lobby
What It's Like: A 181-room Midtown West landmark where The New Yorker magazine was founded, the Algonquin uses old-world style, tuxedo-clad waiters, and an in-house cat to attract quiet couples, business travelers, and the occasional Nobel laureate. After extensive renovations in early 2012 rooms have a more contemporary look, with large black-and-white photos, stylish furnishings, and new bathrooms with glass-enclosed walk-in showers and L'Occitane toiletries.
Completed Renovation: June 2012
What Changed: Rooms, restaurants, ballroom
What It's Like: This 1,949-room behemoth in the middle of Times Square is filled with conventioneers, tourists, and theatergoers — the Marquis' buzzing atmosphere nearly matches the chaos of the streets below. It completed a massive, $39 million renovation in 2012, and its top-notch beds, clean, contemporary rooms, and a large, modern fitness center make this a premier pick for Times Square.
Completed Renovation: May 2012
What Changed: Rooms, Club Lounge, and in early 2013, the event spaces
What It's Like: With a convenient Midtown West location six blocks from Central Park, the 1,750-room Sheraton is good for families and its thousands of daily conventioneers. Rooms have attractive contemporary decor with a couple of custom-made touches, plush beds with crisp white linens, and flat-screen TVs; some have striking views of the surrounding skyscrapers. There is extensive meeting space, a solid burger restaurant, and a large fitness center with modern machines — but there's a fee for use of the facilities, as well as a daily charge for Wi-Fi.
Completed Renovation: June 2012
What Changed: Rooms, Lobby, Name (formerly the Hotel Roger Williams)
What It's Like: This quiet boutique on Madison Avenue in the less touristy area of Murray Hill has plenty to recommend it: a super trendy lobby, chic rooms with modern technology, a bistro-style restaurant, and thoughtful extras such as free beverages in the lobby (such as cider in colder months and Prosecco in warmer months).
Completed Renovation: Ongoing
What Changed: Rooms, lobby, spa
What It's Like: The Waldorf Astoria began a massive, nine-figure renovation in the summer of 2011, and the lobby and the spa have been updated as part of the project; renovations to the motor court are currently underway. Rooms receive continual updates. This Midtown East icon comes with some of New York's best spa services, fitness facilities, restaurants, and bars.
Tasty Tidbits
All products are independently selected by our writers and editors. If you buy something through our links, Oyster may earn an affiliate commission.