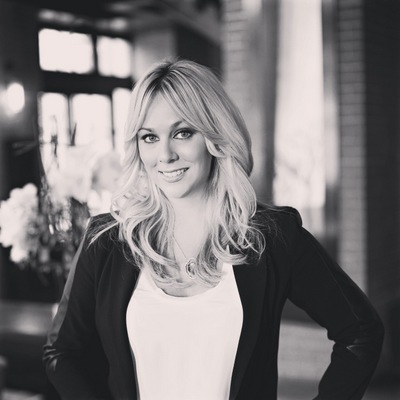 The luxury Capella hotel brand, with properties in Los Cabos and Singapore, has landed in the nation's capital. Capella DC's doors officially open in April, and the hotel is sure to exude the same elegance and glamour that the brand is known for. But this Capella will have something that the others do not — it's own resident stylist. Yep, you read that correctly. Like some of our other favorite hotels with over-the-top (but truly awesome) services, the Capella hotel caters to it's guests every need — even their fashion needs. Stylist April Yvonne, creator of MyDCStyle.com, will serve as the hotel's resident stylist, assisting guests with shopping and styling during their visits. In the past, we've sat down with a nightlife concierge, a genealogy butler — even a pet psychic. So we couldn't wait to have our very first chat with a resident stylist — not to mention the only one that we know of — and get all the scoop on what's hot and what's not. From packing tips to what puts D.C. on the fashion map, April answers all of our questions. Check out the interview after the jump!
Q: When did you first become interested in fashion?
A: I've been interested in fashion since I was a little girl. I danced competitively through college, so I was exposed to the fashion scene by going on trips to New York City. I became more interested with fashion as I began traveling internationally for work and pleasure, going to places like Paris and Tokyo.
Q: How did you start styling?
A: It really began as a moonlighting job. I would style my friends in the evenings for events and shows, and I started a blog with photographs of things I would see on trips to Europe and Asia. It snowballed and took off from there. I got a lot of followers and it eventually led to me going to fashion shows in New York City to interview designers. I'd say it really kicked off last year when I began styling full time.
Q: How did you come to be the resident stylist at Capella DC?
A: I was doing fashion seminars in Georgetown and a marketing director I was working with brought me to Capella to speak with them. Fortunately, we both had the same idea of a resident stylist, so it was a match made in heaven.
Q: What services will you provide guests of the hotel?
A: I'll be there to help guests with pretty much everything and whatever they need from a styling perspective. I can take guests on personal shopping trips — with the glamorous private town car and help from me with personalized styling. I can come to their rooms and help style them with the clothes they've brought as well. I'll also do trips to Chevy Chase, where there are high-end boutiques such as Dior and Gucci, and curate a collection of looks for them from gorgeous designer lines. With my own clients, I've done everything from meeting them at hair salons to helping them with last-minute wardrobe malfunctions in the restroom of the Four Seasons.
Q: What do you look forward to most about being the resident stylist of the hotel?
A: I'm really looking forward to the exposure to such a diverse clientele. These people are world travelers who want to be in the know. I look forward to the experience of diversifying my work as a stylist, by meeting people from places like Hong Kong, seeing what their style is, and letting those people influence me. I think the hectic, last minute stuff is often the most fun, and I really enjoy going to designer boutique because haute couture is as expensive and glamorous as it gets, and I really specialize in that.
Q: How do you assess a client's style, and decide what will make them feel and look good?
A: Whenever I have a chance, I like to speak to clients on the phone. That's often hard to do, however, so I also send clients a questionnaire, and when they can, I have them send photos of their closets or themselves, whatever they feel comfortable with. I have conversations with their about their favorite colors and even the decor of their home, what kind of artwork they like — it all plays into what they wear.
Q: What do you think makes Washington, D.C. an interesting place for fashion?
A: D.C. is such an interesting place: It's an area where people want to be discreet, it has a small town vibe, and yet it marks the crossing of so many cultures. People are stopping over from New York City and Los Angeles all over, so you see different styles that you wouldn't see in a place like Palm Beach or even NYC sometimes. There are so many cultures here, so it's exciting because everyone learns from each other. It used to be that you seemed less credible in D.C. if you didn't dress super seriously for work, but nowadays more men and women are coming out and showcasing their style — edging it up. People are supporting high fashion and they want to be in the know.
Q: Any fashion tips for when people are on vacation?
A: For ladies, always pack a pair of pumps that will work for every color outfit, and always bring comfortable walking shoes. Also, pack layers — I've learned that from going to Belgium in the winter when it's freezing!
RELATED LINKS:
All products are independently selected by our writers and editors. If you buy something through our links, Oyster may earn an affiliate commission.