If you've ever planned a wedding -- or have known a person who planned a wedding, or have known a person who knew a person who planned a wedding -- you know that they don't come cheap. There's the flowers, the band, the dress, the menu; it may be the best day of your life but it also may be one of the most expensive, especially if you're pining for a destination wedding on the sand. But don't worry: We here at Oyster are all about "making it work" [Ed. note: Is Tim Gunn still a thing? We certainly hope so] and we've found four beach destinations that won't empty your -- or your guests' -- wallets. From Belize to Destin, you can have your cake (beachside) and afford it, too!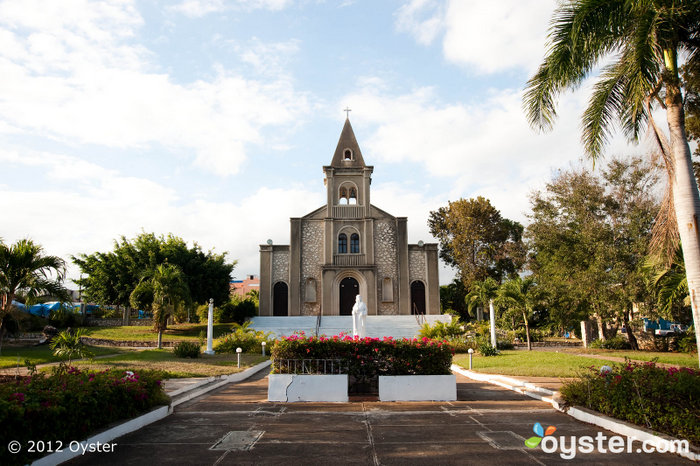 The Dominican Republic almost always makes the list of affordable beach destinations. Not only is it relatively easy to get to — with direct flights leaving from the U.S. and Europe daily — but it is filled with all-inclusive resorts, many of which offer affordable package deals. Plus, conveniently for couples on a tight budget, wedding peak season falls largely during the D.R.'s off season, which means cheaper flights, cheaper room rates, and more tranquil hotel atmospheres for your big day. Sure, June through September can be very hot and humid, and hurricanes are a possibility in the later months, but c'mon, what're the chances?!
Where to Stay: Now Larimar
This all-inclusive property in Punta Cana has an upscale vibe while still offering affordable rates — one of the many reasons why it's a popular choice for weddings, and hosts up to several a day. With a recently renovated spa and a dedicated wedding coordination team, the hotel offers three wedding packages, all of which include the help of the wedding planner, the bouquet, and the cake — and as we just got back from a recent visit to the resort, we can vouch for its tasty desserts! Check back at Oyster.com soon to see new photos of the Now Larimar, including more beautiful shots of the beach, pools, spa, and rooms!
Beach Wedding Destination #2: Belize
With flight prices comparable to those to nearby destinations such as Mexico and Costa Rica, Belize offers visitors a more diverse spot for a wedding than your run-of-the-mill beach destination [Ed. note: Not that we wouldn't happily hop on a plane to the Riviera Maya if we received a save-the-date, hint hint]. Not only does it boast beautiful sandy beaches, but Belize is also home to lush rainforests, Mayan ruins, and the second largest barrier reef in the world. And once you're there, it's easy enough to save some green — and go green, for that matter. Though there are some luxury boutiques in the country, Belize has very few expensive mega-resorts and instead is dotted by eco-lodges and inns where room-and-board can be found cheap — if you're willing to give up some "luxuries" such as air-conditioning and Wi-Fi. Another perk? With lobster being a local specialty, it comes much cheaper here than stateside, so you can impress wedding guests with a lobster dinner for a lot less.
Where to Stay: Xanadu Island Resort
Xanadu Island Resort is a simple, relaxed property with 18 spacious units resting on a pretty stretch of beach along Ambergris Caye. And at this budget-friendly boutique, you don't have to give up your connection to the outside world, because Wi-Fi is free and reliable throughout. The hotel offers a simple, affordable wedding package which includes a wedding arch, an officiant, the groom's boutonniere, and the bridal bouquet. Extras such as live music and a champagne toast can be included for an additional fee, and though the hotel does not have its own on-site restaurant, it can arrange a catered reception.
Beach Wedding Destination #3: Destin, FL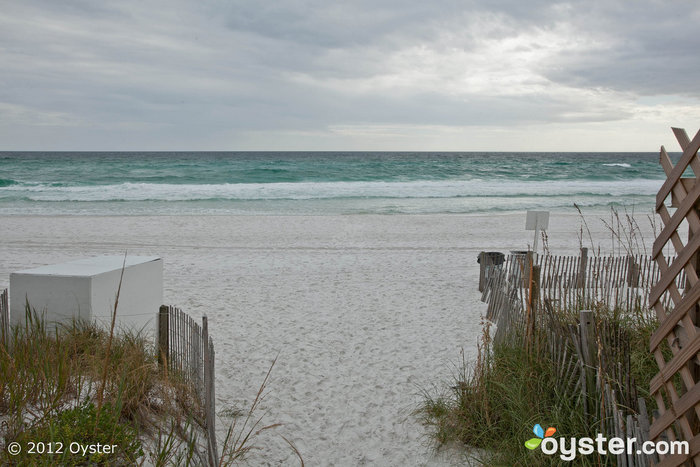 One way to save on your beach wedding is to have it stateside, and Destin is a great option for budget-friendly nuptials. Less expensive than Florida hot spots such as Miami and Panama City Beach, Destin offers a quieter, quainter vibe — but equally pretty beaches for saying "I do." An affordable getaway no matter the season, Destin sees off-peak rates drop even lower, with prices in the double digits being an easy find. And if you have some free time pre or post-wedding, catch a live blues performance or go fishing from a pier — both popular pastimes in this laid-back locale.
Where to Stay: The Emerald Grande at HarborWalk Village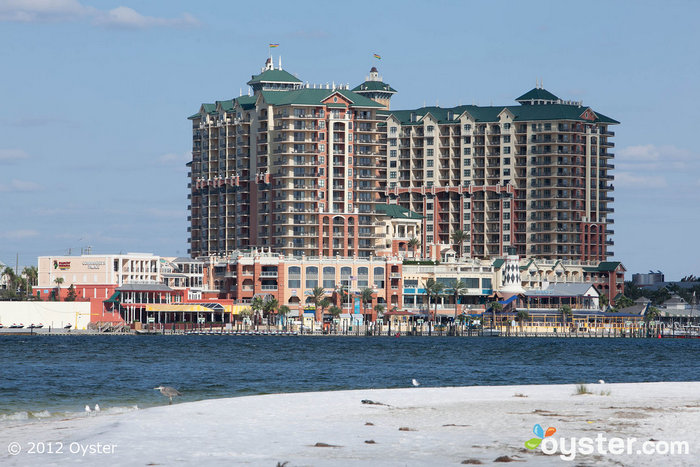 An upscale — yet affordable — resort, the Emerald Grande has an ideal beachfront location and is part of HarborWalk Village, a boardwalk lined by shops, restaurants, and bars. Spacious condos have full kitchens and balconies with ocean views, and the resort can handle your entire wedding preparation — from the menus to the music, from the spa treatments to the decorations. Many guests choose to get married on either the beach or the hotel's spacious outdoor deck, but if the weather looks iffy, the Emerald Grande also offers ballrooms for weddings and receptions.
It may not have an international airport, but Negril is nonetheless easy and relatively inexpensive to get to (visitors fly into the airport at Montego Bay and then take a shuttle), and boasts some of the cheapest digs in Jamaica. Famous for its Seven Mile Beach — one of the softest and longest beaches in the country — Negril is a popular spot for destination weddings, and couples and guests can save cash here in many ways: Not only are the room rates low (the area is home to an eclectic jumble of beachfront motels, cliffside cottages, and hippie bungalows), but public transportation is convenient, safe, and cheap, and you can find excellent seafood at nearly all of the hole-in-the-wall spots along the beach.
Where to Stay: Rockhouse Hotel
The lush, laid-back Rockhouse creates a holistic haven — gourmet dining, morning yoga, cliffside loungers, a premium spa, no children under 12 (no one will get stuck sitting at the kids' table!), and beautiful eco-appropriate design. But most astounding are the reasonable rates. (The slightly chicer Caves costs about three times more.) An on-site wedding planner will help to coordinate your special day, and soon-to-be newlyweds have a range of locale options for reciting their vows, including along the cliffs, poolside, or even on the lower deck of the restaurant, which juts out over the ocean.
RELATED LINKS:
All products are independently selected by our writers and editors. If you buy something through our links, Oyster may earn an affiliate commission.