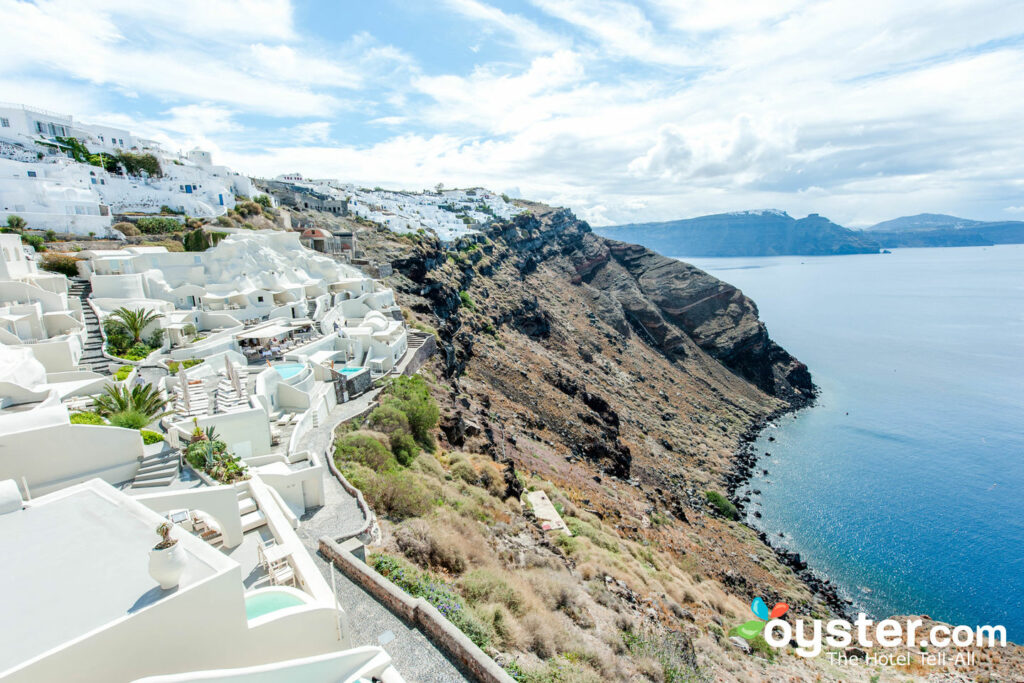 We recently spent 16 unforgettable days on the world famous Greek island of Santorini. That equates to 16 epic sunsets into the Aegean Sea, 36 authentic Greek meals, one cruise around the island, one six-mile cliff hike, three winery visits, and a few passing donkey encounters. Oh, and we reviewed almost 40 hotels. It's safe to say that we explored just about every square inch of the 30-mile archipelago. And while we were at it, we also made almost every rookie mistake in the book. Read on to learn from our blunders before you visit.
1. Arriving After Dark
Our flight landed in Thira Airport around 9 p.m., well after dark. By the time we got our suitcases and car rental, it was close to 10. The car rental representative assured us that it would be super simple to find our hotel for the night, about a 20-minute drive away. It wasn't. The island doesn't have many street signs or street lamps. We missed several turns and stopped to ask for directions twice before we found our hotel…and a closed reception desk. It all worked out in the end (thank goodness for Skype) but next time we visit Santorini, we'll make sure to book a morning arrival flight.
2. Skipping Car Insurance
It's entirely possible to visit Santorini for a few days without a car. There's a reliable bus system between Fira and Oia, and most package tours provide drop off and pick up services. Fira and Oia are walkable villages with pedestrian paths. But if you're spending more time on the island or want to check out the southern beaches (you should), then a car will make your life easier. But please don't skip the car insurance. Driving in Santorini is pretty straightforward (in the daytime), but it's hair raising to share winding, cliffside roads with tour buses, pedestrians, ATVs, and the occasional donkey. There isn't a traffic light on the entire island. Our coverage covered the damage from where our rental car was sideswiped while parked. Without insurance, it would have cost us a few hundred Euros in repairs.
3. Flushing Toilet Paper
This one may take some getting used to, but Santorini's sewage system can't handle flushed toilet paper. That trashcan placed next to the toilet is for all (and we mean all) of your soiled paper products. While we're on the subject of bathrooms, note that the water isn't potable. Bottled or filtered water is served at all restaurants. Many of the showers we experienced had slightly salty water, so be prepared for residue on your hair and skin. Water pressure also varies widely. Remember, Santorini is a volcanic rock in the ocean, and there are environmental factors at play.
4. Looking for a Party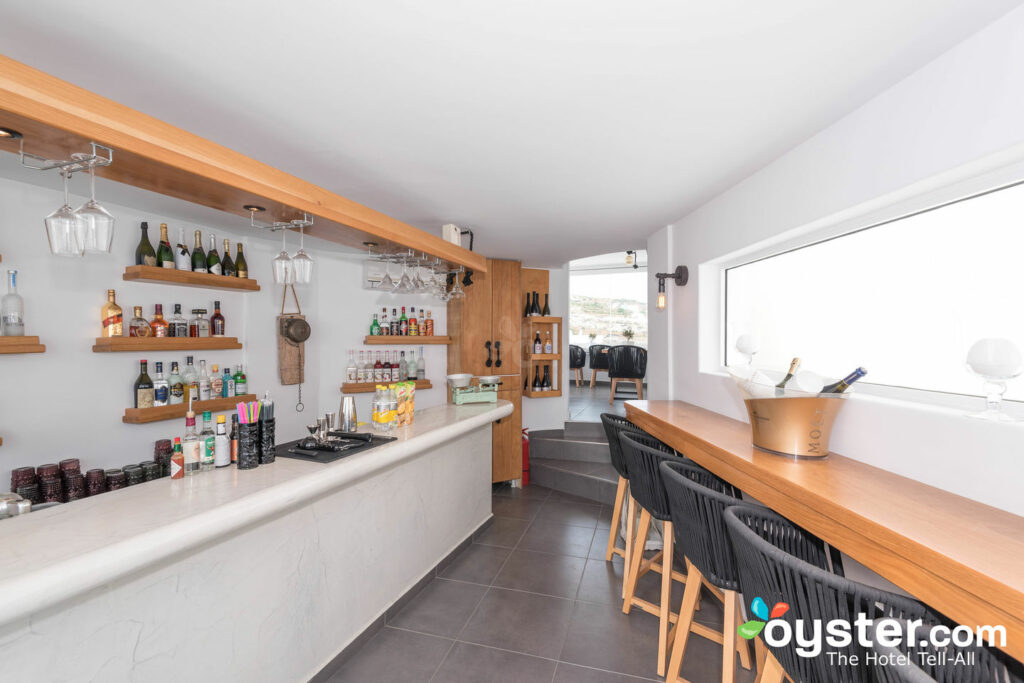 Santorini is one of the most romantic islands in the Cycladic archipelago, and there's very little in the way of nightlife apart from occasional live music at a restaurant or bar. We jokingly referred to the epic evening sunset as Santorini midnight, because the streets seem to empty out directly afterwards. Most visitors here are couples (with loads of honeymooners from around the world) who go to bed (or back to the cruise ship) after dinner and a bottle of wine. If you're looking to party on the beach and in notorious nightclubs, you should check out Mykonos.
5. Arriving with the Cruise Ships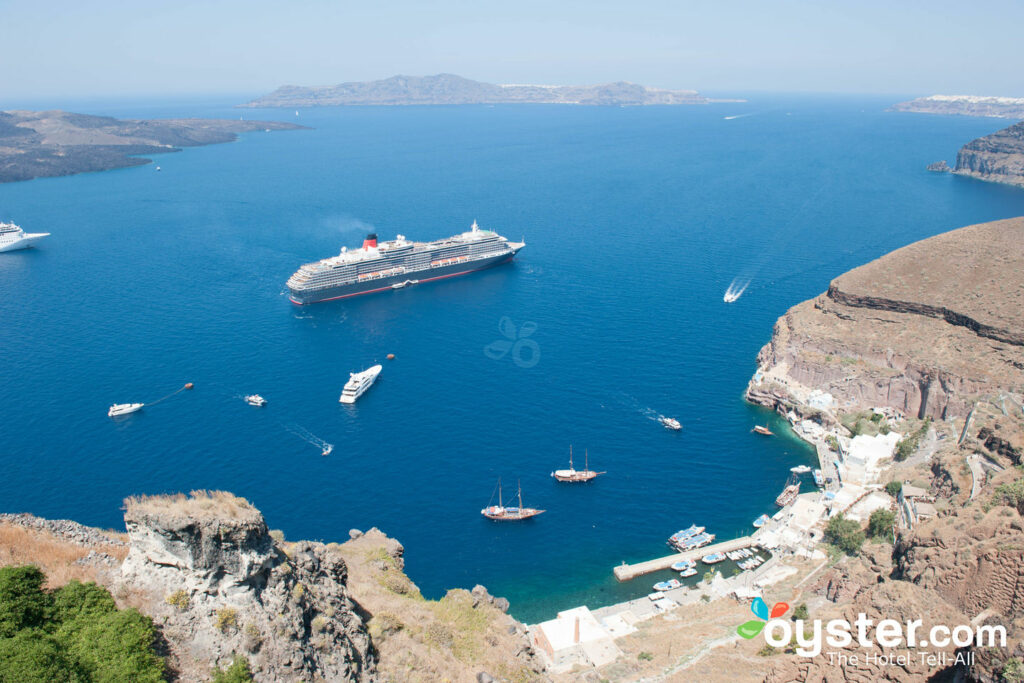 It's no secret that Santorini has an overcrowding problem. Nearly two million people visit the small island every year, and eight thousand people per day arrive in Santorini on a cruise ship. The cliffside villages of Fira and Oia were built to accommodate donkey carts, not hordes of tourists. The streets can feel downright claustrophobic during high season, and Oia Castle's famous sunsets come with 4,000 other people. To escape, we highly suggest checking out hotels in the southern part of the island. Megalochori village has the same famous blue-domed churches and a fraction of the visitors.
6. Ignoring the Bells
If you're walking down the street and you hear the tinkling of bells, please step aside — a herd of donkeys needs to pass. And don't forget to check where you step…donkey droppings are as common as Caldera views, but not nearly as pleasant.
7. Expecting to Swim in Hotel Pools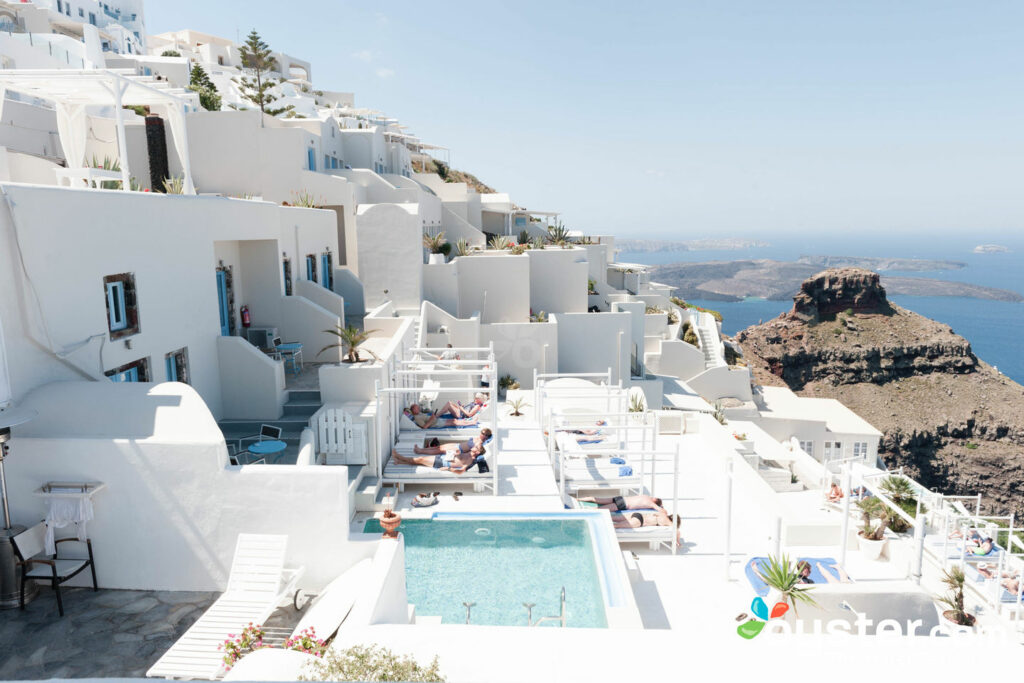 Almost all of the hotels in Santorini have at least a small plunge pool. The best ones are infinity-edge and seemingly drop straight into the cliffs leading down to the sparkling blue Agean Sea. But look closely and you'll notice hotel guests lounging all around the pool, but not in it. The pools are ice cold (even most of the whirlpools aren't heated) and only pleasant on the absolute hottest days of the year. If you're planning on spending your entire vacation in the pool with a cocktail, you might want to re-evaluate your options. And while we're on the subject, the hot springs on the uninhabited islet of Palia Kameni are a popular day trip…but the water is barely lukewarm. You've been warned.
8. Skipping the Beach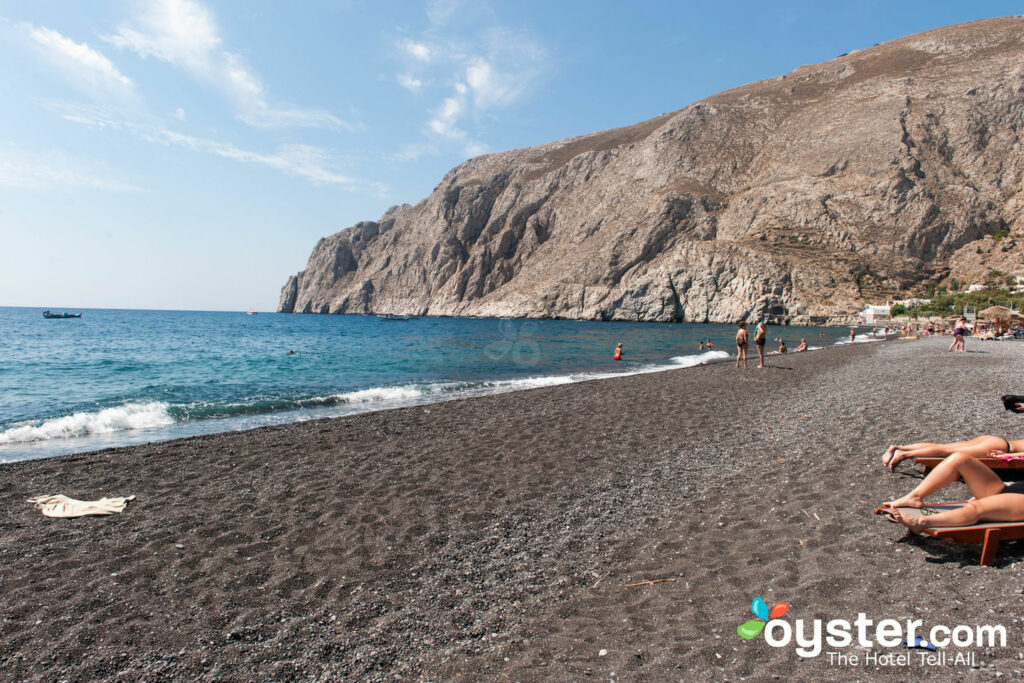 Many Santorini visitors skip a beach visit, since they stick to the villages of Oia and Fira in the north, which have incredible sea views but little in the way of access to the water (apart from cliff jumping in Amoudi Bay). That's a huge mistake. Santorini has some of the most jaw-dropping, beautiful, and swimmable beaches in Greece. Red Beach in Akrotiri looks downright prehistoric, with gigantic sheer red cliffs. Black Beach in Perissa and Kamari have black sand and black pebbles, and crystal-clear blue water. Vendors and restaurants are prolific, and visitors can rent sun loungers and paddle boards.
9. Arriving Too Early to the Airport
Santorini (Thira) National Airport is tiny, since most visitors arrive by ferry or cruise ship. But if you are flying out of the airport, please don't arrive too early. Gate seating is limited, so the airport only allows passengers whose flights are departing within the hour. If you arrive before that, you'll likely have to hang out on the curb. There are a few coffee shops to make the wait more pleasant, but there are better ways to spend your time in Santorini.
With just six suites, the adult-only, 2014-opened Alti Santorini Suites is a quiet, upper-middle-range property, calmly set between the villages of Pyrgos and Megalochori. Caldera and Aegean Sea views are spectacular from private plunge pools and terraces, which all suites afford. Understated rooms also have elegant decor, rainfall showers, Nespresso machines, minibars, and bathrobes. There's no restaurant here, but free, room-delivered breakfasts come standard and other snacks and meals can be arranged, as can massages.
When in Santorini, a cute, easy-to-pack dress will be the ultimate staple to your wardrobe. The eyelet detailing and fluttered sleeves make this otherwise blandly white dress stand out from the crowd in a comfortably low key way.
You'll Also Like:
All products are independently selected by our writers and editors. If you buy something through our links, Oyster may earn an affiliate commission.