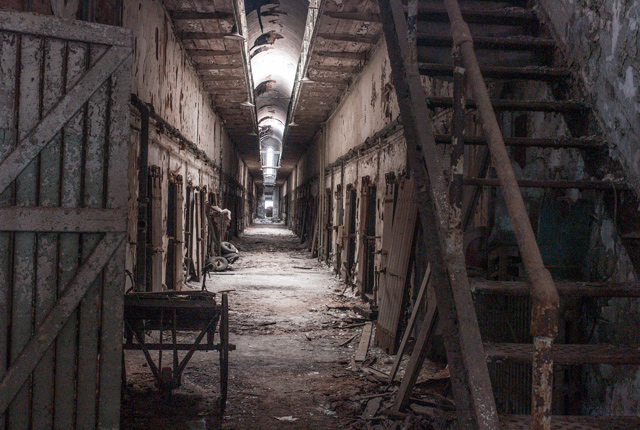 Scaring people during Halloween is a huge business in the U.S. America is home to more than 4,000 haunted attractions that rake in over $300 million per year. And while some of these spooky spots are kitschy, others incorporate Hollywood-level techniques to create seriously scary decomposed zombies, disembodied heads, and mutilated body parts. Of course, top-tier effects come with a big ticket fee -- an excellent haunted house can easily cost between $20 and $70. Plus, some of the most memorable attractions, like Philadelphia's Eastern State Penitentiary and Utah's Asylum 49, are housed in locations already guaranteed to give you the willies. Here are the most epic haunted houses in the U.S. Enter at your own risk.
No costumed ghouls are necessary to make Eastern State Penitentiary one of the spookiest places you'll ever set foot in. Built in 1829 and used as a prison until 1971, this place was once the country's most forward-thinking institutions for reform. From the outside, the 11-acre structure now looks like an old Gothic castle. Inside, decades-old paint is flaking off prison cell walls, which are guarded by thick, rusting metal doors. Just hearing the echoes off the long hallways and cement archways is enough to unnerve anyone. Terror Behind the Walls, the haunted house staged at Eastern State Penitentiary, sets up each cell block with a different theme. The Infirmary is a torturous clinic gone wrong, while the Blood Yard mixes tribal brutality with post-apocalyptic costumes. Break Out stages a prisoner escape. Unlike many other haunted houses, Terror Behind the Walls doesn't rely on movie callbacks for screams. Instead, the creators find inventive ways to make you freak out.
For the Halloween season, the wholesome, family-friendly Knott's Berry Farm amusement park turns into Knott's Scary Farm. Several of the mazes have original themes, like "Special Ops Infected," in which a small platoon of guests battle zombies in an apocalyptic wasteland. "Dark Ride" lets you wander through an abandoned carnival attraction filled with smiling clowns who swing big axes. Knott's Scary Farm also gives the park's more traditional rides a gnarly makeover. On the Timber Mountain Log Ride, characters like the angel of death and three-foot aliens pop out while you're rounding corners in the flume. The GhostRider is a new wooden roller coaster that coasts 118 feet above Ghost Town. If this seems like it might be too scary for your little ones, you can check out the spooky farm, which includes a costume contest and themed rides, for kids ages 3 to 11.
The Tooele Hospital was built in 1873 as a private mansion and later turned into an old folks' home, poorhouse, and mental ward. Plenty of bodies have walked in through those doors and been carried out on stretchers, but their souls may still reside inside. Asylum 49, as it's now known, has been the subject of TV shows and books, and several paranormal experts say the spectral activity here is off the charts. Come Halloween, the space sticks with the hospital motif and is occupied by people in straitjackets, blood-splattered doctors, and ghoulish inmates. It's also "full contact," which means an attendee may get pawed, poked, and even strapped down to a hospital bed (You don't have a choice to not be touched.)
https://www.youtube.com/watch?v=tKVDtHkj_Jo
What's so scary about a brewery? Well, the Lemp family first built their mansion next to the Lemp beer factory in 1860. By 1870, Lemp was the most popular brand of suds in St. Louis and continued to be so until Prohibition smacked them down in 1919. But it's a series of questionable Lemp family "suicides" that has everyone talking. In 1922, William Lemp, Jr., shot himself in the heart not long after selling off the brewery complex. No note was left behind. In 1949, Charles Lemp killed himself and left this one-liner: "In case I am found dead, blame it on no one but me." Other deaths took place at the mansion — purportedly the result of an evil spirit that had attached itself to the household. Underneath the house and factory are tunnels and catacombs that are the right temperature for aging beer and have the perfect aura for scaring you. These days, the brewery is a multiplex of fear that includes escape rooms, crazy clowns, giant monsters, and even zombie laser tag. Along the way, plenty of half-dead creeps run past you while metal doors slam shut.
https://www.youtube.com/watch?v=xTRQWyqhDYs
One of the biggest haunted houses in the country, Woods of Terror employs 100 actors and 75 makeup artists every night of the event. This season, theme park owner Eddie "Bone Daddy" McLaurin expects to welcome more than 35,000 guests. Woods of Terror's gauntlet of horrors is divided into eight separate themed areas, ranging from arachnophobia (expect to confront your fears of spiders, bugs, and snakes) and horror movie classics (prepare to have silver screen maniacs like Freddy Krueger and Leatherface to be dropped right in front of you). Oh, and in case you were wondering, Woods of Terror is also available for weddings.
https://www.youtube.com/watch?v=5R6_jm996go
Built in the late 1800s, The Haunted Hotel is a mix of hospitality hell mixed with horror stars and mutants. It has the "Hellevator," which has ghouls popping out of the panels. Rooms have been converted into dungeon-style jails with grabby prisoners. Cameo appearances are made by Freddy and Jason. Plus, the hotel corridors have flickering overhead lights and dark corners, usually occupied by maniacs just ready to pounce.
Anyone who thinks there's nothing more unsettling than being out in the middle of nowhere should stop by Spooky World, located on 80 acres in Litchfield, New Hampshire. This creep carnival features rides, games, a beer garden, and fire pits. Also, expect to encounter sideshow freaks at this "3D Festival of Fear," as it's called. Like to make up ghost stories about what really goes on inside of a decaying New England mansion? Brigham Manor can make your nightmares come true and top them with a soupy layer of splattering blood. Plus, the haunted hayride promises a mile-long trip that will leave you begging to escape. Too much for you? Chumps can chill in the beer garden.
https://www.youtube.com/watch?v=rVFg2w-0e0w
Netherworld Haunted House, Norcross, Georgia
The creators of Netherworld take great pride in the quality of the costumes and props. Many local haunted houses get away with thrift store duds and a torrent of bubbling fake pus. Netherworld invests in Hollywood-quality latex masks to create gargoyles, clowns, and lizard men who look like they just escaped from your fave B-movie horror flick. Plus, they also have fun naming the exhibits — "The Fungus Corpses," "The Flesh Eating Flytrap," and "The Massive Celtic Beast Lord" are a few you can expect.
You'll Also Like:
All products are independently selected by our writers and editors. If you buy something through our links, Oyster may earn an affiliate commission.