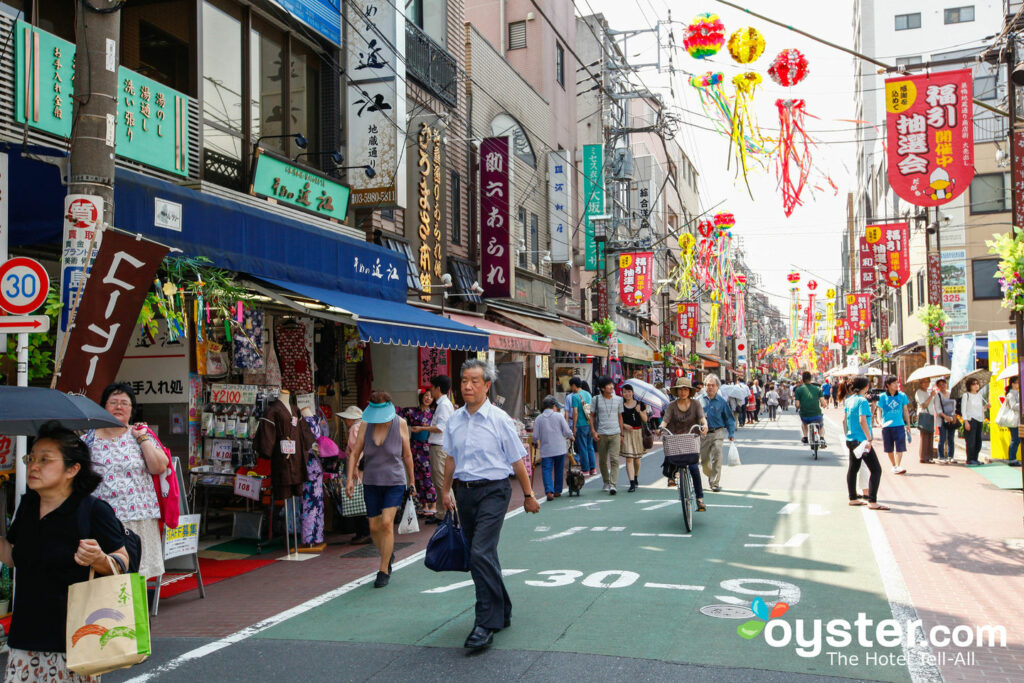 Tokyo is a shopping mecca, and the city can feel like a sprawl of retail from end to end. Ginormous malls with dizzying neon lights are ubiquitous, but there are also more laid-back hipster 'hoods with offbeat boutiques along graffiti-lined streets. To get prepped for the hunt and figure out where you want to focus your efforts -- and spend your cash -- read on for the lowdown on Tokyo's top shopping destinations.
1. Harajuku
Your Instagram feed will probably benefit more than your closet from a trip to Harajuku. This district is the epicenter of street style, with fashion defined by Japanese teenage subcultures. The major shopping street is Takeshita Dori, which boasts high-energy clothing boutiques, fast-food chains, and variety shops with candy and stuffed animals. But the real action takes place over in Yoyogi Park, which is essentially a stage for teens to show off their best looks. You'll likely see decora girls wearing a lot of black and pink and donning scads of kawaii(cute) accessories, ladies in frilly Little Bo-Peep chic outfits, cosplayer getups, and edgy goths in mega platform shoes.
2. Ginza
The world's most exclusive brands all have flagship stores here, occupying a piece of Ginza's pricey real estate. This is luxury shopping at its best, with everything from established brands to couture from new designers along Chuo-dori and its side streets. The most recent major addition is Ginza Six, which opened in April 2017 and is touted as the district's largest commercial complex. Two of Japan's oldest department stories are here: There's elegant Matsuya, with every upmarket brand in demand, and Mitsukoshi at Ginza Crossing, which has a Ladurée Salon de Thé and Harrods The Plantation Rooms for refueling in style. On weekend afternoons, Chuo-dori is closed to traffic for Pedestrians' Paradise.
This is your destination for ultra-trendy duds. The most popular department store is Shibuya 109, where you'll hear 20-something girls scream "irasshaimase!" ("welcome!" or "come in!") to no one in particular. There are also three popular shopping streets: Koen Dori, Spain Slope, and Center Gai (or Sentagai), which is a short pedestrian street that's turf for girly-glam Gyaru. Retail therapy can get pretty intense in this area. Plan on a totally disorienting experience while joining the sea of people traversing Shibuya Crossing. On the other end of the shopping spectrum, Koen Dori (literally, "park street") is a relative oasis, filled with posh shops.
Shinjuku is a commercial hub offering fashion for the masses, from and pricey to inexpensive. Here, stores are located in and around Shinjuku Station. The flagship of Isetan, Japan's chicest department store by a landslide, is housed in a beautiful building that dates to 1933. High-end Takashimaya Shinjuku takes up the lion's share of a massive 16-story building called Takashimaya Times Square. There's also Lumine, a chain that spans three buildings. Mylord is paradise for teen girls, whereas Odakyu and Keio department stores are traditional staples. Mosaic Dori is a shopping street that runs across the top of Shinjuku Station between Mylord and Keio.
5. Shimokitazawa
Shimokitazawa (locals call it Shimokita) is Tokyo's hipster neighborhood, a tiny area with winding passageways and alleys that are too narrow for cars. Walls are covered with street art and shops are housed in renovated garages and other converted buildings. There are vintage boutiques, cool t-shirt and lifestyle stores, coffee houses, and recording studios. Not surprisingly, some of the city's best small eateries and bars are thrown into the mix here, too.
This neighborhood is a little more far flung, and it's similar to Shimokitazawa, but with a more alternative edge. It's mostly a residential area, but there are funky shops, second-hand stores, two popular shopping arcades, and cafes. It's considered the birthplace of Japanese punk rock and best known for its nightlife, with a vibrant music scene and plenty of cheap bars.
You'll Also Like:
All products are independently selected by our writers and editors. If you buy something through our links, Oyster may earn an affiliate commission.