It's hard to pick just one spot to visit in Southern Italy. After all, it seems that every corner of the region is rife with beautiful scenery, architecture, and attractions. But if you're just in the area for a quick trip, it's worth starting your time in Sorrento. A laid-back, seaside town set on a cliff, Sorrento is surrounded by some of Italy's more popular tourist destinations -- Naples and Pompeii to the north; the island of Capri just offshore; Positano and the famed Amalfi Coast to the east. With a large selection of hotels and easy transportation options, it's the perfect home base for a southern Italian vacation. Aside from being a gateway to other areas, Sorrento is also a lovely place to stay. Scented by lemon groves and offering stunning views of the Bay of Naples, its Old World charm remains intact, with a maze of beautiful, cobbled backstreets and an assortment of quaint shops. Here are six of our favorite Sorrento hotels.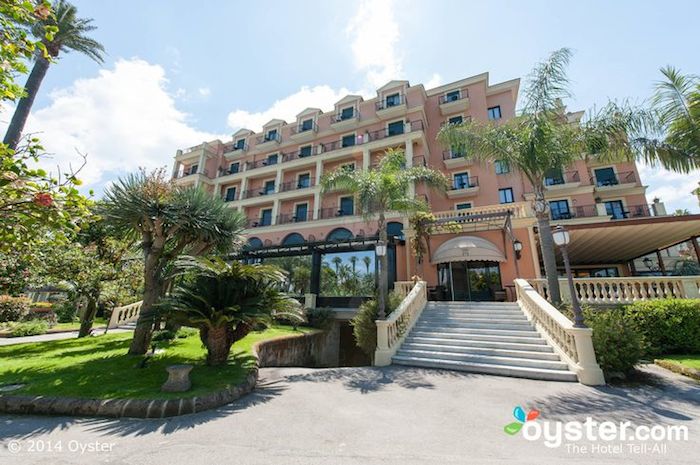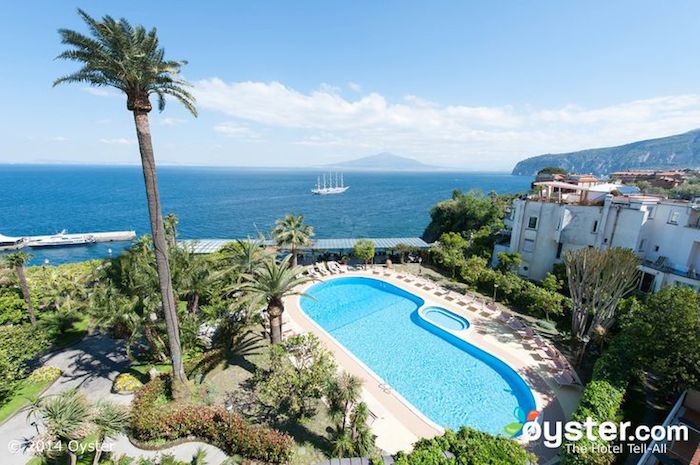 Grand Hotel Royal is set dramatically above the Bay of Naples, with floor-to-ceiling windows that open out onto the well-manicured garden and pool overlooking the bay. It's only a short walk from Piazza Tasso, popularly considered the center of Sorrento's old town, and the area's train station is also a few minutes walk away. There's frequent service heading towards Naples, with stops at stations that offer access to the Herculaneum and Pompeii. The ferry station with service to Capri is close by the hotel as well.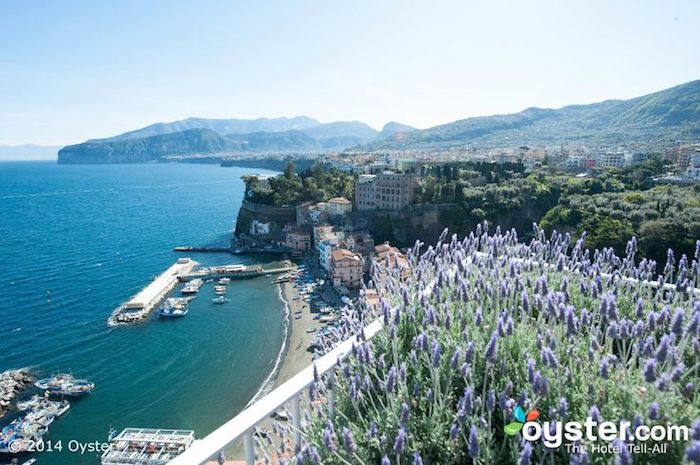 A chic boutique hotel with unforgettable views, Maison La Minervetta has been featured in travel and style magazines like ELLE Decor and Conde Nast Traveller. The property was built in the 1950s by a Danish and Italian couple whose granddaughter now operates it. She studied design in Florence, which is evident through the beautifully curated art, collections of curios, and original furnishings throughout the rooms and public spaces. A blue and white color palette dominate the lobby, which accentuates the postcard worthy views of the Mediterranean Sea through large arched windows. A blue and white tiled fireplace is a pretty touch as well. The hotel has a breezy, romantic atmosphere throughout. It's about a 15-minute walk to the city center and just 10 minutes from The Dali Universe museum. A small parking lot next to the hotel provides free parking.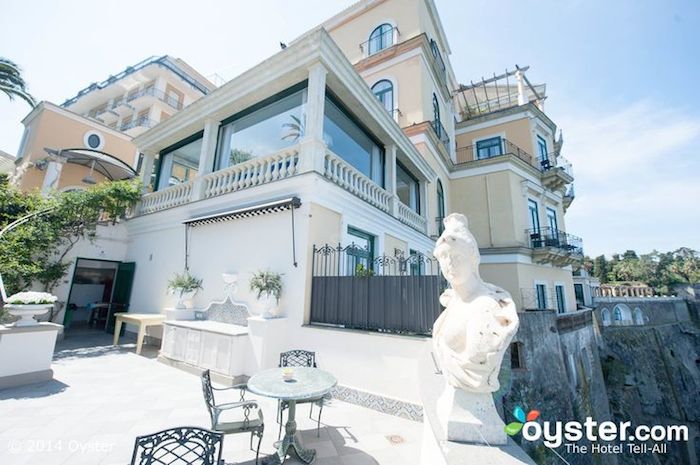 Dating back to 1820, the historic Bellevue Syrene is a romantic luxury hotel perched on a cliff in Sorrento. The hotel has two restaurants and 50 beautiful rooms, which are either sleek and modern or baroque and elaborate in design, with balconies overlooking the Gulf of Naples. Guests looking for a decadent experience won't be disappointed. There are lots of perks offered by the hotel including free snacks and cocktails throughout the day, a seasonal private sunbathing deck by the sea, and breakfast served on an ocean-view terrace. The hotel is on the edge of the town's center, and several restaurants are nearby. The Basilica di Sant'Antonino is less than a 10-minute walk. Ferries to Naples and Capri can be taken at the Sorrento Port, which is less than a 15-minute walk from the hotel. Naples International Airport is just over an hour's drive in no traffic.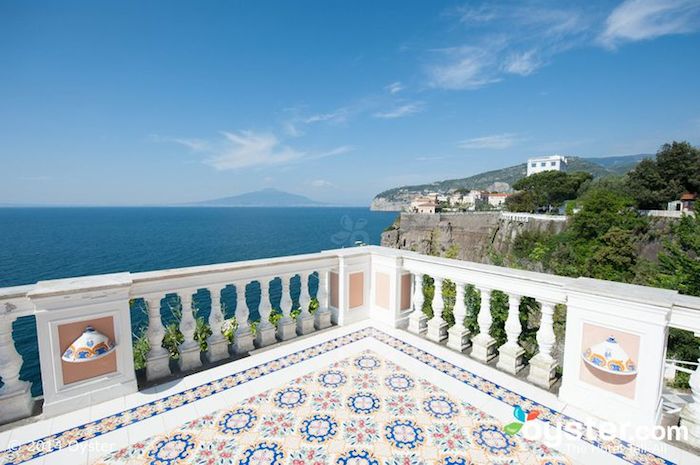 The stylish Hotel Parco dei Principi was built in the early 1960s and retains many of its original modernist design elements and striking graphic decor. Perched above the sea, Parco dei Principi occupies a dramatic location on a cliff overlooking the Bay of Naples, on the outskirts of Sorrento. Hence, the property is a significant walk from the town's center. There's a free hotel shuttle to the Sorrento bus station running a handful of times per day; reservations must be made early in the morning of one's planned trip. Naples International airport is an hour's drive away. Guests have commented favorably on the attractiveness of the grounds and the stunning views, as well as the cleanliness of the property.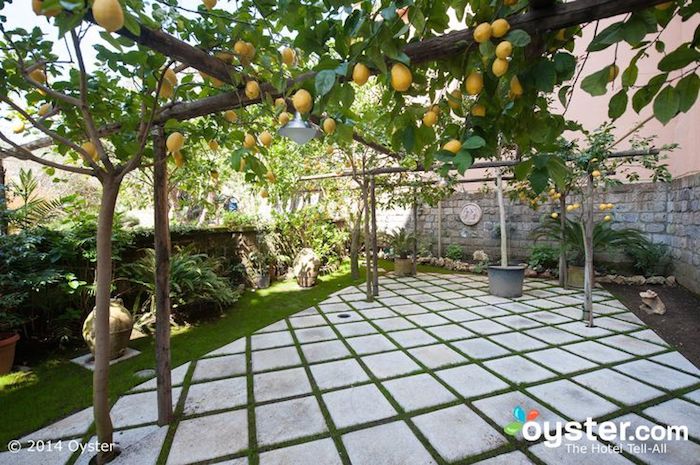 The 85-room Grand Hotel La Favorita combines gorgeous Renaissance beauty with contemporary comforts and decor. The property's central location in Sorrento makes it ideal for those wishing to explore the town on foot, take a boat tour to islands, or grab public transport. (With pricey parking and high pedestrian traffic, the locale is less ideal for those with cars.) Lemon tree gardens are beautiful and relaxing, while the rooftop deck, complete with sparkling pool and bar, has a more lively and modern feel. Located in a pedestrian area near the Piazza della Vittoria, this venue is ideal for anyone who wants to be within walking distance of the town's shops, restaurants, and bars. La Favorita is also close to the harbor, where visitors can book 40-minute boat trips to famed Capri. The beach, theater, and railway station are all within walking distance, while the historic town cathedral is just down the street. Reaching points of interest such as the ruins of Pompeii and the town of Positano takes 35-45 minutes by car, and Naples, home of the closest international airport, is about an hour's drive away. The concierge can arrange multiple excursions to a variety of Amalfi destinations.
The 12-room Maison Tofani is an intimate four-pearl boutique in the historic center of Sorrento. The hotel has a pretty interior Neapolitan courtyard lined with orchids and tiled tables, and surrounding cobblestone streets lead to nearby restaurants, shops, museums, and cathedrals. Past guests rave about excellent service and the free daily breakfast. There isn't an on-site restaurant, though the wine cave offers tastings with cheese and charcuterie. Rooms are spotlessly clean and stylish; some have balconies and whirlpool tubs, though views can vary. Terranova Correale Museum and Sorrento Cathedral are less than a 10-minute walk from the hotel. The neighborhood is overflowing with souvenir shops and restaurants. For ferries to Capri and Ischia islands, the harbor is about a half-mile away. The Vallone dei Mulini parking area is a three-minute walk away, next to Piazza Tasso.
Check out Oyster's page on Google+
To learn more about Jamila St. Julien, visit her on Google+
RELATED LINKS:
All products are independently selected by our writers and editors. If you buy something through our links, Oyster may earn an affiliate commission.