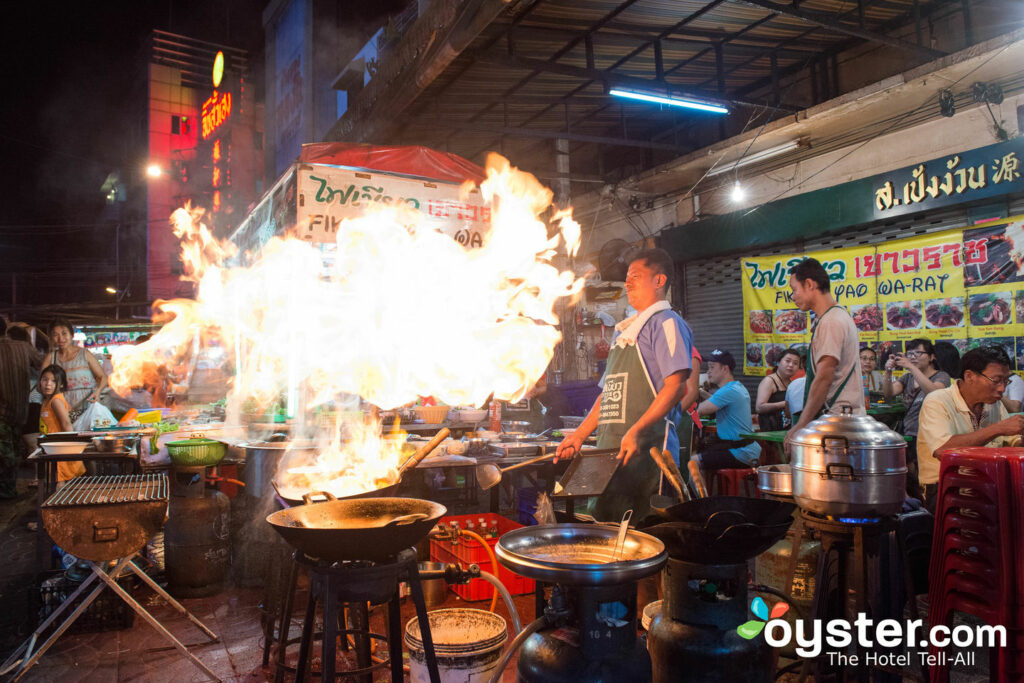 While fluent English speakers make up only 15 to 20 percent of Thailand's population, many more locals know enough to give directions, make recommendations, and haggle (more about that later). But just because you hear a lot of spoken English doesn't mean that you'll avoid making gaffes. Travelers to Thailand can stumble into many mistakes, from forgetting to bring electric adaptors to falling for pricey scams. Tip: If someone offers you a great deal on sapphires, it probably isn't one. (Been there, almost paid for that.) Like many countries with a large, Western-friendly tourism business, Thailand has a well-developed subculture of grifters. Most of these cons are relatively harmless and fairly obvious, especially when you know what to expect. But if you're not smart, you could wind up paying way too much for a taxi or temple tour. With that in mind, we rounded up 11 potential pitfalls to avoid on your next trip to Thailand.
1. Asking a Taxi or Tuk-Tuk Driver "How Much?"
Many cities have taxi drivers who deceive tourists. Before you get into a cab or tuk-tuk, know what your ride should cost. Drivers who park their cars near hotels and tourist spots are particularly well-known for overcharging visitors. Ask a concierge or a trustworthy guide what the price of your journey should be. If the cab driver offers to give you a special flat-rate price, politely ask him or her to use the meter. Make sure the meter is zeroed out before the ride starts. Yes, some drivers will start your fare by adding to the number that's already on the machine. When you ask taxi or tuk-tuk drivers how much a ride costs, the opportunity for them to get several extra dollars goes up manyfold.
2. Forgetting the Electric Adaptor
You might forget to bring the right adaptor on a lot of trips, but keep in mind that Thai outlets use two horizontally aligned prongs that are either flat or round. You may also want to bring an adaptor that has several inputs, since a lot of Thai hotels don't have quite as many plugs as you'll find in upscale accommodations in the U.S.
3. Assuming Everything Is Cheap
In the past few decades, Thailand has developed a reputation for having unbelievably low prices. You don't have to search long to find an expatriate blogging about how he or she quit their day job to live in a small Thai town for years. Even upscale accommodations can be surprisingly affordable. A first-class train ride from Bangkok to Chiang Mai costs about $65. But the big cities and resort towns like Phuket also have top-notch restaurants and spas with price tags comparable to many other world-class destinations. It's unwise to go walk into a bar and start ordering round after round for you and all of your friends, assuming it's cheap. When the tab arrives, you may discover a bill with numbers equal to any you'd find in a big American city.
4. Believing the Grand Palace Is Closed
Another popular scam is being approached by a stranger or told by a taxi driver that the Grand Palace is closed for a Buddhist ceremony or another reason. Capitalizing on your disappointment, the grifter happens to know that another palace, such as the Sitting Buddha or Marble Temple, is open only one day a year and — guess what — it happens to be the special day. This adventure usually winds up in a clothing shop or jewelry store with your new guide expecting you to buy something before leaving. If you're concerned about being taken, many of the larger cities have tourist police that are happy to help.
5. Avoiding Street Food
Less adventurous eaters may cringe surveying the local street food carts with woks blackened from years of use. The open-air meat marination may also give a few gourmands pause. Thai street food is some of the best in the world and usually fine to eat. Not sure where to nosh? Bangkok's Charoen Krung Road is filled with a bouquet of stir-fried garlic and simmering noodles. Ratchawat Market has plenty of roast duck and beef dishes. If you want to enjoy Thailand's street food delights while sitting in a restaurant, Yaowarat and Charoen Krung Roads employ many cooks who have made the transition from al fresco frying to full-service dining. Pro tip: Street cleaning happens on Mondays in Bangkok and many food carts take the day off to avoid the tumult. Plan to have your open-air buffet on another day.
6. Fearing the Ice
Most visitors have valid concerns about the quality of tap water in Thailand. It's true, few Thai people drink the tap water because the monsoon flooding and plumbing systems make the water purity less than ideal. Plan on drinking bottled water while there. However, most cities have ice factories that use purified water. If you have doubts about whether the frozen chunks floating in your cup were made with quality H20, check that they're shaped like tubes with holes in the center — a sign of mass-produced ice.
7. Not Haggling
You may think bargaining for a better price is déclassé, but the practice is accepted in Thailand. Don't be surprised when you hear a price is inflated for tourists. You may never pay the amount a local would, but definitely suggest a better deal and keep smiling. If your buying price is below the seller's ask, they can always say no. It's unusual for a seller to be seriously offended. Also, check out our top tips for haggling in Asia.
8. Only Going to a Resort or Beach Party
Phuket and Koh Samui have beautiful resorts with white-sand beaches, refined decor, and relaxing massages. But it's also worth getting out of that chaise lounge and seeing the country. The Similan Islands and Phang Nga Bay make for great day trips from Phuket. These idyllic spots aren't quite as soaked with tourists. Not far from Koh Samui, you can go sea kayaking in the Ang Thong National Marine Park.
9. Buying Knockoffs
Thailand's geographic location means a lot of counterfeit goods easily make their way south from China to the streets of the "Land of Smiles." The quality of these knockoff items is usually so low that they fall apart weeks after purchasing them. Technically, it's illegal to buy counterfeit goods and there's a chance they may be confiscated by customs officers. Plus, Thailand has so many impressive craftspeople that you can likely get a more distinctive accessory by doing a bit of smart shopping.
10. Not Partying Smart
Heading south to dance the night away at Koh Phangan's Full Moon Party? There are a few things to keep in mind. Drugs like amphetamines and ecstasy are illegal in Thailand and buying them from a local dealer could get you set up for a shakedown or even arrested. Some locals prey on intoxicated tourists, so if you're planning on getting plastered, don't carry many valuables and try to have a sober chaperone. Even if you're just drinking alcohol, the night can go overboard quickly. The locals sell buckets of booze, which are fairly cheap (around $6), so you may be temped to get more than one and barely remember the reason you came to Thailand in the first place.
11. Not Packing Long-Sleeve Shirts and Pants
Even if you're visiting Thailand during the warmer months, don't forget to pack long-sleeve shirts and pants. The temples typically require visitors to have tops that at least cover the elbows and pants or dresses that extend beyond the knees. If you're not wearing these items, you may have to "rent" clothes to properly cover yourself. Also, be prepared to take off your shoes in many of the holy sites and remember that pointing your shoes at a Buddha statue is considered disrespectful.
You'll Also Like:
All products are independently selected by our writers and editors. If you buy something through our links, Oyster may earn an affiliate commission.