Through our many travels we've learned that April showers don't just bring May flowers – they bring delicious May produce! Everything from zucchini to asparagus, spring peas to corn, and watermelon to strawberries begin sprouting up during the spring and summer. And if you're not quite ready to put on the overalls and bring in the harvest yourself, the next best thing is to visit a local farmers' market, where fresh produce abounds. We've picked out our 10 favorite farmers' markets across the states, so no matter where your spring and summer vacations take you, you'll have plenty of tasty treats to bring home. And we've even found a great hotel near each spot so you can be sure to beat the crowds.
1. Pike Place Market, Seattle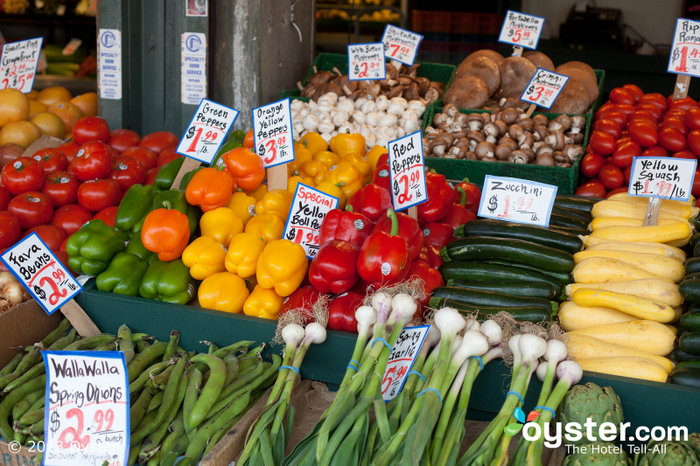 Pike Place is one of Seattle's main attractions. Featuring numerous produce, meat, and fish stands, the market also has plenty of craft kiosks for buying local artwork and gifts. It is open 7 days a week, and though most stands close around 5 p.m., several fine-dining restaurants on the 9-acre historic district are open late.
Where to Stay: Inn at the Market is aptly named. It is one of Seattle's best-known, and most popular, hotels, in large part due to its unbeatable location: It's in the heart of downtown Seattle, just half a block from Pike Place Market.
2. Farmers Market, Los Angeles
Claiming to be "the original" farmers market, this well-known spot originated in 1934 when a few farmers settled their trucks on the, at that point, empty patch of dirt. Nowadays, it's a thriving marketplace with kiosks, stands, shops, and restaurants. Open all year-round (except Thanksgiving and Christmas), the market features musical performances on Thursdays and Fridays during the summer.
Where to Stay: Located on 3rd Street, The Orlando is just a 15-minute walk from the market (albeit along a relatively busy street). This attractive boutique hotel offers a small rooftop pool and large standard rooms.
3. Union Square Greenmarket, New York City
Who says you can't find farm-fresh produce in New York City? The Union Square Greenmarket is one of the prime spots to get straight-from-the-farm produce, as well as fresh meat, fish, preserves, and baked goods. The market features over 140 stands and has about 60,000 visitors per day.
Where to Stay: The W Union Square overlooks the market, and features all the perks of a W hotel: a hip vibe, interesting décor by hotel designer David Rockwell, a popular nightclub, and the high-end chain's signature "whatever/whenever" service.
4. Charleston Farmers Market, Charleston
Open April through December, the Charleston Farmers Market is located in beautiful Marion Square. And Charleston may seem like a quaint, small town, but this market is big – visitors can bring home everything from vintage jewelry to handmade pasta, from local meats to fresh veggies.
Where to Stay: Still considered one of Charleston's grand dames, the historic Francis Marion Hotel has lost some of its luster — the decor is a bit dated, and the restaurant receives mixed reviews. But you still can't beat this hotel's historic downtown location, overlooking Marion Square.
5. Boston Copley Square Farmers Market, Boston
A farmers market is a particular summer treat in Boston, which certainly has some cold months. The Copley Square Farmers Market, located in the historic and upscale Back Bay area, is open May through November and features several dozen vendors selling local goods.
Where to Stay: After a thorough renovation several years ago, the historic Copley Square Hotel features cutely decorated (if small) rooms and a long list of freebies, such as Wi-Fi, morning coffee and tea, and a nightly wine reception. Not only is the hotel steps from Copley Square, but it is also within walking distance of Fenway Park.
6. Portland Farmers Market at Portland State University, Portland, OR
A relative newbie by farmers markets standards, the Portland Market became a hotspot in 1992 and continues to be a favorite of hipster locals and visitors today. Located on the PSU campus, the market is open every Saturday March through December. Fresh produce is a big draw, but perhaps the most popular stands are those offering tasty sandwiches and snacks.
Where to Stay: Just a five-minute walk from campus, Hotel Modera is a popular choice among visiting parents, as well as people in the downtown area for business. It offers few on-site amenities, but the upscale hotel has a nice vibe with local art, funky furniture, and high-tech rooms.
7. Eastern Market, Washington, D.C.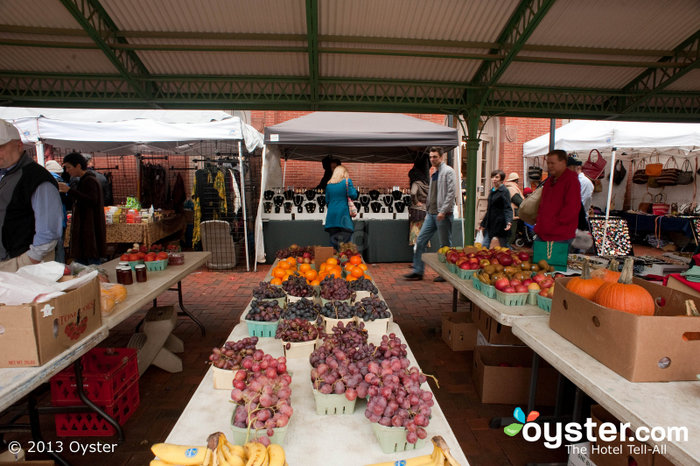 Located in Capitol Hill, the Eastern Market is the oldest, and one of the largest, fresh produce markets in D.C. With two outdoor markets and one indoor market, this year-round hotspot is hopping with visitors six days a week (it is closed on Mondays). Stands offer fresh flowers, fresh seafood, and everything in between.
Where to Stay: The Liaison Capitol Hill is part of the Affinia Brand, known for its upper-mid-range hotels that offer hip décor, comfy beds, and a long list of freebies. If the weather's nice, guests may enjoy the 30-minute walk to Eastern Market; otherwise, it's about a 7-minute drive.
8. Sweet Auburn Curb Market, Atlanta
Located on the eastern edge of downtown Atlanta, the Sweet Auburn Market attracts residents, students, and visitors in crowds. A largely indoor market (Atlanta gets hot!), it has been operating since 1918 and features tons of vendors, stands, and even restaurants. The market is closed on Sundays.
Where to Stay: Less than a 15-minute walk from the market, the Ellis Hotel is a stylish boutique property with perks such as a delicious farm-to-table restaurant and $1 wine tastings in the evenings.
9. Green City Market, Chicago
The Green City Market is open year-round, but expands to include an outdoor area from Mary through October, every Wednesday and Saturday. Right by Lincoln Park, the market ensures that all produce is local and sustainable. The market also offers numerous educational programs.
Where to Stay: Though the Days Inn is an inexpensive option even closer to the market, we'd recommend a stay at Villa D'Citta if the Green City Market is on your Chicago trip agenda (and it should be). This six-room bed and breakfast is an ultra-romantic option, with a quaint rooftop patio with a whirlpool and a communal kitchen. It's about a 15-minute walk from the market.
10. Ferry Plaza Farmers Market, San Francisco
The Ferry Plaza market is an indoor/outdoor market, with the indoor vendors occupying part of the iconic Ferry Building, located on the San Francisco Bay. The market is open three days a week and each day features specific vendors and specialties; Tuesdays offer largely organic produce, Thursdays feature artisanal street food, and Saturdays host local restaurants that bring their tasty dishes to the streets.
Where to Stay: Le Meridien is just a few blocks from the market, and many rooms offer gorgeous views of the harbor and city. The surrounding neighborhood is relatively quiet (the hotel is located in the Financial District), but the stylish rooms and happening lobby bar make it a fun, and lively, pick.
RELATED LINKS:
All products are independently selected by our writers and editors. If you buy something through our links, Oyster may earn an affiliate commission.