As the second largest state in the United States, Texas is teeming with diverse ecosystems. From lakes to deserts to mountains, Texas has it all, especially when it comes to beautiful state parks. Whether you're a outdoor pro or a more casual adventurer interested in the wonderful and diverse beauty of Texas, check out our list of the 10 best state parks in the Lone Star State.
Need a place to stay? Check out our expert reviews and photos of 255 hotels in Texas.
1. Palo Duro Canyon State Park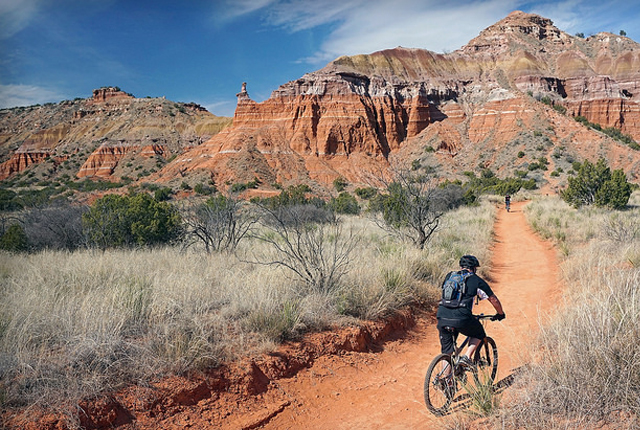 They say everything is bigger in Texas, and that's too true when it comes to Palo Duro Canyon State Park. Nicknamed the Grand Canyon of Texas, it's the second largest canyon in the United States at 120 miles long and 20 miles wide. With so much land, there are seemingly limitless activities to do when visiting. For one, there's over 30 miles of hiking, biking, and horse trails, not to mention outdoor musical performances in the summer. The park is found in the panhandle of north Texas near Amarillo, so those who stay in the city after a full day of hiking and exploring should be sure to stop by the roadside attraction of Cadillac Ranch and grab a steak at the famous Big Texas Steak Ranch & Brewery.
2. Caprock Canyons State Park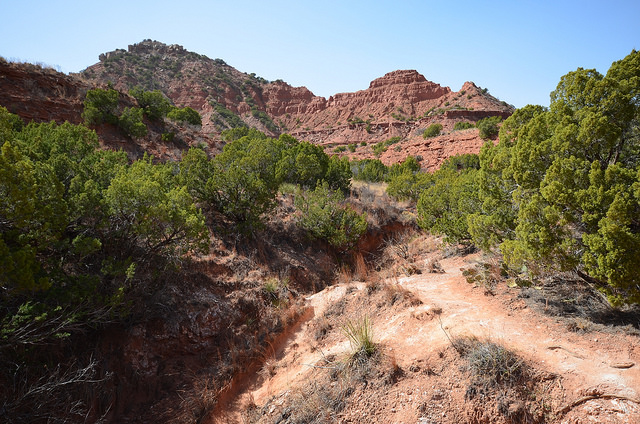 Even the most avid hikers might feel a little overwhelmed with the 90 miles of trails at Caprock Canyons State Park. There's plenty to see along the paths, such as bison that roam the park and bats that live in Clarity Tunnel. Better yet, the pink-and-cream strata of the cliffs and canyons are stunningly beautiful to behold. Don't forget to witness the Llano Estacado, a "sea of grass" that befuddled the Spanish explorer Francisco Vázquez de Coronado in 1541.
3. Dinosaur Valley State Park
If you can imagine, much of Texas used to be an ocean, and some of the world's most famous extinct creatures left their footprints on its muddy shores — which are now an arid landscape. Dinosaur Valley State Park is the home of dinosaur tracks that can be found near the Paluxy River, just south of Fort Worth, Texas. The tracks aren't always visible, so it's best to visit during a time when there hasn't been a lot of rain. Be sure to check the park's website, Twitter, or Facebook page before you go, as the park rangers generally let visitors know when the tracks are visible or not.
Where to Stay in Fort Worth:
4. Big Bend Ranch State Park
West Texas is teeming with beautiful parks like Big Bend National Park. But after days of exploring the gorgeous spot, travelers might want to make a stop at Big Bend Ranch State Park, which provides a different experience. Most of the park is a combination of uplands and small peaks that are perfect for hiking and climbing. It's Texas' biggest state park with 238 miles of trails. Since it includes the Camino del Rio, explorers might want to also go tubing or fishing in the waters. In February the park hosts the Chihuahaun Desert Bike Festival.
5. Enchanted Rock State Natural Area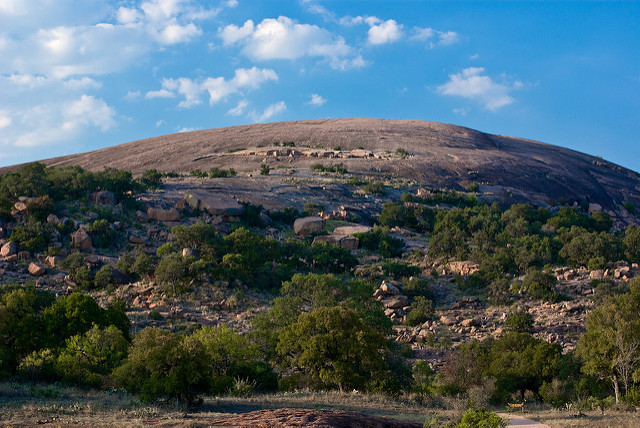 Many travelers in Texas are drawn to a large pink granite dome-shaped rock in south central Texas just an hour-and-40-minute drive west of Austin. It's called the Enchanted Rock, and it's a perfect for a great climb with stunning views. Native American legends about this rock are plentiful — some are grisly and tell of human sacrifices, while others are beautiful love stories between Spanish settlers and native princesses. It's also said to be haunted by many souls associated with the legends of the rock. Whatever you believe, it's still a great place to spend a day exploring.
Where to Stay in Fredericksburg, a 20-Minute Drive South:
6. Seminole Canyon State Park & Historic Site
https://www.instagram.com/p/BPXXixnFkoA
Like most other state parks, Seminole Canyon State Park on the Texas-Mexican border has plenty of hiking trails, cliffs, and canyons to enjoy. But what makes this park different from the rest is that it's the home of beautiful Native American pictographs and is thus a historic site. Native Americans lived in the natural rock shelters and caves as early as 12,000 years ago, but the 200 rock paintings date back approximately 4,000 years. The pictographs can only be seen on tours for a fee, but they're well worth it, as the tours take visitors to some of the oldest cave dwellings in the United States.
7. Monahans Sandhills State Park
https://www.instagram.com/p/BHuxKPTDb-5
Who says you need to head to the Sahara for sand dunes? West Texas has plenty of them at Monahans Sandhills State Park. The landscape is interesting enough just to witness, but you can make the entire experience more memorable by renting sand toboggans and disks from the park headquarters and spending the day "surfing" on the dunes.
8. Caddo Lake State Park
https://www.instagram.com/p/BS6PHoShDom
If hiking through canyons isn't your thing, head to Caddo Lake State Park for a swampy state park experience. This East Texas treasure is a maze of bayous, ponds, cypress trees, and Spanish moss, and it's a perfect place to fish, canoe or kayak, and see alligators. There are more than 50 miles of breathtaking waterway trails for travelers to explore, and it's sure to be a memorable state park experience.
9. Colorado Bend State Park
https://www.instagram.com/p/BTNKcr_DPjz
Colorado Bend State Park has the typical experience that you'd expect — hiking, canyons, cliffs, and trails — plus caves and waterfalls! Gorman Falls is the park's main attraction. It's a three-mile round trip trek to the falls if you're going solo, or a 1.5-mile round trip hike by guided tour. After visiting the beautiful falls at Colorado Bend State Park, it's totally worth exploring the park's natural caves (which are only open by guided tour).
Where to Stay in Austin, a Two-Hour Drive Away:
10. Longhorn Caverns State Park
Located in Texas Hill Country is Longhorn Caverns State Park. As the name suggests, there's a large cavern system that can be explored by a variety of tours, some of which are just walking tours, while others have you climbing and wriggling through narrow gaps. Not just a beautiful sight, the Longhorn Caverns are also home to interesting legends — for instance, it was reportedly an illegal nightclub in the 1920s. Plus, some say the caverns are haunted. The only way you'll find out is by making the visit.
Where to Stay in Marble Falls, a 20-Minute Drive Away:
You'll Also Like:
All products are independently selected by our writers and editors. If you buy something through our links, Oyster may earn an affiliate commission.