The undeniable history, charm, and romance of cobblestone streets have a way of winning over even the most stubborn of self-proclaimed modernists.
If we're going to be completely accurate, true "cobblestone" streets are only those that are distinctly bumpy, with roundish stones, originally designed for horses (and their hooves) to get a good grip. Later in the 19th century came Belgian Blocks, often called "setts" -- which are the more common rectangular granite stones that replaced true cobblestones to give a smoother ride for carts and carriage wheels.
Despite the formality, many people call both of the above cobblestones (why not?), and these photogenic little streets can be found all over the world. Here are our 10 favorites in America; let's hope these beloved ankle-breakers survive the asphalt test of time.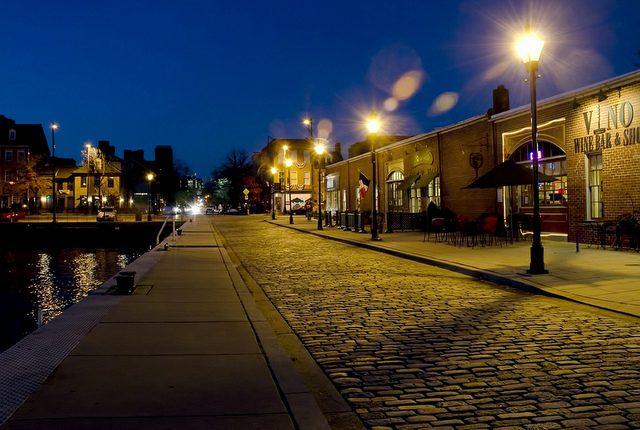 The city's Fell's Point neighborhood, primely situated for tourists in the Inner Harbor, dates back to 1763. (It was named Maryland's first National Historic District in 1969.) Back then, it was better known for boarding houses, bars, and even brothels. Today, the maritime neighborhood, with its many cobblestoned streets, still holds the highest concentration of nightlife options in Baltimore — albeit more civilized (and legal) ones, and is also home to cute boutiques, seafood restaurants, coffee shops, and wine bars, like this one on South Ann Street.
Nearby Hotel Pick: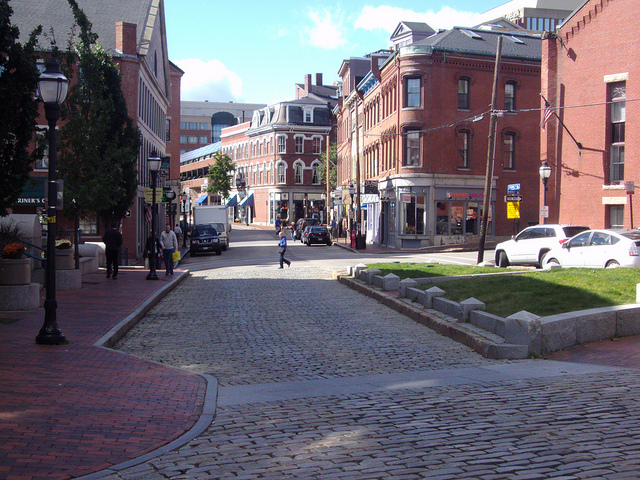 Maine's largest city and former capital has some pretty notable history — especially around the Old Port, a district known for its cobblestone streets and flickering gas lamps. The city's crux offers waterfront views across Casco Bay from its fishing piers, as well as charming 19th-century architecture, which survived the Great Fire of 1866 that left 10,000 people homeless. Fore and Wharf Streets, in particular, are the highlight of this picturesque downtown thoroughfare through the heart of the Old Port Exchange, where visitors can find a nice selection of locally-owned shops, restaurants, and bars.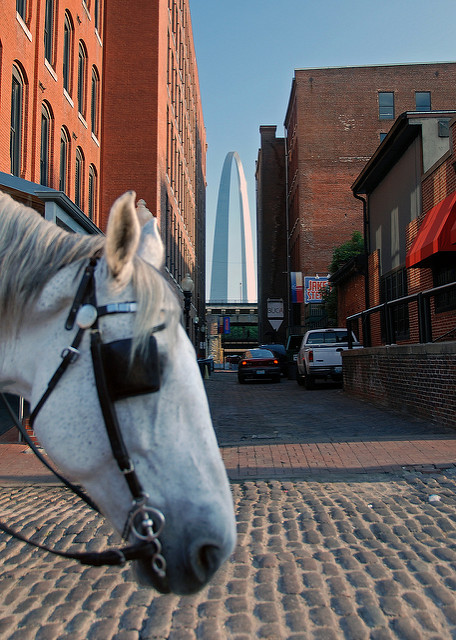 Built in 1780, the 22-acre historic district along the banks of the Mississippi just north of the Gateway Arch was founded by the Frenchman Pierre Laclède, who first landed on the riverside 16 years earlier. The nine-block area is therefore, not surprisingly, the city's oldest district and was once the center of manufacturing, warehousing, and shipping in St. Louis. Today, this lively waterfront hub offers nightclubs, tourist attractions, and more than 20 restaurants that reside in a mix of architectural styles — ranging from Federal to late Victorian.
Nearby Hotel Pick:
There used to be a time when nearly every street in New York City was made of cobblestones and Belgian Blocks that were shipped over in the 1830s, and a few still remain, particularly in Lower Manhattan. It's not hard to find one of these gems around SoHo, TriBeCa, and the Meatpacking District, but perhaps lesser-known (yet equally as quaint) are the streets around Brooklyn's Vinegar Hill — a quiet square northeast of the Manhattan Bridge, adjacent to DUMBO. The area is marked by rustic brownstones housing a few bodegas and galleries, as well as a seasonal New American restaurant called Vinegar Hill House on cobblestoned Water Street.
Also worth checking out is the Commandant's House (the residence of the commander of the Brooklyn Navy Yard). This Federal-style mansion was built in 1806, and is said to have been designed by the same architect as the U.S. Capital Building. The house is currently privately owned but can be seen through iron gates on Evans Street.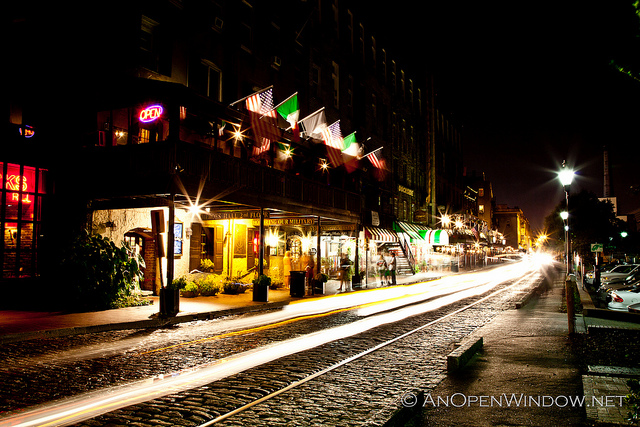 Paved with 200-year-old cobblestones, River Street runs along the length of the Savannah River near one of the most famous ports in the country. The street was once lined with warehouses before the neighborhood was quarantined in 1818 due to the Yellow Fever epidemic, which left the area abandoned for years. In the 1970s it was rediscovered by local landowners and urban planners who were determined to trigger revival — and they succeeded, at the cool cost of $7 million. Today the area is a hub of shops, restaurants, art galleries, and venues visited by tourists and locals. Walking tours also provide a glimpse into Savannah's other cobblestone streets, such as Bay and Jones Streets, which have been around since the 18th century.
Nearby Hotel Pick: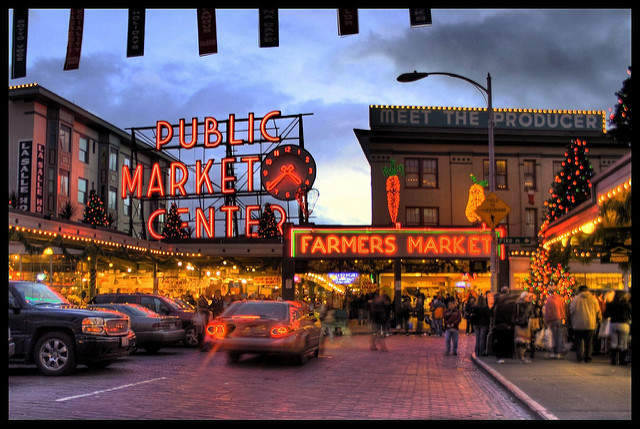 There are still a few cobblestone streets on Seattle's steep roads, which the city preserved for historical value; the rest have been paved over. One of the more prominent survivors overlooks Elliott Bay and leads to Pike Place, which first opened in 1907 and remains the oldest continuously-running public farmers markets in the country. When it first opened, the city was experiencing a major growth spurt from the gold rush, and farmers brought their vegetables, fruit, dairy, and meat by horse-drawn wagon, or boat from nearby islands. A short walk from the market is the cobblestoned and very European-in-feel Post Alley for eccentric attractions like the chewing gum wall, and elegant restaurants like the Pink Door.
The birthplace of the Constitution and the Declaration of Independence is, not surprisingly, home to some important cobblestone streets, particularly around the Old City, which was added to the National Register of Historic Places in 1972. This popular neighborhood is buzzing with nightlife, galleries, and quality restaurants, and narrow cobblestone gems like Elfreth's Alley, the oldest continually inhabited street in America, as well as narrow residential lanes in the Washington Square West neighborhood, like Quince Street.
Nearby Hotel Pick: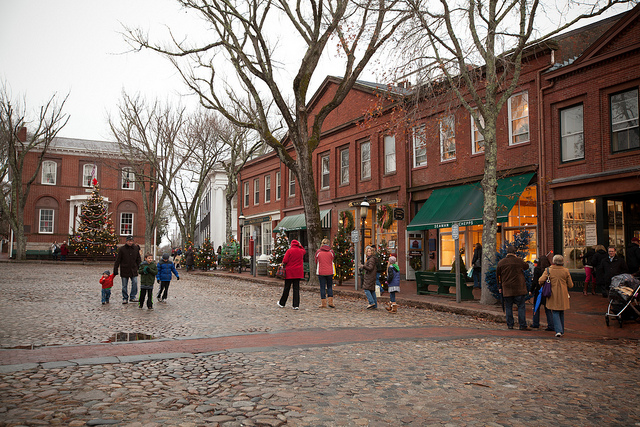 The 14-mile-long island off the coast of Cape Cod in Massachusetts is a cobblestone lover's dream. It may be a sophisticated, tony spot, but anyone who has tried to wear heels in downtown Nantucket will likely never do it again after some tricky walks. (Flat sandals or comfy wedges, at even the most posh restaurants, are common.) During the mid 1800s, cobblestones were used to pave the muddy dirt roads here, bringing about a major improvement for the year-rounders and influx of summer visitors for decades to come. Unlike basically every other destination on this list, in Nantucket there are more cobblestoned streets in town than ever these days; after the town dug into a portion of India Street for maintenance, workers repaved it with the same cobblestones that had been hiding beneath asphalt for almost 10 years. High fives, Nantucket!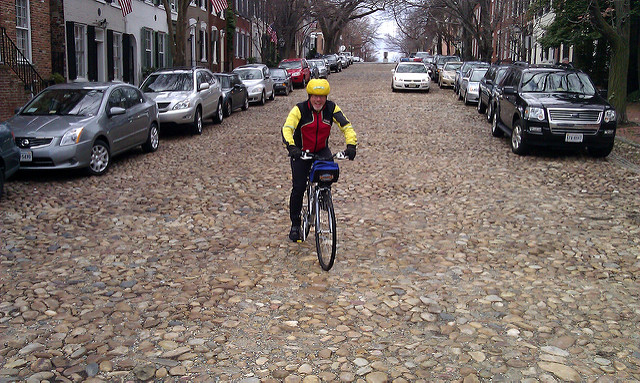 Once home to George Washington, the streets in Old Town Alexandria are arguably some of most beautiful colonial blocks anywhere in the country. This well-preserved historic district takes up 17 blocks near the Potomac River and is home to Captains Row, where irregular stones showcase the real deal as far as cobblestones go. The area is lined with many of the oldest homes in the city, originally built by prominent merchants and politicians (this is a suburb of D.C. after all). Look for the Historic Alexandria Foundation plaques, which note sites for their architectural significance, and check out the red brick sidewalks along historic King Street, with more than 160 independent galleries, restaurants, and shops.
The top spot on the list goes to Acorn Street in Boston, said to be the most photographed street in the U.S. Measured in terms of cattle — in this case, two cows wide — this narrow charmer is paved with true cobblestones and lined with vintage red brick row houses that will likely cause real estate envy. The Beacon Hill neighborhood in general is known for its well-preserved architecture and romantic gaslit streets, and therefore it's regarded as one of the most sought after (and expensive) areas in Beantown.
Nearby Hotel Pick:
Related Links:
All products are independently selected by our writers and editors. If you buy something through our links, Oyster may earn an affiliate commission.