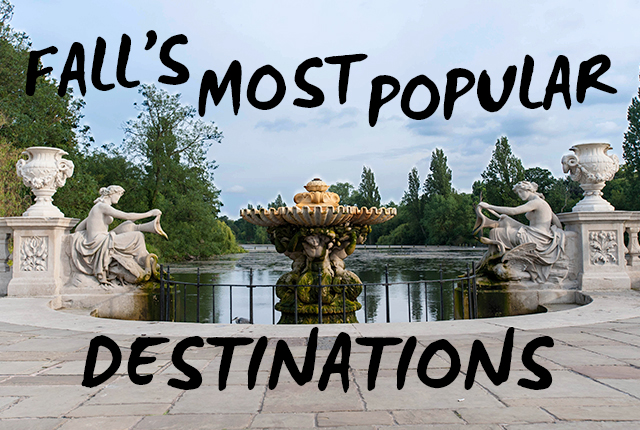 Autumn trips are synonymous with leaf peeping, but...surprise!....not a single one of the six most popular destinations for this fall are known for sugar maples. While fall is not the heaviest travel season of the four, plenty of savvy travelers like to take advantage of the nice weather, thinner crowds, and lower rates that can be found between Labor Day and Thanksgiving. So where are those smart travelers headed over the next few months? A survey of U.S. travel agents conducted by Travel Leaders Group, a trade organization based in the Minneapolis/St.Paul metro area, names those destinations, based on booking data for the rest of the year.
The "valley isle" is on many must-visit lists, what with dreamy weather year-round, pretty little artist colonies, humpback whale watching, and the bucket-list-worthy road to Hana. And fall fortunately brings lower airfares from the mainland, as well as better hotel deals. A recent search on Kayak for flights from New York City to Maui in late December versus late October revealed a gasp-inducing, 100-percent difference. You may pay double to fly anywhere over the holidays, true, but when you're starting at $800 per roundtrip airfare, and likely are traveling with family in tow….well, timing a trip to the lowest fares may mean the difference between going and not going.
What else may have nudged this tropical retreat to the top of the heap this particular fall? "Domestically, Maui has long been among the most sought after destinations for American travelers, but had never surpassed Orlando, Las Vegas, or New York City for the top spot. Because the Zika virus has had an impact on some individuals' travel decisions, particularly those who are pregnant, Maui's positioning has been bolstered by having no cases of locally-transmitted Zika," stated Travel Leaders Group CEO Ninan Chacko.
Hotel Pick:
The best time to visit Disney World, considering everything from weather to lines perspectives, is widely considered by Mickeyphiles to be mid-October to mid-November. This year, it could be that enough parents have figured out that smiling through this not-inexpensive vacation, rather than slogging through it, is worth pulling the kids out of school.
With Halloween now a family celebration season nearly on par with Christmas, interest in an October trip to the kid mecca that is Orlando makes sense. LEGOLAND Florida is hosting Brick or Treat, with a spooky scavenger hunt, costume contests, and a spider-themed fireworks show every night over Lake Eloise. SeaWorld is trotting out its annual Halloween Spooktacular this year with new shows, craft areas, and candy stations. For teens and adults, Universal Studio Florida's Halloween Horror Nights feature nine haunted houses (not the kiddie kind, though, we must emphasize).
Hotel Pick:
OK, London is no less misty in the fall. So why does it earn a respectable number-three spot? "The Brexit vote and resulting fluctuation in the British pound has been incredibly favorable for American travelers, whether for leisure or business trips. While London has always been among the top international destinations on our list, this is further proof that travelers are very willing to adjust and seize upon a prime opportunity when there's increased value in a particular destination," stated Chacko. Aside from it being a relative bargain at the moment, fall can be the best time to visit if you're into all things culture. History buffs may enjoy Guy Fawkes Night on November 5.
If you're more of a literature person (with a strong stomach), you may want to check out Dinner at the Twits at The Vaults. The British novelist and screenwriter Roald Dahl created a nasty couple in The Twits who dine on "bird pie, beard pickings, and worm spaghetti." The adults-only event will feature an…inspired menu, thankfully paired with strong cocktails, including Mr. Twit's Odious Ale — a beer made using yeast swabbed from Roald Dahl's writing desk. Pop stars from neighboring countries will be performing this fall as well, include Icelandic superstar Björk in a virtual-reality based show, which promises to capture footage from within Björk's mouth as she sings, as well as the Swedish band Goat, known for intense "voodoo psychedelia" live shows.
Hotel Pick:
NYC's Times Square, Liberty Island, The Met, The Empire State Building, and American Girl Place are always crowded. We're talking about the most visited city in the United States, after all. But in October and pre-Thanksgiving November, they're all less so, and that little bit of breathing room can be enough to entice those who wouldn't dream of dipping a toe in Bethesda Fountain at other times of the year. The weather is usually pretty nice for walking around — sometimes outright gorgeous — in those months as well.
An annual October event, this year on the 15th and 16th, is Open House New York. On that weekend, landmark buildings, some normally off-limits, open to the public for tours and informal snooping around. The participating spots number too many to list, but include the Woolworth building, the Alexander Hamilton U.S. Custom House, Google headquarters, and the TWA Flight Center at JFK airport. This will be your last chance to see the latter, since the famous mid-century structure is going to be converted into a hotel in the coming months. If you're really itching for a foliage fix, a detour to the Hudson Valley from Grand Central is a doable day trip.
Hotel Pick:
Ah, Cancun. Popular for several reasons: easy flights from anywhere in the U.S., a festive vibe, good food, ancient ruins to explore, and, of course, those beaches. In the fall, temperatures are still plenty warm for swimming, but resorts are much less crowded, and prices are at rock bottom. (Fall is the rainy season, but it's still a popular spot with plenty of travelers willing to take the risk.)
Cancun has several unique draws right around it, such as the Tulum and Chichen Itza Maya ruins. Another one: swimming in a cenote (subterranean swimming hole). It's a surreal experience, and one that, being underground, is impervious to rain. A few of the less touristy, yet still easy-to-access, locales for cave swimming are Aktun Chen and Rio Secreto.
Hotel Pick: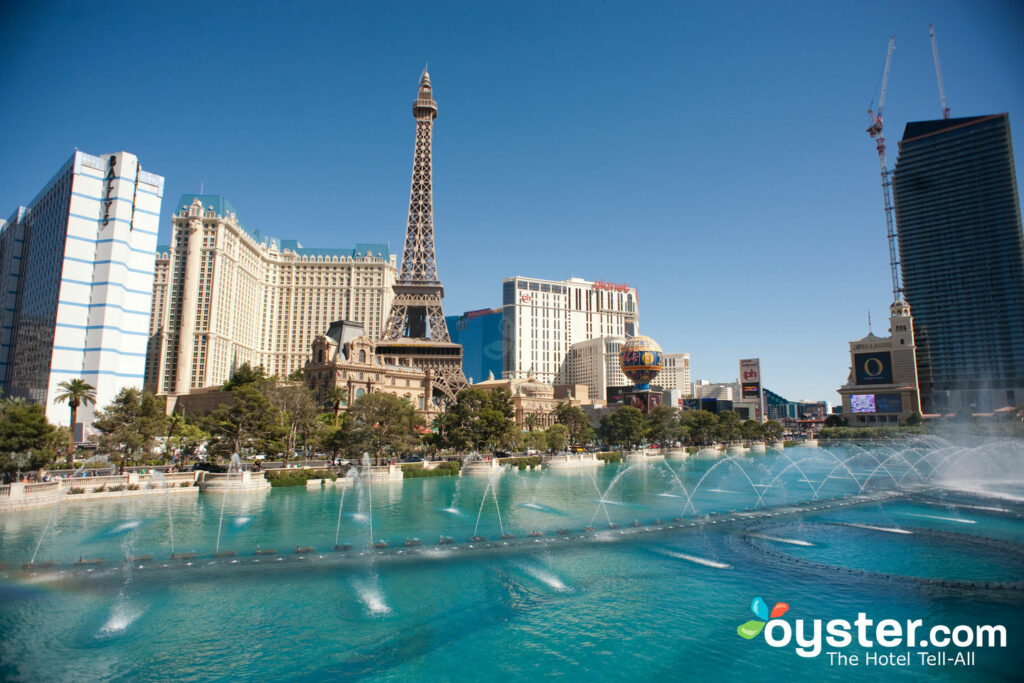 Your metallic room key card would likely melt if you dropped it on the sidewalk here during the summer (and that means September, too). But Vegas in the fall — with an average temperature in October of 82 degrees — is an easy sell. Britney Spears is still enthroned in her residency at Planet Hollywood through February. Also at Planet Hollywood, in late October, the winner of the 11th season of America's Got Talent will perform in an exclusive engagement. Also new: the celeb-populated nightclub, Intrigue, at Wynn. The Las Vegas Balloon Festival — hot air, that is — on October 21 through 23 could be a nice respite from the craziness of the strip.
Hotel Pick:
Related Links:
All products are independently selected by our writers and editors. If you buy something through our links, Oyster may earn an affiliate commission.