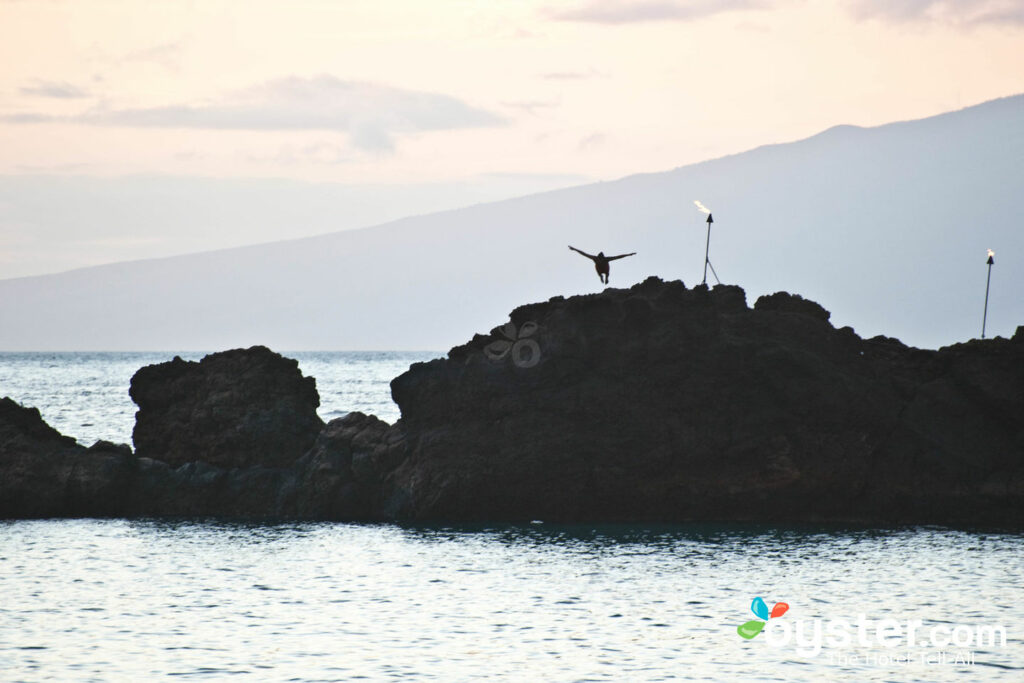 Vaulting off a 100-foot cliff into a shallow body of water is a story only a select group of people can claim. After all, what offers an ultimate adrenaline rush for some daredevils, presents a terrifying, spine-tingling task to others. Even the ballsy activity's nickname -- tombstoning -- indicates that it's not made for the faint of heart. But for the gutsy folks out there (as well as those who simply like watching a thrilling spectacle), we've compiled some of the world's most treacherous cliff diving locations. They span from Mexico to Switzerland, but all have one thing in common: they're jaw-dropping spots where courageous men and women leap into the air while others bite their nails and hope for a happy outcome. Proceed with caution.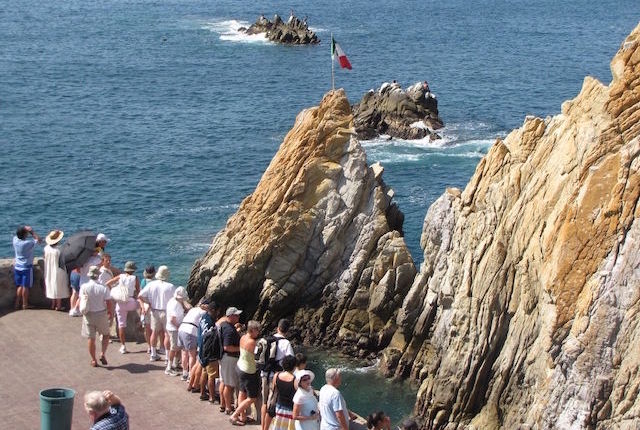 La Quebrada in Acapulco features some of the most famous cliffs for diving in the world. Here, jumpers launch from 136 feet towards the crashing waves. But that's not even the scariest part. Not only is there a mere 11 feet of water below, but timing can be everything in preventing an accident or death. La Quebrada even has its own cliff diving team that trains daily and performs five times a day. To catch the action, head to La Perla restaurant.
Our Hotel Pick: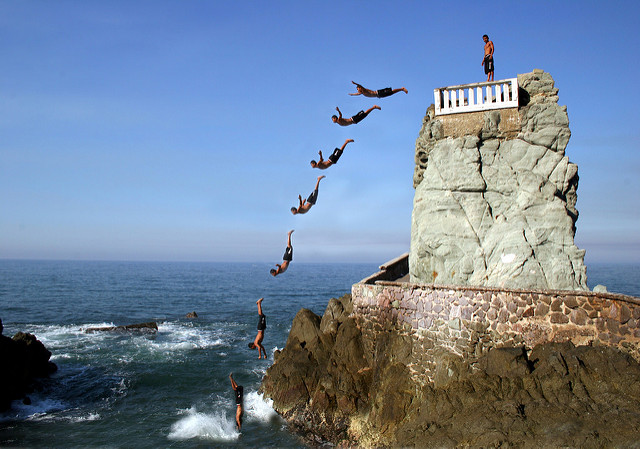 La Quebrada isn't the only spot in Mexico that boasts jaw-dropping jumps. The cliffs at Mazatlan might only be 50 feet high, but the dive is made dangerous by the fact that the water below can reach a startlingly shallow level — six feet, to be exact. With that in mind, jumps must be precisely timed to give divers the deepest water possible. And although there isn't a set schedule, viewers can marvel over the impressive divers — who have been keeping up this tradition since the mid-1900s — every day. If you like what you see, feel free to leave a tip.
3. Kahekili's Leap
https://www.instagram.com/p/BBwCgawCyyQ/
Thrill-seekers will love Kahekili's Leap, which is located on Lanai's south shore. Divers not only need to brave the height (it stands over 60 feet tall), but also have to overcome the shallow 10 to 20 feet of water below, a rocky ocean floor, and a base that extends 15 feet out. According to legend, warriors also used to jump from these cliffs to prove their bravery and loyalty to the king, giving it the nickname Warrior's Leap.
Our Hotel Pick: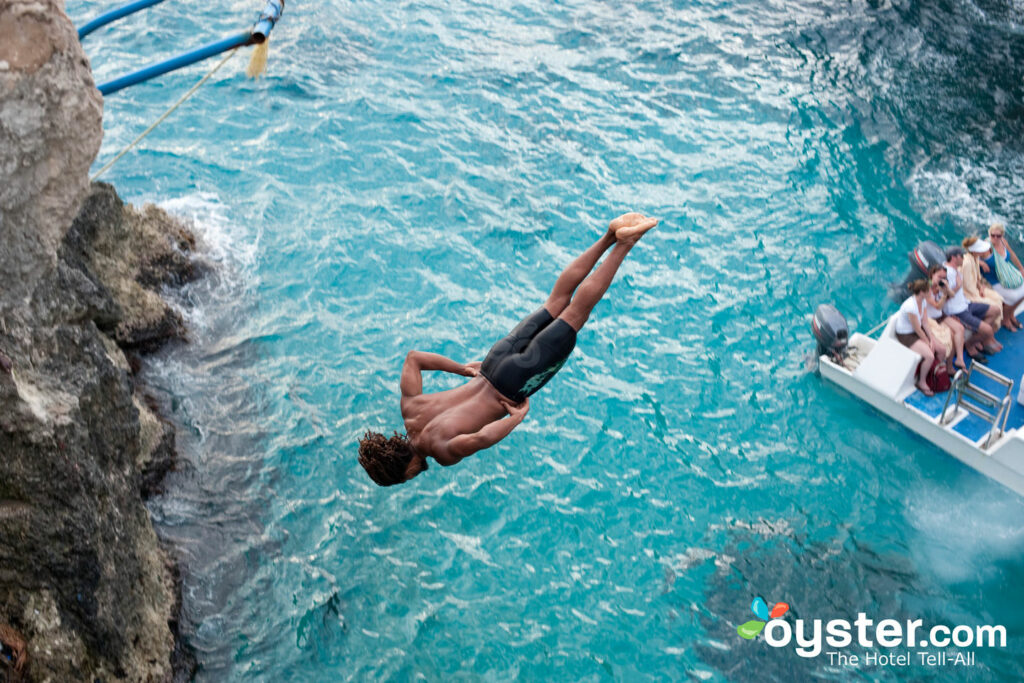 Compared to La Quebrada, the 35-foot cliffs at Rick's Cafe in Negril, Jamaica, don't sound nearly as intimidating. But that doesn't mean they aren't dangerous. While most tourists simply cannonball off the cliffs, locals partake in daring stunts like climbing up the trees along the side before leaping off with a flip. If you aren't into cliff diving yourself, grab a drink and watch others take the plunge into the crystal blue waters.
Our Hotel Pick:
5. Brontallo
https://www.instagram.com/p/BE38BIRorzC/
Each July, Brontallo, a small town in Switzerland, hosts the World High Diving Federation's Cliff Diving Championship. If that doesn't convince you that the cliffs here are an amazing — albeit frightening — spot for jumping, perhaps the fact that it's an 85-foot drop into a shallow clear pool will.
What's more exciting than jumping from a 100-foot cliff? Jumping from a 100-foot cliff that also boasts a stunning waterfall. Getting to the top is no easy feat, though. In fact, the only way to reach these Arizona cliffs is by hiking 10 miles into the Grand Canyon. Take note: the descent can be dangerous, but it doesn't come without lovely views.
Our Hotel Pick: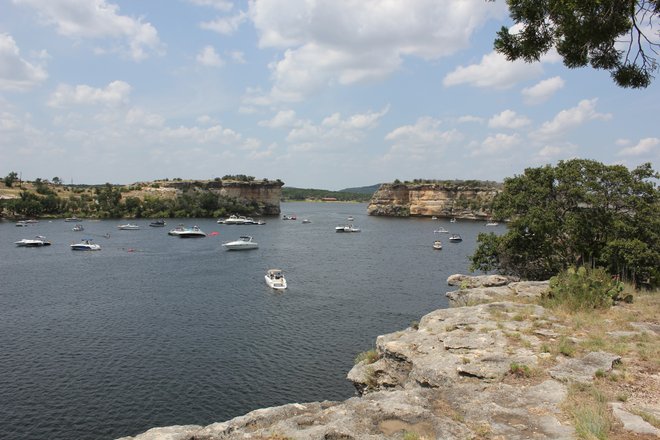 Hell's Gate, the 92-foot cliffs on Possum Kingdom Lake, is known as a party area as well a spot for some stellar cliff diving. After several accidents, however, the jump from these cliffs was made illegal. Today, cliff diving here is only permitted at the Red Bull Cliff Diving World Series, which takes place in the summer. During this event, expect to witness divers hit speeds up to 53 miles per hour before plunging into 26 feet of water.
Our Hotel Pick:
NOW WATCH: 5 Best Caribbean Islands for Scuba Diving
https://www.youtube.com/watch?v=SE_dwecnWVE
Related Stories:
All products are independently selected by our writers and editors. If you buy something through our links, Oyster may earn an affiliate commission.