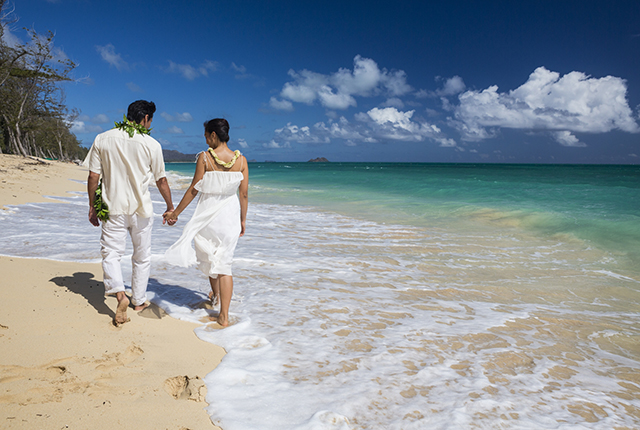 Naming the best Hawaiian beach is kind of like trying to name the best shaved ice flavor. Okay, if cherry is an easy pick for you, then how about this: naming your favorite child. Because the thing is, many of the beaches in Hawaii are wonderful, so how great they are can vary on the day -- and what you're in the mood for at that moment. So here we offer you the best beach for different interests, whether you're looking to hike or just get that perfect shot for Instagram.
It's hard to go wrong because let's face it, they're all pretty spectacular. But it's worth checking out these picks to see which sandy spot matches up most closely with your own vacation personality. (Keep in mind that Oahu is the easiest island to fly to directly. For some people, especially those leaving from the East Coast, that's no small consideration.) And you may notice the most famous Hawaiian beach, Waikiki, is missing. While Waikiki is no slouch relatively speaking, we decided to present 10 worthy, but less obvious, contenders. Happy choosing!
Best for Couples: Waimanalo Bay Beach Park, Oahu
With five miles of white sand, Waimanalo Bay Beach Park is the longest beach on Oahu. The spacious plot is a quiet beach for relaxing and swimming. There are far fewer crowds at this mostly locals' spot, making it easy to find a little place all to yourselves. Located 20 minutes past Makapuu Beach on the windward coast, it's also a great place to practice bodyboarding and bodysurfing.
Best for Surfers: Waimea Bay, Oahu
Waimea Bay was an influential surf spot during the dawn of the sport on Oahu in the 1950s, and (not surprisingly) hosts the Quiksilver in Memory of Eddie Aikau surf competition. During the winter months, the waves provide experienced boarders with an adrenalin rush. Besides the break beyond the point, the inner shore break reaches impressive heights of 10 to12 feet. The difference in Waimea's winter and summer surf is quite different, though. During the summer months, the water is much more placid, drawing leisure swimmers.
Nearby Hotel Pick:
Best for Campers: Malaekahana Beach, Oahu
Camping devotees may want to head to the northeastern shore of Oahu to the wooded beach park at Malaekahana Beach. Camping accommodations can be rented (or you can arrive with your own), and sleeping under the stars takes on new meaning here, where it's almost certainly a lot darker at night than it is at home. At Malaekahana, visitors can rent just about anything they'd need for an active good time, including kayaks, surfboards, body boards, stand up paddleboards, and bicycles. (Surfing and paddleboarding lessons can be booked, too, for the uninitiated). A food truck serves the requisite shaved ice, along with burgers. The more adventurous might want to try the spam dog, which is spam dipped in a corn dog batter, that's then fried and served with rice and coleslaw. Just off shore is tiny Goat Island, a bird sanctuary which can be reached by kayak.
Best for Snorkelers: Hanauma Bay, Oahu
Hanauma Bay was declared a protected marine life conservation area and underwater park in 1967. Sitting astride a volcanic cone on Oahu, the coral beach here has arguably the best easy-access snorkeling of all the Hawaiian beaches these days. The marine environment is pristine, thanks in part to a strict state conservation plan requiring all first-time visitors to watch a video to learn about the marine life that lives there. The park service runs shuttles from the parking lot to keep cars farther away, and it's closed each and every Tuesday to give the tropical fishies a little peace and quiet.
Nearby Hotel Pick:
Best for Celeb Seekers and Literary Buffs: Hamoa Beach, Maui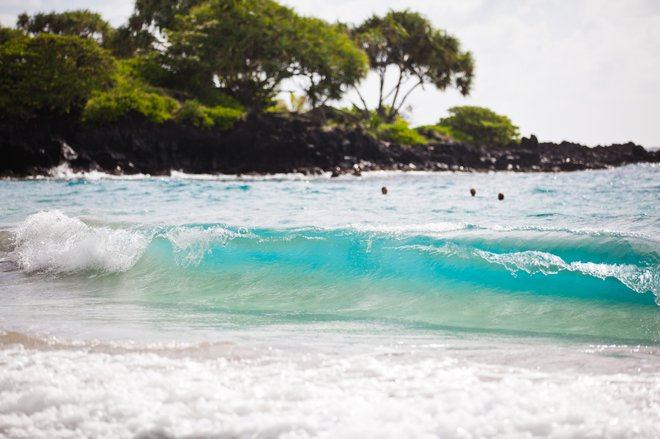 A salt-and-pepper sandy beach in Hana, Hamoa is located along Maui's infamous "Road to Hana," which is often touted as one of the most scenic drives in the world. (No worries if you're coming with children — bathrooms are near the beach.) Author James Michener wrote about this perfectly formed crescent beach lined with Hala trees, and today's Hana residents include Oprah Winfrey, Kris Kristofferson, and Clint Eastwood. Farther to the west reside Steven Tyler and Mick Fleetwood; up north are the homes of Woody Harrelson and Owen Wilson.
Nearby Hotel Pick:
Best for Hikers: Keoneoio Bay, Maui
The historic gateway to the six miles of south Maui's pristine coastline, Keoneoio Bay (aka La Perouse Bay) consists of several trails that traverse the area, which is covered in rough lava from the last eruption of Haleakala in 1790. King's Highway, an ancient Hawaiian footpath, continues from the bay toward Cape Hanamanioa. If you choose the Lava Trail, you'll see areas of surprising blow holes where the lava created gorges and tunnels. Hikers say it's like visiting the moon, but with beautiful views of the mountains and ocean. Wild donkeys have been known to wander about, and you'll probably happen upon a few coves for swimming and snorkeling (though there are no snorkeling gear rentals, so come prepared).
You Might Also Like: The Country's 9 Best Hiking Trails
Best for Convenience Seekers: Hapuna Beach State Park, Big Island
If you like your beaches to be not only pretty, but also a place for relaxation, you may want to consider Hapuna Beach State Park, the biggest white sand beach on the Big Island, located on the volcanic western coastline of the Kohala Coast. As with most Hawaii beaches, here you can swim, surf, snorkel, and bodyboard, but you can also fish, and a lifeguard is on duty as you enjoy it all. It's ADA-accessible, and has food vendors, a picnic pavilion, plenty of trash cans, and even water fountains.
Nearby Hotel Pick:
Best for Budding Photographers: Punaluu Black Sand Beach, Big Island
Located on the southeastern Kau coast of the Big Island, Punaluu Black Sand Beach is one of the most photographed black sand beaches in Hawaii. Full disclosure: swimming conditions here are not ideal. But the tradeoff just may be worth it; here you'll enjoy the sight of the obsidian-colored shores, coconut palms fringing the upper edge of the sand and (sometimes) Hawaiian green sea turtles lounging around.
Best for Kids: Poipu Beach Park, Kauai
Poipu Beach Park on Kauai's South Shore is a top pick for families, as they have a decent chance of spotting humpback whales during whale watching season, and spying Hawaiian green sea turtles and Hawaiian monk seals sunbathing on the shore. The highlight for kids, though, may be the huge natural wading pool where little swimmers can splash around. This park is a series of golden sand, crescent-shaped beaches strung together, all of which offer easy snorkeling for parents and kids.
Nearby Hotel Pick:
Best for Dolphin Lovers: Hulopoe Beach Park, Lanai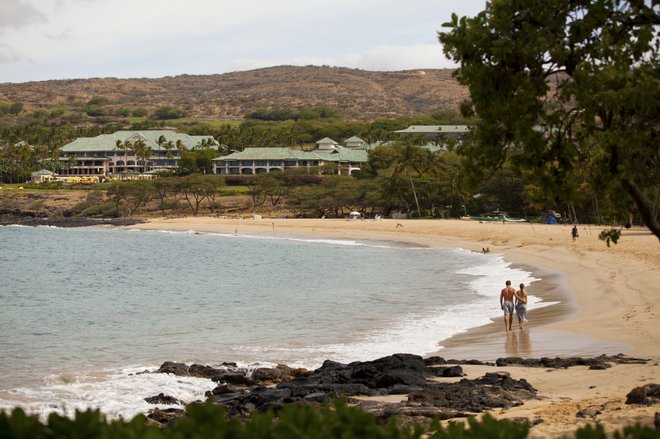 The only swimmable beach on Lanai is Hulopoe Beach Park. With excellent snorkeling, tide pools to explore, and Puu Pehe — which locals call Sweetheart Rock because of the legend behind it — just a short hike away, this is unofficially the most popular tourist spot on Lanai. But what seems to draw the most visitors is the reputation this bay has for attracting Hawaiian spinner dolphins. You're especially likely to see them frolicking in the morning. Along the east side of the bay are tide pools, and visiting them is a fun way to see hermit crabs, snails, and exotic little fish up close (without getting wet).
Nearby Hotel Pick:
Related Links:
All products are independently selected by our writers and editors. If you buy something through our links, Oyster may earn an affiliate commission.