Spending a few hours (or a few days) at a hot spring is a great way to relax and rejuvenate. Plus, unlike a spa vacation, it usually doesn't cost an arm and a leg to do so. While the Blue Lagoon in Iceland and Pamukkale in Turkey are pretty cool, the U.S. is also home to some of the world's most amazing hot springs. From hippie havens in the woods to family-friendly lodges with pools large enough for swimming laps, here are a few of the best hot springs the country has to offer.
Located on the banks of the Colorado River, about an hour away from Vail, Colorado, Glenwood Hot Springs Lodge lures visitors with three large hot spring pools, all of which are sourced from the local springs. Options include a kiddie pool with a fountain, a recreational pool that's good for swimming laps, and a therapeutic pool that's much hotter than the others and whose minerals are reputed to have healing properties. Unlike some other hot spring resorts, Glenwood has a heavy family focus. It attracts a steady stream of families with kids who are drawn to the property's water park vibe (there are even waterslides). There are 107 rooms, but those who want to experience the pools without spending the night can pay a reasonable fee for daytime access.
Colorado Hotel Pick:
The granddaddy of retreat centers, the Esalen Institute in Big Sur has been an important hub for those interested in consciousness, alternative medicine, New Age spirituality, and Eastern philosophy since it was founded in the early 1960s. Many famous writers and philosophers, including Aldous Huxley and Joseph Campbell, have stayed and taught here over the decades. Today, the institute runs a variety of workshops that focus on everything from dance to writing to personal growth. And while the workshops are what keeps Esalen going, the biggest draw for many is its series of beautiful hot spring baths that are set on a cliffside overlooking the ocean. Keep in mind the only way to stay here is to enroll in one of the pricey workshops on offer. Occasionally, extra spots open up at the last minute for personal retreats (though snagging one requires calling three days in advance and paying in full). Those who simply want to soak at the property can either book a massage during the day and do a pre- or post-treatment dip or visit during the inconvenient hours of 1 and 3 a.m., when the springs are open to a limited number of outside guests with a reservation. Note: the bathing area is clothing optional, and it's unlikely you'll see anyone in a swimsuit during your stay.
Big Sur Hotel Pick:
Breitenbush Hot Springs, Oregon
Tucked away in Mount Hood National Forest (a couple of hours from via car), Breitenbush Hot Springs is a retreat center with a similar offering of workshops to Esalen in California. The center is open to both day visitors and overnight guests, and partaking in a workshop isn't a requirement for staying here. The retreat features two main soaking areas: one with four tubs with incrementally warmer temperatures and a second with a few rock-hewn soaking sections plus a silent pool. There's also a steam sauna that's completely heated by geothermal water. The hot spring water also heats guest cabins as well as the main lodge, where buffet-style vegetarian meals are served. Although soaking is the main attraction for many visitors, there's plenty of other things to keep you occupied, including miles of wilderness trails for hiking, a library full of books, massages, Reiki, and free daily classes on yoga and movement arts. Like Esalen, the soaking areas at Breitenbush are clothing optional.
Oregon Hotel Pick:
Chena Hot Springs, Alaska
https://www.instagram.com/p/BxYmQWZFIib
Established over a century ago about 60 miles outside of Fairbanks, Alaska, Chena Hot Springs attracts visitors from around the world for the rare opportunity it offers to take in the Aurora Borealis while soaking in the resort's multiple pools. While the springs and scenery are the main draw for most guests, Chena also offers massages, outdoor activities in the winter and summer, and even an ice museum with ice-sculpting classes. While the resort does offer rooms for those who want to stay a few nights, day-trippers are also welcome on a drop-in basis. As is the case with many hot spring resorts, the property's electricity and heat is generated by geothermal energy.

Idaho is full of great hot springs, from off-the-beaten-path pools that require long hikes through the wilderness to hot spring resorts with great infrastructure. Striking a good balance between the two, Burgdorf Hot Springs resort offers rustic cabins that sleep two to 12 guests (remember to bring your own bedding) and a couple of hot pools plus a small pool for children. The property is open throughout the year, but it's only accessible by road in the spring and summer months. During the rest of the year, guests must rely on snowmobiles to reach the property. Those willing to make the journey will be rewarded with the opportunity to soak while surrounded by thick blankets of snow.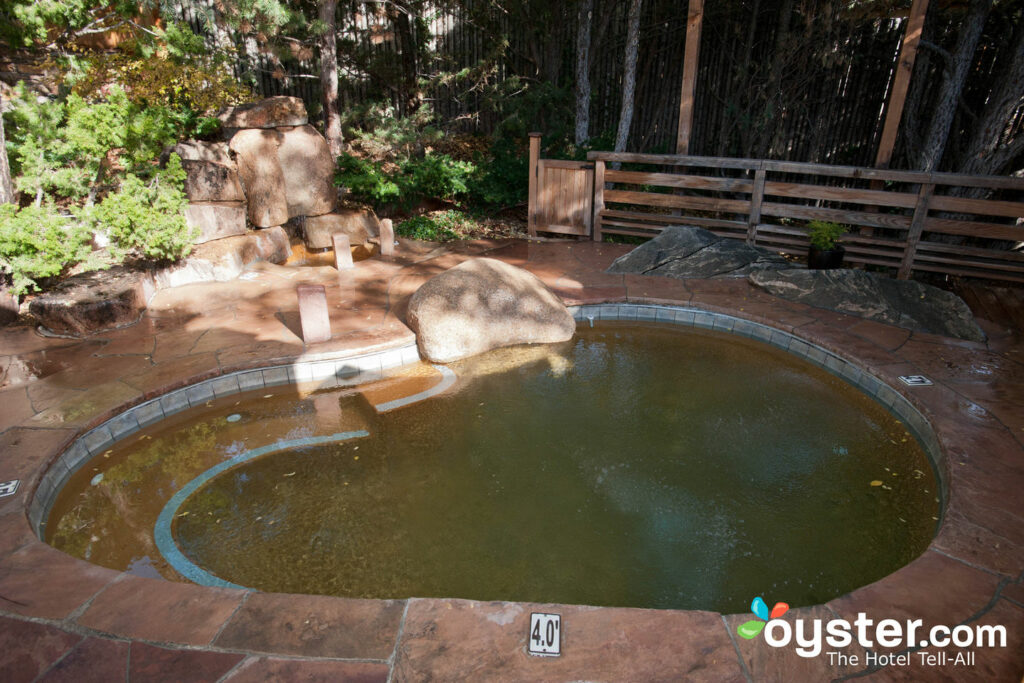 Hot springs are an integral part of Japanese culture. In fact, bathing in an onsen (or traditional hot spring) is both a therapeutic and social activity throughout the country. However, there's no need to fly across the Pacific for the experience. Ten Thousand Waves, a hotel nestled in a forested area just outside of Santa Fe, New Mexico, offers something similar. The 20-acre hot springs resort features just 12 rooms, but it welcomes day trippers, pets, and children, so don't expect a completely quiet getaway. The property also offers both communal and private soaking tubs, along with a foot bath and massage services. Like in Japan, clothing is optional and kimonos are provided.
New Mexico Hotel Pick: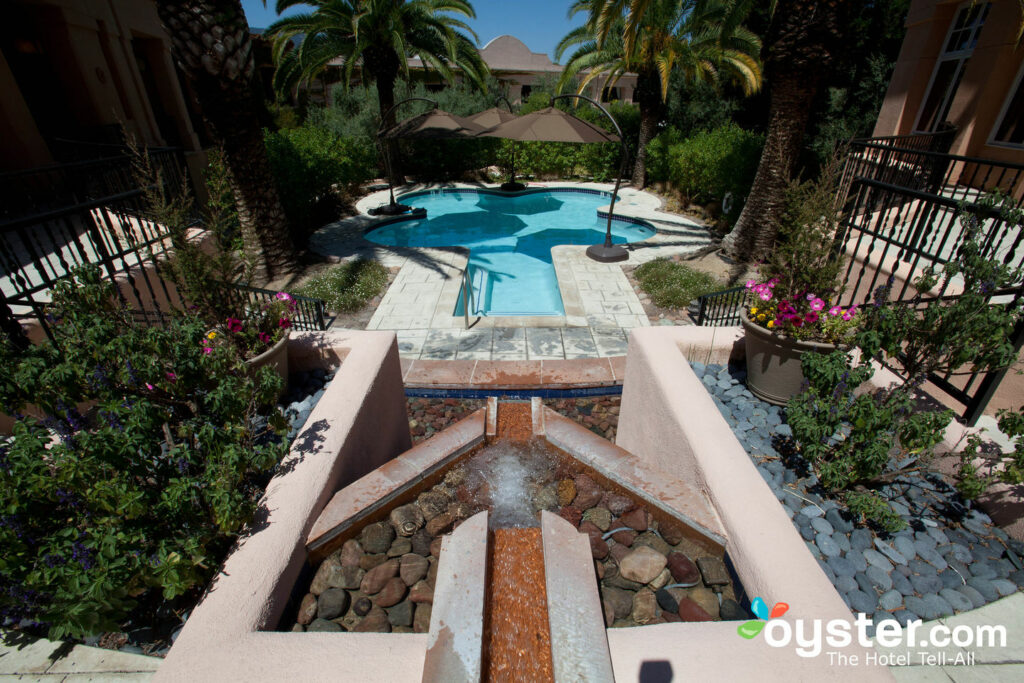 Located in the heart of Boyes Hot Springs, a five-minute drive from Sonoma, The Fairmont Sonoma Mission Inn & Spa offers all the trappings of a luxury resort, including a Michelin-starred restaurant and an 18-hole championship golf course. However, for many guests, the major attraction here is the curative treatments. The on-site Willow Stream Spa features all sorts of massages, facials, and other treatments, along with thermal mineral pools fed by the local springs, some of which are 1,100 feet underground. Day passes are also available for those who want to visit the spa without spending the night. The fees aren't cheap, but those who live within a 100-mile radius of the hotel do get discounted admission.
Sonoma Valley Hotel Pick:
You'll Also Like:
All products are independently selected by our writers and editors. If you buy something through our links, Oyster may earn an affiliate commission.