Heaven, thy name is [insert dessert of choice here]. It doesn't take a genius to know that sweets trump suites any day of the week – but why choose between one or the other? Hotels today are serving up the good stuff, and we here at Oyster have dug into some of the most unique, mouth-watering desserts during our travels. So, in honor of National Dessert Month -- which begins today (gotta love October), we've decided to round up our five favorites for you to salivate over. Buon appetito!
1. Grilled Black Pepper Pineapple at Half Moon, Jamaica
Half Moon has been defining Jamaican luxury for decades – attracting everyone from Queen Elizabeth II to 50 Cent with its bountiful amenities and delicious Jamaican fare. This unique dessert straddles the sweet-savory line to scrumptious ends. Thick slices of pineapple are grilled with black pepper, creating a spicy base on top of which refreshing rum raisin ice cream and sinfully rich Tia Maria sauce are drenched. Garnished with a single mint leaf, this dessert is as pretty as it is mouthwatering.
2. Blackout Cake at the Courtyard Washington Capitol Hill/Navy Yard, Washington D.C.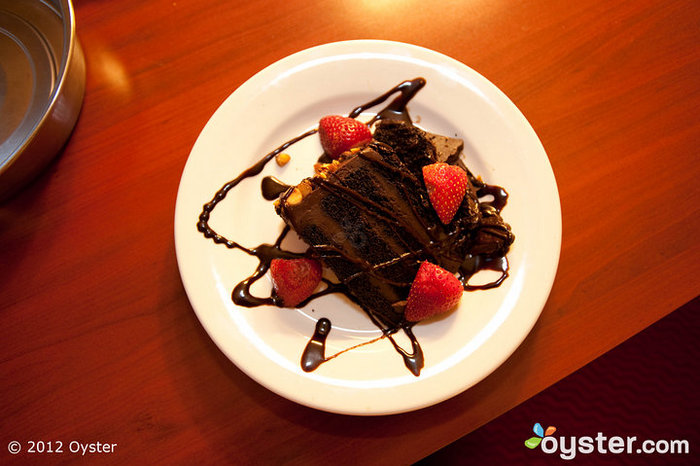 This Washington outpost knows how to mix business with pleasure – at least as far as dessert is concerned. This blackout cake with walnuts and fresh strawberries is sure to close any deal, or be a great nightcap after catching a Nationals game. The rest of the Courtyard might be business-focused and generic, but chocolate lovers won't be able to deny the hotel this slice of chocolaty heaven.
3. Wailua Estate Chocolate Baked Custard at the Fairmont Kea Lani, Maui
Served on a macadamia nut praline crust, Ko Restaurant's Wailua Estate Chocolate Baked Custard at the Fairmont Kea Lani is a signature dessert not to be missed while you're visiting Maui. The entire menu at Ko is inspired by Hawaii's sugarcane plantation era, featuring island family recipes that have been passed down for generations with farm-fresh, contemporary twists. This rich, creamy custard, for example, is served warm, with a kula strawberry gelato, fresh strawberries, and chocolate sauce.
4. New York Cheesecake at The Franklin, New York City
Room service at The Franklin NYC comes from the reliable Upper East Side neighborhood eatery Bella Cucina. The traditional New York-style cheesecake is smooth, creamy, and not too sweet – overall, a scrumptious way to end a meal. The cherry compote that is spread on top is delightful, both for the eyes and the taste buds.
5. Chocolate Dim Sum at the Peninsula Beverly Hills
The Belvedere at the Peninsula Beverly Hills has long featured dim sum offerings on its menu, including shrimp dumplings, Peking duck potstickers and fried seafood rolls. But in a surprisingly sweet turn of events, the hotel restaurant added four styles of chocolate dim sum to its menu in 2009. Two dark and two white chocolate fried dumplings, set off by citrus-cream cheese, are served with a generous scoop of green tea ice cream. Diners are also given a trio of sauces to indulge in: passion fruit, orange-raspberry, and ginger-caramel. This dessert, at possibly Los Angeles' best hotel, is fittingly delectable.
RELATED LINKS:
All products are independently selected by our writers and editors. If you buy something through our links, Oyster may earn an affiliate commission.