The 179-room Faena Hotel Miami Beach is a lesson in chic opulence. This stylish oceanfront resort, which draws loyal guests and a few celebs, has always known how to throw a party, staging its opening during Art Basel in 2016. As you might expect, it's full of contemporary art, including a life-sized gold wooly mammoth statue by Damien Hurst, a bisected unicorn sculpture, and intricate heaven and earth floor-to-ceiling murals at the entrance. Well-decorated rooms come with furnished balconies and luxe toiletries (some also have kitchenettes, butler service, and tubs), though the rates can be high. Two chef-led restaurants, four bars, a spa, and a well-serviced pool area are also on offer. Surprisingly, there's even a kids' club on-site.
The SLS South Beach is a solid spot for those wanting a trendy, upscale vibe and beachfront location. The 140 rooms were designed by Philippe Starck and feature his signature white color scheme and ceiling mirrors above the beds, plus black and pale-pink accents, comprehensive minibars, flat-screen TVs, and Ciel toiletries. Big-name chefs like Jose Andres and Katsuya Uechi both have restaurants here, and the tapas happy hour is one of the best bargains on the beach. The resort also has a full-service beach, two pools, popping weekend pool parties open to the public, and an all-pets-accepted policy. All these features and more help crank up the cool factor — and resort fees. This is a place where pretense lingers in the air — most guests are low-key, but looking to be seen.
The Fontainebleau Miami Beach is the area's largest hotel, with 1,504 rooms and suites. Comfy beds and beach views are big wins, while its location in the northern end of Mid-Beach speaks to guests looking for a quieter, calmer atmosphere than typically found in South Beach. If you think it means Fontainebleau is a snooze, think again. It's also home to LIV nightclub, one of the hottest spots in town. Guests get a discount on admission, but no guaranteed entry. There are a plethora of place to dine on-site (including celebrity chef restaurants), plus eight pools, kid-friendly features, and direct beach access — all for a reasonable resort fee. Be sure to check out the chandeliers in the lobby — commissioned from the one and only Ai Weiwei.
For a totally different vibe in Mid-Beach, check out Circa 39. This 97-room boutique may not offer direct beach access, but it's a solid, stylish pick with an affordable price tag. The retro-inspired look, which includes citrus tones, pays homage to Florida, while the lush garden landscaping around the pool and in the secret garden out back give it a tropical vibe that feels miles away from a big city. Rooms have robes, mini-fridges, coffeemakers, and large flat-screen TVs, plus there's a small courtyard pool with comfy cabanas available to reserve. Guests also get free beach towels and two cushioned sun beds on the beach. The lobby bar serves tropical cocktails and rum flights (thanks to a collection of over 80 rums from around the world), and the restaurant, Jules Kitchen, is a local favorite. Lots of bang for your buck and a fun atmosphere make Circa 39 a good choice for friends or couples on a budget.
The 300 rooms at Shore Club South Beach have a fresh and modern look (though they aren't quite up to par compared to competitors). Still, this upscale beachfront property packs in value, thanks to its two pools, direct beach access, a beautiful garden bar, and plenty of public space to lounge. Wear and tear is apparent, but it doesn't stop the cool, young crowds from frequenting this resort. Guests can be found lounging by the pool or on the beach, or partying it up at one of the popular pool parties. To top it off, there's an excellent Miami-Mexican restaurant, a full-service spa, and small gym on-site.
Hotels in Miami Beach can get expensive, so for anyone looking for a true budget option, Posh Hostel is your answer. This chic property is located just two blocks from the beach, right in the middle of South Beach's bars, clubs, and restaurants. Rooms are dorm-style, with up to 30 beds per room, and guests get free breakfast and shuttle transportation to the airport. And don't think the property skimps on amenities just because it's a hostel. Posh Hostel sports a rooftop pool, a lounge area, and a shared kitchen. Top that off with a free nightly happy hour and you've got an affordable and fun (though likely noisy) option in South Beach.
With just 19 rooms, Riviere South Beach Hotel is one of the smallest properties on this list. You won't find a pool or restaurant here, but it does have a stellar South Beach location in the heart of the Art Deco Historic District and just one block from Ocean Avenue. While there are a few lower-priced options nearby, the Riviere has a bit more character and doesn't feel as rough around the edges, thanks to bright, minimalist rooms and grounds with shaded seating areas. Some rooms have kitchen gadgets, and both breakfast and Wi-Fi are free, but it's a 10-minute walk to the beach.
For an upscale spot with an affordable price tag, Gale South Beach offers a historic property in the hubbub of northern South Beach, just one block from the beach. The 87 rooms are contemporary and stylish, with vintage black-and-white photographs, well-stocked minibars, and marble bathrooms. Some rooms add big, furnished terraces overlooking Collins Avenue. The rooftop infinity pool, classic cocktail lounge with live music, and sunny rooftop bar with popular happy hours are big pluses. There's also a fantastic Italian restaurant, Dolce, out front that makes for great people-watching. However, unlike most hotels in the immediate area, there's no spa on-site. Freebies include Wi-Fi and a small hotel car that shuttles folks within a five-mile radius, though guests who use the local discounts and sister-property facilities will get the most value out of their stay.
Rooms at this mid-range property off Ocean Avenue were renovated in 2017, resulting in contemporary Art Deco decor (though the rest of the hotel still sports a slightly dated look). Reasonable rates make this one of the best deals in South Beach, even without a pool on-site. Expect freebies like beach gear and Wi-Fi, plus in-room amenities like air-conditioning, flat-screen TVs, and mini-fridges. This is the perfect spot for friends who are on a budget, but aren't up for staying in a hostel. In fact, it's most popular with younger guests looking for a place to crash between partying. We love the original — and working — 1920s elevator in the lobby.
Those interested in fitness should check into the Carillon Miami Wellness Resort in North Beach. This upscale resort is rich with wellness amenities that go beyond the typical spa and gym. The 150 apartment-style suites feature well-equipped kitchens, floor-to-ceiling windows, washer/dryers, and posh bathrooms with soaking tubs and large walk-in showers. Other highlights include over 200 free fitness and mindfulness classes, a 75,000-square-foot spa with a top-notch hydrotherapy circuit, a rock-climbing wall, and on-site medical staff. This beachfront resort also has four pools and three health-focused eateries, plus a bar that serves organic cocktails. Bonus: There's a Publix right across the street, so you can easily self-cater.
Opened in March 2015, the luxurious, 426-room 1 Hotel South Beach in Miami Beach is all about the environment — salvaged wood, hemp mattresses, and take-home socks instead of disposable slippers are just a few of the eco-conscious features. Amenities are aplenty here, and include direct beach access, four pools (including one rooftop option), three bars and restaurants, a fitness center, and even Tesla car service within a three-mile radius. The relaxed vibes found here come at a high price, meaning you'll mainly see well-heeled travelers checking in.
In addition to a prime location on a posh stretch of Collins Avenue, with direct beach access, The Setai draws travelers with its doting staff service, three pools (each at a different temperature), and a variety of food and drink offerings. The fitness center includes a Pilates studio, while the Asian-themed spa offers pampering treatments, like facials, massages, and waxing services. Plus, rooms here are spacious and stylish, with espresso machines, rainfall showers, bathrobes and slippers, stocked minibars, and free Wi-Fi. Just keep in mind that this laundry list of amenities comes with a high price tag.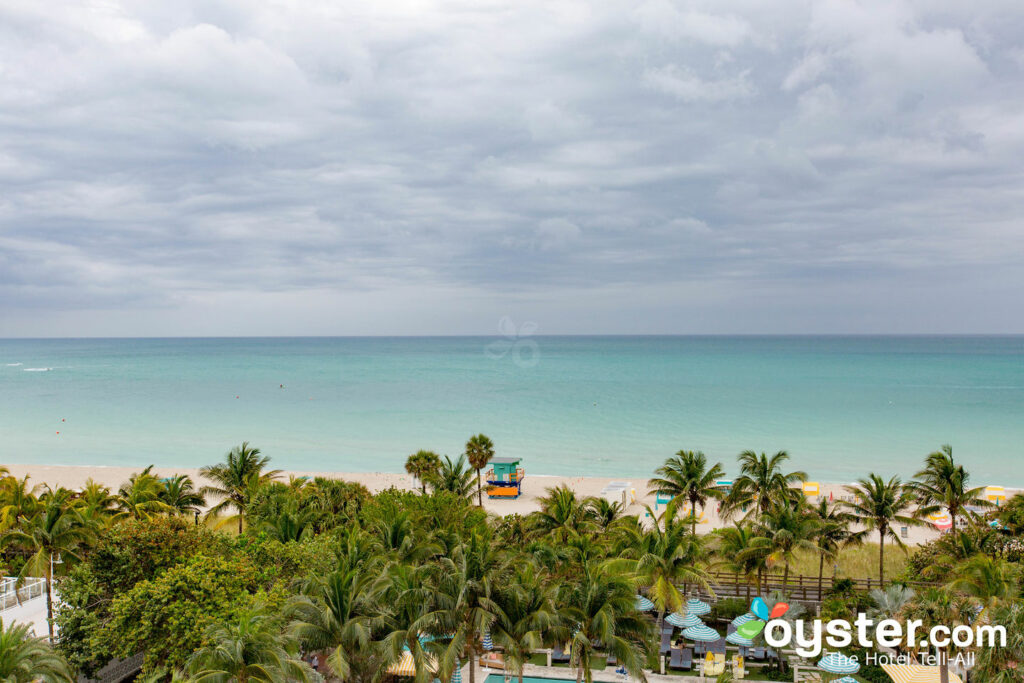 Couples, friends, and families wanting to be a bit removed from the rowdy South Beach scene come to the 380-room Confidante, formerly the Thompson Miami Beach. Despite DJs performing poolside some nights, the ambience is laid-back and quiet. The beachfront location, two pools, multiple bars, and a celebrity chef-helmed restaurant keep guests happy. And the rooms, which are decked out in a colorful, retro design and high-tech amenities, don't hurt either.
Located in the Mid-Beach area, with direct beach access, The Miami Beach EDITION is a trendy, upscale property with the amenities to match. There are two outdoor pools, a beach with chairs and umbrellas, a fine-dining restaurant, a luxurious spa, and an underground nightclub, bowling alley, and ice-skating rink. Hip guests especially appreciate the Beats Bluetooth speakers and the copy of Paper magazine in each room.
Situated in the exclusive Bal Harbour area, The St. Regis Bal Harbour is the type of place you come to be pampered. The beachfront location is only the beginning — the elegant spa, two pool areas, three restaurants, day villas, tea service (served in vintage birdcages), and nightly champagne sabering are all additional highlights. The 216 spacious rooms impress, too, with high-tech features, contemporary decor, and furnished balconies with ocean views (suites add Nespresso machines, kitchens, and butler service).
Looking for a calm, relaxing getaway in South Beach? COMO Metropolitan Miami Beach is your pick. The 74-room beachfront boutique underwent a major makeover to restore it to its Art Deco roots. Today, the guest rooms are stylish and feature modern amenities like 42-inch flat-screen TVs, Nespresso machines, and free Wi-Fi. Other property highlights include an attractive outdoor pool, beach service, fine-dining restaurant, elegant spa, and rooftop hydrotherapy pool. With features like this, it should come as no surprise that the clientele is primarily upscale and couples.
You'll Also Like: