Tokyo is massive, and figuring out exactly what to see and do in one of the world's biggest cities can take a bit of expertise. From where to score the best sushi in Tokyo's dizzying number of neighborhoods to the best arcades, sky-high city views, streetwear shopping, and art, Tokyo has too much going on to tackle in one trip. But that doesn't mean you shouldn't try. We've spent years traveling across this city and have come up with a list of Tokyo's best attractions and secret spots. Whether you're looking for sacred temples like Senso-ji, want to sample Harajuku's underground fashion scene, or get wild amid the bright lights of Shinjuku, we've got you covered.
1. Get lost in the neon streets of Shinjuku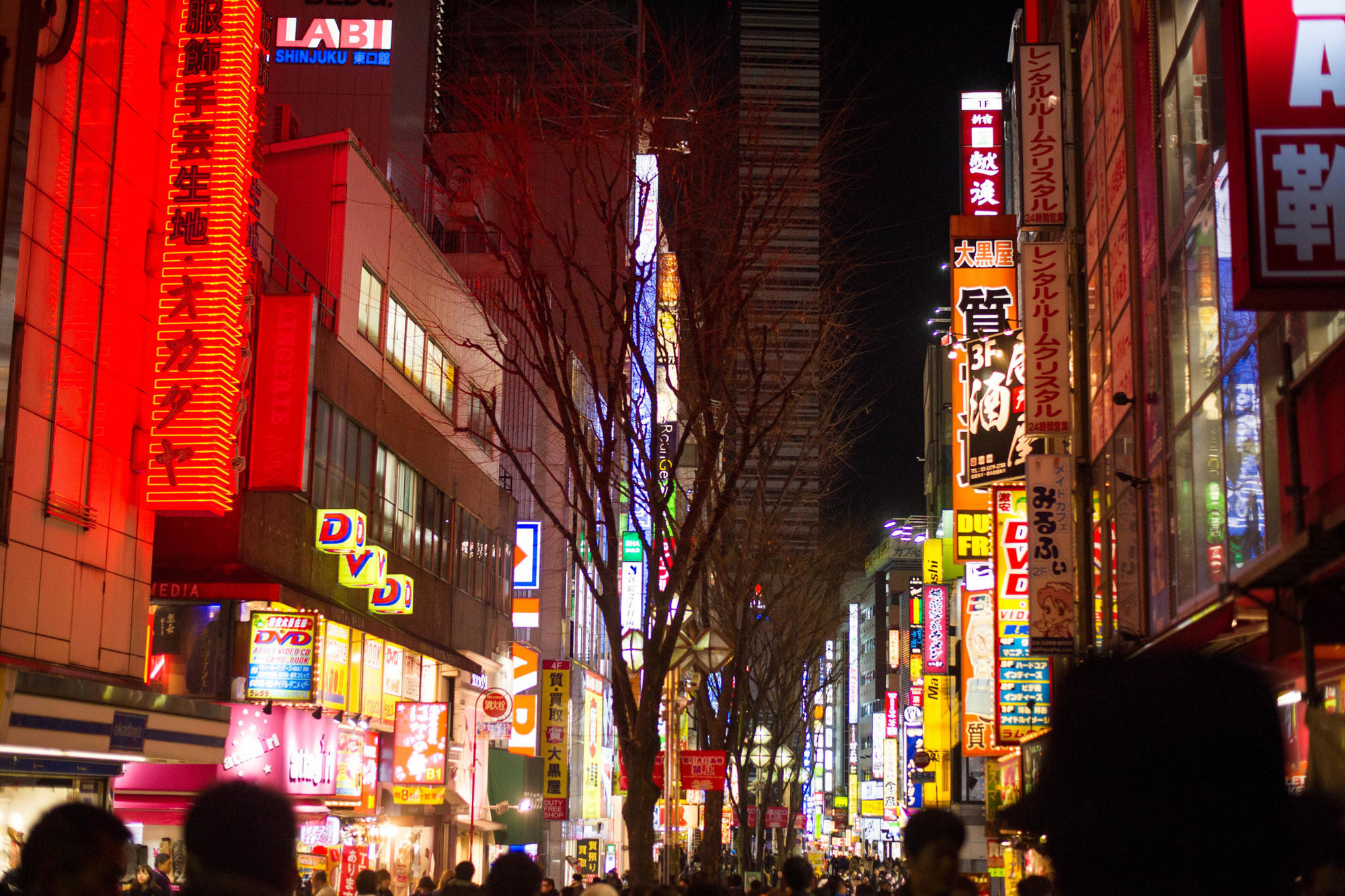 Shinjuku is a district with many personalities — from the beautiful landscapes of Shinjuku Gyoen National Garden to its izakaya packed lanes, to its seedy Kabukicho red-light district, the intimate bars of Golden Gai, or the gay clubs of Shinjuku Ni-chome, there's a lot of activity here. Shinjuku is the kind of neighborhood where you'll find the famous (or infamous) Robot Restaurant, a show and dinner experience that includes half naked woman and strobe-lit robots careening across the stage floor while you tuck into an expensive bento box. But it's also home to cute vegan eateries, upmarket boutiques, and plenty of neon. In any case, no matter what you choose to see and do in Shinjuku, the visual stimulation is always at a peak, day or night. If you're looking for a little respite from it all, tuck into restaurants like Zen for authentic okonomiyaki (an Osakan dish) or Menya Musashi, a packed-with-locals ramen spot just slightly removed from the neighborhood's chaos.
2. Go vintage shopping and cafe-hopping in Shimokitazawa
Tokyo isn't all hyper-expensive streetwear and luxury malls. In fact, the city's vintage shopping scene is incredibly deep, with a major source of Tokyo street fashion coming from neighborhoods like Shimokitazawa. Located a bit far from the more central wards, this charming little district — with its partially pedestrianized and bicycle-friendly streets — is only about a 15-minute train ride from Shibuya or Harajuku. The bohemian vibe in Shimokita, as some locals call it, is unmistakable. The neighborhood's narrow streets feel worlds away from Tokyo's bustling city center. It's also home to too many vintage stores to count, some of which have multiple overflowing outposts (often right across the street from one another). You'll also find quirky boutiques dedicated only to things like stickers or local designers, and numerous charming coffee shops and cafes. We loved the bold brews at Bear Pond Espresso during our 2019 visit — it was the perfect afternoon pick-me-up between our vintage shopping stops.
3. Hit up the nightclubs in Shibuya
Tokyo is arguably East Asia's nightlife king, and you'll find everything from four-person bars to full-blown megaclubs or underground raves here. It can be a bit hard to find the truly cool stuff unless you're in the know, but if you prowl the streets around Shibuya you're likely to stumble into something you'll like. To be fair, a number of the clubs in this part of town cater to younger touristy crowds that favor chugging beer and doing shots, but you'll also find a number of under-the-radar spots as well. As of 2019, Shibuya WWW X was a multi-level performance space, nightclub, and art gallery that hosts international DJs spinning off-beat electro and hip-hop, as well as numerous live acts on certain nights as well. We recommend checking out ResidentAdvisor.net to tap into the cooler side of Tokyo's nightlife scene, especially for fans of electronic music.
4. Dig into souffle pancakes (or any of Tokyo's current trendy foods)
Tokyo isn't short on trendy food, and Harajuku often serves as the epicenter of experimentation. There, you'll find everything from wildly inventive crepes and rainbow food to mozzarella corndogs and oversized baby-bottle sodas infused with candy. As of early 2019, though, Tokyo's fondness for pancakes showed no sign of stopping. But we aren't just talking your run-of-the-mill diner pancake here. Instead, Tokyo's denizens go crazy for the souffle pancake, where the consistency is often so soft and cloud-like that you'll have to eat your pancakes with a spoon. No matter where you find these, the plates are incredibly photogenic, and you can expect long lines at the city's most popular spots, like Flipper's and Shiawase no Pancake. Some pancake purveyors also sling limited-edition batches that sell out first thing in the day, so queue up extra early if you want in on the latest pancake trend.
5. Get your fortune told and pay your respects at Senso-Ji Temple
If you're seeking solitude at Tokyo's most famous temple, you're sorely mistaken. Senso-Ji is one of the most important shrines in all of Japan, and draws thousands of visitors every day. However, the entire complex is a fascinating place to spend a morning or afternoon exploring. This Buddhist temple is considered Tokyo's oldest, and was first founded in the seventh century, though the many of the oldest and original structures were destroyed during WWII. Even so, the reverence and spiritual magnetism of the place is hard to overlook, with incense burning all around while adherents bow before altars, purchase amulets, and throw coins loaded with auspicious wishes. It's a dizzying mix of sights and sounds, and travelers are free to partake in many of the rituals (respectfully, of course). It's especially fun to receive your fortune using the omikuji near the complex's entrance. Here, you make a small donation, shake a box of enumerated sticks and draw one. Open the drawer corresponding to the number (find a Japanese-speaking neighbor to help you with this), and retrieve a paper that details your fortune (these are printed in English and Japanese).
6. Embrace your inner gamer at the massive arcades of Akihabara
Take everything you've ever known about an arcade and throw it out the window. In Akihabara, the arcade deserves its legendary status. Here, you'll find two, three, four, five, or more floors packed with a seizure-inducing mix of lights, music, noises, and packs of gamers swarming the latest machine. It's easy to see how you could lose entire days inside of Akihabara's arcades, as they create a universe unto themselves and are packed with hyper-addictive games, ranging from simple claw-grab toy machines to synchronized drumming set-ups, fight simulators, and dancing games, to — well — sometimes it's hard to even know what's going on on-screen. The most serious gamers show up wearing gloves designed specifically for hours-long gaming marathons that keep them from getting blisters. Watching the pros is half of the fun here, as it stumbling your way through games that bellow instructions to you in cartoon-style Japanese. Load up on some yen and dive in — you'll have no idea what you're doing, but we promise that it's all incredibly fun.
7. Enjoy the best sushi in Tokyo or slurp your ramen at famous haunts
It goes without saying that if you're heading to Tokyo, you'll be eating sushi and ramen. So where is the best sushi in Tokyo? That depends on your budget and who you ask. Triple Michelin-star winning Sushi Saito regularly tops lists, though you'll score a hefty bill and need reservations months in advance. The same is the case at always-popular Sushi Sugita. If you're after something more casual and more reasonable, the stalls around Tsukiji Outer Market should fit the bill. When it comes to ramen, dining on this brothy Chinese import is a fairly raucous affair. After all, the dish is meant to be downed quickly — sort of like fast food, but altogether more delicious. The city's most famous haunts will have long lines throughout the day, though these generally move quickly. Expect to pay at a vending machine upon entering, where you'll receive a ticket that you'll present to the server behind the counter (sometimes this is done just in advance of sitting). It's a chaotic feeling, but ultimately orderly affair. As of 2019, the big names in the city include Afuri (which has several outlets), Chuka Soba Benten, Fuunji, Hayashi in Shibuya, Halal Ramen Ouka, and Soranoiro.
8. Grab a coffee and stroll the canal-side boutiques in Nakameguro
Nakameguro is one of the most famous spots in all of Tokyo when the cherry blossoms are in full effect. The canal that runs through the neighborhood is gracefully canopied by thousands of pink and white flowers, making it a dream destination for beauty-seekers (and Instagrammers). However, the neighborhood also has lots of upmarket charm beyond its natural beauty. Here, sleepy lanes are perfect for strolling with a coffee from one of the many artisanal spots that line them. Check out Peanuts Cafe, Amazing Coffee, and the always-busy Sidewalk Stand for just a few options. In between your caffeine jolts and pastries, the neighborhood is home to dozens of high-end designer boutiques, including 1LDK, Best Packing Store, PKCZ, and others. The dining scene is also strong in Nakameguro, from izakaya that sit northeast of the train station to famous local chains like Afuri ramen and hip brunch spots.
9. View the city at night (or day) from the sky-high Mori Art Museum
Located amid the artsy goings on in Roppongi, the Mori Art Museum sits atop some of the highest buildings in the area. Attached to a massive shopping mall with numerous dining options below, a ticket to the Mori Museum also provides access to the Tokyo City View observation deck. The Museum itself puts on excellently curated modern art exhibitions, often with a social stance. Installations and traditional works are all on display. Once you've gotten your cultural fill, head downstairs for the epic city views from the observation gallery. The space offers 360-degree vantages of Tokyo and its major landmarks. On a clear day, you can see as far as Mount Fuji, though this is most likely in the early hours. However, the views are also spectacular at night, when the city comes alive in an improbable sea of lights.
10. Sample Kit Kat flavors you never dreamed could exist
Sweets in Tokyo are not to be underestimated and the city is a diet-killer due to the ubiquity of its sweet shops, dessert spots, and snack stands. While we love items like the panda-imprinted Tokyo Bananas and, well, every crazy sweet red bean confection you can find (as well as the mini-cheesecakes that seem to be everywhere), it's perhaps the wild assortment of Kit Kat candy bars that are one of Tokyo's signature confections. With outer coatings that range from melon to wasabi or green tea, these aren't your typical stateside Kit Kat bars. What's more? Dedicated boutiques in neighborhoods like The Ginza offer boutique Kit Kat experiences, with limited-edition flavors and rare ingredients that may very well justify the high price tag.
11. Walk the peaceful, wooded paths of Yoyogi Park
Amid some of Tokyo's busiest neighborhoods — Shibuya, Harajuku, and Shinjuku — Yoyogi Park is an actual oasis of peace and quiet. Towering evergreens and deciduous trees line the gravel pathways that arc gracefully through this serene landscape (especially in the central and northern precincts of the park). Yoyogi Park is also home to the Meiji Shrine, which is one of the most popular spiritual sites in the city. Here, the wooden shrine structures are shrouded in the forest, making the scene feel incredibly atmospheric and more peaceful than the vibe at Senso-Ji. Still, this sacred place is a hive of activity, with devotees purchasing amulets and blessings, while offering their respects at the foot of the Shinto altar. Yoyogi Park is perfect for pictures, from the Meiji Shrine to the towering hardwood tori gates that mark its entrances to the cherry trees that sit closer to the Harajuku entrance. Keep in mind that during cherry blossom season, the parts of the park that are lined with the flowering trees will be far more crowded and less peaceful than the park is during the rest of the year. Yoyogi Park and the Meiji Shrine are free to enter.
12. Score one-of-a-kind outfits at Harajuku's Laforet Mall
Harajuku is an internationally known brand at this point — much like New York City's Brooklyn. Made globally famous by Gwen Stefani's early-aughts hit "Harajuku Girls," the neighborhood became synonymous with Japan's hyper-futuristic street style. These days, it's a little different, and while Harajuku's main drag — Takeshi Dori — is a magnet for teens and trends, it's not quite what you may be picturing. Heading east from there, you'll encounter some of the most famous streetwear brands in the world, including Neighborhood, Supreme, Bape, and Carhartt. However, if you're after a slice of Harajuku's irreverent, one-of-a-kind style, Laforet Mall is your go-to destination. There are several floors worth of street-chic boutiques here, all arranged in an open-market style floor-plan. You'll find everything from neo-goth-raver gear to baby-doll dresses to latex onesies and Japanese selvedge denim here, though be warned that you'll need to curb your photo-happy instincts. In order to preserve the unique nature of the goods on offer, photographs are strictly prohibited. The mall also has a food court packed with trendy snacks — expect long lines.
13. Peruse the quirky shops and old-school restaurants in Nakano Broadway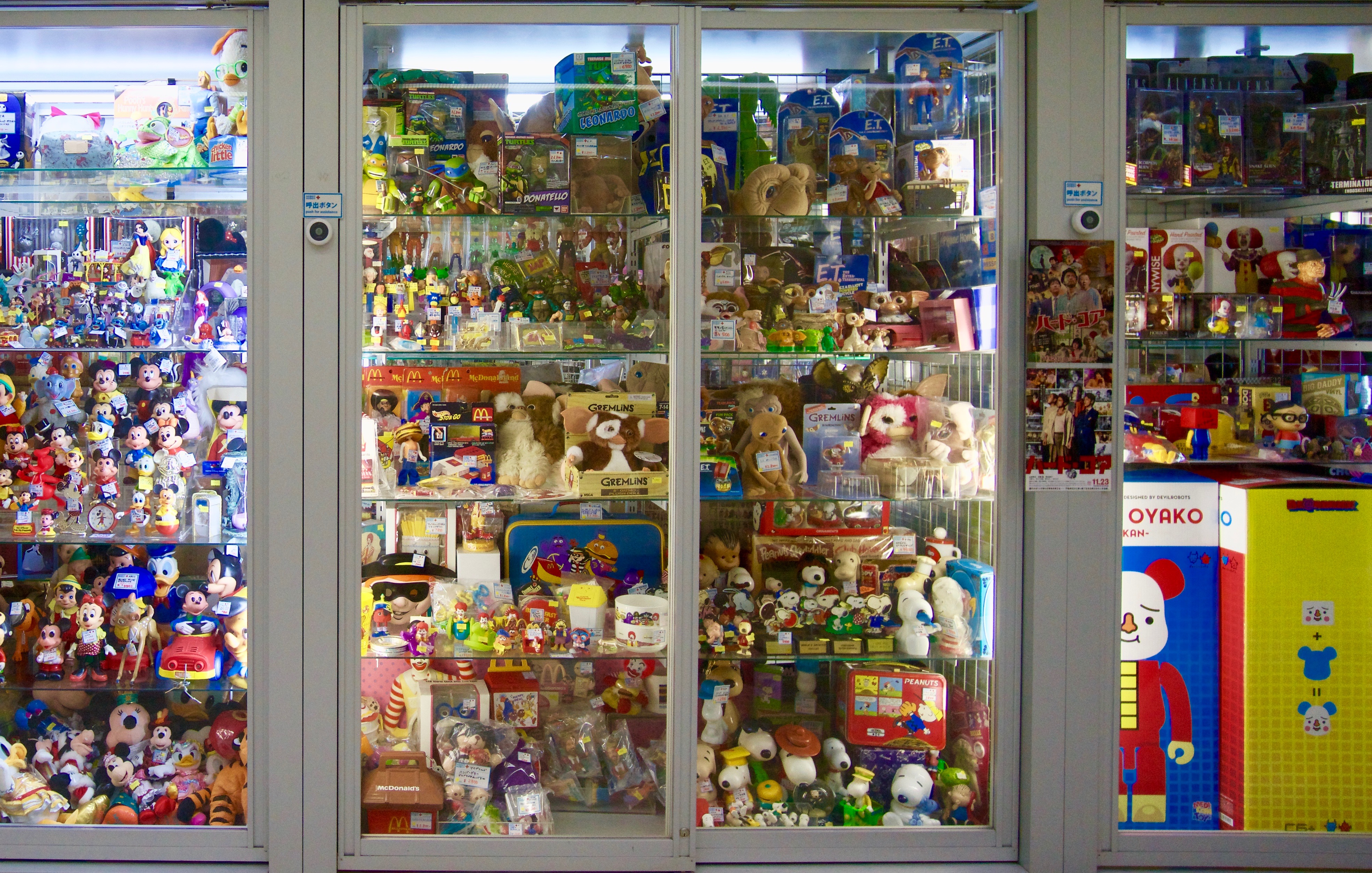 You'll again reap major rewards if you head outside of Tokyo's most famous central neighborhoods. Nakano is something like a step back in time, but not the ancient times you may be expecting. Instead, from the moment you step out of the train station, you're barraged by all manner of restaurants, shops, food stalls, and bootleg vendors. Make your way through the covered exterior lanes and into the mall itself, though, and you'll entire a different world that feels lifted out of an episode of "Stranger Things," geeky lore and all. This mall's low ceilings, bold linoleum, and polished chrome interiors tell you everything you need to know about the decades on offer here. Spanning several floors, this is your go-to destination for all things collectible, from books to anime figurines to horror novelty trinkets to sex toys. The mall also houses several old-school kissaten — no-frills coffee shops that are like combination low-key diners and hand-brewed cafes. You can easily spend hours getting lost in Nakano Broadway, but the streets outside are also lined with locally popular izakaya, ramen shops, sushi spots, and streetwear boutiques.
15. Visit the only surviving kabuki theater in all of Tokyo
Kabuki theater is one of Japan's most traditional and storied art forms. What you might not know, though, is that a proper kabuki performance is something of a marathon, lasting up to four hours and divided into several acts. With that in mind, there are a few ways to score a seat at the Kabukiza Theater. First, you need to remember that kabuki is still revered in Japan, and tickets for performances with popular actors will sell out well in advance. The theater does offer same-day, single-act ticket, though you should plan to show up quite early, as you (a foreigner) will likely have no clue as to which performers are famous or not. This is the most economical way to see a performance, and keeps your time investment a bit smaller. If you want a guaranteed seat, though, you can make reservations online in advance. You will have to pay the full price for all acts of the show, but there is no requirement to stay for all of them. Simply stay for the first act or however long you can last. The theater itself is beautiful and the performances are so different from western theater that it's impossible not to be enthralled. The theater also rents translation machines so that you can follow along with the action. During intermissions, head to the many snack stands to refuel for the following act, including taiyaki — the hot, fish-shaped filled treats that are ubiquitous in Tokyo.
16. Find eternal love by making an offering at the Imado Shrine
Officially known as the maneki-neko, the so-called lucky cat has its origins in Japan, but has been adopted around the world for everything from a talisman of good fortune to cute interior design details. You'll spot the feline in almost every East and Southeast Asian nation at this point, and it's one of the easiest souvenirs to snag for anyone back home. The famous cat actually has a spiritual backstory, and there are temples across Japan dedicated to this icon. The main "lucky cat" temple in Tokyo is the Gotokuji Shrine. However, locals consider the Imado Shrine as the birthplace of the maneki-neko. The temple — a 15-minute walk from Senso-Ji — is particularly auspicious for those newly in love. Here pairs of the lucky cat — Izanagi and Izanami — are found nearly everywhere, from a small temple to the amulets that appear by the thousand on fences around the shrine. A booth sells these amulets (and other trinkets) for a few hundred yen. Markers are provided to inscribe your wish on the back of your amulet before you tie it around the fence yourself.
17. Check out the art and architecture at 21_21 Design Sight
As Roppongi continues to make itself the center of Tokyo's contemporary art scene, cool spots like 21_21 Design Sight are a standout. Situated just north of the Tokyo Midtown Mall — which is filled with luxury outfitters and great restaurants — the gallery is one of the more cutting-edge art spaces in Tokyo and is the brainchild of designer Issey Miyake and architect Tadao Ando. The angular, semi-subterranean gallery spaces are a fitting home for bold exhibitions that range from interactive to large-scale collage and film screenings. Even if the exhibit that's on during your Tokyo visit isn't your cup of tea, the architecture of the place itself is worth the cost of admission, mixing clean lines, Brutalist tendencies, and Zen inspiration to create something breathtaking in its own right.
18. Indulge in the food and dessert stalls of Tokyo Station
Yes, Tokyo Station is a train station. But it's also a lot more than that. In fact, the station's underground passageways are more like a combination shopping mall and food court, with a dizzying array of stores offering nearly anything you could want. And it's not just cheap fast food, either. The hallways below the station are packed with dessert counters that will make you go blind with their insane array of colors and confections. We suggest hitting up the sweet shops of the Keiyo Street area or the food hall that's part of the Daimaru department store that's attached to the station. Tokyo Station is also home to the famous Ramen Street, which has some of the best-reviewed ramen shops in this part of Tokyo. If you're after vegetarian ramen, it's hard to beat T's Tantan, which has an always-busy branch in the Keiyo Street area. If you're not taking a train, access to the station is cheap — you simply purchase a platform ticket at the machines near the station's entrances (the cost of a platform ticket is just over $1).
18. Stroll the stalls of the Tsukiji Outer Market or visit the tuna auction at Toyosu Fish Market
You should know that if you're after the fresh fish auction of Tokyo lore, the Tsukiji Market is not your destination. The auction was moved to an island in Tokyo Bay in 2018 and is known as the Toyosu Fish Market now — it's still accessible to the public and there are public viewing platforms for the tuna auction throughout the massive structure. Back on dry land, the Tsukiji Outer Market, surrounding the former tuna auction structures, is still a major tourist draw. This bustling part of town — especially in the mornings — is your go-to spot for delicious seafood and streetfood, as well as kitchen- and table-ware retailers (think: sushi knives). Situated just south of The Ginza, it's easy to reach by metro and subway, and makes for a great morning in Tokyo.
19. Make a pilgrimage to Koenji's Kitakore Building for only-in-Tokyo fashion finds
While Koenji doesn't quite have the same volume of vintage shops as Shimokitazawa, it definitely draws the fashionable set and can be paired with a trip to Nakano Broadway (Nakano and Koenji are side-by-side and only separated by one train stop). The streets of Koenji have a similar laid-back vibe as those of Shimokitazawa, with residents on bikes weaving in and out of those strolling the shops and cafes. Among the more unusual of the offerings in Koenji, which is the kind of place that has bars that double as community libraries, is the Kitakore building. Here, a ramshackle collection of shopfronts, connected on the inside and adorned on the outside with a cartoonish monster, offers some of the most far-out fashion that you'll find in Tokyo. There's rarely more than one of any garment in the shop, so you know that investing in a piece from Kitakore means you'll be returning home with an outfit that no one else in the world has.
20. Head to the Park Hyatt's New York Bar for movie-worthy views
Views in Tokyo are so impressive that you'd be remiss to take them in only once. The Tokyo Skytree and Tokyo City Hall all rank high on many must-see viewing spots, but we vote for pairing your views with some classy cocktails instead. The New York Bar at the Park Hyatt Tokyo was made famous in Sofia Coppola's "Lost in Translation," but its magic goes beyond cinematic history. Here, you're treated to views across Shinjuku and the surrounding west-central Tokyo area (and beyond). It's a true spectacle at night, where live jazz takes place every night and bartenders take incredible care with the top-notch list of liquors and cocktails on offer (opt for a Japanese single-malt whiskey over one large cube of ice to really do it right). Keep in mind that dress codes are enforced here, and if you're not staying at the Park Hyatt, you"ll be subject to a cover charge. Even so, you won't forget a night here.
If you're after one of Tokyo's best luxury hotels, The Prince Gallery Tokyo Kioicho is hard to top. Situated in the upmarket Hanzomon area, the hotel is within walking distance of excellent dining options (including Soranoiro) and plenty of shopping. Interiors are fresh and modern, and jaw-dropping city views are on offer from pretty much every corner of the hotel. That starts in the lobby and main bar, where Tokyo sprawls in front of you in seemingly improbable scale. The hotel also offers an excellent gym and spa, a pool, and spacious rooms with windowside seating to take in sunrises, sunsets, or nighttime city views. Dining scores spectacular reviews from previous guests, and The Prince Gallery Tokyo Kioicho is a peaceful, pristine escape from the otherwise hectic city far below.
Merge the old with the new when it comes to snapping memories with an instant digital camera from Polaroid.
You'll Also Like:
All products are independently selected by our writers and editors. If you buy something through our links, Oyster may earn an affiliate commission.