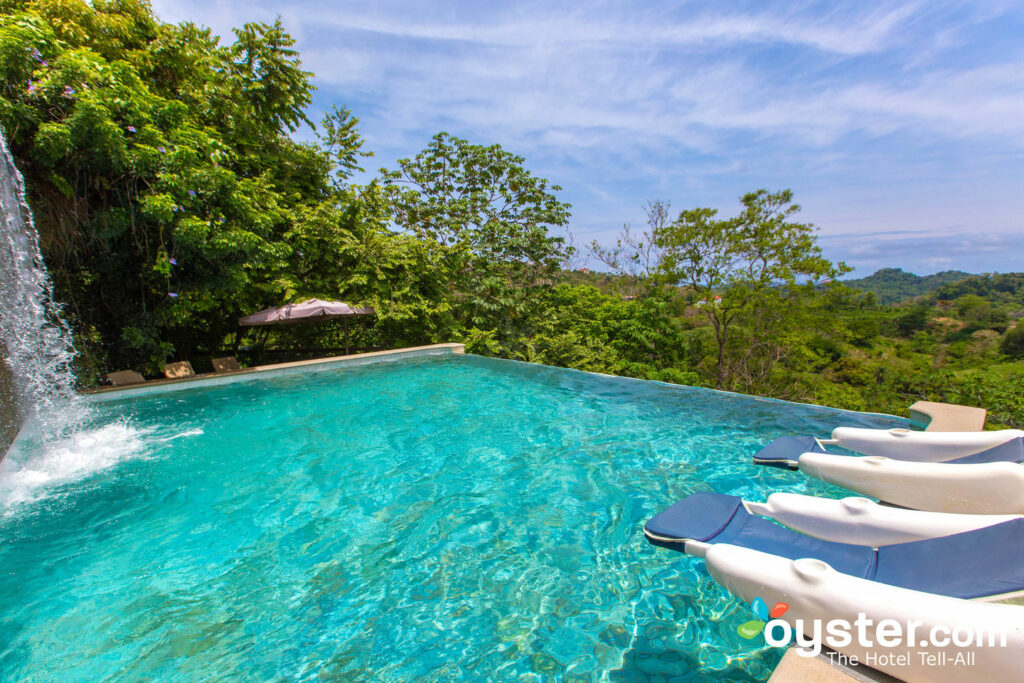 Perched on a hillside of a 14-acre nature reserve, Gaia exudes an exclusive, private atmosphere. Aptly named after the Greek goddess of the earth, the hotel feels like a part of the jungle .– greenery edges every pathway, and iguanas, monkeys, and other wildlife can be spotted. Freebies are aplenty here, too — a la carte breakfast, tours of the reserve, a mini spa treatment, and Wi-Fi included. The attentive service and stylish rooms, which include natural materials like stone, wood, and wicker, are also impressive. However, it's the jungle and ocean views — particularly from the multi-tiered infinity pool and open-air restaurant — that steal the show.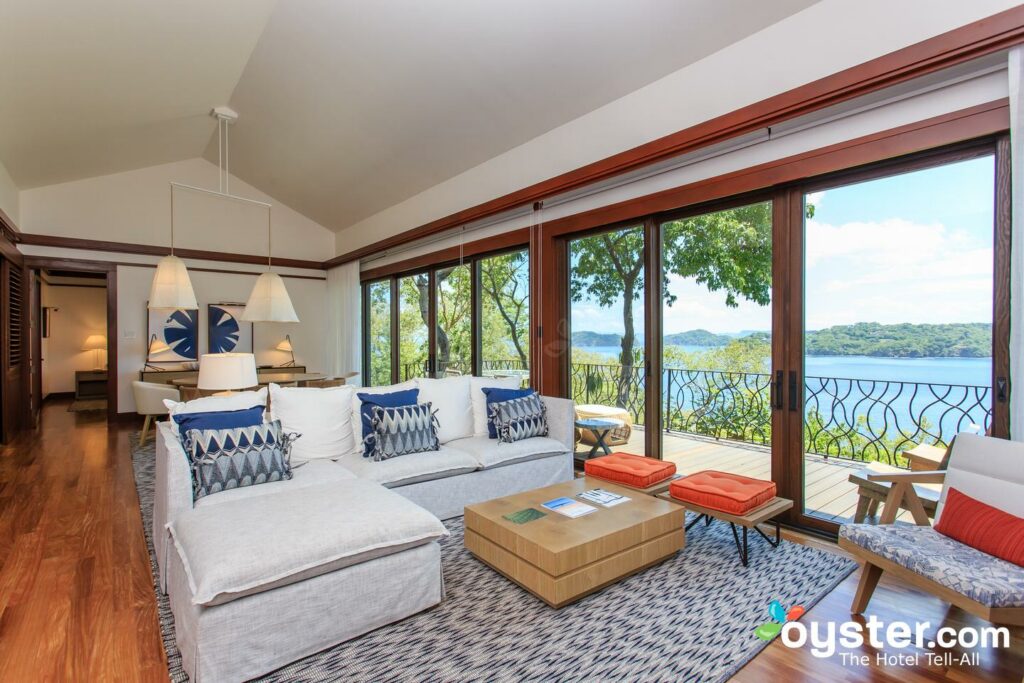 The Four Seasons Resort Costa Rica at Peninsula Papagayo is easily one of the most luxurious properties in Central America. It boasts a stunning location with two beautiful beaches, and does a fantastic job of modernizing a traditional rustic beachside bungalow vibe. Rooms are modern and sophisticated, utilizing soft whites, polished natural wood, glass, and subtle pops of color. Plus, plenty of outdoor space, floor-to-ceiling windows, and absent fourth walls help to bring the outside in and allow for unobstructed views.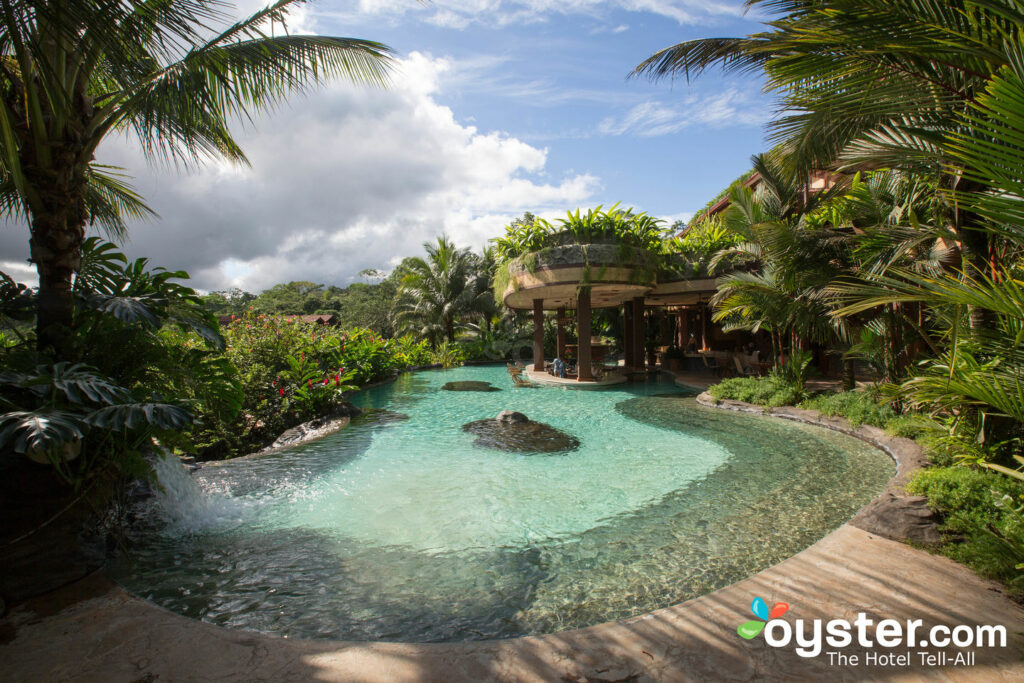 The Springs Resort & Spa is so beautiful that it enticed Beyonce and Jay-Z for a romantic getaway. This 74-room ultra-luxury resort is a veritable natural adventure park, secluded and sprawled over 165 acres surrounded by bucolic farms, gorgeous rivers, and steamy hot springs. Though it requires a bit of a mission to reach (you'll have to wind along tricky mountains and bump up and down gravel roads studded with potholes), the reward is worth the journey. The property itself is hidden along on a volcano-facing mountain slope, and there's everything from river tubing and skiing to horseback riding and hot springs offered on-site. Fun fact: You might even recognize this hotel from an episode of "The Bachelor."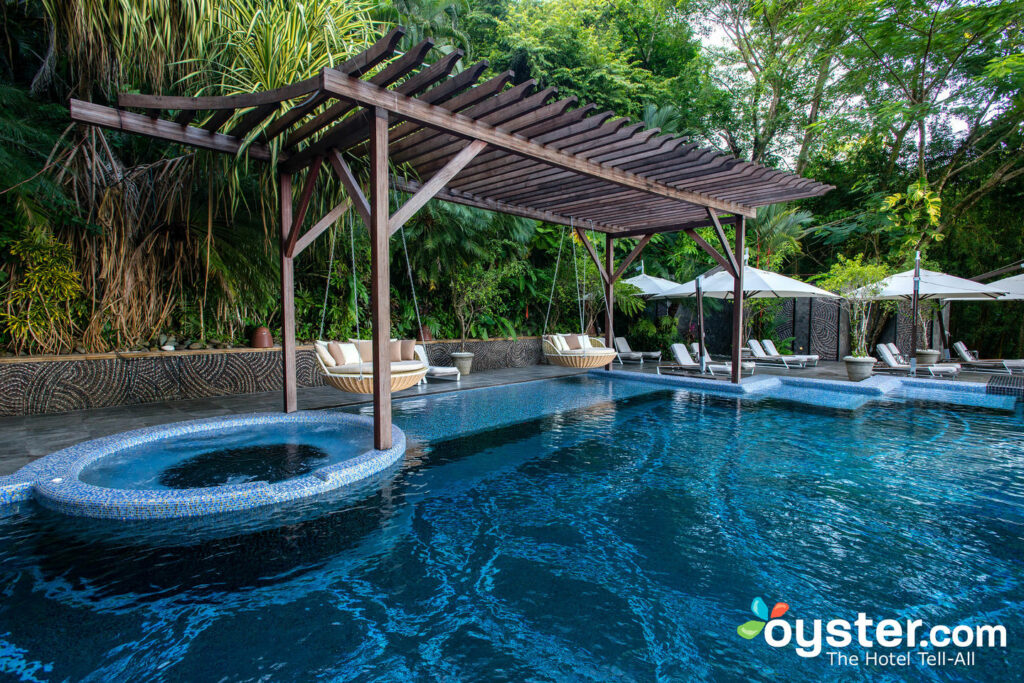 If you're looking for an Instagram-worthy spot that makes your friends back home jealous, this is it. Located in beautiful Manuel Antonio, Makanda by the Sea is a luxe, kid-free sanctuary — literally (it sits inside a wildlife sanctuary). It's nestled 100 feet above the Pacific Ocean, offering beauty in the lush surrounding rainforest as well as in the chic design and decor. The 27 rooms have a modern treehouse vibe, though there's no need to rough it, thanks to minibars, flat-screen TVs, and panoramic balconies. Villas add kitchenettes and plunge pools with gorgeous ocean views. Bonus points for the exclusive vibe (with a price tag to match) and the sounds of wildlife all around.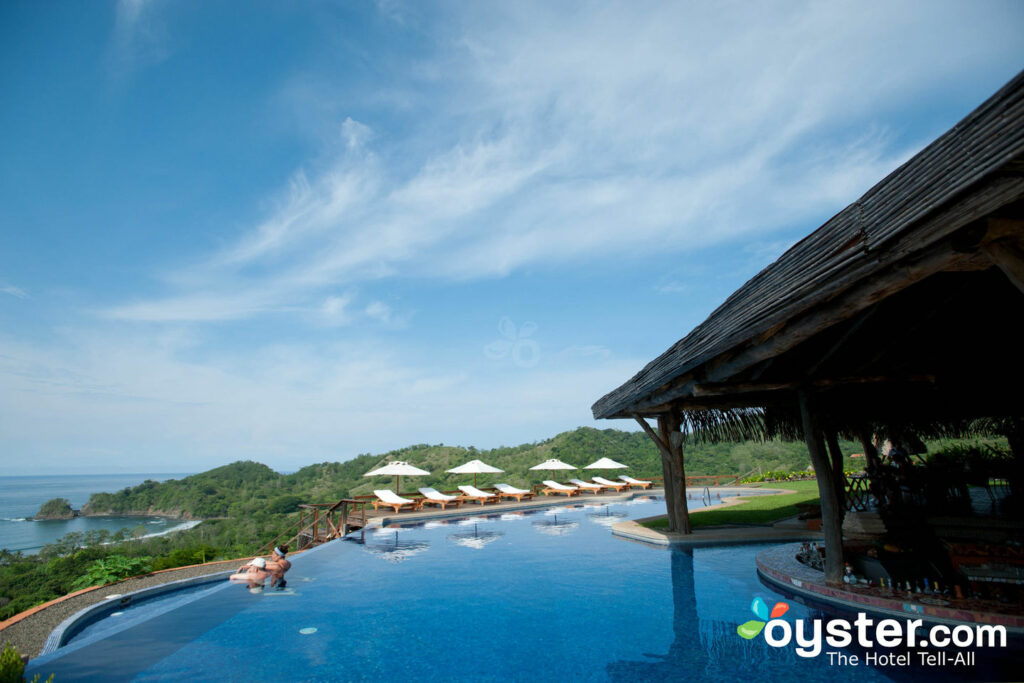 Looking for a simple escape with verdant cliffside views overlooking a wild and rugged beach with swaying palms? Welcome to Hotel Punta Islita, Autograph Collection. While it's not as fancy as some of the other hotels on this list, the views and serene ambience are downright incredible. The remote setting means you'll see nary a soul in sight, though you may have a few visits from local wildlife.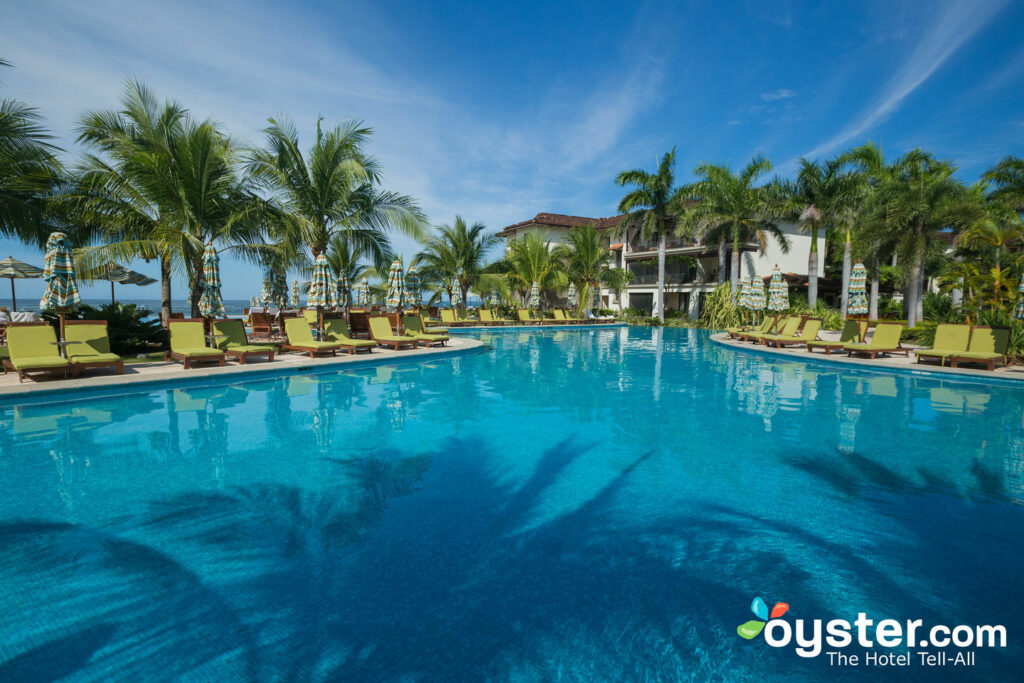 Between its photogenic location on Playa Mansita beach and Hacienda-style decor, the upscale JW Marriott Guanacaste Resort & Spa is picture-perfect. Dark woods, polished leather, red brick, and terra-cotta tiles come together to create a romantic, colonial-style aesthetic. Expect open spaces, knotted hammocks stretched along the courtyard perimeters, and a well-curated landscape. To top it off, the resort's pool — the largest in Central America — overlooks a rocky beachfront, while the spa has a rustic, swish design with outdoor, thatched-roof treatment huts and a lovely garden-view relaxation area.
Located across from the Papagayo Peninsula, El Mangroove, Autograph Collection is set amid 15 acres of beachfront mangroves and features a clean contemporary design and stunning spa. Upscale and out of sight (expect a secluded vibe), this 85-room hotel has a hip aesthetic that's rare for the area. The decor includes tree-stump side tables, hanging lanterns, wood-paneled walls, and modern slanted reed roofs — the whole space could pass as a living Pinterest board. Panoramic views from the beach and a lush landscape mean the hotel's beauty extends beyond its design.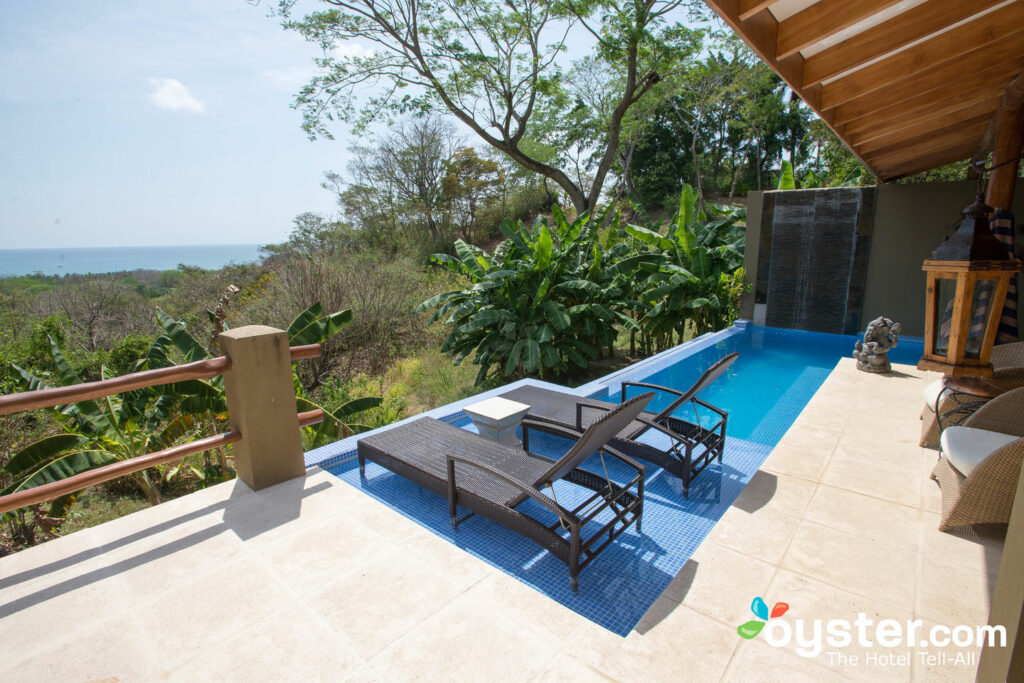 Who needs the beach when you've got treetop views and loads of style? Casa Chameleon Hotel Mal Pais is a bit off-the-radar, but those who sacrifice a spot near the beach will be rewarded with a hilltop location and scores of secluded luxury. Each of the 14 villas has its own private pool with flora, fauna, and ocean views. A limited number of public spaces means most guests spend time together in their villas reconnecting with each other and nature.
For a classic European feel with clifftop views, look no further than the upscale, 45-room Villa Caletas. Roman-style columns and a stunning Greek amphitheater built into the hillside might have guests doing a double take. However, while the decor leans toward Europe, the lush surroundings scream Costa Rica. In fact, the stunning, 1,100-foot-high rainforest and Pacific Ocean views are undoubtedly the highlight here.
The owners of Pranamar Villas and Yoga Retreat have a deep love and respect for Bali and it shows throughout their 10-villa property. Although the small resort features a Balinese look, the vibe is authentically Costa Rican. Expect bright and airy rooms with locally sourced wood and bamboo, sophisticated Indonesian wood furniture, and hardwood floors. Several of the shared public buildings are open-air to help incorporate guests into their surroundings. A ribbon pool winds through the property, and a rocky, but beautiful, beach with tide pools welcomes guests down on the shore.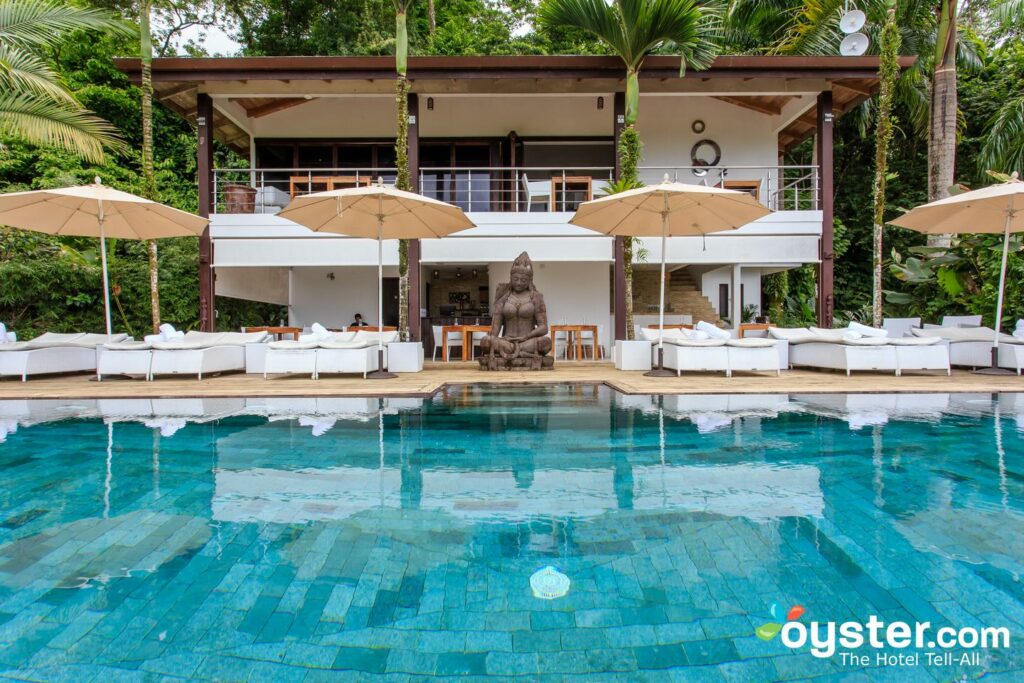 Oxygen Jungle Villas is a luxurious oasis for those who want to immerse themselves into a jungle landscape without the threat of bug bites or rustic tents. The property's 12 villas have floor-to-ceiling glass walls on all four sides, bringing the lush landscape closer. There's no roughing it here, though, as the minimalist accommodations all come with modern luxuries like Wi-Fi and flat-screen TVs. Bathrooms sport carved stone sinks and frosted glass, while the infinity-edge pool overlooks the ocean and jungle and is a favorite spot for soaking in the sunset.
Andaz Peninsula Papagayo Resort is here to woo with high design — something you might not expect to find in a place like Costa Rica. This luxurious 153-room resort follows in the stunning architectural footsteps of Hyatt's other design-forward Andaz properties. Built into 28 hilly acres, the hotel presents a minimalist look featuring well-manicured lawns, sexy curves, and sharp edges. A mixed brown color palette and heavy use of wood make it feel like a modern take on a treehouse. In addition to its chic design, the resort is home to jaw-dropping scenery and breathtaking views of the peninsula.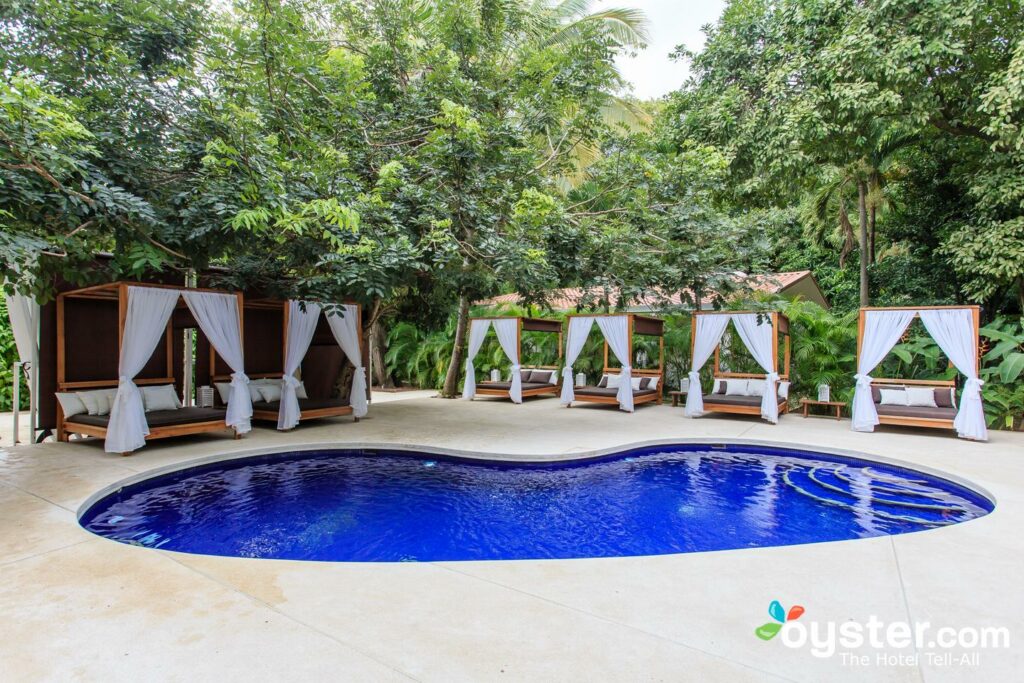 A clean, fresh, and minimalist design dominates this property, where you'll find cream tile floors, polished wood paneling, and tons of symmetry reminiscent of Scandinavian architecture. The leafy green landscape appears even more vibrant when placed against the two-toned look of the hotel. Outdoor hallways have smooth concrete floors and white walls with framed black-and-white nature photos on one side and thick vines on the other. We especially love the narrow walkway tucked between slim palm trees and a leafy garden.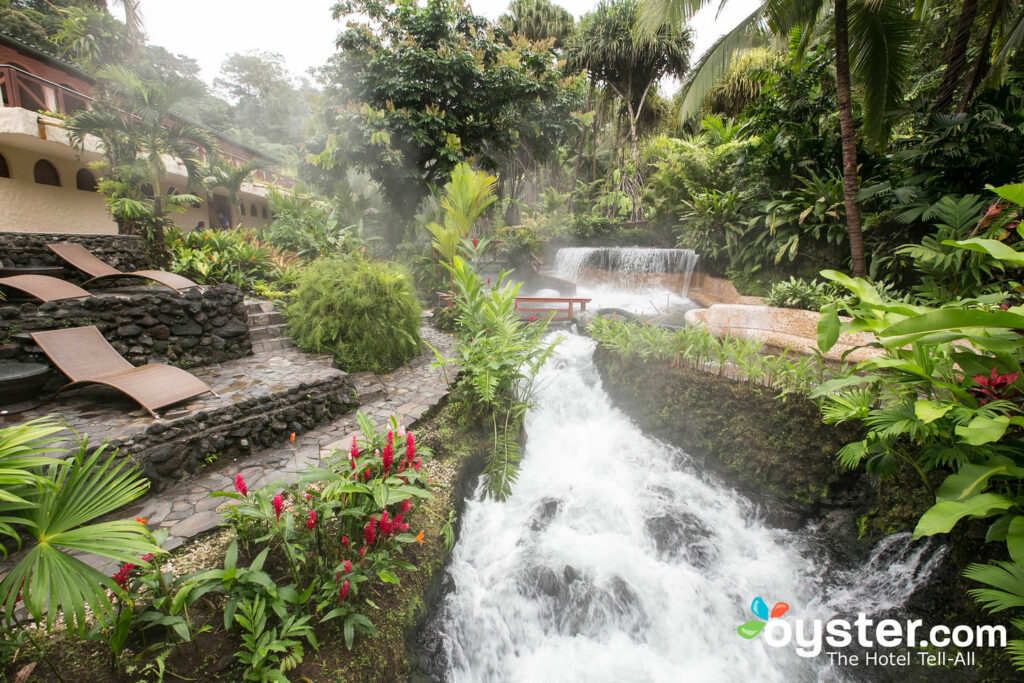 Located in the Arenal Volcano area, this eco-friendly, Eden-like resort is well-known for its waterfalls, manicured jungle paths, gardens, and above all, collection of natural hot springs. The large and modern rooms are appealing, too, with floor-to-ceiling windows that face the rainforest. Decor is contemporary and includes wood furniture handmade by local artisans. Plus, spa treatments are offered in open-air bungalows. Overall, the atmosphere is committed to relaxation.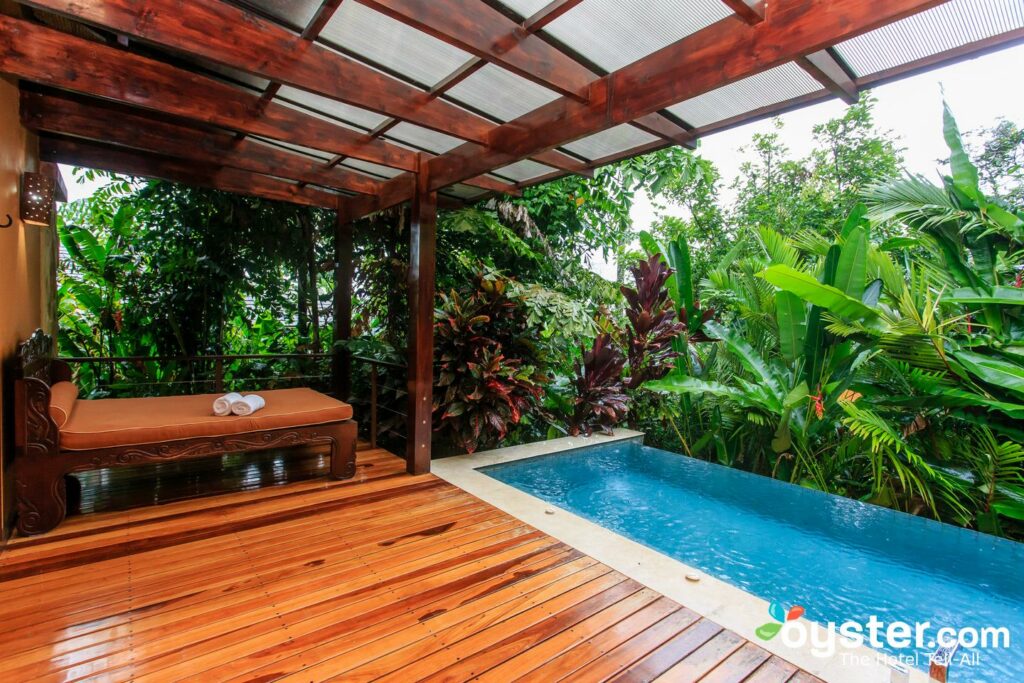 Beautiful from top to bottom, this adults-only resort is a solid choice for couples seeking peace, quiet, and romance. Rustic-luxe rooms are spacious (1,500 square feet) and come equipped with plenty of amenities — free minibar items, free international calls, espresso machines, and Bluetooth music players, to name a few. And although guests prefer to soak in the hot springs pools in their villas, there is also a chic infinity pool overlooking the rainforest as well as a spa that incorporates natural ingredients, like coffee beans and volcanic mud, in its treatments.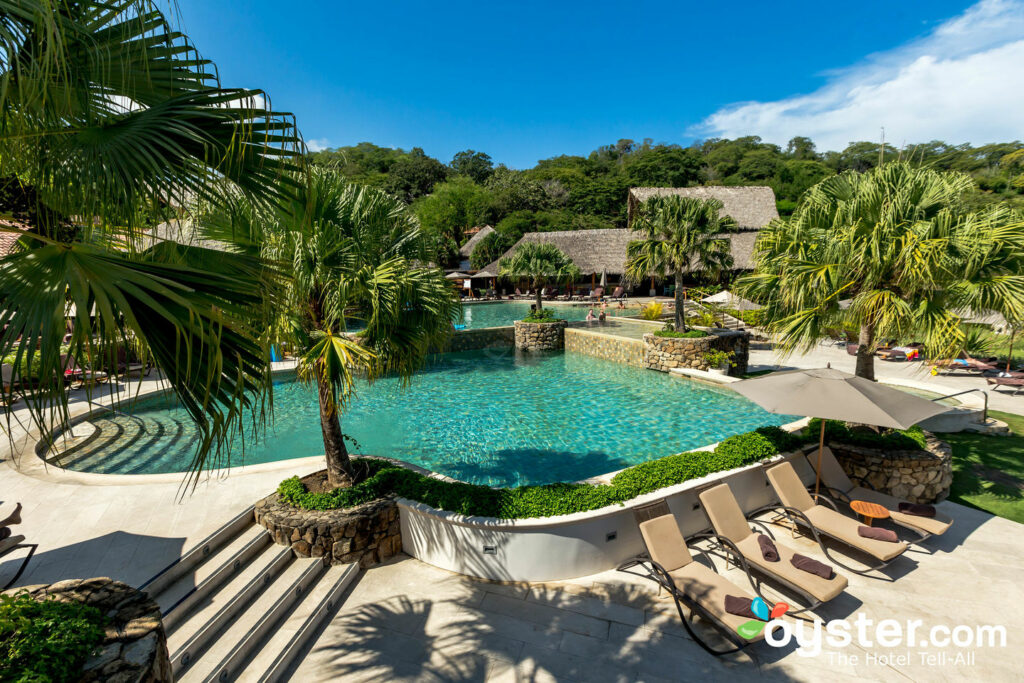 An adults-only, all-inclusive located on the Gulf of Papagayo, Secrets Papagayo Resort & Spa is home to 202 rooms with immaculate decor in soothing neutral tones and furnished balconies or terraces that showcase views of the lush grounds or ocean. The two-tier pool with a swim-up bar and spa pool are both attractive, as is the spa with thatched-roof treatment rooms. Access to the beach, a large fitness center, and lots of dining and entertainment options are also on offer — typical for an all-inclusive resort. It all comes at a price, though.
Dress to impress on your Costa Rican adventure with a swimsuit from Summersalt. Ranging from sizes 2-24, there really is something for everyone.
You'll Also Like: