Anyone who's watched The Shining late-night has probably had at least one nightmare featuring hotel ghosts. (Truth be told, we watched it during broad daylight. And we were still terrified...) Whether you believe in paranormal encounters or not, be prepared to shiver from more than the autumnal chill in the air if you book at stay at one of these haunted hotels this Halloween.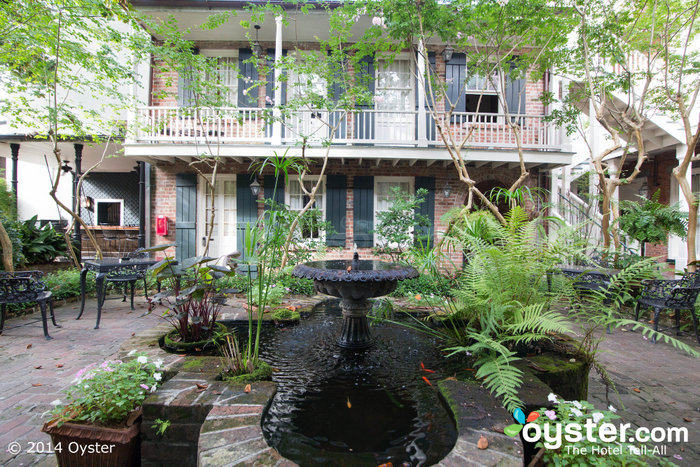 New Orleans is famous for its paranormal activity, so the title of "most haunted" isn't one to be taken lightly — and Place d'Armes Hotel, a popular spot on haunted walking tours, may just be that. The historic townhouses, centered around a pretty courtyard, that make up the hotel don't show any signs of the ghastly fire that took the lives of several students and teachers when their school burned down on this site in the 1800s. But footsteps, children's laughter, and the sound of furniture moving in unoccupied rooms are just the beginning of reported paranormal activity here. Resident ghosts include a young girl who asks where her grandmother is before vanishing into thin air, and an elderly bearded man dressed in old-fashioned clothes who gives a friendly nod of acknowledgment before he disappears.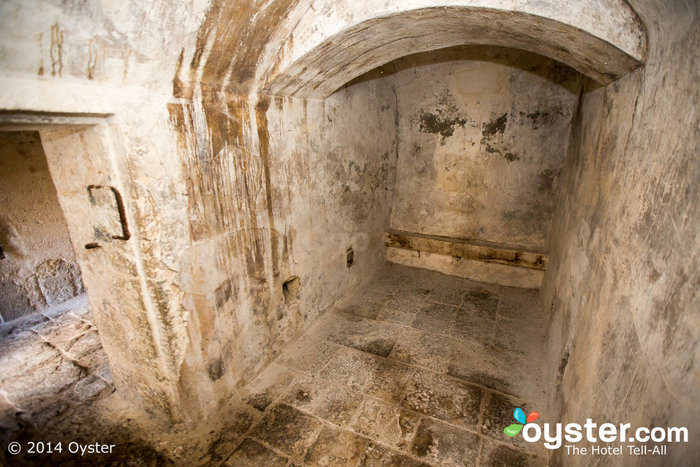 Mary Blandy was only 31 years old when she was hanged at Oxford Castle for poisoning her father with arsenic in 1752, but many have claimed she can still be spotted roaming the grounds. Originally built by William the Conqueror in 1071, this medieval castle, turned Victorian prison, turned luxury boutique hotel is one of the most haunted buildings in the United Kingdom. Rooms that today hold luxe rain showers and flat-screen TVs once housed some of Britain's most notorious criminals. Slab metal doors, barred windows, and stone walls are spooky present-day reminders of the hotel's bloody past, and dungeon-like "punishment cells" are scattered throughout the property. Downstairs, there are actual dungeons. Executions were regular and past prison guards were fond of torture. Ghostly white-robed monks have been spotted near the tower, as has a prisoner being dragged with his hands behind his back. In the 1970s, a priest was supposedly called to perform an exorcism, but his visit failed to put an end to mysterious white mist, disembodied footsteps, and Mary's wandering spirit.
It's evident from the old-world feel at Hotel Galvez that this upscale property has been around for over 100 stylish years. The fifth floor, specifically room 505, is supposedly haunted by the ghost of a (at the time) soon-to-be-bride who committed suicide by throwing herself out a window once receiving news that her fiance met a watery death. Flickering lights, glasses breaking on their own accord, and a faint floral scent, with no origin, are all mysterious occurrences supposedly related to her presence.
The former owner of the hotel, Simon Benson, rescued this once crumbling property out of despair and brought it up to world-class standards (that it still maintains today) in the early 1900s. Maybe that's why (or because) Mr. Benson is still hanging around, dressed in a dark suit coat. A known teetotaler, his spirit is blamed for knocking over patrons' drinks and is occasionally observed in the meeting rooms, possibly making sure that everything is still up to snuff. Other ghosts — a three-year-old boy and an unknown female entity wearing a turquoise dress — are less judgmental.
Originally built in 1865, the luxurious Langham didn't report ghosts sightings until the BBC uncovered paranormal activity while using part of the hotel for administrative offices. Room 333 is supposedly the most haunted; reports claim a doctor murdered his wife and then killed himself while staying in this room on their honeymoon. Guests report visions of a German prince who killed himself on the property as well, but he's only spotted in October. In 2014, London's Daily Mail reported that England's cricket team could barely sleep after encountering lights and water faucets flicking on and off at random.
This picturesque bed-and-breakfast has been entertaining guests since the Civil War, and some of them have stuck around since. The most commonly reported ghostly activity comes in the form of a woman's laughter and the apparition of a woman dancing. Staff has experienced booze bottles shaking on their own accord. Due to these reports, the hotel appeared on an episode of Ghost Hunters, a TV show that follows paranormal experts into supposedly haunted places. The team chased a floral fragrance and cold spots, and investigated spooky knocking noises between rooms nine and 10. Their professional opinion is that the property is haunted by Esther, the departed niece of the hotel's original owner.
The spookiest claim a past guest of the Asia Hotel made was that, when he returned to his room to pick up forgotten papers, he heard his wife (or what he thought was his wife) crying in the bathroom. He knocked and entered to comfort her, only to find the bathroom completely empty. Other guests have woken in the night to see ghostly figures watching them sleep from the sofa. In Asia, it's customary to knock three times before entering a hotel room so that the living don't catch the dead by surprise.
The Congress Plaza Hotel has a colorful and storied past. Ghosts include a hobo by the name of Peg Leg Johnny, who may have been murdered in the hotel. A gloved hand has been spotted sticking eerily out of the hotel's wall — supposedly belonging to a construction worker who was buried behind it. Chillingly, the elevator regularly stops on the eighth floor, even when the button hasn't been pushed. Room 441 is the notorious haunt of choice of the shadowy outline of a female figure. Supposedly, whatever staff saw on the 12th floor was so terrifying that one door has been fastened shut from the outside.
Legend has it that Civil War Colonel Jesse Driskill lost his beloved hotel in a high-stakes poker game and is still hanging around — smoking cigars, appearing in mirrors, and paying special attention to female guests. If that's not enough to scare you off, check out the spooky portrait on the fifth floor of four-year-old Samantha Houston, daughter of a U.S. Senator, whom some say died in the hotel in 1887 after tripping down the grand staircase. Be careful on those steps!
Mary Masters is the name of the little girl ghost who haunts the halls of The Shelbourne. A Brith medium reportedly made contact with little Mary, who complained of being frightened and cried until the medium comforted her. More recently, actress Lily Collins told late-night talk show host Jimmy Fallon about her encounter with Mary on the sixth floor. Still, Michelle Obama and her daughters didn't report anything unusual after their recent stay, but then again, they currently share a residence with the reported ghost of Abraham Lincoln.
RELATED LINKS:
All products are independently selected by our writers and editors. If you buy something through our links, Oyster may earn an affiliate commission.