You've gobbled pizza in New York City, scarfed down cheesesteaks in Philadelphia, Pennsylvania, and stuffed yourself with barbecue in Texas. When it comes to food, each state is special in its own way. That being said, picking a state dish is as hotly contested as the 2016 presidential election. While food has the power to unite, some of the fiercest battles have ensued over which snack, entree, or dessert is representative of a particular place. Fearless, we still decided to play our very own version of the hunger games. So, what's on the menu? Below, we rounded up one signature dish you must try in each state. See which food made our list for your home state. And feel free to weigh in -- it's your culinary right.
Alabama
https://www.instagram.com/p/BBRH972GBB-/
Here's a piece of fun trivia: The Alabama state nut is the pecan. Whether they're roasted, salted, glazed, candied, or stuffed in a pie, Alabamians are skilled at a myriad of pecan-focused desserts. Don't leave without ordering a slice of homemade chocolate bourbon pecan pie at Pie Lab in Greensboro. For pecan fiddlesticks, which are loaded with chocolate and the legendary nut, or pecan logs, which are essentially nougat treats covered in caramel and pecans, visit the Priester's Pecans.
Alaska
https://www.instagram.com/p/BJ4cfdHBFd5/
Alaska, the 49th state, was purchased from Russia in 1867 for more than seven million dollars. Today, the largest private industry in the state is fishing and the prize catch is Alaska salmon. In fact, most of the pink salmon consumed in the U.S. is caught in Alaskan waters. Grab a salmon burger or a broiled salmon fillet with mandarin mango salsa at Twister Fish in Juneau.
Arizona
https://www.instagram.com/p/BJtvnQsgOQC/
When the Navajo Indian tribes were forced out of Arizona, they created fry bread to make the 300-mile journey to New Mexico. The doughy snack, which tastes like unsweetened funnel cake, was crafted using white flour, processed sugar, and lard provided by the U.S. government. These days, you can also get a fry bread Navajo taco, which comes packed with tomatoes, lettuce, beans, and cheese, at The Fry Bread House.
Arkansas
https://www.instagram.com/p/4FsEvdBwqI/
When in Arkansas, fill up on possum pie. Don't worry, this chocolate dessert doesn't contain any animal parts. It does, however, have Cool Whip, fruit or chocolate pudding, pecans, cream cheese, and other tasty ingredients. Try a slice of at Stoby's Restaurant. (FYI, they're just joking about the dessert only being available during possum season).
California
https://www.instagram.com/p/BKbfGTSj5xb/
California boasts different signature foods, depending on where you are in the Golden State. In Southern California, burgers — namely those from In-N-Out Burger — reign supreme. This fast food restaurant was founded in 1948 by husband-and-wife team Harry and Esther Snyder. But unlike many other fast food joints, this eatery boasts 100 percent pure beef patties. Off the secret menu, try the cheeseburger "animal style," which comes with sauteed onions and extra sauce, or the "protein-style" burger, which uses lettuce wraps.
Colorado
https://www.instagram.com/p/61MlccO08R/
Rocky Mountain oysters, also known as cowboy caviar, aren't what they sound like. They're not oysters or even in the seafood family. In Colorado, these fried finger foods are made from sheep, bull, and pig testicles. The dish apparently began with ranchers who needed a cheap source of food. Be open minded — it actually tastes like venison and is served with a tasty cocktail dipping sauce.
Connecticut
https://www.instagram.com/p/oeAeffkmDS/
Shad, cousins of herring and sardines, are fish found in the New England area. Join the annual Shad Bake, which is a springtime tradition in Essex, Connecticut. During the event, strips of shad are nailed into wooden boards and secured with pork strips. The boards are then set around a fire and smoked. In fact, Connecticut is so fond of shad that it even became the state fish in 2003.
Delaware
https://www.instagram.com/p/3bMgOkire6
Delaware is big on scrapple. No, we're not talking about the board game, Scrabble. The congealed meat, which is a mash-up of buckwheat flour, spices, and pork, is cooked to perfection and often served in the morning with eggs and other breakfast foods. You won't have to look hard to find the mystery meat — diners throughout Delaware feature the dish on their menus.
Florida
https://www.instagram.com/p/BFZFADazNSb
As the winter season moves in, Florida begins to prepare for the stone crab harvest, which begins on October 15 and ends on May 15. Interestingly, harvesting is done without killing the creature. Instead, the claws are removed and the stone crab is returned to the ocean where it can regrow its lost limbs. Distinguished by their black-tipped claws, the crustaceans are typically served cold with a mustard sauce, but can also be enjoyed hot with butter. One of the top eateries that serve stone crabs is Joe's Stone Crab, which opened in Miami in 1913.
Georgia
https://www.instagram.com/p/7lHdeMvQqG/
Although Alabama is the setting for the movie "Fried Green Tomatoes," the film was actually shot at The Whistle Stop Cafe, about a one-hour car ride from Atlanta, Georgia. The sign out front reads "fine food at fair prices" and that's exactly what you'll find here. Order up a plate of Ninny Threadgoode's favorite fried green tomatoes with radish dipping sauce, or try the fried green tomato salad or fried green tomato sandwich.
Hawaii
https://www.instagram.com/p/BHF7akejJYy/
Poke (pronounced po-kay) is gaining popularity in the mainland, but the freshest version can be found in Hawaii. The dish is concocted with raw ahi fish that's chopped in cubes and mixed with soy sauce, limu (seaweed), and other ingredients. If you're going to the beach, grab some poke at the supermarket. You're sure to find everything from octopus to mussel poke in the seafood section. Fine dining restaurants like Roy's also offer poke bowls that are worth a try.
Idaho
https://www.instagram.com/p/BHdTNRNjuYj/
Idaho takes their potatoes seriously. So seriously, in fact, that it even says "famous potatoes" on state license plates. And nearly one-third of potato crops in the U.S. are grown in Idaho. Try a variation of the spud with black beans, salsa verde, and cheese at Spuds Waterfront Grill or bite into a potato-bacon pizza slice at Pie Hole.
Illinois
https://www.instagram.com/p/qKguLVnNly
Illinois, the country's fifth most populous state, is so fond of popcorn that in 2004 it became the state snack. To keep up with the demand, there are about 333 popcorn farms in the midwestern state plus plenty of shops to choose from. Folks can taste the caramel and cheddar popcorn at Del's Popcorn Shop or munch on birthday cake popcorn at Mama Lee's Gourmet Popcorn.
Indiana
https://www.instagram.com/p/BC3QX_gvLCV/
Hoosiers know that a proper breaded pork tenderloin sandwich not only hangs over the bun, but also spills off the plate. The origins of the sandwich can be traced back to 1908 when it was founded in Nick's Kitchen in Huntington, Indiana. As the tenderloin connoisseur Rick Garrett once wrote on his , every tenderloin is different at each Indiana eatery. But Garrett gives Whiskey Business' hand-breaded pork tenderloin sandwich with pickles, lettuce, tomatoes, and mayonnaise a score of five out of five bites.
Iowa
https://www.instagram.com/p/BHm6VHmBAT5/
You'll need a spoon for your burger in Iowa, the home of the loose meat sandwich that's often topped with pickles and ketchup. Here, the chain eatery Maid-Rite started slinging loose meat sandwiches in 1926. Its former owner Fred Angell apparently created the steamed ground beef dish using a selection of spices. But others say the sandwich was created in Ye Olde Tavern in Sioux City. Either way, both versions are tasty.
Kansas
https://www.instagram.com/p/lvdqUDgDKj/
Ask anyone in Kansas and they'll tell you that throwing away the brisket ends is a barbecue faux pas. In the Sunflower State, the charred edges of a slowly grilled brisket are a delicacy. Pit masters serve them as appetizers with slices of white bread and sweet Kansas barbecue sauce. Order up a burnt end bowl with cornbread and onion straws at Burnt End BBQ.
Kentucky
https://www.instagram.com/p/BIksjyFA-om/
The Kentucky Derby is only held once a year, but you can eat derby pie any time you want. The first derby pie, which was born in 1950 at Kentucky's Melrose Inn, used walnuts, chocolate, and a secret filling. Other variations go by the name Kentucky bourbon pie to avoid trademark issues. These include bourbon or pecans (or both). Try a slice at or head to the Derby Cafe at Kentucky Derby Museum for the signature derby pie recipe.
Louisiana
https://www.instagram.com/p/2wLuYkKQbP
is a place where the jazz is always playing and the Cajun cooking is always hot. Speaking of the latter, freshwater shellfish is a staple in the Cajun community. During the summertime, picnic tables are covered with newspapers and boiled crawfish, sausage, corn, mushrooms, potatoes, and other veggies. Crawfish festivals are also held throughout the state. If you're in a rush, opt for snagging some crawfish to go at the Crawfish Boil-N-Go.
Maine
https://www.instagram.com/p/65bMF7t_21/
Did you know that there are about 44,000 acres of wild blueberries that grow in Maine? The summer berry can still be found in New England in September and local farms welcome visitors who wish to go blueberry picking. Try the blueberry jam at Stonewall Kitchen or blueberry muffins at Bread & Roses Bakery. Just make sure to save room for blueberry pie at Wild Oats Bakery & Cafe.
Maryland
https://www.instagram.com/p/BGYBALWITqT
Ask anyone from Maryland and they'll tell you no one whips up crab cakes like they do. Recipes vary, but most include blue crab meat mixed with mayonnaise, Worcestershire sauce, Old Bay seasoning, and saltines. Try the jumbo lump crab cake at Faidley's Seafood or sample the Hawaiian and Tex-Mex crab cake sandwiches at the Crab Cake Cafe.
Massachusetts
https://www.instagram.com/p/BKObKohhe7w/
Grab your oyster crackers — it's chowda time. Chowder in Massachusetts has a thicker and creamier consistency, thanks to milk, quahog chunks, potatoes, and bacon bits. In a rush? Take your soup in a bread bowl to go from Boston Chowda Co. Or, sit and savor each sip in the historic Union Oyster House, which was established in 1826 and is known as the oldest restaurant in the U.S.
Michigan
https://www.instagram.com/p/BKgSfj1gJvk/
Michigan is home to the Cornish pasty, which is basically a delicious pastry stuffed with meat, potatoes, and vegetables. The hearty fillings fueled hardworking Finnish and Cornish miners in the area back in the 1800s. These days, the pastries have become a state staple. Pick up a vegetarian pasty at Amy J's Pasty or maple pork pasties at Joe's Pasty Shop.
Minnesota
https://www.instagram.com/p/BDRxRQIpBoE/
What's for dinner, you ask? If you're in Minnesota, it's a time-honored tradition to whip up a hotdish in your cast-iron skillet. Elsewhere in America this dish is referred to as a casserole, but in Minnesota, the dinnertime favorite, which includes meat, veggies, cream sauce, and tater tots, is known as a hotdish. Restaurants like The Bulldog Northeast elevate the meal with beer-braised brisket, while The Mason Jar bakes their hotdish in a stone-fire oven.
When it comes to farm-raised catfish production, Mississippi beats out all other states (it raked in $179.2 million in sales in 2013). Turns out, the animals prefer the Mississippi's muddy clay bottom. In other words, the waters are prime for searching for catfish. Those who aren't the fishing type can also just sample the fish with French fries, hush puppies, and fried pickles at Jerry's Catfish House or Aunt Jenny's Catfish Restaurant.
Missouri
https://www.instagram.com/p/BJwSMVcDQRP/
In Missouri, toasted ravioli makes for a delicious appetizer. This dish, which hails from Sicily, made its way to The Hill, the Italian neighborhood in St Louis. Stories vary about how the dish was created — some say it happened by accident when ravioli was dropped into oil. One of the several restaurants that claim to have invented the dish is Mama Toscano's Ravioli. Here, diners can choose from two types of meat-filled ravioli with a side of marinara sauce.
Montana
https://www.instagram.com/p/qhe9Agu4kP/
Nothing says Montana quite like bison. Native Americans used every part of the animal for food, clothing, and other essentials. Today, there are plenty of reasons to try buffalo beyond the curiosity factor. Buffalo is sweeter and lower in fat and cholesterol compared to beef. Try the bison nachos at Ted's Montana Grill or bite into a buffalo burger at the Lighthouse Restaurant.
Nebraska
https://www.instagram.com/p/BHKozVcAW9t/
Save Cheese Frenchies, a popular finger food in Nebraska, for your diet cheat day. The triangular grilled cheese sandwiches are covered in cornmeal before hitting the fryer. You can thank the now shuttered King's Food Host for popularizing the dish in the 1960s and 1970s. These days, folks can order them at Don and Millie's as well as other diners throughout the state.
Nevada
https://www.instagram.com/p/BLT7hEkBKBn
Nearly every Sin City resort features an all-you-can-eat buffet with desserts, meats, seafood, bread, and the list goes on. Perhaps the star of said buffet is the shrimp cocktail. In fact, more than 60,000 pounds of shrimp are consumed every day in Las Vegas alone. In 1959, the Golden Gate hotel became the first to serve the seafood-and-cocktail sauce combination for fifty cents. And while the price has certainly increased, the love for the dish hasn't wavered.
New Hampshire
https://www.instagram.com/p/BJV0tlfBqfL/
The official state motto is Live Free or Die. One of those freedoms is to eat lobster rolls to your heart's content. This quintessential New Hampshire sandwich is made with buttered lobster that's stuffed in a roll with lemon, celery, salt, and pepper. Get your fill at The Beach Plum, which serves up anywhere from six- to 20-ounce lobster rolls with chips.
New Jersey
https://www.instagram.com/p/BKda7PhgiaK/
You may find yourself in a heated debate with locals when discussing whether a particular sandwich is called the pork roll or Taylor ham. The latter name comes from John Taylor, who created the sandwich in 1856. No matter the moniker you choose, this tasty salted ham sandwich is a beloved breakfast for New Jerseyans. The recipe is simple: Taylor ham, egg, and cheese on a roll. Munch on one from Old Towne Deli or Hoagitos in Asbury Park.
One of the big decisions you'll have to make while eating out in New Mexico is choosing between red or green chili. The Land of Enchantment, which is home to a large Hispanic population, boasts some of the best Mexican restaurants around. Take your pick of red or green chili (or even "Christmas," which means both) for your sopapillas. These deep fried dough pockets are stuffed with beans, rice, beef, or chicken at El Pinto. And those with a sweet tooth will appreciate the honey and jam sopapillas at El Paragua.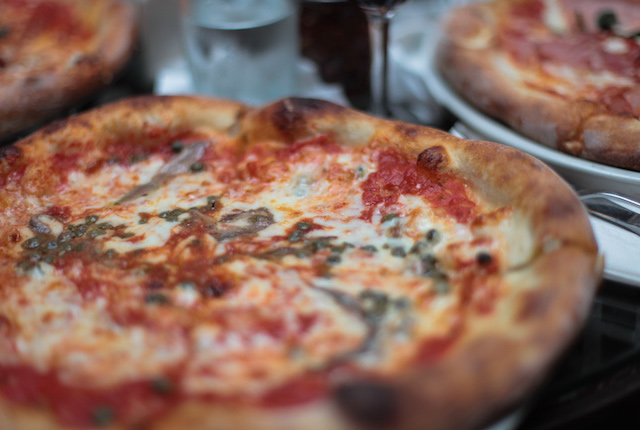 In alone, there are an estimated 24,000 restaurants, several of which serve up pizzas that range from thin-crust pies to deep dish Chicago-style slices. According to the Pizza Hall of Fame (yes, that's a real thing), New York is home to the first pizzeria in the country. Your first stop when visiting the Big Apple: Little Italy. Lombardi's, a neighborhood favorite, started baking Neapolitan pies in 1905. Order a coal-fired, mozzarella-topped pie (there are no slices).
North Carolina
https://www.instagram.com/p/BIAWBoSh2TK/
Krispy Kreme might be a nationally renowned donut brand today, but back in 1937, Vernon Rudolph, the company's founder, was glazing fresh rings of dough at his shop in Winston-Salem, . The original glazed donuts are the most popular pick, but folks can also try out-of-the-box options that are filled with cheesecake and topped with cream cheese icing and graham crackers.
North Dakota
https://www.instagram.com/p/76bl5BHIng/
When German-Russian immigrants settled in North Dakota, they brought with them the hearty knoephla soup. Made with chicken, potatoes, and homemade knoephla dumplings, the rich soup is often served with slices of bread. Order up a bowl at the 1950s eatery, Kroll's Diner, or at the Home Plate Cafe.
Ohio
https://www.instagram.com/p/BHPyPtxDnlW/
Cincinnati chili, which is scooped onto spaghetti and topped with a pile of cheddar cheese, is dear to Ohioans. The recipe was brought to Ohio by Macedonian immigrants in the 1920s. Today it's ordered according to a "way" system: three-way means chili, noodles, and cheese, while four-way chili includes onions or beans. The unique flavor in all comes from the spices, including cinnamon, chocolate, and Worcestershire. And although Ohio is brimming with chili parlors, make your first stop at Camp Washington Chili.
Oklahoma
https://www.instagram.com/p/1W9SIMRBOM/
Oklahoma — where the wind comes sweeping down the plain and the onion burgers sure smell sweet. The onion burger was created during the Depression era when Ross Davis, owner of Hamburger Inn, added shredded white onions to hamburger meat. Since then, things have been kicked up a notch. Every year Oklahomans host the El Reno Fried Onion Burger Day, during which an onion hamburger that weighs more than 750 pounds is grilled. Craving one yourself? Head to Johnnie's Grill or Sid's Diner.
Oregon
https://www.instagram.com/p/BKWVYOrAVtg/
Portland is cool, hip, and unafraid to push the envelope. That goes for its donuts, too. Specifically, Voodoo Doughnut, known for their unusual treats, changed the game. Friends Kenneth Pogson and Tres Shannon launched the company in Old Town Portland and it has since expanded to Texas, Colorado, and even Taiwan. Expect flavors that range from bacon maple to Mango Tango, which is filled with mango jelly and topped with vanilla frosting. The only problem? Picking a favorite.
Pennsylvania
https://www.instagram.com/p/BD8wQPYNhJy/
Although whoopie pies are the official state treat of Maine, folks in say recipes for the chocolate cake and vanilla cream-filled dessert have been an Amish tradition for decades. The annual Whoopie Pie Festival, which is held in Lancaster County, offers more than 100 different whoopie pie variations, including red velvet and chocolate peanut butter. If you miss the festival, stop by The Whoopie Pie Company or Flying Monkey Bakery to get your fill.
Rhode Island
https://www.instagram.com/p/BIGXZbUjFfX/
The smallest state in the U.S. (geographically speaking) also happens to be pretty big on clams. A beloved tradition in involves eating stuffies, also known as stuffed quahogs. The shells are typically stuffed with breadcrumbs, minced clam, and spices, but different interpretations can be found at a variety of restaurants, including Brick Alley Pub and Finn's Harbourside.
South Carolina
https://www.instagram.com/p/BBn91gED0nG
From peaches to pimento cheese, there's no shortage of foods that are associated with South Carolina. (Believe it or not, the state ships twice as many peaches as Georgia each year). But perhaps the one that's most ubiquitous with the place is boiled peanuts, the state's official snack. The nuts, which can be found at roadside stands and shops, are best in the summer and fall. For the best results, use raw, green peanuts.
South Dakota
https://www.instagram.com/p/BKf3TSfh2z3/
When Czech immigrants arrived in , they brought with them a pastry known as kolache. Tyndall Bakery, which has been in business for 80 years, bakes these Czech treats with apricot, cherry, poppy seed, apple, cream cheese, and other fillings. The dessert, much like the polka dance, is a quintessential part of the Czech Days festival held in Tabor, South Dakota. Legislators have also tried to introduce a bill to make the dessert the official state pastry.
Tennessee
https://www.instagram.com/p/BF4UdalluzV/
Nashville-style hot chicken is near and dear to Tennesseans. Its birthplace is said to be Prince's Hot Chicken Shack, which has been slinging the spicy poultry dish for over 70 years. The eatery's founder, Thornton Prince, had a fondness for two things: ladies and spicy chicken. As the story goes, Prince's girlfriend tried to punish him for his wandering eyes by covering his chicken in hot pepper. Prince, however, loved the hot chicken. Today, other restaurants like Hattie B's Hot Chicken and Bolton's Spicy Chicken & Fish are also top spots to sample the peppery meat.
Texas
https://www.instagram.com/p/BKG3RIYDj8s/
Whether you prefer brisket, ribs, sausage, or pork chops, barbecue is can't-miss when visiting the Lone Star State. While some joints cook their meat over mesquite, others opt for smoking it atop hickory wood. If you can score a spot in Austin's often busy Franklin Barbecue, order up a platter of grilled meat, slaw, pinto beans, and potato salad. For finger-lickin' good meat that's cooked over oak, head to Lockhart Smokehouse in Dallas.
Utah
https://www.instagram.com/p/BIFCcWNjohl/
When in , fill up on Jell-O. The sweet treat, which is usually made with fruits and vegetables, is a state staple, especially within the Mormon community. It's served at nearly every function, from funerals to potlucks. In fact, Utah is said to consume more Jell-O than any other state in America. And while the jiggly dish is most commonly made at home, folks can also find it at restaurants throughout the state. The crowd favorite flavor: green lime.
, the nation's leading producer of maple syrup (it put out more than 1.3 million gallons in 2013), celebrates the sticky, sweet confection every year during the Vermont Maple Festival. If you can't make it to the event, don't fret. The syrup is also made into candy or drizzled over a stack of pancakes at Maple Sugar & Vermont Spice restaurant, where General Edward H. Ripley and his relatives would boil the sap from maples to make syrup.
Virginia
https://www.instagram.com/p/BG0FFlJBGyH/
It won't take longer than one bite to understand why Smithfield, 's motto is "ham, history and hospitality." Smithfield Foods, the world's largest hog producer and pork processor, was founded in 1936. The hams were so popular that Smithfield is now called the Ham Capital of the World. For your fix of Virginia ham, head to The Homeplace, a 1907-built home that serves generous portions of ham, potatoes, green beans, and buttermilk biscuits.
Washington
https://www.instagram.com/p/5YRI4KF7eq/
Half of the country's sweet cherries come from . The harvest season begins in June and goes through August. Go cherry picking at the family-owned Hauck's Orchard or Stutzman Ranch. For a slice of cherry pie, check out Twede's Cafe, which was also featured in the TV series "Twin Peaks." The cafe, which was built in 1941, serves up slices that are made fresh daily and topped with whipped cream.
West Virginia
https://www.instagram.com/p/BH5YOsOgPgM/
Pepperoni rolls, a delicious combination of pepperoni, dough, and mozzarella, are the unofficial state snack in West Virginia. The food was supposedly a favorite of coal miners from Italy who settled in West Virginia. Today, you can find them at convenience stores and restaurants, including Tomaro's Bakery, which has been operating for more than 100 years.
Wisconsin
https://www.instagram.com/p/LQi236sS3W/
The largest German population in the U.S. resides in Wisconsin, so it makes sense that the state is home to some of the best bratwurst in the country. The Badger State is also credited with the creation of the beer brat, which is sausage cooked in beer. The Milwaukee County Stadium has been selling bratwurst to baseball fans since the early 1950s, but you can also order a pint and bratwurst at the Milwaukee Brat House or Old German Beer Hall.
Wyoming
https://www.instagram.com/p/BG-GG6vv6V-/
Springtime means it's hunting season in Wyoming. Morel mushroom hunting, that is. To celebrate the fungi, the state holds the annual Morel Mushroom Festival. If you're not in town for the event, morel mushroom pasta at The Kitchen in Jackson Hole is a hit. You can also order the sauteed seasonal dish at Snake River Grill.
Related Stories:
All products are independently selected by our writers and editors. If you buy something through our links, Oyster may earn an affiliate commission.