Here at Oyster, booking a hotel is so much more than just finding a bed for the night. After all, what better way to make your vacation a memorable one than to stay somewhere truly out of the ordinary. So if you're planning a trip to the United Kingdom and looking for a hotel with traces of that famous British eccentricity, check in to one of these super-quirky lodgings, which include everything from train carriages to tree houses.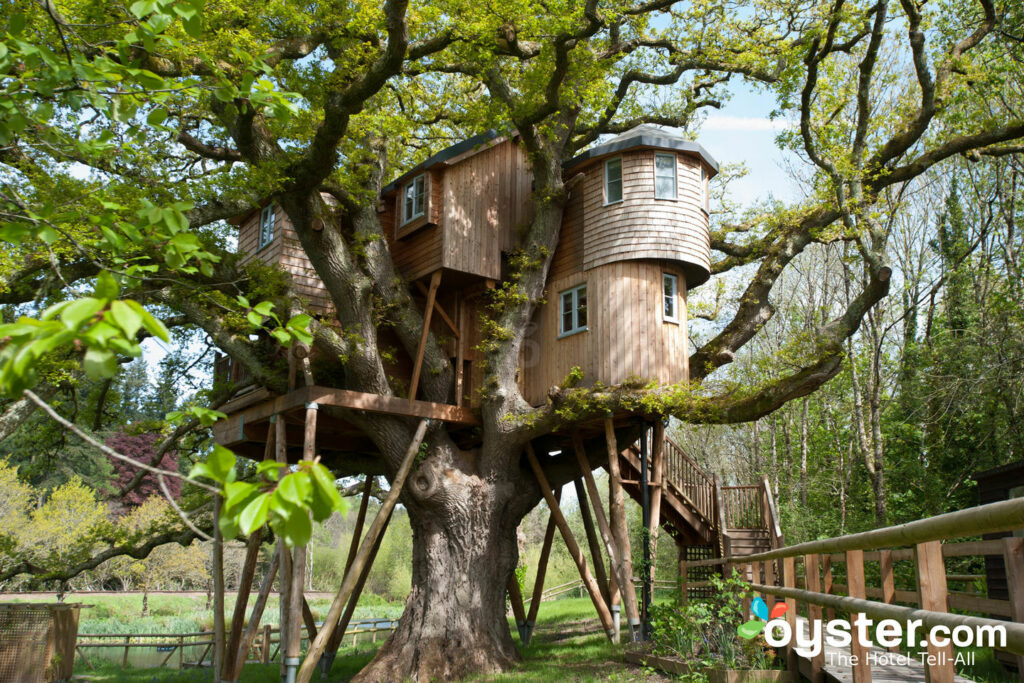 Although this property is your standard English country house hotel, it stands out for its luxury tree house, which is built in a 200-year-old oak tree with a terrace overlooking the hotel's fishing lake. The tree house sleeps four, with a double room and a separate bunk bed room, though we recommend leaving the kids at home. It also features a cozy lounge area with wood-burning stove, a small but well-equipped kitchen, and a bathroom with a superb copper bath. Unsurprisingly, this quirky romantic bolthole is particularly popular with honeymooners looking for something a little different for their post-nuptials.
Housed in the former headquarters of the White Star Line (owners of the ill-fated Titanic), this hotel pays homage to its early days. The bones of the circa 1898 building are evident in the lobby's impressive granite arches, crystal chandeliers, and attractive mosaic tile floors. Certain rooms are unusual in that they cater to large groups and have configurations that could be unappealing to guests seeking more privacy. One such option is the Vault Suite, where several beds are lined up in one large, open room. The Presidential Suite also caters to groups, with three beds pushed together and a round sofa large enough for several people to relax. There are smaller rooms available, but the hotel is certainly not geared towards intimacy—the large suites are perfect for groups who want to stick together, such as bachelor and bachelorette parties. Other property highlights include a luxurious, full-service spa and rooftop restaurant and bar with lovely views.
Housed in a former Victorian prison on the site of an ancient medieval castle, the building certainly has the foreboding presence. From the outside, the building has the foreboding presence of a Victorian correctional facility, and stepping inside there's no doubt as to the property's previous purpose. The property is vast, bright, and complete with all the familiar fixtures and fittings you'd expect in a 19th-century penitentiary—albeit one with immaculate white walls, glass-paneled balconies, and funky contemporary furnishings. The rooms in the main jail are all former prison cells, consisting of slab metal doors, thick brick and stone walls, and many with small barred windows. Rates aren't cheap, but it's certainly a unique experience to spend the night in a building that once housed (and hanged) British prisoners.
The Old Railway Station is an upscale bed-and-breakfast set in a converted 19th-century train station within the South Downs National Park. The old ticket office forms the lobby, with the original ticket window now acting as a reception desk. The rooms also make this hotel an unusual stay, as most occupy immaculately-restored Pullman train carriages. Reminiscent of a bygone era, the narrow but attractive rooms have original dark-wood paneled walls, simple antique furniture, and wooden-slatted window shutters. An excellent breakfast (included in the rate) offers fresh fruit and freshly baked rolls along with a full English option served in the lovely old waiting room or on the garden terrace in warmer weather. There's no restaurant, but afternoon cream teas are available—though these often have to be booked in advance. Overall, it offers wonderfully quirky and polished lodging that will certainly appeal to more than just trainspotters and railway enthusiasts.
Calling itself "England's most rock 'n' roll hotel" certainly gives the Hotel Pelirocco a lot to live up to, but it makes a sterling effort. Set in a period townhouse overlooking Brighton's seafront, the outward appearance of this boutique hotel very much belies the riot of eccentricity and burlesque sauciness that awaits within. Rooms are individually themed, from the lavish burlesque found in the Pin Up Parlour to the Star Wars-styled Lord Vader's Quarters. Every room is a celebration of an icon or sub-culture, or designed by a local artist or boutique, often with an emphasis on the sensual. Nowhere is this more apparent than in Kraken's Lair, which has a dancing pole. There are some toned-down rooms as well, but for those hoping to embrace their surroundings, various adult amenities can be arranged in advance (leather spanking paddle, anyone?). The hotel's vibrant bar frequently has live music and double-entendre based cocktails. The bar also hosts frequent karaoke nights for those who prefer to spend the evening belting out tunes.
You'll Also Like:
All products are independently selected by our writers and editors. If you buy something through our links, Oyster may earn an affiliate commission.