Santorini is one of the most visited and arguably the most romanticized Greek island, but it's more often celebrated for it's dramatic cliffs, Cycladic architecture, and sunset views than it is for the beach. This is likely because most of the approximately two million tourists who visit every year stick to the picturesque villages of Oia and Fira on the northern end of the island, which are easily accessible by foot or bus from the ferry and cruise terminals. Other than Amoudi Bay, northern Santorini has gorgeous Aegean Sea views but little direct water access. It might take a little extra effort, but we think it's imperative to visit the volcanic sand and pebble beaches that dominate the Southern end of Santorini. Here's a guide to our favorites.
Red Beach in Akrotiri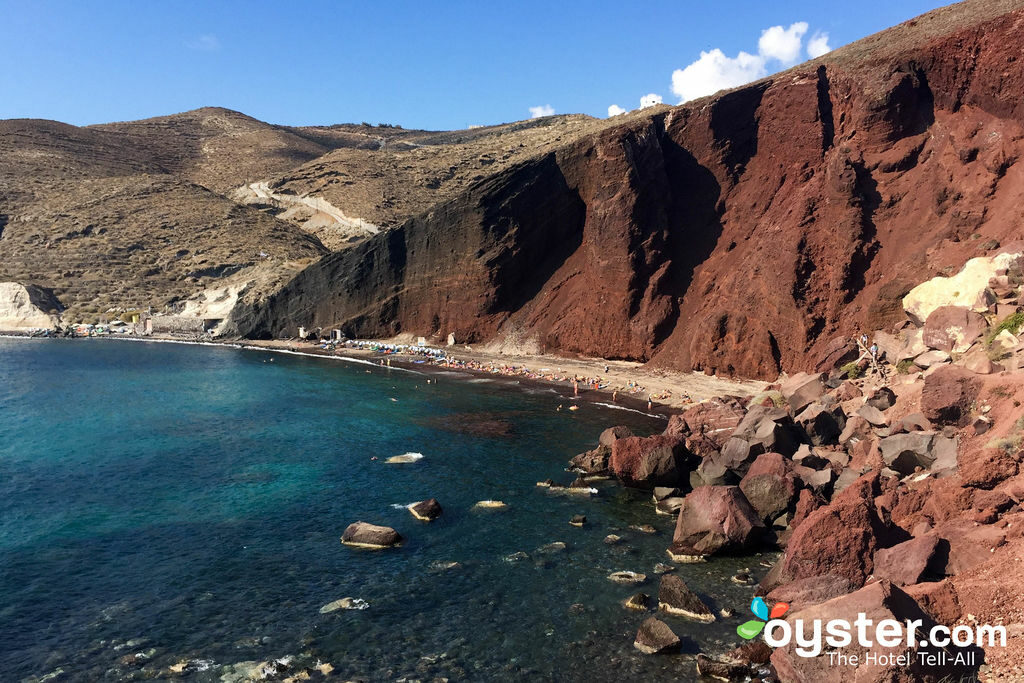 Red Beach will actually make your jaw drop. Enormous sheer red cliffs serve as an extremely dramatic backdrop to the stretch of pebbly sand that leads into crystal clear blue waters. Visitors have two access points to the sand, and both come with caveats. The most popular route is from the bottom of the mountain that leads up to the ancient village of Akrotiri. This route is easy to drive to, and there are bustling parking lots, fruit vendors, a handful of restaurants, and some souvenir shops just in front of the entrance. But this is where convenience ends and a hike begins. It'll take about 20 minutes of actual hiking on a loose gravel path that can be slippery. An occasional rope railing or wood step provides about all the support you're going to get. The other access point comes with a crazy drive down the mountain of Akrotiri (you may think you've reached a dead end, and this route should be avoided in the rain) but the walk to the beach is far easier. Perhaps the most optimal way of visiting Red Beach is via a catamaran that anchors in the wind-protected waters. Once on the sand, visitors can rent sun loungers and umbrellas or just throw down a towel wherever they find space. Some interesting rock formations in the water makes for good snorkeling, but bring your own gear.
A Romantic Hotel Pick Nearby:
Perissa, Perivolas, and Agios Georgios Beaches in Perissa
For partiers (the scene rarely gets too rowdy, this isn't Mykonos), Perissa and Perivolos Beaches are essentially one long beach party spot, but think more of buckets of Mythos beer on a sun lounger and less about DJs and dance parties. There's tons of nearby free parking in lots, and then it's a quick flat walk to the sand. The pedestrian-friendly road that runs parallel along the beach is lined with a huge concentration of backpacker hotels, mini-marts, Indian restaurants, and souvenir shops that sell beach towels, cold drinks, beer, and pool toys. It's a bit downmarket (especially compared to nearby Kamari Beach) but the vibe is fun and friendly. In high season, sun loungers and umbrellas can cost anywhere from $5 to $15 to rent, but some restaurants will include them if you spend a certain amount on drinks or food. The farther south you walk away from Perissa toward Agios Georgios, the quieter it gets and the rock formation views and clear water remain the same. Water-sports kiosks rent everything from paddleboards to Jet Skis to parasail excursions.
A Value Hotel Nearby:
Kamari Beach in Kamari
If you have a family or genuinely want to enjoy a glass of local white wine and a plate of octopus with beach views on your honeymoon, Kamari Beach is your spot. This is the most upscale beach town on the island and the boutique shopping and seafood restaurants rival what you'll find in Oia (with lower prices and fewer crowds). Access to the pebble and sand shore is flat and easy, and there are almost unlimited sun loungers and umbrellas for rent. Some of them even offer Wi-Fi access. Again, prices are steeper in the high season, but chairs are generally free if you order drinks in the low season. The water is usually calm enough for little ones (and clarity is excellent). This beach is the closest to both the airport and Fira.
Caldera Beach in Akrotiri
Caldera Beach is almost a secret and hardly visited, you might call it a hidden gem. From the top of the main road that runs through Akrotiri, you can't even see the beach. But pull into the public parking lot next to Kokkinos Villas and look straight down. You'll see a sheer cliff that nosedives into the Aegean Sea, and an unpaved road that winds down to a cove beach: Caldera Beach. It takes about 10 minutes to walk down (and a little longer to walk back up) but the trek is worth it. An ATV would work wonderfully. The entrance to the beach is also home to a fleet of local fishing and sailboats. There's a singular family-owned Greek taverna, Remezzo, (with excellent homemade specialties and wine) and, surprisingly, a SCUBA school. For the best swimming, walk away from the anchored boats and towards a rock formation at the end of the cove. We swear, the water is warmer and clearer on this side of the island and apart from a few local couples you're unlikely to see anyone else. One note, the beach is made of large pebbles that can be difficult to traverse in bare feet or flip flops. Wear real shoes and bring your own towel.
A Romantic Hotel Pick:
Amoudi Bay in Oia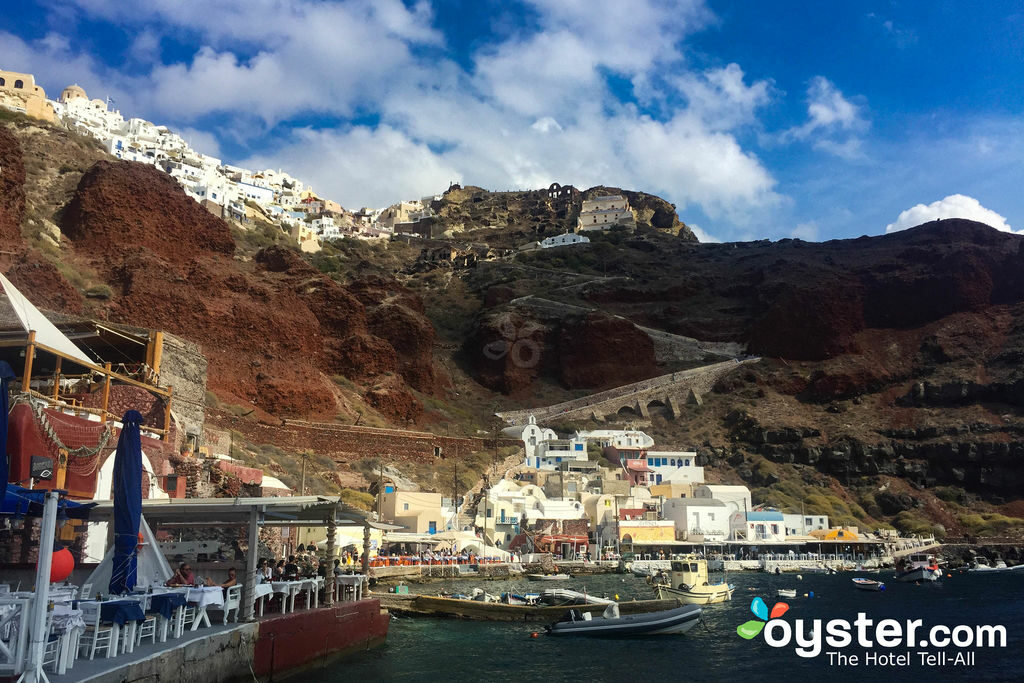 We promised you cliff jumping and here it is. To get to Amoudi Bay, you're going to have to first walk from the northern end of Oia down 300 steep steps to Amoudi Port. It's one of the most picturesque points on Santorini (and that's saying a lot) with huge red cliffs and Cycladic architecture. One end of the port is where sailing excursions depart and there are several (very touristy) seafood restaurants nestled together. Walk away from the restaurants to the left (you can come back to eat later) and then walk on the water's edge for five minutes. It can be a dodgy walk and there are reports of falling rocks. Eventually you'll come to the end(ish) and see a small island about 50 meters out. You'll recognize a church and see people jumping from one of the highest points (about 20 feet above the water) and into the water. There isn't a real spot for lounging or storing items, but there are flat surfaces for leaving your stuff while you swim out to the island. Obviously, you're not going to want to bring your most expensive belongings on this adventure and it might be a good idea to invest in a waterproof bag for your phone and wallet. Remember to save enough energy for the trek back up those steps…or rent a donkey to do the walking for you.
A Boutique Hotel Pick:
You'll Also Like:
All products are independently selected by our writers and editors. If you buy something through our links, Oyster may earn an affiliate commission.