As ocean cruise ships get larger -- and become packed with even more over-the-top amenities -- river cruises offer a more intimate alternative to see the world by sea. Here are some of our favorite river cruises around the world. After all, we believe it should be about both the journey and the destination, don't you?
1. Avalon Myanmar, Avalon Waterways
As exotic destinations go, Myanmar has recently inched its way onto many tourists' bucket lists. Avalon Waterways can take you there in its all-suite Avalon Myanmar via the Irrawaddy River. It's an intimate experience, as only 36 guests are catered to by 24 crew members in air-conditioned comfort. Passengers can explore shoreside during 14- to 19-day journeys of the Golden Land. The voyage takes guests from Bangkok to Yangon (or to and from Yangon), while giving them the opportunity to visit remote villages and see stunning architecture along the way.
U.S. travelers need not go so far as Myanmar to enjoy a river cruise, thanks to UnCruise Adventures' week-long domestic voyages along the Columbia and Snake Rivers. The 88-guest S.S. Legacy replica coastal steamer, with its modern 2013-renovated amenities, conveniently departs from Portland, Oregon. Adventures include an exhilarating boat ride through Hells Canyon, gazing up at dramatic Multnomah Falls, transiting eight river locks, and marveling at the mechanics of the Bonneville Dam Visitor Center.
3. Crystal Mozart, Crystal River Cruises
Most European riverboats are similarly sized to fit the bulk of river locks, but Crystal River Cruises' Crystal Mozart is uniquely double the width of that majority. While this means it's only capable of traversing the Danube River from Passau, Germany to Budapest, Hungary, it also gives it a distinct deck plan, with lots of signature luxuries carried over from the brand's ocean cruise ships. The classic Palm Court, for example, lets guests take in sweeping panoramic views.
4. Grand European Tour, Viking River Cruises
For an even longer cruise from Budapest to Amsterdam, Viking River Cruises' 15-day Grand European Tour sails the line's new award-winning Longships. While these may fit the narrower common dimensions, all amenities are creatively maximized for the utmost comfort on board. Ashore, a total of four countries await exploration, adding Austria and Germany in between. This itinerary is particularly special during the Christmas markets season.
5. U by Uniworld, Uniworld Boutique River Cruise Collection
By 2018, Uniworld Boutique River Cruise Collection will have an entirely new brand of river cruises dedicated exclusively to millennials aged 21 to 45, called U by Uniworld. With the market previously dominated by older demographics, this may seem like an odd choice at first. However, it will likely soon be one of the best, as research indicates that younger generations are seeking out the more immersive and authentic travel experiences that river cruising offers. The company will customize a pair of existing vessels for this endeavor.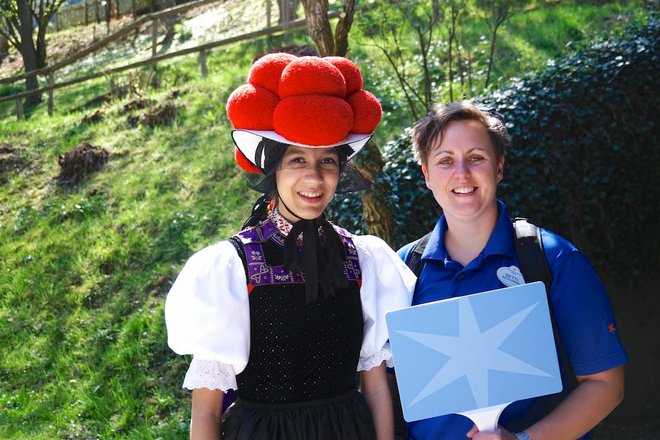 Speaking of younger demographics, Adventures by Disney partnered with AmaWaterways to offer river cruises geared toward families with children. The program was first successful on the Danube and is most recently a hit on the Rhine. Active storytelling extends to zip-lining, toboggan runs, and sky gondola rides on land, and onboard family-friendly amenities include connecting staterooms and cabins that accommodate thirds. Adventure Guides warmly welcome guests throughout the week.
7. Queen of the Mississippi, American Cruise Lines
For U.S. travelers looking to enjoy a river cruise more locally, American Cruise Lines' Queen of the Mississippi rolls down the river for a round-trip journey to and from New Orleans. The vessel provides a genuine paddle wheeler experience without sacrificing comfort, thanks to its recent 2015 construction and Wi-Fi access on board. The week-long voyage encompasses stops at places such as Vicksburg, Mississippi, and Baton Rouge before returning to the Big Easy.
NOW WATCH: Top 5 Ships for Cruise Ship Haters
https://www.youtube.com/watch?v=Zxla2l-TYJ0
You'll Also Like:
All products are independently selected by our writers and editors. If you buy something through our links, Oyster may earn an affiliate commission.