Almost every hotel around the world capitalizes on the holiday season -- the busiest travel time of the year -- with various events and packages to entice visitors to choose their property as their holiday home base, and/or stay an extra night or two. Some offerings may be helpful (especially those that save you cash), but only a handful go above and beyond the standard fare, with things like sleigh rides, behind-the-scenes tours, and robots -- yes, merry robots. As you can tell from the latter, we've heard of just about everything, and we've picked out the best of the best -- for each type of traveler this season. So whether you're the do-gooder or a sun worshipper, at least one of the nine hotels on this list will fit your Christmas wish.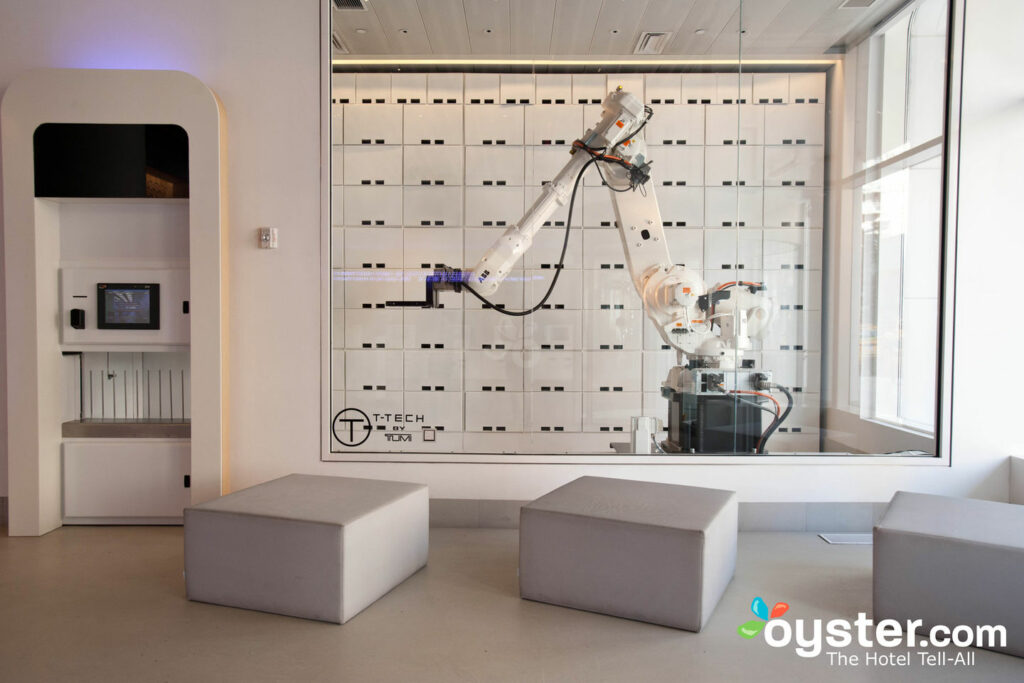 Techies have long had a love affair with NYC's Yotel, home to the infamous Yobot. This luggage-storing robot operates year-round, allowing guests to store their bags in bins before check-in and after check-out, and retrieve them when needed with the scan of a custom barcode. But around the holidays, Yobot turns into #YOBOTSanta, doling out gifts like free flights (thanks to JetBlue), hotel stays (thanks to Yotel), and travel essentials (thanks to Flight 001) to lucky guests who select prize-holding bins for storage. Travelers not staying at the Yotel can still participate online.
At this luxurious hotel, guests and locals frequent Jean-Georges Vongerichten's Mercer Kitchen, located in a sexy subterranean space below the property. Christmas Eve diners can enjoy a four-course menu with main options such as scallops, sea bass, and beef tenderloin for $108, or opt to visit the restaurant on Christmas Day to choose from the a la carte menu.
Honorable Mention: Celebrity chef April Bloomfield helms the Ace Hotel's two restaurants — The Breslin and John Dory. The former has a Michelin star and will be open for the holidays, while the latter will also be open and serving a special Feast of the Fishes meal on Christmas Eve.
You read Dickens' "A Christmas Carol" every year, and relish in traditional holiday decor and treats? Then you might as well have been the inspiration behind the "Christmas Carol" package offered at The US Grant in San Diego. Aside from a four-night stay in the Presidential Suite — which is outfitted in Victoria holiday decorations (picture plentiful boughs of holly) for the occasion — the offer includes high tea (served in a Tiffany tea set which guests may keep), a tour of the historic hotel, a traditional holiday dinner, and two tickets to Cygnet Theater's performance of "A Christmas Carol," which guests are transported to in a vintage car. The package does not overlook the ghosts of Christmas present and future, however. Goodies that fall under these categories range from breakfast in bed, to behind-the-scenes museum tours, from mixology classes, to gift certificates to use towards upcoming hotel stays.
Some (like our tradition seekers above) might feel like it's not Christmas without snow — others see sunny weather as the best Christmas present you could ask for! For those of the latter variety, a trip down south is a great way to celebrate the holidays, and The Resort at Pedrega, located on the sandy shores of Cabo San Lucas, offers plenty of sun without overlooking a dose of Christmas cheer. Sure, decorations here may have more of a circus theme, but Papa Noel arrives to visit young guests on Christmas Day, and kids each receive a gift. Plus, there's gingerbread cookies and Mexican hot chocolate to enjoy.
Locals and visitors in the give-back holiday spirit can feel good about a trip to Gild Hall, where a pop-up coat shop, featuring VAUTE designs, is open through the holidays. The warm and fuzzy feeling comes not just from the beautiful, animal-free coats for sale, but also thanks to the hotel's donation center where guests can drop off their old coats to add to the New York Cares' Coat Drive — and receive credit towards a new VAUTE purchase in exchange. In conjunction, Gild Hall is offering a "Stay Warm" package, which includes a two-night stay, a VAUTE design, a $50 credit to the on-site restaurant, and a winter-themed cocktail.
To many, Christmas is all about spending quality time with the family. If you head down to San Diego, you can start the bonding a couple days early at Rancho Valencia Resort. The Wednesday before Christmas, the luxury property will be hosting an event with everything from holiday cookie decorating, to horse-drawn sleigh rides, to a hot chocolate bar, to a screening of "Elf"; entry costs $20 for adults and $10 for children. On Christmas Day, guests can dig into a traditional family-friendly buffet and then head to the resort's Croquet Lawn, where $125 for adults and $55 for children grants access to activities like snow globe making, gingerbread man decorating, photos with Santa and his elves, and more.
Quality family time? Well, yes. But we also think Christmas is a good deal about indulging, too — and chocolate is our treat of choice. At the beginning of the month, NYC's Loews Regency transformed into a chocoholics' retreat for the holiday season. Partnering with renowned (and revered) La Maison du Chocolat, the Upper East Side property has plenty of chocolate-themed offerings, including a Hot Chocolate Happy Hour, a special La Maison du Chocolat dessert menu in the on-site restaurant, and a "Stay and Savor" package, complete with a one-night stay, dinner and dessert at the restaurant, a chocolate tasting at La Maison du Chocolat as well as a $100 credit to the chocolate boutique, and a chocolate-y turndown treat.
The cold weather makes us all want to cozy up, and our friends at the Gansevoort Park totally get that. That's why, this holiday season, the trendy hotel is offering a "Get Cozy" package, so you and your "under the mistletoe" honey can enjoy some warmth and R&R for Christmas. This luxury offering for two includes your choice of welcome amenities (either bath bubbles or an intimacy kit), a couples' massage, a bottle of prosecco, and hot toddies served on the rooftop.
N.B. This package is also available at the Gansevoort Meatpacking NYC.
Both New York Gansevoort locations are also offering a "Get Gifting" package for those who love to shop for Christmas gifts — but don't love the wrapping part. Guests booking this package get access to private shopping opportunities at various luxury boutiques (such as Theory, Intermix, and Helmut Lang), as well as holiday chocolates upon arrival, a special tote bag, and free gift-wrapping taken care of by the hotel staff.
Related Links:
All products are independently selected by our writers and editors. If you buy something through our links, Oyster may earn an affiliate commission.