Consider yourself an adrenaline junkie? Feel the need for speed? Well, you're definitely not alone -- and lots of folks seek their thrills out when traveling or on vacation (because flying on a trapeze is way cooler when you're 3,000 miles away from home ). Before you sign your life away on one of these amazing adventures, check out all of our favorite places to get high, the natural way, of course.
Trapeze Lessons
WHERE TO DO IT: The Viva Wyndham Dominicus Palace Resort; Dominican Republic
WHY IT'S KILLER: Soar through the air (albeit while tethered to security wires) for free at this Dominican party spot. Actual circus performers teach guests how to hang upside-down by their knees while swinging 25 feet the air. While you won't be in the next Ringling Brothers show, we can guarantee that you'll get a rush from the lesson. Wind down on one of the hotel's pristine beaches, some of the best on all of the island.
Check out more crazy activities after the jump!
Surfing
WHERE TO DO IT: The Aston Wakiki Beach Hotel; Oahu, HI
WHY IT'S KILLER: The relatively gentle waves at Waikiki Beach (and the abundance of lifeguards) make it a great place to learn how to surf — and considering Duke Kahanamoku invented surfing here, you could hardly pick a more appropriate spot. [Ed note: Surfing is not as easy as it looks.] We recommend checking out the respected Hans Hedemann Surf School for lessons, and the Aston offers super-affordable rates and a prime location — right across the street from the family-friendly, Kuhio section of the beach.
Tank Dive with Sharks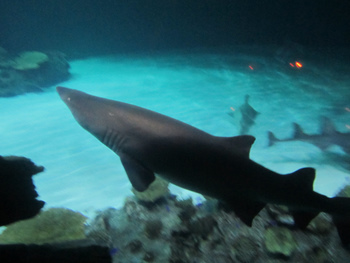 WHERE TO DO IT: Mandalay Bay and Casino; Las Vegas, NV
WHY IT'S KILLER: Mandalay Bay Resort & Casino has a 1.3 million-gallon tank filled with more than 30 sharks and other marine animals, including jellyfish and turtles. Adrenaline junkies who aren't content simply looking at these creatures can actually scuba dive in the aquarium. The downside? Guests must already be a certified diver, but with the Sandtiger, Sandbar, and White Tip Reef sharks they could encounter (not to mention sawfish and stingrays), it's probably for the best that only experienced scuba folks can take a stab at this death-defying dive.
High Ropes Course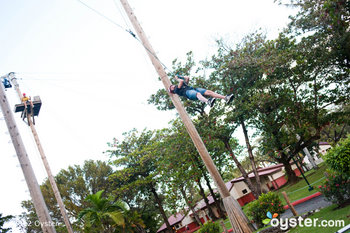 WHERE TO DO IT: The Allegro Puerto Plata; Dominican Republic
WHY IT'S KILLER: While the vibe at this Dominican resort is rather chill, it's home to one of our favorite adrenaline-pumping activities: The high ropes course, which, naturally, is included in the cost of you stay. Instructors harness guests in and hoist them high into the air where they swing back and forth. But beware — this activity is definitely not for everyone –especially this kid. Wonder if his parents signed his life away for him?
Scuba Diving
WHERE TO DO IT: The Four Seasons Costa Rica at Peninsula Papagayo; Costa Rica
WHY IT'S KILLER: Costa Rica is packed with spectacular marine life and an abundance of diving spots. It's normal to see dozens or even hundreds of dolphins, whales, and sharks on every dive. If you're traveling between December and mid-April, make sure to pack some exposure protection, as water temps have been known to dip relatively low. Post up at the Four Seasons, easily one of the country's most luxurious spots, and also enjoy world-glass golf, two beautiful beaches, sumptuous decor, and the impeccable service that the brand is known for.
RELATED LINKS:
All products are independently selected by our writers and editors. If you buy something through our links, Oyster may earn an affiliate commission.