Ever wonder what Europeans really think of New York City? Us, too. Luckily, Oyster has employees all over the world, so we asked some of our friends across the pond to react to uncaptioned photos of these 16 New York City things that define the Big Apple. Many of their takes were pretty spot on. Spoiler alert: "Friends" probably does more for the U.S. reputation abroad than foreign policy ever could. As for street cart hot dogs...Yeah, we know.
The Oyster European employees we polled are living in Madrid, Amsterdam, London, Paris, Berlin, and New York (our Italian transplant, Rossella), and a few of them hail from other places in Europe as well.
1. Street Cart Hot Dogs
Rossella: Cheap proteins when you're in a rush or have no money.
Sal: Sausage. Are sausages supposed to float?
Leon: It's said the average New Yorker is 43 percent hot dog.
Carolina: Please make sure you get health insurance before even getting anywhere near one of those. That is, if you can afford healthcare.
Bálint: This must be a part of the Hot Dog. The Hot or the Dog? In Berlin this is called Curry Wurst.
Giovanni: Yakuza got to NY?
Pierre: I'm curious, is there any meat in those things?
2. Mayor Bill de Blasio (and Family)
Rossella: Another Italian Immigrant
Leon: Some bloke in a pink tie got lost on his way to Wall Street
Sal: "I realised I was at the wrong rally four blocks ago, but now it's too awkward to leave."
Giovanni: What a terrible tie! Did he buy it in England?
Pierre: I think that this guy is the mayor of NYC, but he really needs some fashion advices, this tie almost blinds me!
Bálint: The Big Guy of NYC? Must be jealous for the hair of the guy on the left.
3. The Flatiron Building
Tamer: I cannot think of a reason why they would built such a building, does it go wider at the back?
Rossella: In need for an ironing board
Bálint: The home of Iron Man
Sal: Something tells me there's a serious amount of custom designed furniture in this building. NYC: pay through the nose to live in a fancy hallway.
Leon: I know this one. Something to do with a flat-iron.
Pierre: My god, I love this building! I have seen it in a lot of '50s pictures and movies.
Don't miss: Oyster's expert reviews and photos of Flatiron hotels in New York City
4. Charging Bull Sculpture in the Financial District
Rossella: Do not wear a red sweater
Carolina: What Wall Street? Spanish heritage for sure. Olé, toro!
Tamer: Cutest bull 🙂 There is one like this in Istanbul
Leon: Is it meant to represent a bullish market? Should probably have its legs in the air.
Sal: Now that's a sculpture. I think I saw a picture of this when the guerrilla knitters made it a multicoloured onesie. He looks cold now.
Giovanni: He could be in Madrid, does not look American at all.
Oyster tip: Want to stay nearby? Check out Oyster's hotels in Lower Manhattan
5. Baseball at Yankee Stadium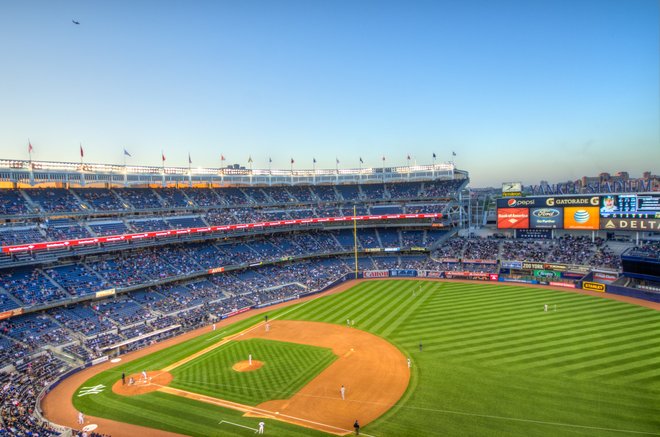 Rossella: People on the field chasing a small white ball…and people sitting around sleeping
Sal: I don't know whether I'm proud or ashamed to admit that I had to be told what this sport is. It sounds like rounders played by men in leggings.
Tamer: I would change the channel if I saw this on TV!
Carolina: Well, listen, I once went to see the Mets (…I think?) and was more interested in watching the planes fly by on their way to LaGuardia, but I think this is what it's all about: You get a bat, hit the ball (or not), run to first base and then keep running if you have time until you get to the last one. I played in school once — and got to strike three.
Pierre: I think the Yankees are the baseball team of NY, but is this really a sport?
Giovanni: If I remember well, you need to hit the ball the opposite player is throwing at you and then you run as fast as possible around the diamond touching each single base…it's too complicated for Europeans, we like simple sports.
6. The Guggenheim Museum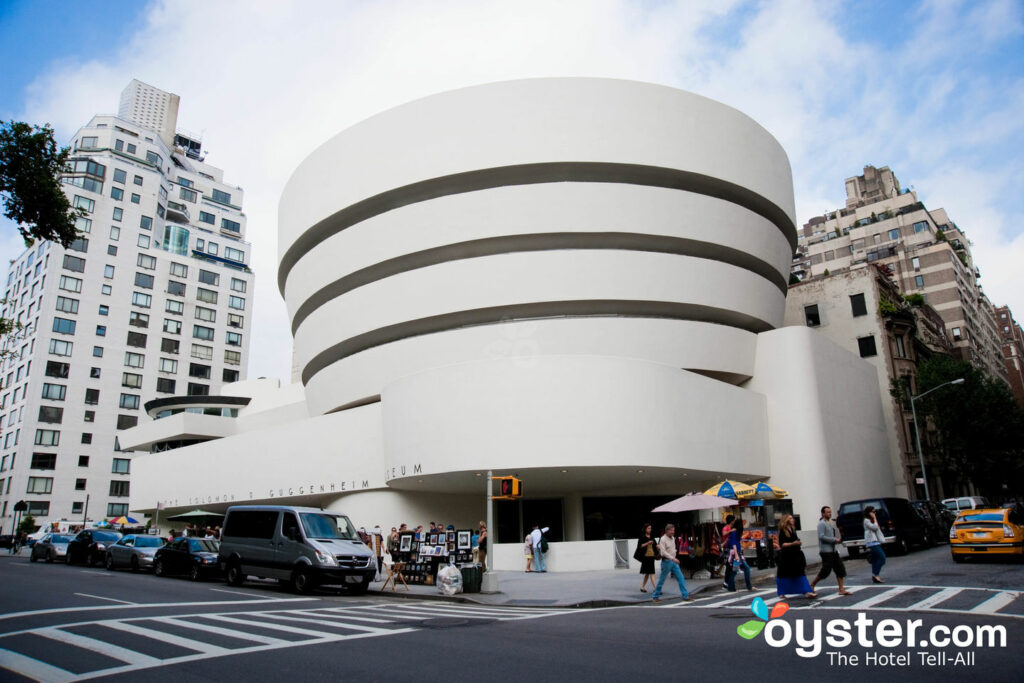 Rossella: It seems an espresso cup!! Is the architect Italian?
Carolina: I used to have a sippy cup exaclty like that as a kid, only more colorful.
Sal: I pity the person whose job it is to keep that building sparkly white.
Tamer: Cool but wrong architecture for the area, port for the UFOs!
Leon: The world-famous Guggenheim museum (I read the front)
7. Bagel and Lox
Rossella: Cheese doesn't match with fish…at all
Sal: Clearly one of the top ten reasons to visit New York. Although I'd be saying something if I only got served three quarters of a bagel.
Carolina: I don't get the idea of salmon before 1 p.m. (That's a breakfast bagel, right?)
Tamer: Fish looks delicious with unhealthy white bread — I hope the white is not cream!
Leon: A salmon and cream cheese bagel. We have one of those in London now.
Bálint: A healthy hot dog
Pierre: This the typical image of the bagel coming from a Jewish deli for the French guy I am.
Giovanni: Do you always it eat so squashed?
8. Pizza Slice
Rossella: Hey, that's not a pizza, that's a NYPIZZA
Giovanni: Italy gone wrong.
Sal: How is it that Americans are always perceived as the fat nation when in Europe we order pizza by the pizza, not the slice?
Tamer: More cheese, more delicious
Leon: I can honestly say I've had better pizza in NYC than Italy.
Carolina: Oh man. That's only good if it's 3 a.m. and you've had a few drinks too many. Thanks, but no thanks.
Bálint: The Italo-American celebrity
Pierre: Please, if I come to New York one day, don't take me there, or call Gordon Ramsay!
9. Sex and the City
Rossella: The reason why I loved NY before moving here
Sal: Everyone knows that living in New York is EXACTLY like Sex in the City.
Tamer: Bright colour dressed ladies always look nicer
Leon: Various girlfriends have made me watch every episode of this show at one time or another (I wish i could say "reluctantly"). I'm sure it was a perfect depiction of a fantasy life in NYC.
Bálint: The New York Chicks, funniest promoter of bulimia
Pierre: Every man's nightmare!
10. A Hipster
Rossella: Is he a French artist? Or another crazy New Yorker?
Sal: Well that's a hipster if I've ever seen one. The shininess of his beard is freaking me out.
Tamer: Funny look but far from me please
Leon: I forget who's to blame for the first hipster, us or you?
Carolina: Oh hipsters! Oh Williamsburg! Get over it. Or buy a farm and play the banjo on your porch.
Bálint: This we call Hipster Style in Berlin
Giovanni: Waiter from Williamsburg? Get some sun, please
Pierre:The hipster look is the new disease… There should be laws against this kind of new peril!
11. Friends
Rossella: Second reason why I loved NY before moving here
Sal: Oh yeah, because every 25- to 30-year-old still lives with their close group of friends and has endless amounts of time to just hang out and drink coffee.
Tamer: Funny, happy, lovely
Pierre: This is the symbol of my student years! Best sitcom ever!
Leon: An out-of-work actor living in Greenwich Village? Sounds realistic to me…
Carolina: Who can afford a place like that at age 25 in the West Village? '"Friends" is to blame for the millions of frustrated young professionals. But "Friends" rules. Please get a new season rolling.
Giovanni: Friends of the world
12. Times Square
Rossella: Center of the world…must see once in a lifetime
Sal: There are not as many selfie-sticks as I expected in this image.
Tamer: Mess mess mess to crawded and messy for me
Leon: Times Square. Like Piccadilly Circus only more neon. And fewer Americans.
Pierre: Time Square! I've never visited NYC (a shame, because I've been three times in USA) but I think for us in France it's the most known spot in NYC with the Statue of Liberty.
Bálint: Broadway, must have it's own power plant for the evenings.
Giovanni: Einstein is ready to lick someone in crowd
Also take a look at Oyster's awards for Times Square Hotels
13. Alamo Sculpture, A.K.A Astor Place Cube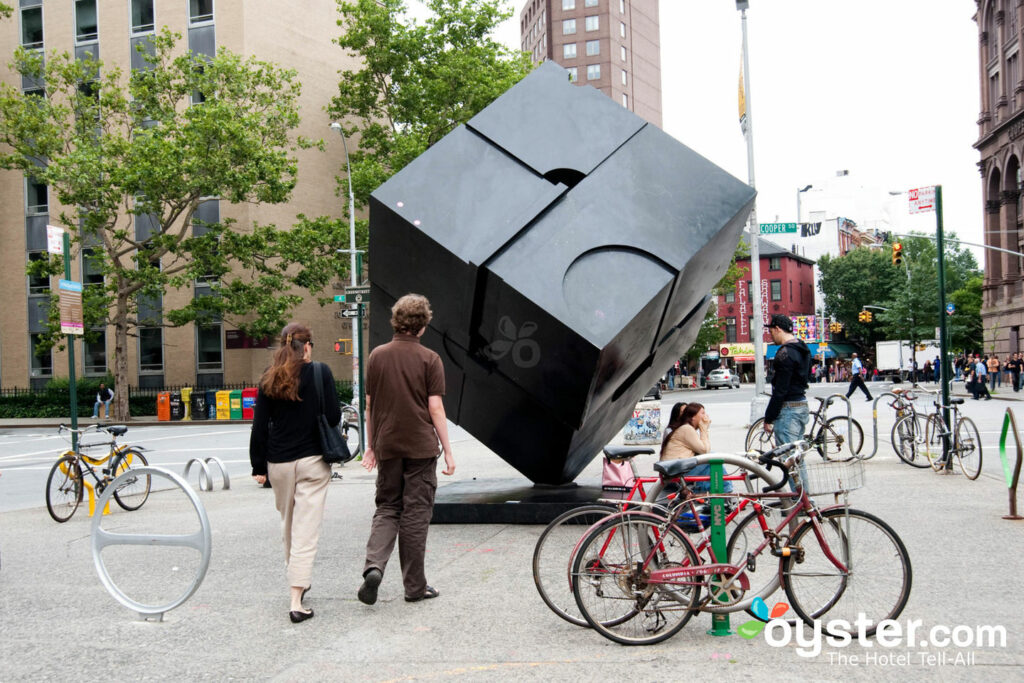 Rossella: Bikes that will be stolen soon
Leon: Sinister black cube. Possibly controlling people's minds
Sal: Well I guess New York isn't just skyscrapers and taxis.
Tamer: I wouldn't sit underneath that
Carolina: Easiest Rubik's Cube ever
Pierre: I love this sculpture!
14. Citi Bike
Rossella: Bikes that won't be stolen!! (What an awesome idea!!)
Sal: The fastest way to see the underside of a taxi.
Tamer: I wish cars parked in the same decent order, Barclays and Santander banks do them in London
Carolina: Bank-sponsored suicide. Tip your delivery guy — he defies death dozens of times a day.
Bálint: Super cool initiative!! But hey, nobody use it??
Pierre: We have it in Paris since 12 years, the best way to avoid traffic jams and to have an accident in no time!
15. Lady Liberty Street Performer
Rossella: I thought it was bigger
Tamer: We have these in Covent Garden as well, admire them.
Bálint: The miniaturized statues of liberty have patience
Leon: It looks a lot smaller close up.
Carolina: Creepy as crap.
Pierre: If you don't study in school, this is your future career!
16. Subway
Rossella: The whole world diversity in a train
Sal: What godawful time of the morning did this person have to get up to get such an empty subway shot?
Tamer: Dirty underground station
Pierre: The subway of New York always reminds me the Scorcese's movies.
Carolina: If that's the G train then those guys must have been sitting there for 20 minutes.
Leon: One of a few things London does better (albeit six times the price)
All products are independently selected by our writers and editors. If you buy something through our links, Oyster may earn an affiliate commission.