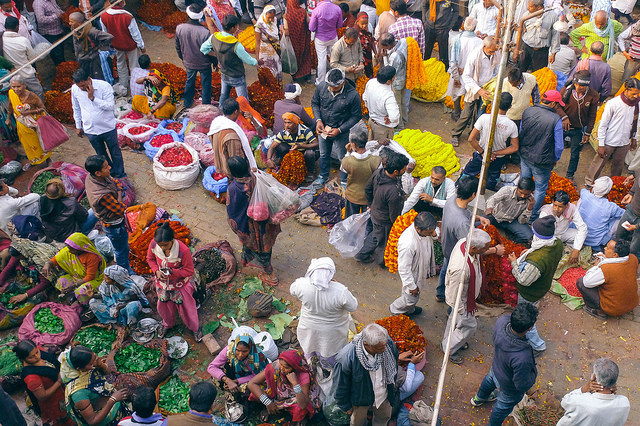 To call India mind-blowing would be an understatement. At least 150 languages are spoken here, and nearly every one of the world's major religions is practiced somewhere on the subcontinent. That cultural melting pot has helped India exert major pull on travelers across the decades, and that trend shows no real sign of slowing. There's a dizzying array of cuisines to sample, an equally jaw-dropping number of temples to visit, and a cross-section of the world's most elite and the world's most destitute which can be found in nearly every corner of the country.
Tackling this massive nation as a traveler is no easy feat, and the cultural differences you'll find upon landing can be challenging, to say the least. That said, the reward is great. As you'll learn upon your visit, everyone who passes through India inevitably comes to their own sometimes-heated conclusions on what parts of the nation are the best to see. And while we're not saying that the following list is exhaustive, it's a comprehensive introduction to some of India's most well-known destinations. Read on for our tips on what to see, do, and explore in this fascinating place.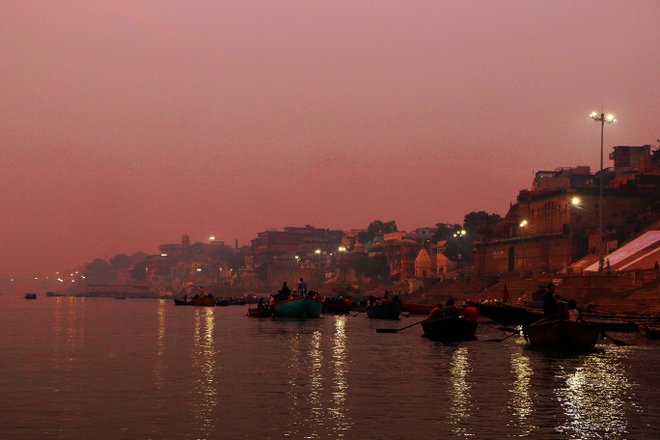 The holiest. The oldest. The most intense. There are almost limitless ways to describe the fascinating Varanasi. They call it the City of Light, and its dense core is thronged with ascetics, sadhus and gurus, families, religious pilgrims, the homeless, backpackers, wealthy package tourists, visiting scholars, and touts alike. This is to say nothing of the cows, dogs, monkeys, and even an elephant or two depending on where in town you find yourself.
So what's the reason that this blinding mix of life has chosen to pack itself into one place? The city is believed to have been founded by Shiva — one of Hinduism's most sacred deities — and to die in Varanasi means escaping the cycle of reincarnation. As such, there are two 24-hour public cremation grounds alongside the mighty Ganges, and bodies shrouded in vibrant cloths are hoisted through the narrow alleyways by families chanting for the release of their beloveds' souls.
Don't be put off, though, as the experience tends to deeply resonate with nearly every traveler who makes their way here. And if you put the afterlife aside, the historic center of town is filled with Muslim families crafting the region's famous silks, divey backpacker cafes, high-end restaurants with amazing river views, souvenir shops of all stripes, and some of the most sacred temples in all of India. The aarti ceremony — a prayer to Mother Ganga that takes place at Dashashwamedh Ghat every night — is a sight to behold, though services take place up and down the river and in temples morning and night.
Hotel Pick:
New Delhi can be a shock to the senses. It's sprawling, polluted, congested, intense, and above all, a wonder to behold. History runs deep in this city, with major Mughal-era sights including Qutub Minar, Purana Qila, the Red Fort, Humayun's Tomb, and Jantar Mantar all sprinkled throughout the massive metropolis. Old Delhi holds a confusing warren of narrow lanes packed with masses of humanity prowling the bazaars for everything from spices to electronics, car parts, and elegant silks. There's also peace to be found here, particularly under the minarets of the Jama Masjid, the largest mosque in India. Chandni Chowk is the neighborhood's main thoroughfare, but be prepared: you're experiencing India at its peak frenzy here.
To rub elbows with the country's trendiest, head to Hauz Khas Village, a gated enclave of chic cafes, boutiques, and restaurants next to the gorgeous peacock-and-monkey-filled gardens of the same name. A similar vibe can be found around the Khan Market area, which is home to high-end retailers. Elsewhere, visitors and locals alike make the rounds in touristy Connaught Place, walk the atmospheric Lodhi Gardens, or stroll the parks between India Gate and the Parliament. You can also visit the site where Ghandi was cremated, or — on Thursdays — take in the gorgeous Sufi qawwali ceremonies at Hazrat Nizamuddin, where the body of one of this branch of Islam's most revered saints rests. (Just be sure to cover your shoulders and legs beforehand.)
While traffic can be a beast in Delhi, the city's metro system is a feat — stations are clean and well organized, and the network of lines gets travelers at least close to most of the major sights in the central districts. It can be a free-for-all at rush hour, though fares are as low as 50 cents per ride, making it a budget-traveler's dream. Even better for the wallet-conscious, there's a station right near Paharganj, the backpacker enclave and buzzing bazaar that's packed with flophouses and mid-range options, as well as plenty of rowdy bars and lovely rooftop restaurants.
Hotel Pick: If you're looking for luxury, we like the Lodhi Delhi. It's a sharp, sleek, and contemporary option that's close to the qawwali ceremonies at Hazrat Nizamuddin. Have a more limited budget? The Godwin properties — the Grand Godwin Hotel and the Hotel Godwin Deluxe — are fine mid-range bets near Paharganj.
Hotel Pick:
Old and new, peaceful and chaotic, Western and decidedly Indian — Mumbai is a city of contrasts (if you'll permit us that cliché). Just don't be surprised when the locals still refer to it as Bombay. This is arguably India's most cosmopolitan city, and you'll see everything that makes the country fascinating and overwhelming on display. Homeless children swarm people around the train stations in the city center, while the Dharavi slum spreads for miles farther north. Elsewhere, the world's wealthiest erect skyscraper-sized homes and Bollywood celebs sip cocktails with cash-flush expats.
Much of the tourist-friendly action is concentrated along the long peninsula that forms the oldest part of the city. This includes Kala Ghoda, Colaba Fort, and Worli. Kala Ghoda is a particularly cool area to explore. Its name translates to "black horse" and it's flush with galleries showing cutting-edge Indian and international art. It's also worth reserving a ticket for a Bollywood film at one of the many iconic cinemas in this part of town, like Liberty Cinema. There are colonial remnants all throughout this part of town, including Bombay High Court and Chhatrapati Shivaji Terminus (formerly known as Victoria Terminus). Near the train station is Crawford Market, a sprawling and chaotic wonderland of clothes, shoes, pets, fruits and vegetables, and anything else you'd need to find as a local.
Heading north, sights include the famous island mosque of Haji Ali Dargah — a striking place of worship that's accessed by streams of devotees only at high tide. Beyond that, Chowpatty Beach is the place to be for sunsets, as young couples sneak kisses and hold hands, and families score all manner of street eats. (Just keep in mind that you absolutely cannot swim in the water here.) Crossing the Bandra-Worli Sealink — a feat of modern bridge-making — leads to the toniest neighborhoods in town: Bandra and Pali Hill. Plenty of Bollywood celebs and CEOs call these neighborhoods home, and everything from the shopping to the dining here is high-end.
Hotel Pick: Mumbai can be one of the more expensive places to find a hotel in India. That's why we like the relatively cheap and cheerful Residency Hotel. Interiors are compact, but modern, and its location near Colaba Fort and Kala Ghoda put it in a prime spot for exploring.
Hotel Pick: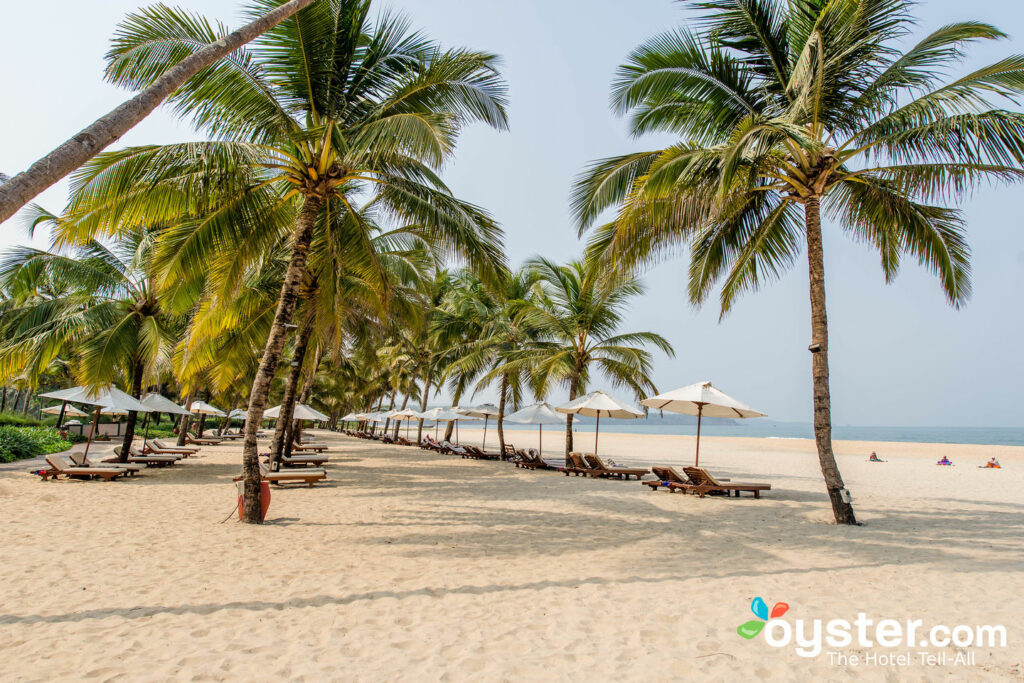 Beaches, palm trees, thick jungle, raves until dawn, sandy seaside shacks, bars stocked with cheap Kingfishers, cows and water buffalo being watered at the shoreline — these are just a few of the things you're likely to see in Goa, one of India's smallest states. Despite its stature, Goa draws a massive amount of tourists every year — nearly six million travelers arrived here in 2016, according to the Goa Department of Tourism. The beaches here are India's cleanest, and there are strips of sand catering to all tastes. For the indulgent (read: those in town to drink and party), head north from the airport (in Dabolim). Towns like Anjuna, Vagator, and Baga are notorious for attracting the booze-and-bikini set that rave until dawn. If you're looking for something more tranquil, then the southern part of the state is for you. Check out the sleepy Palolem, which might be arguably one of the prettiest beaches in Asia, with cresting golden sands and no-frills beach huts flanked by mountainous peaks and fringed with palm trees.
Hotel Pick: Those looking to be within an easy moto ride of the party in Anjuna should check out the homey, modern rooms at the Acron Waterfront Resort (though keep in mind it's not right on the beach). If you're looking for a worlds-away escape and have the funds for it, splash out on The Leela Goa.
Hotel Pick:
Ladakh and Leh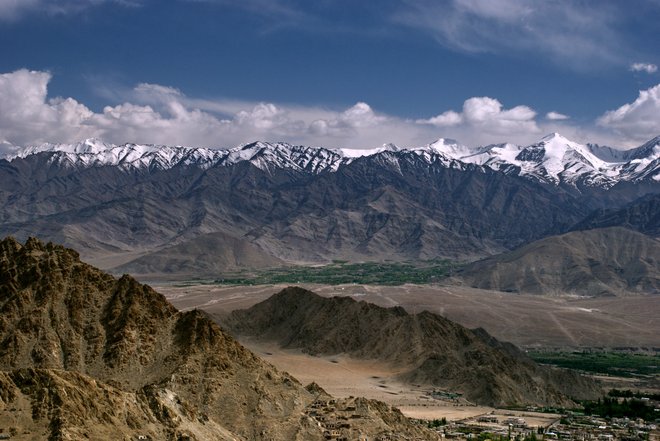 Time your trip to India correctly and you just might be able to make it to this sky-high wonderland. Technically part of Kashmir, which has a troubled reputation as a disputed territory between India and Pakistan, this former kingdom feels like a different world. The region of Ladakh — and its capital, Leh — ethnically has more in common with Tibet, where the same type of Buddhism that's still practiced in Ladakh originated. The landscape here is serrated by Himalayan peaks in nearly every direction, while quaking poplars line the turquoise-hued Indus River that roars through Ladakh's central valley. Trekking is popular, and there are several famous lakes tucked high between the region's peaks. Gompas and monasteries in the region are stunning, and often dramatically perched in the foothills or along the river — head to Thiksey, Shey, Likir, or Hemis to see how Buddhism's ancient traditions have stayed almost intact in the modern age. Alchi, home to stunning temples dating back to the 11th century, is a great day trip as well. The town of Leh is a vibrant mix of Kashmiris and Ladakhis, and is packed with cafes and restaurants. Guest houses are generally simple affairs here, and power cuts can be frequent. Visit between May and early September, but be warned that snow is a definite possibility at both ends of that time frame. Many of the mountain passes, which are some of the world's highest, are impassable for most of the year.
Kerala
They call it God's Own Country and that's not just because it's really pretty. Kerala has a major place in Hindu mythology as well. Ancient origins aside, most travelers come to Kerala to feel like they've escaped their lives elsewhere. When compared to India's congested north, Kerala feels clean and mostly tranquil, covered in thick jungle, spice plantations, and rice fields that stretch from its log coastline to the steep mountains that form its border with Tamil Nadu.
One of the biggest draws in Kerala are the backwaters — a string of tiny and mid-size towns that wind along canals that stretch south and inland from Alleppey. Here, houseboats play hosts to travelers for nights on end, lazily taking to the scenic waterways that wind between traditional villages. To the north, seaside Kochi — one of the largest cities in the state — is home to a fascinating historic district that was founded in the 14th century. It was a key player in the colonial spice trade, and the historic district is home to fantastically preserved remnants of the city's Jewish history. Elsewhere in town, traditional Chinese fishing nets on the waterside make for atmospheric photo shoots, and there are all manner of restaurants lining its tranquil streets.
The city of Agra doesn't get the best rap among visitors to India, but it's home to one of the world's most iconic sights: The Taj Mahal. This gleaming white-marble monument draws hordes of visitors from India and abroad. (Ticket costs vary for domestic tourists and foreigners, and you can't bring backpacks inside.) It's a stunning sight and makes for many an envy-inducing photo, though we have to say that the much-raved-about sunset views from across the Yamuna River can be a bit underwhelming. Instead, spend your late afternoon visiting Agra's Red Fort, a masterpiece of Mughal architecture that puts Delhi's to shame. At night, eat and mingle like the locals and head to Sadar Bazaar, a carnival-like market where you can sample some of the best street food in northern India. The high-speed rail connection to Delhi takes less than two hours (and is spent in air-conditioned comfort), making this a popular day trip from the city.
Hotel Pick:
Amritsar
Every visitor to India is entitled to their opinion, but we think that the Golden Temple in Amritsar might just be one of the world's most beautiful sights (even if Amritsar itself is low on charm). Also known as Sri Harmandir Sahib, the temple is the holiest site in the Sikh religion, and a major pilgrimage site for its followers. Even so, the complex is revered by adherents of many religions, in part thanks to the Sikh mandate to accept and love practitioners of all faiths. On an aesthetic level alone, the temple stuns: white marble lays underfoot and are ringed by white buildings, while sacred pools draw the eye to the gleaming gold abode of the religion's sacred texts. Visit both in the daytime and at sunset to take in the full spectrum of the atmosphere here. Chanting and recitation of scriptures take place over the loudspeakers throughout the day, while all manner of people circumambulate the structure. For an authentic, free meal, head to the site's langar, which is considered the world's largest free kitchen and cranks out excellent vegetarian meals.
Amritsar is also the home base for visiting the Wagah Border Ceremony, where a nightly ceremony is held to lower the flags of India and Pakistan. It has a pageant-like vibe, with lots of military high-stepping and elaborate drills. Keep in mind that the political situation between Pakistan and India means that the ceremony, while still performed, may be forbidden to visitors. For a more somber reminder of the subcontinent's dark colonial past, a visit to Jallianwala Bagh is a must. Here, in the early 20th century, British soldiers murdered up to 1,000 nonviolent protestors and pilgrims from across India in a walled-off public garden. To call it a horror is an understatement, but a necessary one to remember in today's world.
Dharamsala
Here's why you come to Dharamsala: To be near His Holiness, the 14th Dalai Lama. One of the world's most revered living religious and public figures, His Holiness fled Tibet in 1959 and was granted exile in India. Today, the Tibetan Government in Exile strives to educate the world about the plight of ethnic Tibetans in China and amid the diaspora from the steep slopes of this town in the Himalayan foothills.
The Dalai Lama's temple is in McLeod Ganj, one of the villages in Dharamsala, and he holds teachings and ceremonies that are open to the public with surprising frequency. The mix of North Indian and Tibetan cultures is on fascinating display here as well, though the town itself is a fairly standard tourist spot, with hotels, guest houses, yoga studios, cafes, bakeries, and shops all clamoring for space. Still, we recommend trying a slice of yak cheesecake from one of the sweet-shops on Jogiwara Road or a bag of steamed momos from one of the streetside vendors.
There are excellent walks in the area as well, including the dharma path at the Dalai Lama's temple. Visitors can also make their way up to the free or reasonably priced meditation classes at Tushita Meditation Center, the villages of Bhagsu and Dharamkot, and to some of the secret waterfalls hidden in the steep valleys outside of town. Backpackers tend to favor Bhagsu, while Dharamkot has become something of an Israeli satellite town, packed with travelers who've just completed their compulsory military service back home.
Chennai is the place for travelers seeking to explore southern India. Flights here from the West are often cheaper than to the mega-cities in the north, and the city itself is worth exploring for a few days. It's home to India's second-most well-known movie industry — Kollywood (Tamil-language films) — as well as centuries of Tamil culture, art, and spirituality. Even so, this is one of the nation's largest cities and on the surface, it has all of the charm of a major Indian metropolis (honking cars, eye-watering traffic, heinous pollution, and throngs of people).
Tamil Nadu, the state that holds Chennai, is home to some of the most exuberantly styled Hindu temples in the nation. In Chennai, it's worth checking out Kapaleeshwarar Temple, which dates back to the seventh century and is devoted to Shiva. The temple's spires and shrines are decked out in vibrantly colored and ornately detailed scenes from Hindu epics. Chennai, formerly known as Madras, is also home to iconic South Indian cuisine, and the street food here is the stuff of legend. Head to the city's beaches, like bustling Marina Beach (particularly at sunset) to sample everything from sundal (chickpeas and coconut) to idlis (steamed rice-flour cakes).
Even with all of this, the city is best as a jumping-off point for seeing southern India. Flights to Madurai only take an hour. The city of Madurai is home to India's largest temple, Meenakshi Amman, which is a city unto itself. Otherwise, it's worth checking out the French-colonial relics left behind in Pondicherry, or the leafy hill station of Ooty.
Hotel Pick:
Rishikesh
While Rishikesh was once home to sacred ashrams and centuries-old traditions, today it's very much an enlightenment-as-industry kind of town. There are almost countless yoga centers, retreats, and ashrams lining the stunning Ganges. It's packed with all of the predictable Western tourist-friendly extras like raw food and vegan cafes. At night, the riverfront hosts the evening fire puja, conducted to honor Mother Ganga. Outdoor pursuits are also becoming a big business here, as adventure travelers use Rishikesh as a base for everything from rafting to hiking. The town is best accessed from Haridwar, which is one of Hinduism's most holy cities (it's the place where the Ganges River leaves the mountains and enters the plains). The religious vibe there is a bit less touristy, though it lacks the tourist-ready indulgences.
Bodh Gaya
One of the four most sacred sights to Buddhists, Bodh Gaya is where the Buddha attained enlightenment. As such, it's home to one of the world's most important religious complexes, the Mahabodhi Temple. On any given day, throngs of Buddhist pilgrims flock here to make prayers and offerings. During Buddha Jayanti, Hindus bedeck the temple in marigold strings to honor the Buddha as well. Today, a massive Bodhi tree — created from the sapling of the original Bodhi tree under which the Buddha was enlightened — sits behind the main building. In town, there are temples erected by Buddhists from nations around the world, including Japan, Bhutan, and Vietnam, as well as the striking Great Buddha at the Daijokyo Temple. The town itself isn't the world's prettiest, though there are some nice parks and even an archaeological museum that's worth a visit. Outside of the town, the Dungeshwari Cave is believed to be where the Buddha meditated before entering Bodh Gaya. It is worth noting that traveling throughout Bihar, the state that's home to Bodh Gaya, can be risky, though the route from the train station to town is generally considered safe.
A traveler could spend their entire trip to India among Rajasthan's numerous big-ticket destinations and still not see them all. Jaipur, the state's capital and largest city, happens to be relatively close to Delhi, with flights there taking less than an hour and round-trip tickets costing under $80 in some cases. It's also known as the Pink City, due to the stonework that was used during its construction. Jaipur is also home to one of India's most photographed sights — the Amer Fort. This hilltop bastion was constructed in the 16th century and has stunning views across the warmly tinted landscape below.
Elsewhere in Rajasthan, other colorful wonders await. Jodhpur, known as the Blue City, is certainly easy on the eyes. Immediately upon arriving, it's impossible not to notice Mehrangarh Fort rising bluntly in the center of town, while the distinctively blue-tinted buildings of the old town spill atmospherically across the plains below. Jaisalmer, The Golden City, is home to another historic fort, and pulls tourists with its dramatic location amid the sand dunes of the Thar Desert. The city's ornate style of architecture is another major draw, and getting lost among the narrow lanes of the old town and inside the still-inhabited fort is one of India's more enchanting pleasures (though you should expect plenty of touts even here).
Outdoor pursuits are another major draw in Rajasthan, and luxury tent excursions are big business. The dunes outside of Jaisalmer are particularly awe-inducing, and major national parks like Ranthambore still hold some of the largest wild populations of tigers in the world.
Hotel Pick:
Sikkim
Well north of Kolkata's steamy chaos and the bustle of Bengal, beyond the tea fields and leafy hill station vibe of Darjeeling, is this miniscule Buddhist kingdom. The state is wedged between Bhutan, China, and Nepal, but keep in mind that much of it is off limits to foreigners and permits are required to access much of the region. Borders in this part of the world tend to be sensitive, to say the least. However, the payoff for getting here is lots of gorgeous nature.
Sikkim is made up of a collection of small towns and monasteries that cling to the precipitous Himalayan foothills. Trekking and outdoor pursuits are big here, with multi-day hikes threading across the state. The most celebrated of these is the trek to Kanchenjunga's base camp, which can take up to 12 days depending on the outfitter you book with. The mountain is the world's third-highest and sunrises over its peaks are unbeatable. Getting in, out, and around Sikkim can be a challenge, as roads are narrow and full of perilous terrain. The closest airport is in Bagdogra, and drives to Gangtok (Sikkim's most populous town) take up to five hours. Otherwise, there are train stations in New Jalpaiguri or Siliguri, though drives will take about the same amount of time.
You'll Also Like:
All products are independently selected by our writers and editors. If you buy something through our links, Oyster may earn an affiliate commission.