For many people across the country, fall means two things: Back to school, and football season. And for many college alumni, it can mean both of those things at once – fall is the time to visit the ol' alma mater for Homecoming and watch your college team (hopefully!) beat the pants off its biggest rival. Because nothing says fall like tailgating and face paint. To help you plan your trip, we've found great hotels near a number of universities across the country; it's hard to be comprehensive with so many great Homecoming celebrations out there, but this should help bring some of you closer to Homecoming glory.
Stanford University, Palo Alto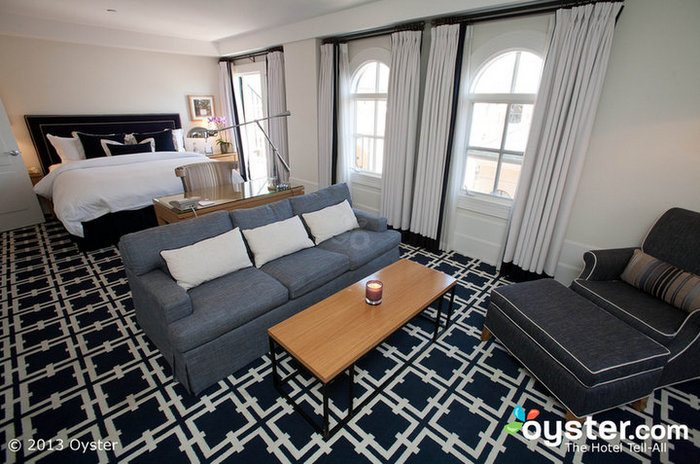 In town to watch the Cardinals play? The Garden Court Hotel is a standout boutique hotel in Downtown Palo Alto, located on a quaint tree-lined street just off of University Avenue and a short drive from Stanford's campus. The hotel's beautiful rooms are the highlight; they have elegant white-and-blue decor, upscale amenities, marble bathrooms, and in many, balconies overlooking the quaint courtyard.
University of Pennsylvania, Philadelphia
The Quakers are were picked as the preseason favorite to win the Ivy League title this year – and it's no surprise, considering they've won three out of the last four titles outright. The Inn at Penn, A Hilton Hotel is a popular choice for alumni stays, given its strong ties to the university: It's not only located on Penn's campus, but the on-site University Club is exclusive to members after the breakfast for hotel guests concludes. Rich wood paneling in the lobby and the library add a traditional, Ivy League feel to the inn.
University of San Diego
The 462-room Paradise Point Resort and Spa has sprawling, 44-acre grounds on a private island, activities galore (tennis, a putting green, water sports, basketball), five pools, a mile-long beach, and bonfire pits. It's also a mere 10-minute drive from Torero Stadium, making it an ideal pick for visitors looking to mix football with a resort-style vacation.
Dartmouth College, Hanover, NH
Six South St. Hotel is a modern boutique hotel in Hanover; its prime location within walking distance of all parts of the Dartmouth campus make it a popular choice among visiting parents and alumni. Dartmouth Homecoming is popular with alumni not just for its football game, but also for its 40-foot-tall bonfire on the campus Green and the Homecoming parade.
University of California, Los Angeles
The W Los Angeles Westwood boasts both style and substance: excellent service, amenities aplenty, a hip bar, and large rooms. And best of all for Bruins fans, it's only a few blocks from the UCLA campus.
University of Texas, Austin
The Hotel Ella reopened in September after major renovations – just in time for football season. This elegant boutique hotel is located in the historic Goodall Wooten mansion, featuring a wide veranda overlooking a green swath of lawn. It's a short drive (or 20-minute walk) to the Darrell K Royal Texas Memorial Stadium.
University of Washington, Seattle
If you need to stay near the University of Washington — and want to avoid chain hotels — Hotel Deca is a solid option. It certainly lives up to its name as a fun boutique hotel with swanky, bold décor.
University of Miami
One of the closest hotels to the University of Miami, home of the Hurricanes, just happens to be one of the city's swankiest luxury properties. The Biltmore Coral Gables was built in 1926 (just a year after the University of Miami was founded), and brings timeless elegance to a hotel scene overwhelmed by skin-deep glitz.
Columbia University, New York City
Marrakech Hotel, a 127-room walk-up hotel (no elevator!), is a bit cramped and worn around the edges, but a beautiful Moroccan-style lobby and a cocktail lounge from adjacent Sookk Thai restaurant make it a fair option if you want to be near Central Park and Columbia University, where the Lions play.
All products are independently selected by our writers and editors. If you buy something through our links, Oyster may earn an affiliate commission.