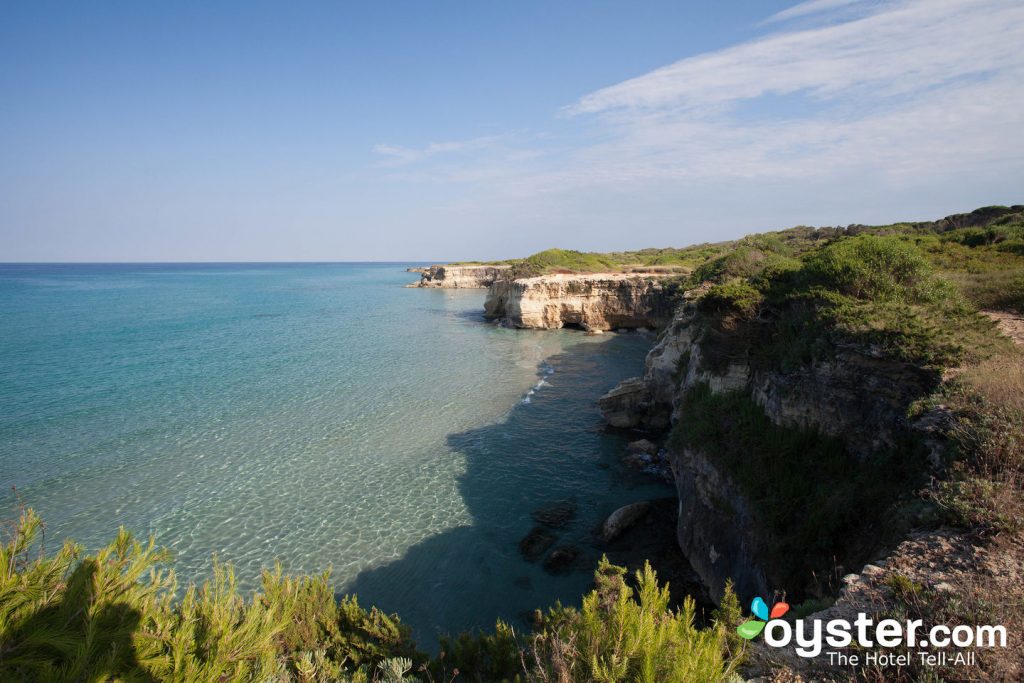 When it comes to traveling in Italy, Rome, Tuscany, and the Amalfi Coast get all the love. These places may be the eternal muses of travelers everywhere, but while Americans and international visitors are busy flocking to them, Italians themselves sneak off to Puglia, the southeastern, sun-soaked heel of Italy's boot. In fact, Southeast Italy is such a hot destination for Italians, locals search for hotels in that region on TripAdvisor (Oyster.com's parent company) more than anywhere else in Italy -- or the world, for that matter. So what's the appeal, exactly? Coast and countryside with cinematic good looks, incredible food and wine (it's Southeast Italy, after all), and charming old cities and villages are the biggies, plus the fact that the region is sublimely light on non-Italian tourists -- for the moment.
1. The Countryside
Motoring one's way across the Tuscany is a classic travel experience. The Apulian backcountry presents the same pastoral serenity as its more famous Tuscan counterpart, but minus Tuscany's high cost and big crowds. Actually, this is one of the least-visited areas in Italy, so those exploring via car or bike will feel like they have the sun-swept landscape — quintessentially Mediterranean with cacti, olive groves, lemon trees, and grape arbors — all to themselves. Between vineyards, pastureland, and rolling hills of wheat are stately hotels in converted medieval convents and historic farmhouses, and charming little villages with cobblestone streets and limestone piazzas.
2. The Beaches
Southeast Italy has more coastline than any other region in the country. Puglia's Salentine peninsula (the region's southernmost part) is straddled by two sapphire blue seas — the Adriatic to the east and the Ionian to the west — so gorgeous beaches are always within easy reach, whether by car, bus, or train. The Adriatic resort towns of Torre Dell'Orso and Otranto (Italy's easternmost town, built atop a rocky promontory) are especially popular for their laid-back beaches, like Baia d'Oriente in Torre Dell'Orso and Baia dei Turchi in Otranto. Further south on the Adriatic, Porto Badisco has a cave with rock paintings; the beach is said to have been visited by Virgil when fleeing Troy. Many of the beaches in this area are quiet inlets framed by pine groves and towering limestone cliffs with sea caves.
On the Ionian, pulls in vacationers with its sandy shores, turquoise waters, and local beach bars. The pristine beaches of Torre Mozza, about a 75-minute drive down the coast from Porto Cesareo, are less crowded than some of the more popular beach destinations. Down at the very southern tip, the port town of Santa Maria di Leuca and its famous lighthouse and adjacent basilica hover over rugged bluffs and shallow, crystal-clear waters. A short drive away is Pescoluse, which is known as the Maldives of Salento.
3. The Food
The cheese-stuffed pastas, heavy gamey sauces, and cured meats of central and northern Italy receive all the gastronomic glory, but the southeast's simple, straightforward food is a delight in its own right. Down here, it's all about Old World, organic farming and fishing, and light, unfussy cooking (and crisp local wine, but more on that later).
The region's mineral-rich soil and year-round sunshine are irresistible for all manner of delicious-food-yielding vegetation: olive, lemon, fig, and plum trees; artichoke and pepper plants; and vines of cherry-red tomatoes. Most of Italy's durum wheat (used to make pasta) is grown in Puglia. Along the region's 500 miles of coastline, fishing boats set out on Adriatic and Ionian waters, and return to port loaded with sea urchins, lobsters, prawns, and swordfish.
In cities and villages throughout the region are fantastic little restaurants and street-food vendors selling meals and snacks made entirely with local ingredients (don't miss fried polenta from a food stall at the beach). Typical home-style meals include lamb and pea stew, sautéed mussels over fresh spaghetti, and orecchiette (ear-shaped pasta native to Puglia) tossed with fresh herbs and homemade olive oil. Or you may just choose to subsist on chunks of fresh bread with thick, buttery burrata and glasses of cold Prosecco.
4. The Wine
For most oenophiles, the words "Italian wine" bring to mind Barbaresco (from the Piedmont) and Sangiovese (Tuscany). Like its food, Puglia's wine — time-honored, high-quality, and underrated, but on the rise — is a product of the area's rich soil, hot sun, and sea breezes. Puglia is the country's largest winemaking region and one of its most prolific, with a viticulture going back millennia. The Salento region (home to Lecce and the wine-producing town of Salice Salentino) is especially known for its wines, with vineyards all over the countryside. The cornerstone of Salice Salentino's namesake red wine is negroamaro, a grape variety that is almost solely grown in Puglia. The region's most legendary grape variety, however, is the primitivo, which produces a hearty, juicy wine with a high amount of alcohol.
5. The Weather
Puglia enjoys a classic Mediterranean climate, with hot summers, pleasant winters, and an average of 300 days of sunshine a year. December through March are the coolest months, but even then the mercury hovers around 50 degrees Fahrenheit, making Puglia a temperate escape from colder European winters. In the spring, temps rise to the 60s, and the landscape bursts with wildflowers. Heat intensifies to the mid-70s in June, July, and August — Puglia's high tourism season. Though summer is the region's busiest tourist season, we're personally all about going in the fall. This is the time of wine and olive harvests, with feasts and food festivals cover the countryside.
6. The "Florence of the South"
That's the moniker for the beautiful city of Lecce, the capital of the Province of Lecce and one of the peninsula's most important municipal centers. The university town is notable for its 2,000 years of history and incredible Baroque architecture, including its splendid piazza — you can't stroll down any of Lecce's labyrinthine cobblestoned without seeing delicate limestone facades (Lecce stone is one of the city's main commodities) with shuttered windows and wrought-iron balconies.
Upscale boutiques, antique shops, bars, cafes, restaurants, and street vendors mingle with elegant 18th-century palazzos, Roman and medieval monuments, and historic churches, including the gorgeous Basilica di Santa Croce and the baroque Chiesa di San Matteo, built during the last decades of the the 17th century. While there are tour-book pitstops — like the Villa Comunale, a historic palace surrounded by lovely public gardens — it's Lecce's charming little corners (like the picturesque square, Piazzetta Arte della Stampa) that capture the city's spirit.
7. The Historic Towns and Villages
In addition to the ancient city of Lecce and beautiful beaches and countryside, the quaint little fishing villages and traditional Apulian towns are a delight of the region. The walled town of Gallipoli, set on a limestone island in the Ionian Sea, is an active fishing port with a harbor and historic structures like Angioino Castle (first built in the 1300s). The old town has a great waterfront with bars and restaurants open during the summer. The new city of Gallipolli is also within walking distance, where guests can find more dining and nightlife options. About a 30-minute drive from Gallipoli is Ugento, a harbor town with a nature preserve and historic lighthouse, and the village of Torre San Giovanni, filled with shops, bars, and osterias. The towns of Giurdignano (near the pristine beaches of Baia dei Turchi) and Cavallino (outside of Lecce) both have historical remnants dating back to the Bronze Age.
You'll Also Like:
All products are independently selected by our writers and editors. If you buy something through our links, Oyster may earn an affiliate commission.