In the summertime, Venice belongs to tourists — 18 million tourists to be exact. Crowds clog the (barely) three square miles of this wondrous city, vastly outnumbering the roughly 270,000 Italians that call La Serenissima home. Literally meaning "the most serene," this nickname is often replaced by another, less attractive moniker: Italian Disneyland. Though summer in Venice can certainly be nice, long lines and screaming children do not a happy vacationer — nor a happy Venetian — make.
But with winter's arrival, the city appears to reclaim itself. In those short weeks between the holidays and Carnevale, Venetians indulge in life the way it is meant to be. Whether they're tossing back un'ombra (more on this in a bit) or sloshing their way through l'acqua alta (and this, too), Venetians revel in their alone time — and who wouldn't want to join them? Traveling to Venice in the winter allows visitors to experience the city at a slower, more peaceful pace, sans crowds and itineraries. To help you choose where to begin your journey to reclaim La Serenissima, here are some Venetian traditions you shouldn't miss:
1. Gondola through the fog.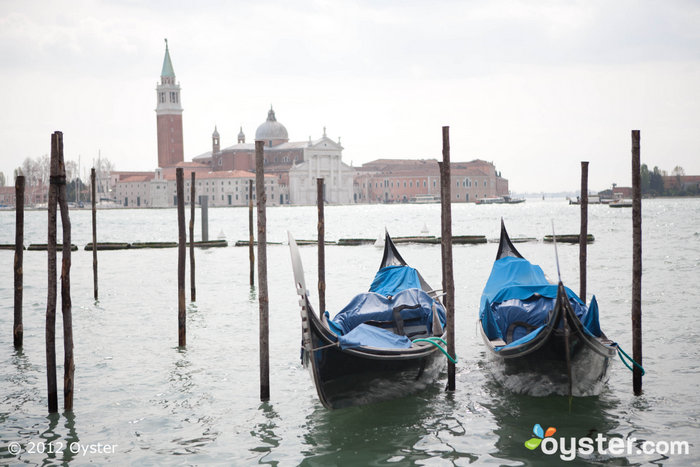 Venice's unique landscape is always enrapturing, but in winter the lightly grayed, slanted light of this canal city becomes hauntingly beautiful. Fog lingers through the canals, creating a mysterious and eerie atmosphere (that incidentally looks lovely in photographs). And if a bit of snow catches you by surprise, well, that's even better — Venice is never more romantic than at times like this. As a bonus, with few tourists in town, there is no jostling for position on the waterways, allowing visitors a solitary ride back in time.
Where to Stay: The Hotel Palazzo Stern has its own vaporetto stop on the Grand Canal — and we're sure Venice's gondoliers will also be happy to drop you off at this historic boutique.
2. Eat like a local.
Venice — as well as all of Italy — is known for it's food, particularly the wide variety of seafood that locals have been catching off shore for centuries. A stop at La Pescaria, one of Venice's open-air markets, will introduce visitors to wriggling eels, swordfish, and more delicious produce before it's transformed into cicchetti — bar snacks for which Venice is famous. Akin to tapas, these small but significant plates are unique to each bar, but usually offer some variation on baccala mantecato (a froth of salt cod on a small triangle of toast), folpetti (tiny, marinated octopus), or sarde in saur (fried sardines covered in a sauce of sugary vinegar, onion, raisins, and pine nuts — a true Venetian staple).
Where to Stay: Foodies will feel right at home at the Hotel Saturnia & International. The on-site restaurant, La Caravella, is one of the best in St. Mark's Square and has been serving traditional Venetian dishes in a charming setting since the 1960s.
3. Sip Venetian hot chocolate.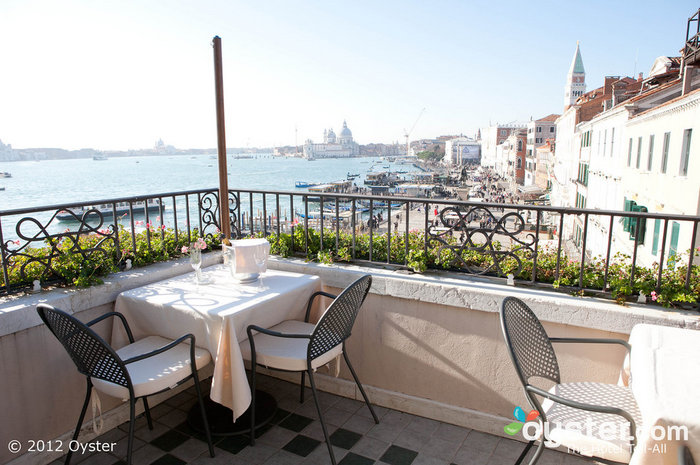 Known for its chocolate making (and indulging), Venice knows how to do hot chocolate. The city's rendition of this sinful libation is thicker, richer, and smoother than even chocolate mousse. Casanova himself called the drink — or rather pudding, as it's so thick — his favorite. And since chocolate is an aphrodisiac, we're not at all surprised by his choice. While the iconic Cafe Florian in St. Mark's Square might be the most ideal place to indulge, Venice's traditional hot chocolate is served nearly everywhere, at any time. Casanova was known to start his day with a cup, so why shouldn't you on a blustery Venetian day?
Where to Stay: Soak in gorgeous views of the Grand Canal over a delicious cup of hot chocolate at the Hotel Locando Vivaldi, which was once the home of Venice's much-loved composer, Antonio Vivaldi.
4. Experience l'acqua alta.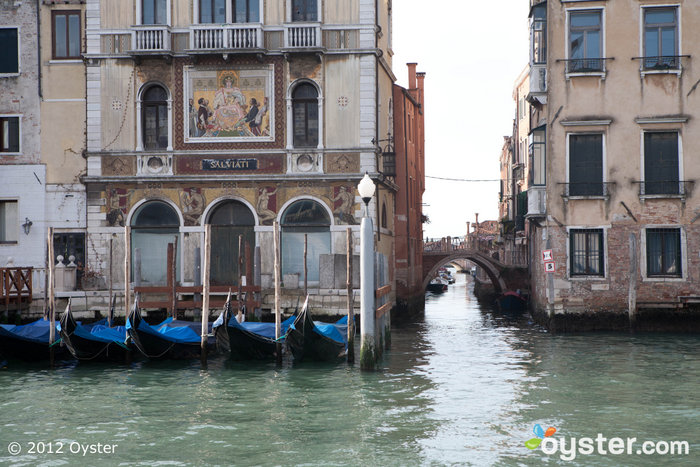 Venice is defined by its meandering canals, but there are always two sides to every coin. Fears of Venice's sinking grow more poignant each year, especially when the exceptional tide peaks known as acqua alta, or high water, roll into town. This seasonal flooding can happen any winter (and has, dating back to 589 C.E.), filling iconic places, such as St. Mark's Square, with up to five feet of seawater. While the experience can create incredible photo ops, it doesn't bode well for things to come in this magical, floating city.
Where to Stay: There's really no escaping l'acqua alta, but booking a room in one of the top floors of the classy and unique Hotel Bucintoro will keep your feet dry in your home-away-from-home.
5. Get artsy at the Venetian Winter Festival.
Each winter, the city puts on a series of events for Venetians — and visitors –young and old. Theater performance, concerts, open-air markets, and ice skating during the Venetian Winter Festival all provide opportunities for mingling with locals. A full schedule of events for this season has yet to be released, but many activities will be centered around Campo San Polo and the Basilica Santi Giovani e Paolo.
Where to Stay: Located within walking distance of the events of the Venetian Winter Festival — or Inverno Veneziano, as locals call it — the Hotel Canal Grande offers a luxurious boutique experience in a centuries-old palace.
6. Conclude your three-hour lunch with un'ombra.
Yes, you read that right. If you're aiming to experience Venice as a Venetian, then watches have to go. Time thickens in this ancient city, where even what was meant to be a quick meal can linger well into the afternoon. Ask locals where they enjoy a meal and you'll be directed to one of many bar/pizzeria/ristorante hybrids that are ubiquitous in all of Italy. While you sample some of Venice's famed seafood — the eel is a must — you might see a bevy of older Italian donnas gossiping over hot chocolate, a child fawning over a cup of creamy gelato, or a duo of perfectly dressed businessmen on a cappuccino "run." (They'll still be there when you leave.) All, save for perhaps the bambino, will wash down their meal with un'ombra. Literally meaning "shadow," this quick shot of chilled young wine can be taken at any time of day, much to everyone's delight.
Where to Stay: The Hotel Locanda Vivaldi features the intimate Gritti Bar, where guests can indulge in local wines or aromatic coffees.
7. Unmask yourself at Carnevale.
Carnevale might bring the tourists back in abundance to La Serenissima, but can you really blame them? This winter festival, akin to Mardi Gras, defines this city almost as much as its canals. Mask shops can be found in every winding corridor of Venice, while carts peddle similar wares to tourists along the Grand Canal. Bright colors, extravagant costumes, and constant indulgence — it's an elaborate and decadent way to celebrate before Lent begins.
Where to Stay: Located ideally for Carnevale (and general sightseeing) on the Grand Canal, the Hotel Al Sole is housed in a 15th century building infused with almost everything visitors to the city would hope for, from the brick walls, to the charming courtyard, to the canal views.
8. Get lost.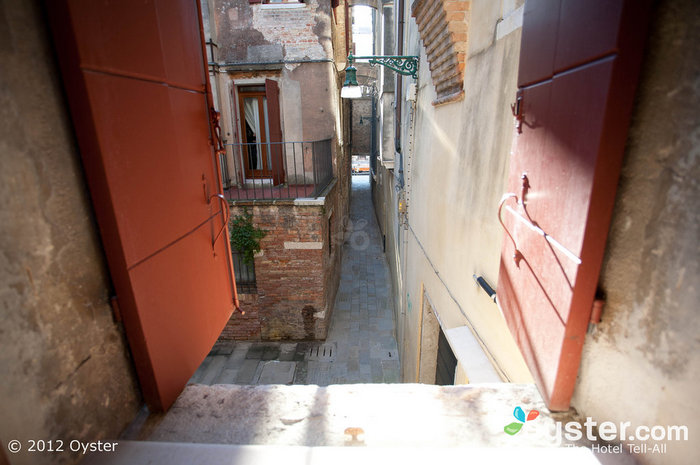 Nine times out of ten, you won't have a choice where getting lost is concerned — and that's not a bad thing. After all, the serpentine streets of Venice are meant to be wandered through leisurely. Maps will undoubtedly fail you in this labyrinth, and it's alright to let that happen. Delight in the sights and smells of this sinking city at your own pace, without a tour guide. If a stroll through the Doge's Palace sounds interesting, go for it. If that scoop of nociola (hazelnut) gelato looks delicious, eat it. In the quiet streets of winter, you won't have to wait on line or push your way through to get there.
Where to Stay: The charming Hotel Antiche Figure is removed from the city's tourist sights, meaning your walk back from dinner will be full of twists and turns. Enjoy!
RELATED LINKS:
All products are independently selected by our writers and editors. If you buy something through our links, Oyster may earn an affiliate commission.