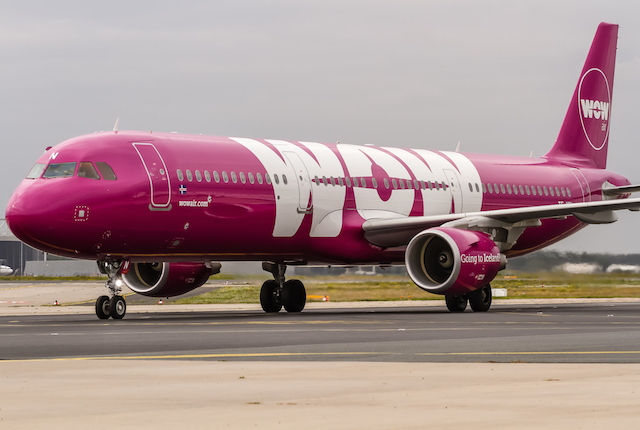 Wow Air, Iceland's beloved low-cost carrier, lived up to its name with rock-bottom prices (as low as $49 flights from the U.S. to Europe, and even $199 one-way fares from between the U.S. and India), but now it's dropping jaws for another reason. After months of financial struggles, the airline announced that it will stop operations. It canceled all scheduled flights, leaving more than 2,500 passengers stranded around the world.
Understandably upset, customers took to social media, demanding refunds and new flights. "Passengers are advised to check available flights with other airlines," Wow Air said in a statement. "Some airlines may offer flights at a reduced rate, so-called rescue fares, in light of the circumstances. Information on those airlines will be published, when it becomes available."
Passengers who purchased travel insurance, or used a credit card that includes trip protection, may be entitled to compensation, though it is often limited, the company said. "Passengers may also be entitled to compensation from Wow Air, including in accordance with European regulation on Air Passenger Rights. In case of bankruptcy, claims should be filed to the administrator or liquidator," the statement adds. Meanwhile, some competitive carriers, like EasyJet, Wizz Air, and Norwegian Air, have stepped up to offer reduced fares to stranded customers, according to the Icelandic Transport Authority.
Beyond the short-term travel woes, the shutdown could have significant economic impacts on Iceland -- a country that relies heavily on tourism. The Icelandic krona fell 1.44 percent on Thursday, Bloomberg reports. Broddi Gudjonsson, an economist at Arion Banki, also told Bloomberg that this news could lead to a 16 percent drop in tourism to Iceland this year, and a 1.9 percent drop in overall GDP.
However, this isn't the first European carrier to vanish from the skies. Wow Air is the eighth in a string of European airlines that have failed since the summer of 2018, Bloomberg reports. Fluctuating fuel costs, over-capacity, and a fight over fares are among the reasons cited for the airline's demise.
That being said, Wow Air's business model has certainly led the way, pushing other airlines to follow suit and offer cheap tickets. So, we can't help but wonder: With Wow Air out of the way, what is the future for transatlantic flights? Are those $99 flights soon going to be a distant memory? Not necessarily. In fact, according to Hopper, average prices for round-trip flights to Europe in the spring are the lowest they've been in three years. But for now, travelers wanting to score a cheap flight to Europe will have one less option.
You'll Also Like:
All products are independently selected by our writers and editors. If you buy something through our links, Oyster may earn an affiliate commission.