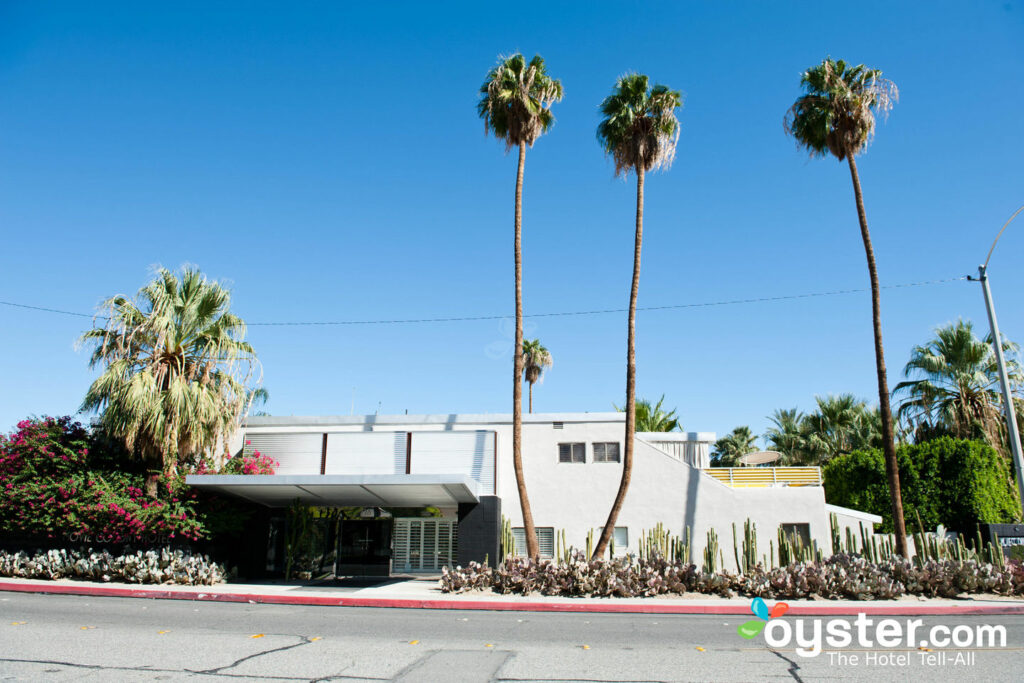 Palm Springs has long been considered an LGBTQI haven for both locals and vacationers. It's ranked first in California and third in the U.S. among cities with the most same-sex couples per 1,000 households. Some estimates say that less than half of the population is straight. Last year, Palm Springs voted in America's first all-LGBTQ city council, and the city passed an ordinance requiring gender-neutral public restrooms in 2016. Politics aside, Palm Springs is a desert destination with a huge focus on art, architecture, food, and fun -- plus a spotlight on inclusion, diversity, and safety for the LGBTQI community. The gay scene is basically built in wherever you go, so there's no need to stick to strictly LGBTQI events and hotels. Whether you want to dance at the annual White Party, hike in Joshua Tree National Park, or to hang poolside at over 20 LGBT-friendly hotels, Palm Springs is worth a visit. Here's our LGBTQI guide for what to do and where to stay in Palm Springs.
The Events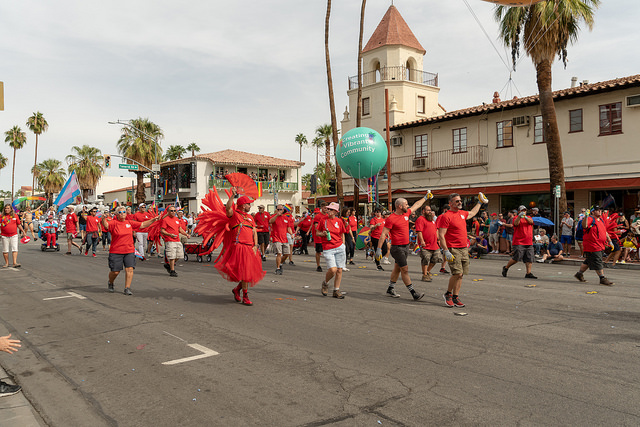 Palm Springs hosts loads of events throughout the year, with Coachella and Stagecoach music festivals taking center stage in April. Possibly even more important to the gay community is the annual Jeffrey Sanker's White Party. Starting in 1989 as a small gay dance party, it has ballooned into a three-day event with 30,000 people and parties day and night. Sanker was a bouncer at Studio 54, where he learned the party promotion ropes, and it shows in this extravaganza of music, dance, and headline performers such as Kylie Minogue. Club Skirts Dinah Shore Weekend isn't quite as big, but it's still the largest lesbian/queer girl party on the planet. Expect pool parties, DJ battles, and comedy sets. It's no surprise that Palm Springs goes all out for Pride in November, with parties, a massive parade, and public education and awareness of individual rights and civil liberties of the LGBTQI community.
The Bars
https://www.instagram.com/p/BuvKEx4HjNj
Even if you plan on visiting Palm Springs apart from an event, there are loads of LGBTQI bars, clubs, parties, and activities worth checking out. Hunters is a fun place to start the night, with dancing and cheap Jello shots served by mingling hosts. There are electric video screens and the atmosphere is usually laid-back and fun, though some people complain that it draws more bachelorette parties than gay men. The Barracks is the spot for leather and beards, if that's more your scene. Toucans Tiki Lounge hosts regular drag queen performances. The scene offers bottle service and daily drink specials, so it suits a range of budgets.
The Activities
Part of Palm Springs' appeal is its fast proximity to nature and the desert. Hiking, horseback riding, bird watching, golfing, rock climbing, and biking are all available. Joshua Tree National Park offers over 429,690 acres of wilderness, plus it's home to wildlife not found elsewhere. Hot springs are sprinkled around Desert Hot Springs. To soak in curative waters, check out Two Bunch Palms' series of natural pools (open late if you're inclined to take a late-night dip au naturel). If you're more of an indoor person, many of the high-end hotels have traditional spas with treatment rooms and a series of blissful services. (We especially like the Palm Springs Yacht Club inside the Parker Hotel.)
The Hotels
As perviously mentioned, there's no need to seek out a specific LGBTQI hotel while visiting Palm Springs, as you'll find that hoteliers are dedicated to providing inclusion and safety for the LGBTQI community throughout the city. But if you prefer to spend your money and time at a specific LGBTQI hotel, and want to meet like-minded travelers, there are several options to choose from. La Dolce Vita Resort & Spa – Gay Men's Clothing Optional features two pools and a full-service spa, plus clean and contemporary rooms. The gay-owned and clothing-optional Bearfoot Inn is close to the Uptown Design District and features mid-century modern architecture. The Movie Colony Hotel is widely celebrated for its stunning architecture (designed by Albert Frey) and celebrity past. Each of the 17 rooms here have a private terrace and free wine hours that encourage mingling.
You'll Also Like:
All products are independently selected by our writers and editors. If you buy something through our links, Oyster may earn an affiliate commission.