What's not to love about Barcelona? It goes nearly undisputed that the Catalonia capital is Spain's coolest and most modern city. And it's arguably one of the top party spots in Europe. Oh, and if that's not enough, it's replete with excellent restaurants, beautiful Gothic and Modernist architecture, calming sea breezes, great shopping, and -- most importantly to us -- gorgeous hotels. Barcelona is home to some of the top European luxury hotels, and considering the city's focus on design, these spots feature cool, modern decor -- as well as beautifully maintained historic details. Below we bring you 13 of the best luxury hotels in Barcelona, new on Oyster since our recent visit!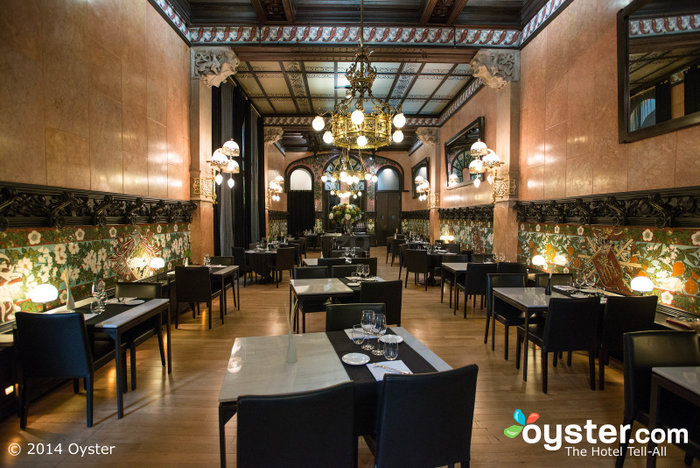 Located on a quiet side street off Barcelona's main tourist thoroughfare La Rambla, this 1859 building was redesigned as a hotel in the early 20th century by celebrated Modernist architect Lluís Domènech i Montaner. A restoration in 2010 kept many of the historic and design features, including a stunning carved stone fireplace in the bar. The striking, contemporary decor gives the hotel a very stylish flair, from the dramatic light fixtures in the common areas to the staircase that snakes up the property. There is also a great food program on the property including a restaurant by Michelin-starred chef Martín Berasategui. A rooftop pool and bar is open in the warmer months. Some nearby hotels have lower rates, but don't offer the same history or style.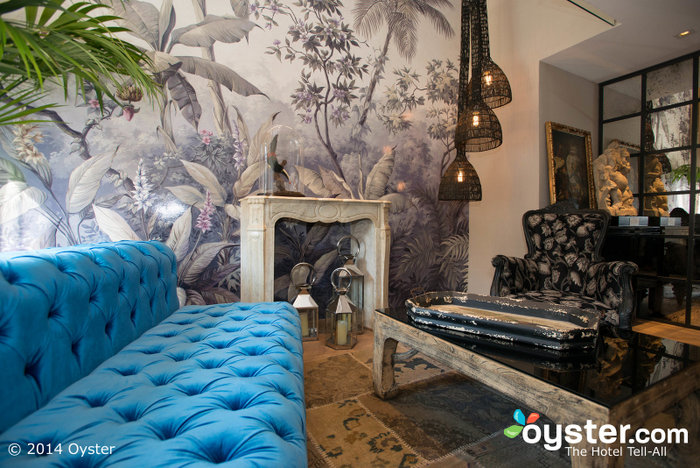 A former palace, the luxurious 124-room Hotel Claris is conveniently located within walking distance to Plaza Catalunya and Paseo de Gracia. The gorgeous rooms are quiet and creative with Egyptian-inspired art objects and marble bathrooms; there are several room types including chic duplex suites. The extensive array of features includes a rooftop pool, solarium, gym, and sauna. One highlight is the glass-enclosed cocktail bar and restaurant with striking city views. There is an on-site museum and interesting works of art in every hotel corner, but there is no tea or coffee in the rooms.
This massive, modern hotel with 338 rooms right by the Plaça d'Espanya is convenient for businesspeople (with easy access to the nearby exhibition center) and tourists who don't mind taking the metro to the city's main attractions. Rooms are bright and stylish with flat-screen TVs and big bathrooms. It's a decent value for the amenities, though if you don't need a pool and want to stay in the same area, it's worth comparing rates with the nearby Hotel Vilamari.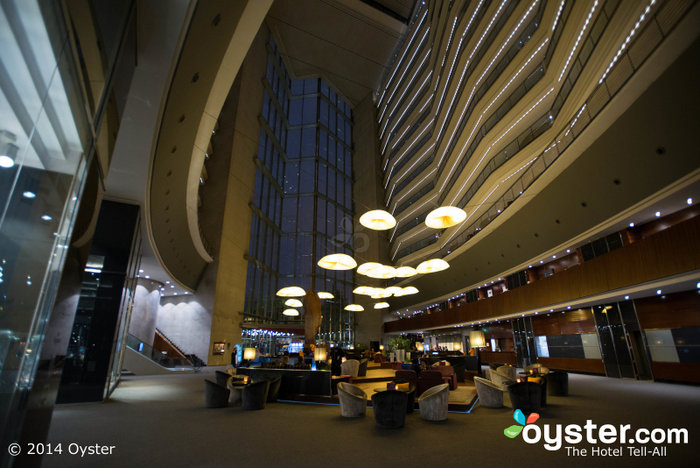 The Rey Juan Carlos I Hotel is a luxury property with 432 rooms in the Les Corts district of Barcelona. The expansive grounds of the hotel have a lush garden, an outdoor pool with a poolside bar, and a lovely Mediterranean restaurant with terrace dining in the summer. Inside the hotel is a restaurant, a huge fitness center, a spa with an indoor pool, and an Ayurveda spa offering natural medicinal services. The exclusive Executive Floor has its own private reception and lounge. The hotel is a bit far from the main attractions of the city. Another luxury hotel outside the city is the Hesperia Tower Hotel, which is closer to the airport, but does not have an outdoor pool.
The 37-room Hotel Praktik Rambla is a small, charming boutique in a convenient, central location near La Rambla. This early 19th-century building is full of character with intricate tiled floors and magnificent ceiling molding. These historic details are juxtaposed with modern finishes, including in the rooms with striking artwork, angular furniture, and cool bathrooms. There is a sunny reading room with espresso machine and bay windows, and an interior courtyard with lounge areas. While some rooms can be small, they are clean and attractive.
The 30-room Hotel Primero Primera is a boutique in a quiet residential neighborhood. The rooms have been compared to luxury apartments by some guests, with nice extras including an honesty bar and free snacks in the lobby. A lovely, walled-in stone patio and small wading pool in the garden provide ample common space for relaxing. The hotel is located fairly far from Barcelona's center, but is in a posh residential neighborhood (nightlife is sparse). The metro is a few blocks away. Rooms are available in a variety of sizes — some have nice balconies — and have rain-style showers, stocked minibars, and flat-screen TVs.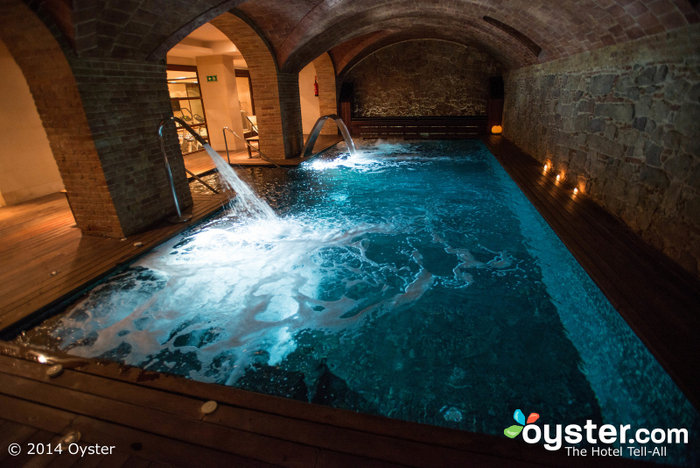 Located on a prime piece of Las Ramblas real estate, the Hotel 1898 evokes Spain's opulent late 19th-century past with its architecture and decor. But guests get thoroughly modern pampering, with sterling service, plush rooms, a spa, and fine dining. And unlike other Las Ramblas area hotels such as Casa Camper, Hotel 1898 has not one but two pools: an indoor pool in an atmospheric grotto and a rooftop pool with panoramic Barcelona views. The property is the perfect pick for travelers willing to spend more for historic style and upscale comfort in a location right on the bustling Las Ramblas, near Passeig de Gracia shopping.
This contemporary property offers a wide array of facilities, including an outdoor plunge pool, outdoor spa tub, sauna, fitness room and upscale restaurant. The 97 rooms have modern, streamlined decor in whites and reds, but some are quite small. The location in the financial area of the Eixample district is a little far from central Barcelona attractions by foot, but prices are a bit lower here, and the Barcelona Sants station two blocks away offers access to the rest of the city.
The 10-floor, 108-room U232 Hotel is a stylish, contemporary hotel in the L'Antiga Esquerra de l'Eixample section of the western Eixample. It's a little far by foot from central Barcelona attractions like La Rambla and Sagrada Familia, but luckily a metro stop is one and a half blocks away for easy access to the rest of the city. While there's no pool, guests do enjoy well-designed and tech-equipped rooms, a sun deck with city views, a big breakfast buffet (for a fee), small fitness room, and inviting library/computer room. A stay here is good value, since the extra distance from the city center equals lower nightly rates.
The 92-room K+K Hotel Picasso is a modern, sharp hotel located in the Born district of Barcelona. It is surrounded by quality restaurants and is within a 20-minute walk of many of Barcelona's top attractions including beaches, Las Ramblas, and Sagrada Familia. Rooms are clean and quiet — thanks to sound-proof windows — and the archway-laden exterior is charming. There is a rooftop pool with great city views and an expansive breakfast buffet, but the free Wi-Fi signal can sometimes be weak. Travelers looking for a hotel with a bit more personality should check out the Balmes Hotel with its museum-worthy collection of African art.
The Tryp Condal Mar is an upscale hotel with a chic vibe that pervades the entire property, from the 178 modern rooms to the cool rooftop terrace with a tiny seasonal pool. Located in the Diagonal Mar area of Barcelona, the hotel is a bit far from the attractions and doesn't have many restaurant options in the area aside from those in a nearby shopping center that is a 10-minute walk away. The property is 40 minutes away from the city center via public transportation. Guests may want to check out the similarly priced GBB Hotel 4 Barcelona which doesn't have a rooftop terrace, but is within walking distance of Bogatell and Nova Icaria beaches.
The 272-room Gran Hotel Torre Catalunya is located in Sants, a residential part of Barcelona a metro ride away from the action. While there are several restaurants in the immediate area — including a rooftop restaurant on the hotel's top floor with gorgeous city views — the area lacks nightlife. The Sants metro station is located across the street for easy access to central Barcelona. Rooms are bright and spacious with flat-screen TVs, stocked minibars, and bathrooms with double sinks. There is an on-site indoor pool, fitness center, and spa. The morning breakfast buffet is an elaborate affair, but it costs extra if you don't book the breakfast package.
This modern hotel with sleek decor has a convenient location within walking distance of La Rambla and the port, with the Parallel metro station literally right outside the door. There is a rooftop pool and solarium, though the surroundings aren't quite so posh. While it offers a decent value for its location, some guests think it lacks the luxuries of a true four-pearl property. The nearby neighborhood is considered up and coming and might not suit all guests.
To learn more about Jane Reynolds, visit her on Google+
Check out Oyster's page on Google+
RELATED LINKS:
All products are independently selected by our writers and editors. If you buy something through our links, Oyster may earn an affiliate commission.