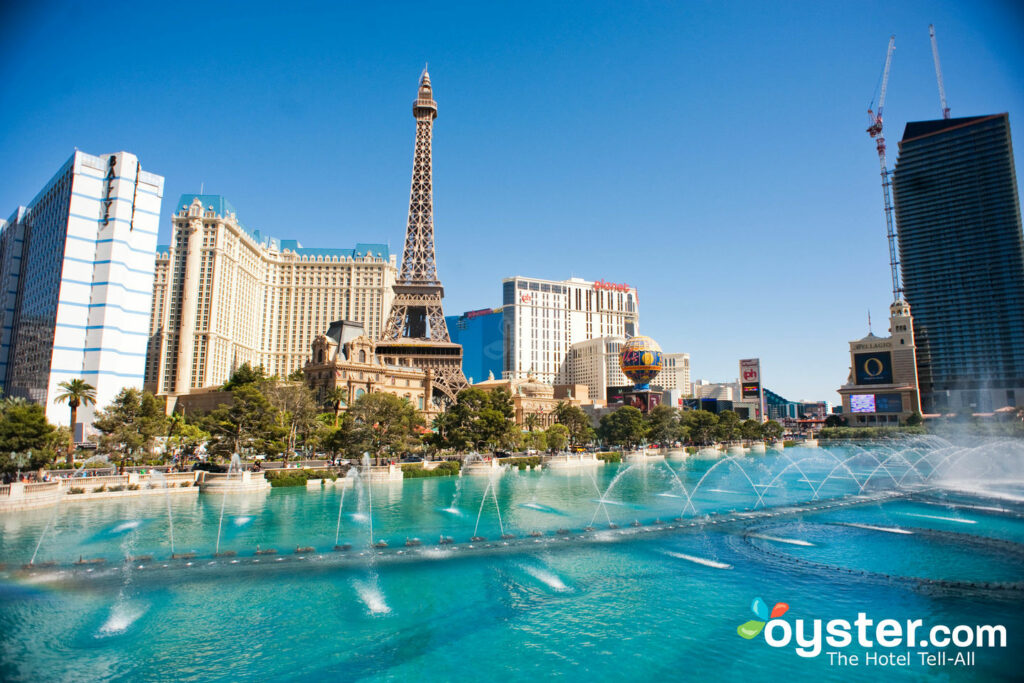 When we think about Las Vegas, we think about money -- gambling, luxury hotel rooms, and world-class dining. But as Sin City expands and builds to attract millennials, families, and tourists who aren't in town just for poker tournaments and bottle service, offerings are becoming more diverse and budget-friendly. You don't have to spend a ton of cash to have a great time in Las Vegas and we rounded up 19 fun and free things to do in Las Vegas as proof.
1. Go Swimming (And Gaming)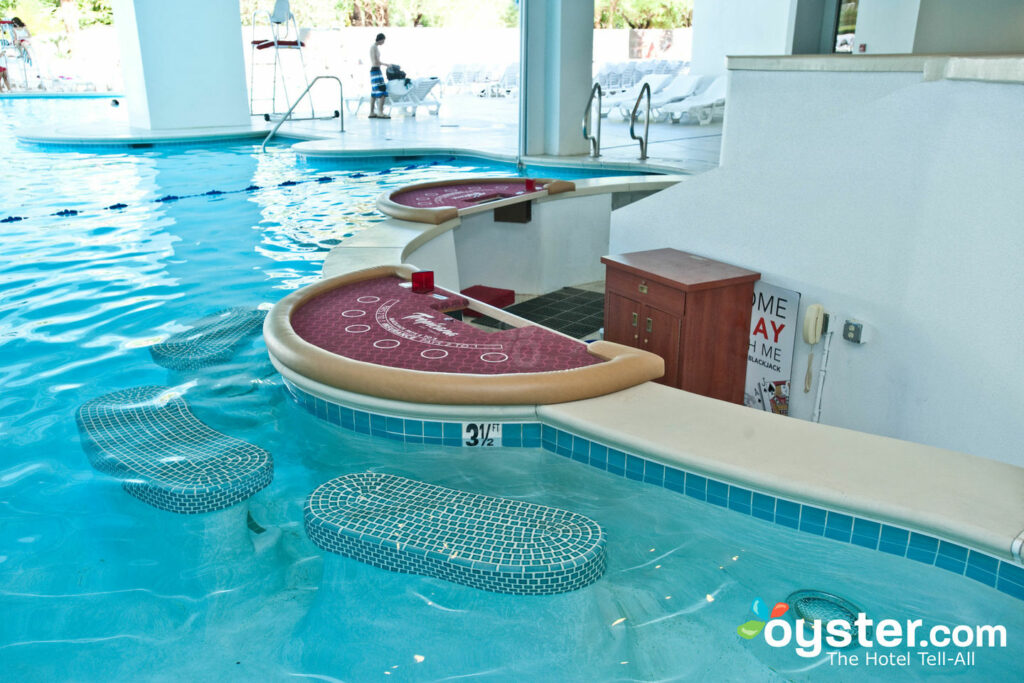 So technically our first freebie in Las Vegas is a work-around. Legally, any hotel that offers gaming in its pool area (The Tropicana, Hard Rock Hotel, and The Flamingo all spring to mind) must allow access to the public. If you tell the security guard you're there to gamble, you likely won't have a problem gaining access to the gaming pool area for a dip. And hey, most casinos provide free drinks as a courtesy to gamblers if you decide to play.
2. Hit Fremont Street
Give your wallet a break and your eyes a treat at East Fremont Street. The nightly light and sound shows are over-the-top and many of the casinos that line the street lure in gamblers with free spins. At Binions, you can get your picture taken with a million dollars (they even print the pic for you, for free). Fremont Street Experience hosts free entertainment nightly on three stages and hosts free concerts in the evenings. Plus, the casinos in Downtown Vegas tend to be better for low-limits gambling than the ones on the Strip.
3. Modern Art Crawl
The big money world of modern art has found a permanent home in Las Vegas. Visitors can admire Jeff Koons's famous "Tulip" sculpture at the Wynn (sorry, his iconic "Popeye" statue left for Boston). The Cosmopolitan features murals by Shepard Fairey and Kenny Scharf in its parking garage. Crystals, a high-end shopping mall on The Strip, is home to the "Shards of Color" light instillation by James Turrell.
4. Desert Hike and Hot Springs
There are several free hiking options just outside of the city limits. Calico Basin Red Springs area doesn't require park admission and the trail cuts across red and white sandstone cliffs. There are many natural springs in the area that attract wildlife and provide water to cottonwood trees and honey mesquite. Gold Strike Hot Springs is a popular hike that requires easy rock climbing and ends in natural hot springs. This hike isn't advisable in the summer months, when temperatures soar and the springs are shallow.
5. Take an Iconic Selfie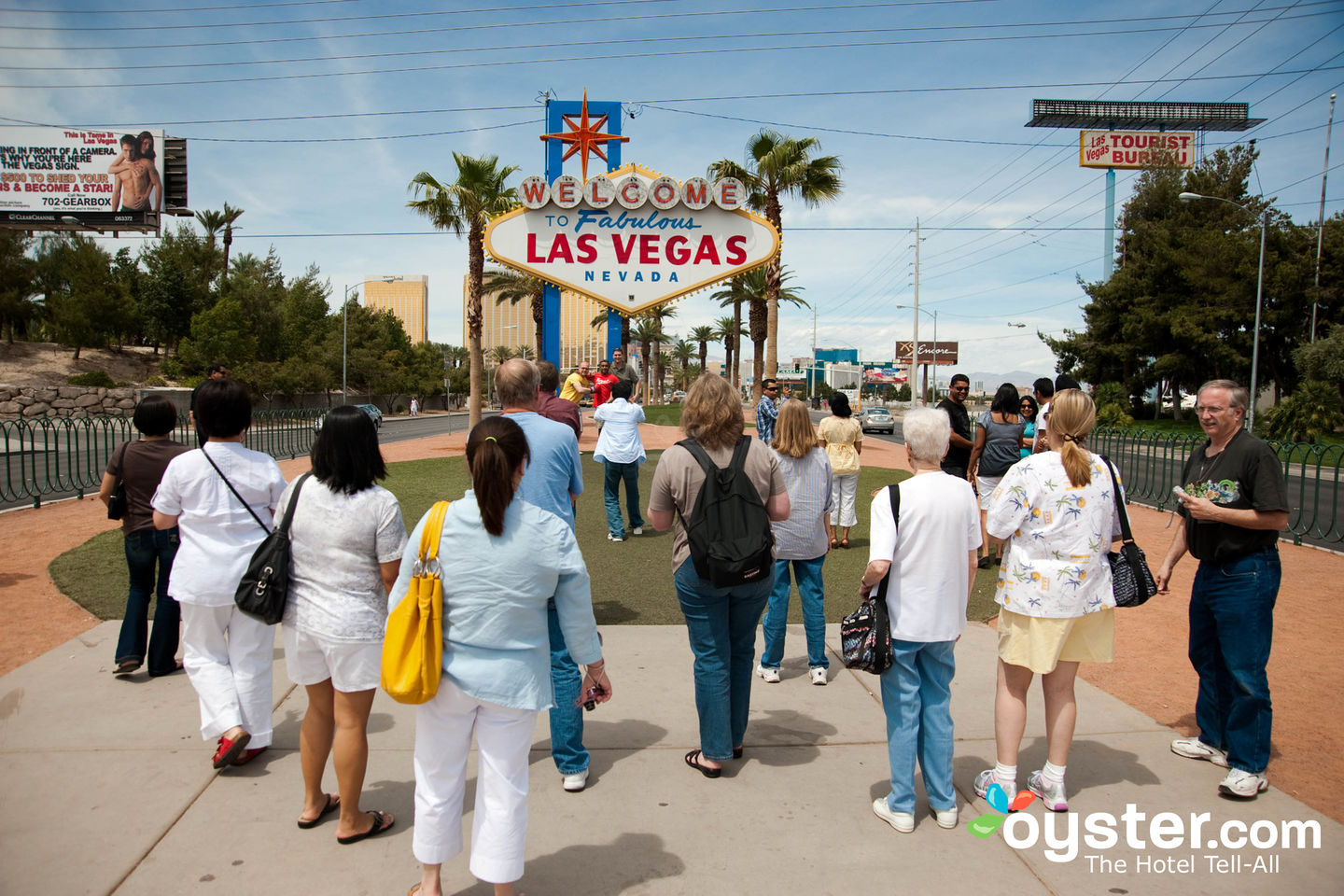 No Las Vegas movie is complete without a shot of Betty Willis' famous Welcome to Fabulous Las Vegas sign. The landmark attraction is more than 50 years old and sits on the Las Vegas Boulevard median south of Mandalay Bay. A selfie with the sign is a (free) must-do for any Vegas visitor.
6. Learn About Burlesque
Admission is free (donations are accepted) at the Burlesque Hall of Fame, a tiny museum devoted to the art of erotic dance. Costumes, media clips, and photographs are on display, along with a range of rotating exhibits.
7. Watch a Mini-Circus
The circus comes to town every 30 minutes at Circus Circus, when acrobats, clowns, and jugglers perform miniature shows every half-hour. Of course, if you truly love the show, you can buy tickets to their full nightly performance.
8. Go Behind The Scenes with Cirque du Soleil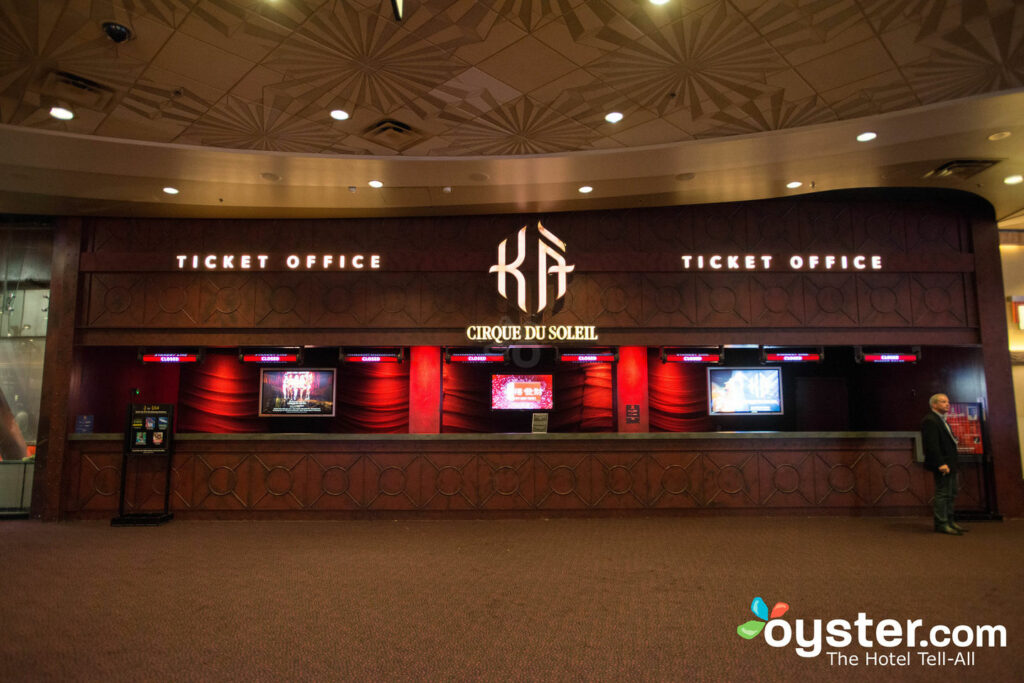 Cirque du Soleil at the KA Theatre in MGM Grand opens its doors to the public twice every Tuesday at 11 and 11:30am for a free 30-minute inside look at the mechanics of their mind-blowing $165 million production. Guests sit in the theater while show experts show off the design and inspiration of the show. Guests can also take photos of the stage, which isn't allowed during the actual performance.
9. Taste Wine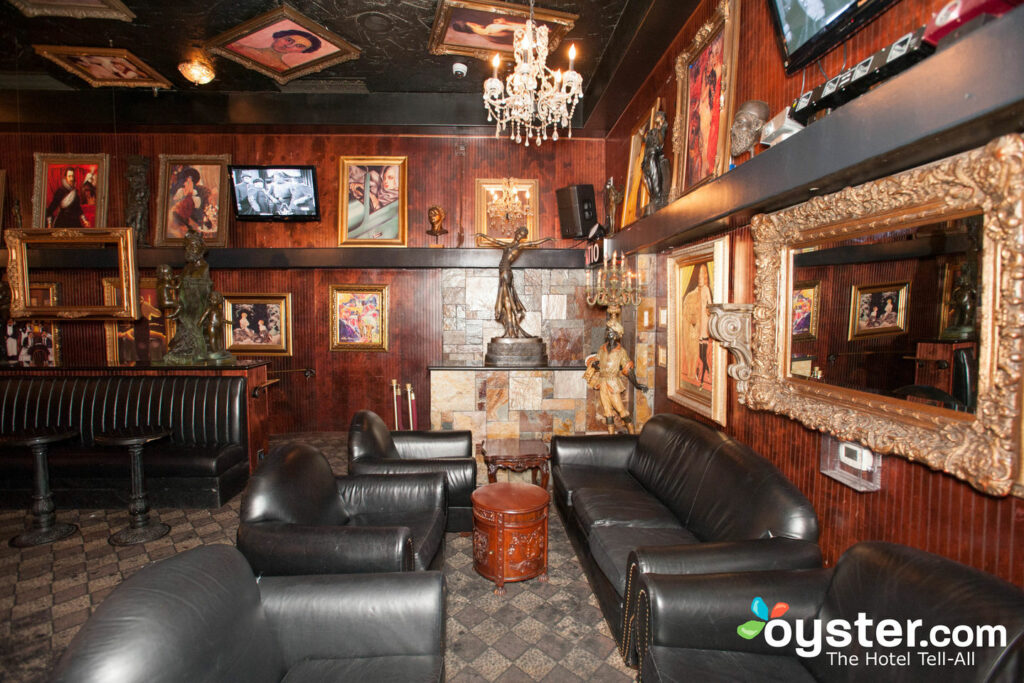 Local wine and event producers Rock 'n Roll Wine hold traveling tastings every Thursday night. They pour samples and offer guest bottles completely free. If you're interested, check their website to see where they'll hold the event. At the time of writing, they were planning on pouring their Rhapsody White at Artisan Hotel, a sexy adult-only boutique with a gothic vibe.
10. Visit an Indoor Floral Wonderland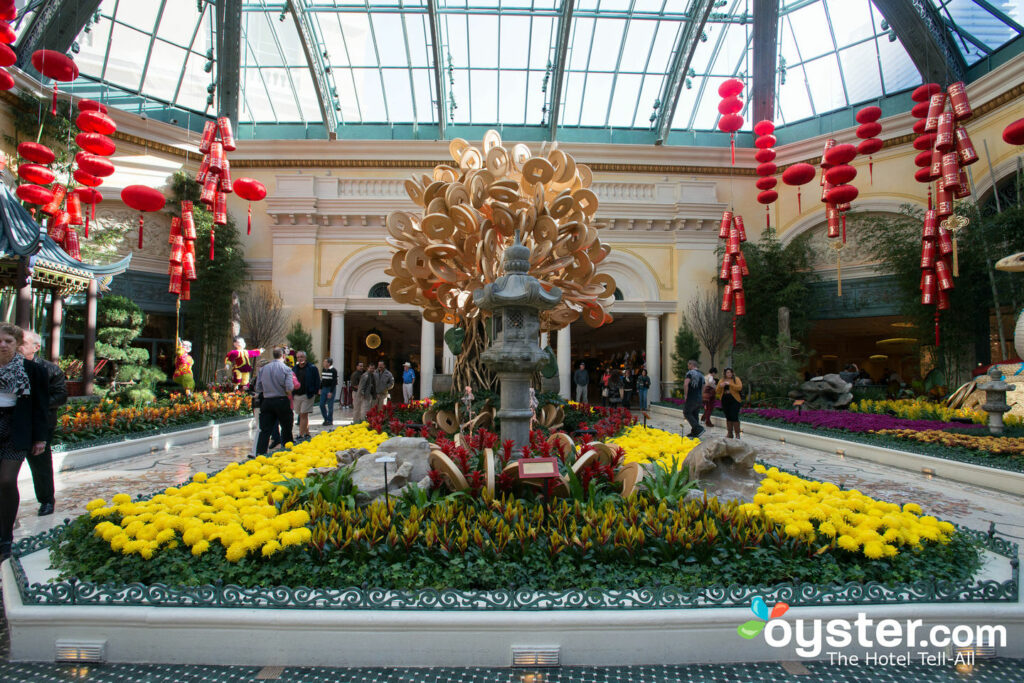 The dedicated team of horticulturists at the Bellagio's conservatory and botanical garden painstakingly transform the 14,000 square-foot inner atrium into a different whimsical, flower filled delight five times a year. Right now there are no fewer than 65,000 flowers used in the Japanese Spring display, including a bloom covered turtle and samurai master. Entrance to the garden is free.
11. Sample Chocolate
Visiting Ethel M.'s chocolate factory is a family-favorite activity. Visitors sit in on a chocolate tasting experience where they learn the history of the chocolate factory and see how four types of chocolate are made. After, guests can take a self-guided tour through the factory and munch on free samples. There's also a three-acre cactus garden on the grounds.
12. Pawn Stars
Fans of the History Channel's show "Pawn Stars" will want to pay homage at the Gold & Silver Pawn Shop, where the reality show is filmed. There's often a line to get inside, and the shop is filled with an ever-changing rotation of interesting art, jewelry, and antiques. The stars of the show, Rick Harrison, his son Corey "Big Hoss," his dad Richard "Old Man" and Austin "Chumlee" Russell, still work most days in the shop. Note that you're less likely to see them on the weekends.
13. Feed the Kids
Sorry, adults. Unless you're splashing out at the casino, you'll likely have to pay for your meals in Las Vegas. Kids, however, eat free all over town (with the purchase of an adult's meal). Kids eat free at three Denny's locations on Tuesdays from 4 p.m. to 10 p.m. On Mondays, two kids eat free with one parent all day at Chili's. Wednesdays are free at Cici's Pizza. This blog keeps a running list of dining promotions for kids in Vegas.
14. Watch a Water Show
The Fountains of Bellagio show, directly in front of the casino's entrance, shoots off thousand foot dancing fountains to the accompaniment of pop music, show tunes, and lights. Times vary between weekdays and weekends, with the last show ending at midnight on Saturday nights.
15. See a Volcano Erupt
Every evening at 5 p.m., a volcano erupts in Las Vegas. The spectacle, complete with flame shooters that hurl fireballs 12 feet into the air, an ominous soundtrack, and water effects is a popular event that repeats every 30 minutes until 11 p.m. You'll find the lava outside the Mirage Hotel Casino, located on the Strip between Flamingo and Spring Mountain Road.
16. Check Out the Downtown Container Park
The avant-garde Downtown Container Park is an open-air shopping center with an interactive tree house for kids and a main stage that provides free movies and concerts. The whole thing is made out of shipping containers and guarded by a 55-foot tall fire breathing praying mantis.
17. The Aquarium at the Silverton Hotel
There's a free 117,000-gallon aquarium that's home to more than 4,000 exotic fish, including sharks and stingrays, inside the Silverton Hotel. It's open 24 hours a day, and mermaids often swim past, blowing bubbles and interacting with kids. Divers are on hand to feed fish and answer questions about different species. If you're scuba certified and in love, you can get married inside the aquarium, with a mermaid at your side (though, that comes at a fee).
18. Observe Flamingos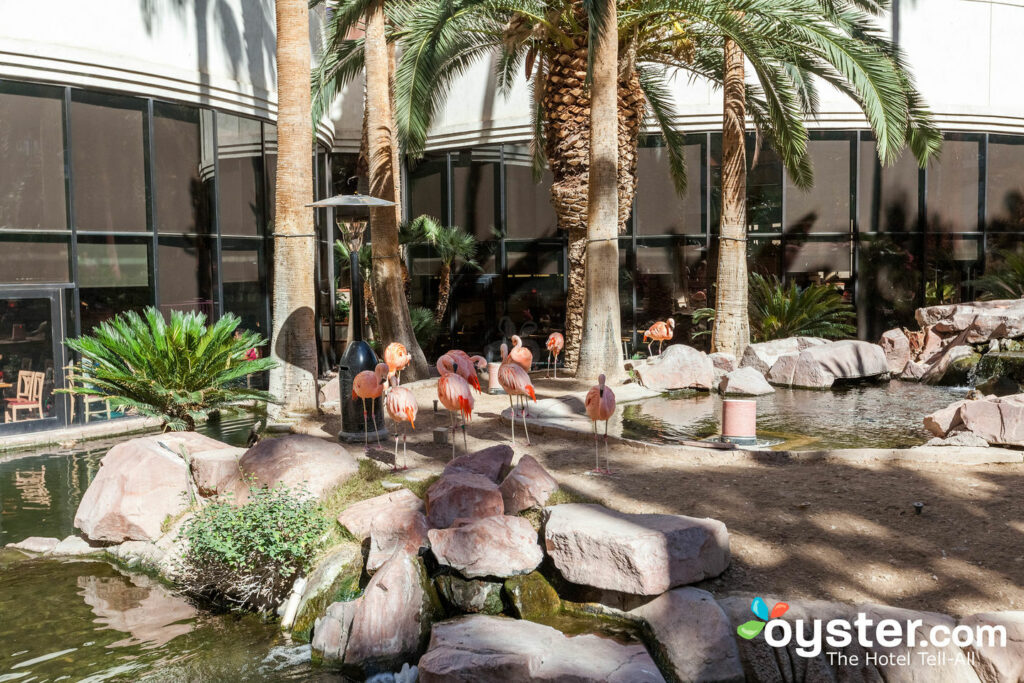 The Flamingo Las Vegas Hotel & Casino is home to hundreds of slot machines, a food court, six wedding venues, and a wildlife habit that prominently features flamingos. Along with the pink birds, you'll find black swans and turtles nestled in among waterfalls and koi-filled ponds. It's a peaceful place and offers a bit of Zen near the bustling strip.
19. The Pinball Hall of Fame
Admittedly, it's going to be hard to walk out of the Las Vegas Pinball Hall of Fame without spending at least a few quarters. Visitors can check out the impressive 10,000 square feet of classic pinballs machines that have been restored and beautifully maintained. There are over 100 different machines, some from the '40s. Prices are set at 25 cents for older machines and 50 cents for newer machines.
Don't let a bad burn ruin your Vegas adventures, bring along your favorite and keep yourself safe.
NOW WATCH: Best Day Trips From Las Vegas
You'll Also Enjoy:
All products are independently selected by our writers and editors. If you buy something through our links, Oyster may earn an affiliate commission.