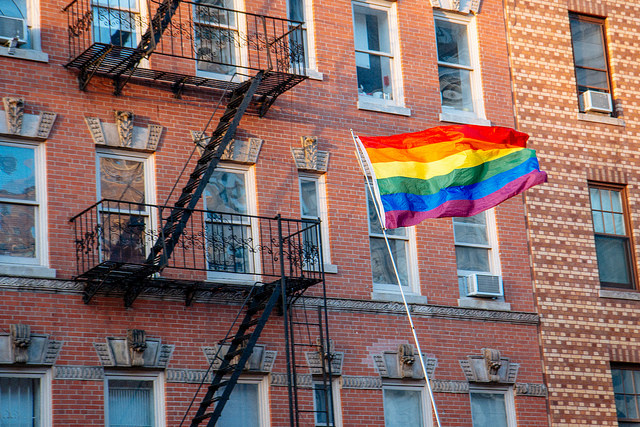 June is just around the corner, marking the start of Pride month in the United States. Cities and communities around the world will gather to commemorate the 50th anniversary of the Stonewall uprising in New York with their own Pride events throughout summer and into fall. Though all Pride festivals celebrate diversity and equality, there are a multitude of different experiences awaiting LGBTQ+ travelers. To help you navigate the ever-increasing list of choices, we've assembled a list of popular and under-the-radar Pride events from June through October.
EuroPride, Vienna
https://www.instagram.com/p/BulxWvZhXgF
The Austrian capital will take center stage this June as the host of EuroPride — a European-wide commemoration of the Stonewall uprising 50 years ago. The event is slated to run from June 1 through 16. Austrians have plenty to celebrate themselves, as same-sex marriage was legalized on January 1 following a constitutional court ruling. A packed lineup of events and parties span the two-week festival, including conferences, art installations, exhibitions, and conferences.
Expect the revelry to really pick up in the final weekend, with the Pride Village in Vienna's historic Rathausplatz serving as the focal point. From June 12 to 15, a mix of LGBTQ+ organizations and Vienna's hippest bars and delectable eateries will showcase their work and provide refreshments. Meanwhile, city hall serves as the backdrop to the Pride Stage, where international DJs and local artists will perform. And on June 15, the Rainbow Parade will march along Ringstrasse, passing the elegant parliament building, quaint coffee shops, and well-manicured Stadtpark.
Aside from the official EuroPride events, Vienna boasts a lively, yet often overlooked, LGBTQ+ nightlife scene. Once Pride Village winds down, head to Village Bar or Felixx for a late-night dance party. Village Bar typically hosts numerous after-parties and events, while Vienna's top drag queens take the stage at Felixx. For a quieter, intimate evening, Cafe Savoy serves up cocktails in a chic Renaissance-style setting.
Our Vienna Hotel Pick: The Hotel Beethoven Wien is housed in a classic neo-Renaissance structure and conveniently located in the historic city center. The Naschmarkt is just around the corner, while many of Vienna's premier LGBTQ+ establishments, such as Village Bar, can be reached on foot in just five to 10 minutes.
Tel Aviv Pride
https://www.instagram.com/p/Bv4DxIMHzjB/
Often referred to as the "Gay Capital of the Middle East," Tel Aviv is a world-class destination for LGBTQ+ travelers. Mark your calendars: From June 9 through 14, the vibrant Mediterranean city will welcome tens of thousands of international visitors to join Israel's flourishing LGBTQ+ community for Tel Aviv Pride. Tel Aviv Pride dates back to protests at Rabin Square in 1979, while the annual Pride Parade has been running since 1993. This year's parade is slated for noon on June 14, when 200,000 people will gather outside Tel Aviv's LGBTQ+ community center beside Meir Park and march along Bograshov Street before arriving for the after-party at seaside Charles Clore Park. Be sure to arrive before noon to catch drag performances and speeches by Israeli LGBTQ+ leaders.
Beyond the Pride festivities, Tel Aviv maintains a vibrant LGBTQ+ cultural scene throughout the year. Given Tel Aviv's proximity to the sea and soaring summer temperatures, join the well-tanned and open-minded crowd at Hilton Beach, the city's all-but-official gay beach. Arrive early to grab a cabana and admire the eye-candy while sipping refreshing Arak-based cocktails. Come nightfall, head to Shpagat, one of Tel Aviv's liveliest gay bars. There are a multitude of themed parties and special events, such as Tinofet's hip hop dance parties, FFF Shirazi shows, and Cult's women-run performances.
Our Tel Aviv Hotel Pick: The modern Alexander Tel-Aviv Hotel is just inland from Hilton Beach and Metzitzim Beach, granting excellent rooftop views and quick access to the Mediterranean.
WorldPride, New York
https://www.instagram.com/p/Bwa1QGGhiXk
In the early morning hours of June 28, 1969, police raided an unlicensed West Village bar in lower Manhattan — The Stonewall Inn. Though such raids and harsh treatment were tragically routine, the Stonewall patrons dug their heels in and fought back against police brutality. In the nights following, crowds in the thousands gathered along Christopher Street in solidarity. Exactly one year later, activists and the New York LGBTQ+ community commemorated the uprising by marching from Christopher Street to Central Park. The 50th anniversary will be observed in New York City this June.
New York was chosen as the host city for WorldPride 2019 to mark the uprising's 50th anniversary. Crowds are expected to swell to four million, making this the largest Pride festival in American history. Hosted by Whoopi Goldberg, the opening ceremony will take place on June 26 at Barclays Center. It will include performances by Todrick Hall, Chaka Khan, and Cyndi Lauper. Numerous events and after-parties will run around the city until the closing on June 30 in Times Square. Take a break from the revelry to visit one of the Stonewall exhibits held at the Leslie-Lohman Museum, the Grey Art Gallery, the Brooklyn Museum, or the New-York Historical Society. NYC Pride veterans should take notice that the Pride March on June 30 has been rerouted from its traditional path. Starting at the intersection of Fifth Avenue and 26th Street, performers and floats will make their way south toward Christopher Street and Sixth Avenue before circling back north along Seventh Avenue to 23rd Street in Chelsea.
Our New York City Hotel Pick: The recently remodeled Wyndham New Yorker Hotel is the official partner for WorldPride and is advantageously located next to the Hammerstein Ballroom, where the Masterbeat One World dance party will kick off on Saturday, June 29.
MADO, Madrid
https://www.instagram.com/p/Bk8PpLwH9Gg/
The Spanish capital will be bursting with LGBTQ+ Pride from June 28 through July 7. Known as MADO, Madrid's Pride festival will feature an impressive lineup of free outdoor concerts, late-night parties, art exhibitions, and much more. Much of the action will take place in Chueca, Madrid's historically gay neighborhood in the city center. Many of Madrid's leading LGBTQ+ venues can be found here — most notably, Black & White for drag shows and Why Not? for cocktails and dancing. Other trendy spots include Lakama and Gris. Changing attitudes in cosmopolitan Madrid have encouraged the LGBTQ+ community to permeate to other neighborhoods, like La Latina and Malasańa, as well.
The MADO revelry will be on full display at the Pride Parade on Saturday, July 6, as two million people are expected to travel down Paseo del Prado. Upon arriving in Plaza de Colón, the magnificent public square becomes a massive party and dance floor as musicians play on stage. Other not-to-miss experiences include the Drag Race in Heels on July 4, and the Mr. Gay Pride Spain competition on July 6.
Our Madrid Hotel Pick: Situated in a Spanish Renaissance building, The Principal Madrid boasts its own Michelin-star chef and is located just south of Madrid's gay hub, Chueca.
Amsterdam Pride
https://www.instagram.com/p/BwHoEs9BmFA
As the first nation to legalize same-sex marriage, the Netherlands certainly knows how to throw a Pride celebration. Amsterdam Pride is entering its 24th year in 2019, and will run from July 27 through August 4. Amsterdam Pride begins at the Homomonument, a city-center memorial composed of three pink granite triangles to commemorate the persecution of LGBTQ+ individuals. From here, the Pride Walk (not parade) leads to Vondelpark, where musicians and DJs take the outdoor stage for the evening. The Milkshake dance and music festival is set to launch the same night in Westerpark, just west of the city center. Milkshake spans multiple stages and strives to promote respect, love, freedom, and individuality. Expect over-the-top costumes, elaborate performances, and a more laissez-faire stance on nudity throughout. The festival lineup includes DJs and musicians from around the world, followed by after-party performances at Amsterdam's hippest clubs, such as Paradiso or De Marktkantine.
For many, the primary draw is the Canal Parade, which will take place on August 2. The parade sees dozens of flamboyantly-decorated floats make their way along the canals through the city center. Meanwhile, spectators lining the canal and bridges hold their own street parties as boats with DJs and performers pass by.
Our Amsterdam Hotel Pick: The Albus offers stylish accommodations in the city center, and is within short walking distance of Amsterdam's gay bars on Reguliersdwarsstraat.
Malta Pride
https://www.instagram.com/p/Bt-kHBwHIhn
The tiny Mediterranean nation of Malta will be bursting with LGBTQ+ Pride come September. Unbeknownst to many outsiders, Malta legalized same-sex marriage in 2017 and is a welcoming destination for LGBTQ+ travelers. Set to run from September 6 through 15, Malta Pride will feature events and street parties across the two main islands — Malta and Gozo. The Pride March will navigate the historic cobblestone streets of Valletta on September 14. Other offerings include cabaret at the Orpheum Theatre, art and film exhibitions, yacht parties, a fashion night, and a soccer tournament. Malta's stock of LGBTQ+ bars is somewhat limited, with several mainstays closing recently. However, Michelangelo in St. Julian remains a popular gay dance club, and Lollipop organizes periodic parties and theme nights around Malta.
Our Malta Hotel Pick: Situated just outside Valletta's historic city center, the Excelsior Grand Hotel has its own private beach, stunning harbor views, and an ideal location for exploring on foot.
Formosa Pride, Taipei
https://www.instagram.com/p/BpySVMIh79u
Taiwan made history as the first Asian nation to legalize same-sex marriage on May 17, 2019. Taiwan's capital, Taipei, already boasts the largest Pride in Asia, so it's expected that this October's celebration will be the most vibrant Pride in the continent's history. The festival, known as Formosa Pride, is slated for October 24 through 27. Given Taiwan's volcanic topography, there's even a themed party — Rainbow Soup — at a nearby hot spring. The full schedule has yet to emerge, but it's certain that Taipei's LGBTQ+ hub in the Red House district is going to be in full swing. Here, you'll find over 25 gay bars ranging from casual karaoke spots to dance clubs with go-go dancers to grungy leather watering holes. Most venues include expansive outdoor terraces with cafe-like seating, where Taipei's hip youth sips cheap beer and cocktails into the early morning hours. Taipei Pride is a far cry from those found in New York or major European cities — turnout is estimated to be around 80,000 people. However, the more relaxed atmosphere makes it easier to mingle and get to know an often-overlooked LGBTQ+ hotspot.
Our Taipei Hotel Pick: The Palais de Chine offers comfort and a convenient location near the metro and within walking distance of museums, temples, and the gay bars in the Red House district.
You'll Also Like:
All products are independently selected by our writers and editors. If you buy something through our links, Oyster may earn an affiliate commission.