In our humble opinion, autumn is the perfect time for a trip; the crowds of summer are gone and the cold snap isn't close enough to be acknowledged as a real threat -- yet. So considering all this, Columbus Day weekend falls (get it?) in a sweet spot, making it the ideal time to take a quick trip.
Now, did you know Columbus never set foot on the U.S. mainland? That his hair had gone completely white by the time he was in his thirties? Or that he was the eldest of five siblings? Maybe yes, maybe no, whatever -- because whether you're a Columbus nut or not, there is no better time to head off on a getaway embracing all the tradition and culture (not to mention fall colors) of the country he "discovered."
So make like Christopher and get your exploring game on with these five colonial destinations for Columbus Day weekend.
There's a reason Boston is number one when it comes to colonial-inspired activities — and it has everything to do with the famous Freedom Trail. If you haven't visited the Massachusetts city before, well, you're in for a good time and a history lesson to boot. Take the Freedom Trail Tour led by a "genuine" historical character from the period (this writer did and if you're out there Isaiah Thomas, thank you) and see the graves of Samuel Adams and John Hancock, as well as the scene of the battle of the Old South Meeting House, plus Paul Revere's House, the oldest remaining structure in downtown Boston.
And when you're tired of history and culture, you can stroll the old cobbled streets, visit the country's first public library, and take in the always inspiring Boston Institute of Contemporary Art. Oh, wait: That's yet more great history and culture.
Hotel Pick:
The colonial settlers who chose Newport to set up their new liberal community, established in 1639, picked well. The relaxed, charming small town provides a great antidote to the stresses of every day life. If you're on a budget, then know that a lot of the great aspects of Newport are to be found outdoors for free. For instance, spend a large chunk of time walking the famous ocean-side coastal walk and exploring the peninsula of Sachuest Point National Wildlife Refuge.
Rusty fall colors should be heating up to deep oranges and reds by mid-October and when you're ready to head inside, get cozy with some awesome seafood — specifically lobster — at the likes of the Brick Alley Pub. Eat too much and then walk it off with yet more hiking as you take a surreptitious tour of the stunning Newport mansions before heading to neighboring Saunderstown to see the home of Gilbert Stuart — the man who painted George Washington's portrait for the one dollar bill.
Hotel Pick: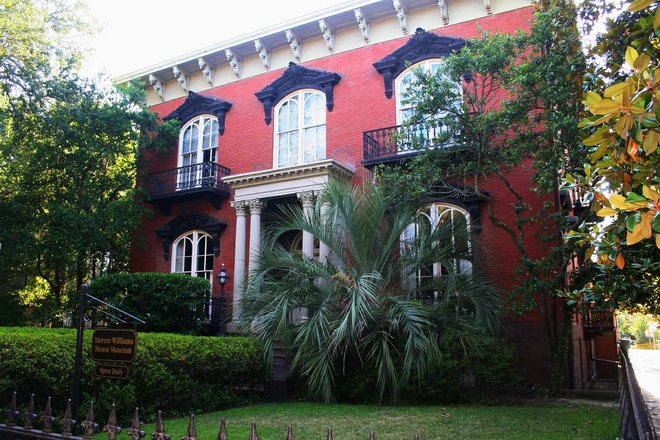 Visit Savannah for Columbus Day weekend and even once you've experienced the charm of the history of Georgia's "Hostess City," there's still the hipster side to explore. On the side of history, the city boasts stunning churches like the Independent Presbyterian, tranquil squares featuring the quintessential drooping Live Oak trees of the South, the historic Mercer house, and a whole lot more. Next comes the hipster, less Columbus-like side. Thanks in part to the presence of the Savannah College of Art & Design, an established creative community calls the city home, which means plenty of good coffee shops, vintage stores, a great art scene, and microbreweries like the Southbound Brewing Company to test out.
Hotel Pick:
Since its colonial origins, Philadelphia has given the world many firsts — root beer and the slinky just two of them. And while it's undoubtedly one of America's most important historical cities (birthplace of the nation, anyone?), you'll find much more in Philly than the Liberty Bell for a ding-dong Columbus Day weekend.
Naturally, you'll want historic culture — so go visit the Liberty Bell Center, take the Philadelphia Trail, and hit up Independence Hall; but make sure to indulge in everything else that the vibrant city has on offer. Think clear, crisp sunsets at Benjamin Franklin Bridge, climbing the "Rocky Steps" at the Philadelphia Museum of Art, and a good dose of that sweet fall foliage at Longwood Gardens.
Hotel Pick:
While Washington, D.C. might be the obvious place to end our list, we thought we'd opt instead for New Orleans, a city whose awesome colonial architecture gets even more beautiful when surrounded by fall colors. Along with the grand buildings bathed in mid-October sun, the beautiful sights of Cypress trees turning burnt orange, and rusty leaves dropping into the Mississippi, the Creole city is the perfect Columbus Day vacation spot because it loves a festival — so you can be sure of finding something special going on.
It's fall and the temperatures have dropped, so bunking down in a stylish French Quarter hotel is one way to enjoy part of the weekend away, but the rest of the fun of New Orleans is out on the streets and in the bars. Catch a brass band at the House of Blues, take a jazz ferry cruise, drink Sazeracs — what else? — at the Roosevelt Hotel's Sazerac Restaurant, eat a fried shrimp po' boy at the famous Parkway Bakery & Tavern, and finish up with yet more food, drink, and music at Beignet Fest — New Orleans' official 133rd annual festival — on Saturday, October 8.
Hotel Pick:
Related Links:
All products are independently selected by our writers and editors. If you buy something through our links, Oyster may earn an affiliate commission.