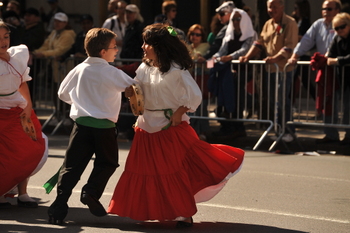 We all know the rhyme (or you really should): In 1492, Columbus sailed the ocean blue — and people have been celebrating his discovery of the "New World" ever since. But no one showers the famed Genovese explorer with more praise than his Italian compatriots. From coast to coast, Italians celebrate their rich heritage, vibrant culture, and noteworthy achievements (chief among those being the conviction that the world is not, in fact, flat) on Columbus Day with parades, music, and feasts. And the bastions of Italian culture — America's Little Italys — are the sites of some of our favorite festivities and traditions. We've picked out the best places to march and mangia in these old-world enclaves, as well as our favorite spots to bed up for the night after indulging in plenty of pasta, pastries, and vino. Cent'anni!
Manhattan's Little Italy
Bordered by Chinatown to the East and fashionable SoHo to the West, Manhattan's Little Italy today is a mere shadow of the expansive and robust neighborhood it once was. But, as any Italian knows, it's not the size that matters, but what you do with it. And New York Italians do it up big time, ladies and gentlemen. [Ed. Note: Being an Italian-American from Staten Island, I may be just a tad biased — just a tad.] Serving up some of the best Italian food in the City, prepared the old-fashioned way, and exuding Italian flair from one outspoken maitre d' to the next, Little Italy is a must-visit after marching in the Columbus Day Parade on Oct. 8th. Here are some of our favorite hidden stops:
Il Cortile: The inspiration behind the Billy Joel hit, "Scenes from an Italian Restaurant," Il Cortile is an upscale staple of Mulberry Street. Its charming courtyard and Southern Italian fare attract many celebrities, including Donald Trump and Robert DeNiro.
Di Palo's Fine Foods: This incredible Italian market, opened in 1914, imports foods from all 20 regions of Italy. A wide array of cured meats, 300+ imported cheeses, handmade ravioli, and an endless bevy of antipasti line the shelves.
Lombardi's Pizza: New York City pizza is the best in the country, hands down. (Sorry, Chicago.) And this pizzeria put the neighborhood on the culinary map back in 1895.
Just a short walk from Little Italy's main thoroughfare, the Mondrian Sohois a stylish hotel, featuring small, beautiful rooms, high-tech amenities, and floor-to-ceiling windows with jaw-dropping views. And, if you haven't stuffed yourself with enough Italian fare off the street, the Isola Trattoria & Crudo Bar will do the trick.
Boston's North End
This historic neighborhood, one of the oldest in the city, is lined with cobble-stoned streets and gorgeous old buildings — not to mention picturesque views of Boston's harbor. Italians first began settling the area in 1860, working predominantly as fruit and vegetable vendors and peddlers of wine, cheese, and olive oil. Today, their ancestors own a myriad of Italian cafes and restaurants — numbering over 100 — that attract tourists and locals to this quiet quarter of the city. In addition to a parade throughout the North End, entertainers will gather in Christopher Columbus Park on Monday, and a harvest festival will take place south of the city this weekend. Here are some of our other favorite spots to celebrate:
Cantina Italiana: Serving up bombolotti — a pasta unique to this North End eatery — this landmark restaurant opened its doors in 1931 and has been satisfying customers ever since.
Caffe Vittoria: Boston's original espresso bar puts any Starbucks to shame with its scrumptious homemade pastries and time-perfected cappuccinos and espresso. The intimate, old world vibe is perfect for romancing.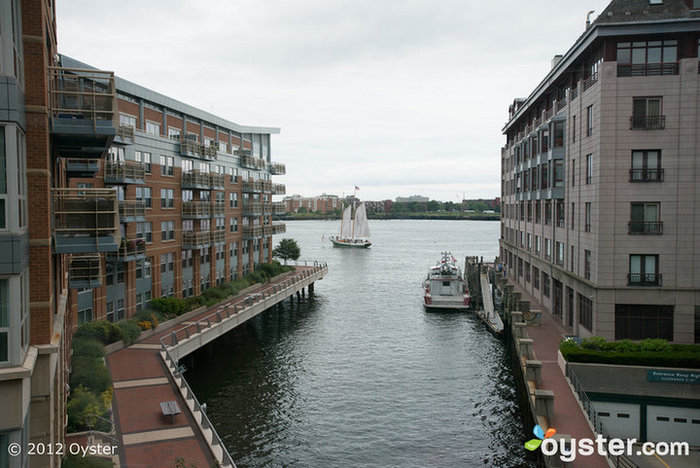 Located within walking distance of Boston's Little Italy, the Fairmont Battery Wharf has excellent harborside views, spacious rooms, a luxe spa, and a celebrated on-site restaurant.
Providence's Federal Hill
Italians have long cherished la pigna, or the pine cone, as a symbol of abundance and hospitality. So it's fitting that the sight of one welcomes visitors to the Federal Hill neighborhood in Providence. The main thoroughfare here is Atwells Avenue, where countless Italian restaurants and shops compete for business. Together, however, they form a community that supports DePasquale Square, a piazza with flowers, opera singers, and of course the requisite fountains and cafe tables throughout. The Annual Columbus Day Festival takes place Oct. 6th through 8th this year, with over 100,000 people expected to attend the parade and festivities. Here are some of our favorite spots to chow down:
Scialo Bros. Bakery: Making traditional Italian pastries since 1916, this family-run bakery has a following — a major following. Getting through the door on a weekend morning might set you back an hour, but once you take a bite of their biscotti, you'll know it was worth it.
Venda Ravioli: What was once a cramped, one-room shop is now the premier spot to shop for Italian delicacies on Federal Hill. With a prime location on DePasquale Square — and a cafe, gelato bar, and espresso bar on site — this huge food emporium stocks imported goods and tasty homemade treats.
The entrance to the Hotel Providence is classic and quirky at once.
This 80-room boutique provides a mix of traditional European and New England styles, with an old-fashioned vibe that's fitting for the holiday. The hip restaurant at the Hotel Providence is a draw, as is its central location and pet-friendly attitude.
Chicago's Little Italy
Each year, Chicago's Columbus Day Parade winds its way down the aptly named Columbus Drive. The main hub of the city's Little Italy, however, is Taylor Street, which is part of the larger Near West Side area. Rife with restaurants and cafes, the area is also home to the Italian American Boxing Hall of Fame and the National Italian American Sports Hall of Fame. These unique spots are worth a visit in the Windy City. Here are some of our other go-to places:
Conte Di Savoia: A quality Italian deli on Taylor Street since 1948, Conte Di Savoia offers some of Chicago's best sandwiches and salads, as well as Italian specialties and imports.
RoSal's: A beloved Sicilian eatery in the heart of Chicago's Little Italy, RoSal's is all about keeping the "old neighborhood" alive. Chow down on simple traditional fare surrounded by black and white photos from days past.
The Club Lounge at the Blackstone is a lovely spot to relax after a filling day.
The quirky, 328-room Blackstone hotel across from Grant Park — home to the Columbus Day Parade — mixes contemporary style with the building's restored historic grandeur. Some of the bright, modern rooms have great views of Lake Michigan (and the parade) and the on-site restaurant attracts tourists and locals alike.
San Diego's Little Italy
Formerly a quiet Italian fishing neighborhood, the scenic area of downtown San Diego is now home to a bevy of restaurants, shops, art galleries, and even home design stores — but it still celebrates its Italian roots. The Little Italy Association hosts many festivals throughout the year — including a huge one for Columbus Day (on Oct. 14th this year) that will feature three stages of music, cooking demonstrations and contests, an Italian motor sports exhibit, and a bocce ball tournament — as well as a weekly Italian farmer's market. Here are our favorite spots along the way:
Filippi's Pizza Grotto: The DePhilippis moved to San Diego from their Bronx neighborhood in 1950 and opened an Italian grocery store that catered to the local fishermen, with sandwiches and small pizzas. The business has since expanded but the food hasn't changed a bit — and that's definitely a good thing.
Solunto Baking Co.: This landmark bakery, once frequented by Frank Sinatra, makes the best Italian breads around — sans sugar, additives, or preservatives. It boasts an old-school take on health, but the homemade pizza, sausages, and arancini (or riceballs) are sure to be rich in recompense.
The Glass Door restaurant at the Porto Vista Hotel has excellent views of the bay.
A good value with a solid list of freebies (including breakfast, yoga classes, and Wi-Fi), the Porto Vista is conveniently located in Little Italy, within steps of this year's festivities. Rooms feature cool decor with retro floor-to-ceiling photo murals, there is a 24-hour fitness center on-site, and the restaurant has lovely views of the bay.
RELATED LINKS:
All products are independently selected by our writers and editors. If you buy something through our links, Oyster may earn an affiliate commission.