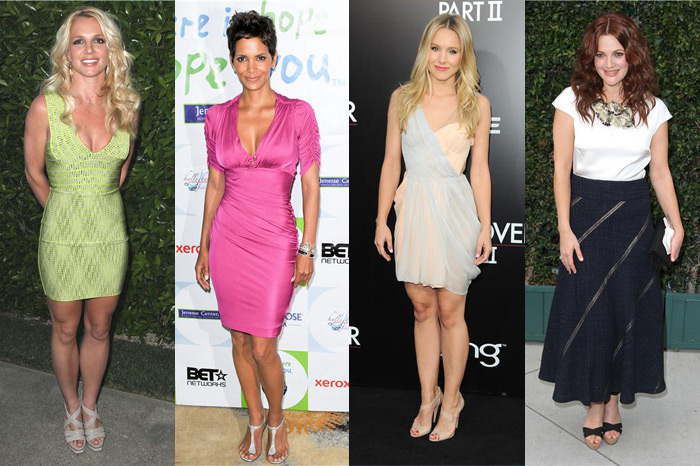 Sure, there have been some celebrity breakups that have devastated us — but there's not just bad news coming from Tinsel Town. In fact, some of our favorite celebs have recently gotten engaged. Declaring their undying love — and their belief that "this time it'll work" — stars including Drew Barrymore, Britney Spears, Halle Berry and Kristen Bell have all vowed to say "I do." And we couldn't be more thrilled — we want to celebrate with them! So we figured if we did the legwork of finding the perfect spot to play host to each of the celebs' bachelorette parties, then they'd have to send us an invite, right? Even if we don't snag a coveted offer from one of the ladies, at least we'll have some inspiration for planning our own fetes.
Drew Barrymore should kick back in Palm Springs…
The rumors are yet to be confirmed but ever since Drew was spotted with a sonogram in hand, we're considering it (nearly) 100% official — she's pregnant with her first child and engaged to (super-cute) art consultant Will Kopelman. So rather than a raucous weekend in Vegas, this expectant bride-to-be should head to a relaxing spot and get loaded — on some R&R, that is. Just a short drive from L.A., the Parker Palm Springs is a great choice for a mellow, yet still indulgent girls' getaway. Drew can indulge in a pre-natal massage at the hotel's top-notch spa followed by yoga with friends — and spend the entire weekend sipping free lemonade in a poolside cabana. When it's time to let loose, the bridal party can stop by the hotel's hip bar – as long as Drew sticks to virgin cocktails. And with Jessica Simpson recently babymooning at the property, this spot already has a celeb's stamp of approval.
Halle Berry should hang out in Paris…
Now engaged to French actor Olivier Martinez, Halle will want to show off her fiance's homeland to friends — and what better way to experience The City of Lights than at the extremely lavish Hotel Le Bristol. Halle can treat her party to a fabulous meal at the hotel's Epicure restaurant, which has three Michelin stars, as well as luxe treatments at the Spa Le Bristol. Daughter Nahla can join, too — children at the hotel are given their own stuffed animal at check-in; plus, the kids' club — adjacent to the spa — has plenty to offer in terms of activities and toys. At the end of the day, everyone can get wet — Hotel Le Bristol is one of just a handful of Parisian hotels that has its own pool.
Britney Spears should let loose in Jamaica…
2011 ended well for Brit Brit (who's had her share of rough times). Not only did she wrap her hugely popular Femme Fatale tour, but she also got engaged to her former manager, Jason Trawick. So 2012 calls for a celebration, and the Geejam in Port Antonio, Jamaica is a secluded luxury spot with just five cottages removed from the watchful eye of the paparazzi that's perfect for getting wild on the DL. Britney and her entourage can relax on the beach at Frenchman's Cove — one of the world's most beautiful — and take in a prime sunset from one of the rooms' private balconies. Plus, the hotel has its own on-site recording studio so Brit can lay down some tracks — and maybe even a hot new single!
Kristen Bell can host an eco-friendly fête in Costa Rica…
Thanks to her fiance Dax Shepard, we all now know how much Kristen Bell loves sloths. That's why we've picked the Lapa Rios Ecolodge in Costa Rica for her bachelorette party getaway. Located in the remote coastal rainforests of the Osa Peninsula, the Lapa Rios is Costa Rica's original luxury ecolodge. The 16-bungalow lodge sits amid 1,000 acres of rainforest filled with wildlife, but it's far from a no-frills jungle camp. There are many comforts here, including a pool overlooking the ocean, a splendid restaurant serving sumptuous cuisine, and rustic-luxe rooms with private decks. Walking around the property, guests can easily spot toucans, scarlet macaws, three-toed-sloths (Kristen's fave), poison dart frogs and four species of monkeys.
RELATED LINKS:
All products are independently selected by our writers and editors. If you buy something through our links, Oyster may earn an affiliate commission.