One of the world's most romantic and stunning places, Bora Bora is a popular island in French Polynesia that largely attracts honeymooners. Home to those famous overwater bungalows, rich marine life easily observed via snorkeling or scuba diving, and awe-inspiring turquoise waters, there's a lot to love about this island destination. Arguably the best spot to take in these striking vistas is from a pretty beach, which, while in short supply on Bora Bora's mainland, are found at the resorts located on private motus (islands). Take a look at our picks for the 10 most beautiful beaches in Bora Bora.
1. Matira Beach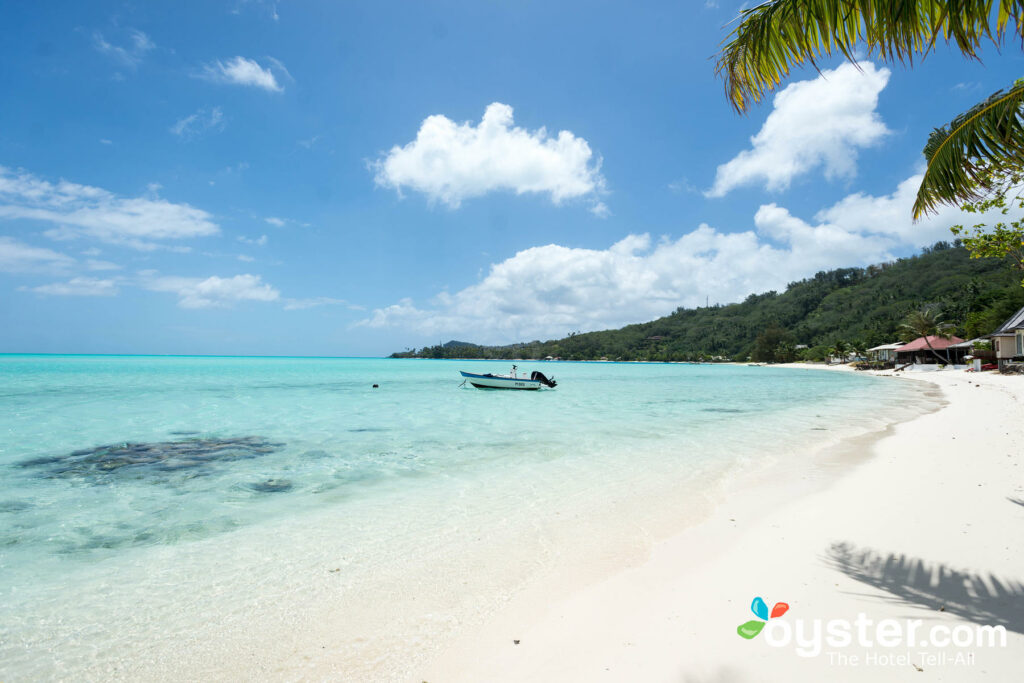 Located at the southern tip of Bora Bora's mainland, Matira Beach is often regarded as one of the most beautiful beaches in all of French Polynesia. It's the only real stretch of beach on the mainland, and given that it's open to the public, it attracts a mix of locals and tourists. White sand and clear, calm water combine for a breathtaking vista. The beach wraps around a peninsula, and it's a popular spot for watching the sunset, snorkeling, and topless sunbathing.
Book Your Hotel Stay:
2. Beach at the Four Seasons Resort Bora Bora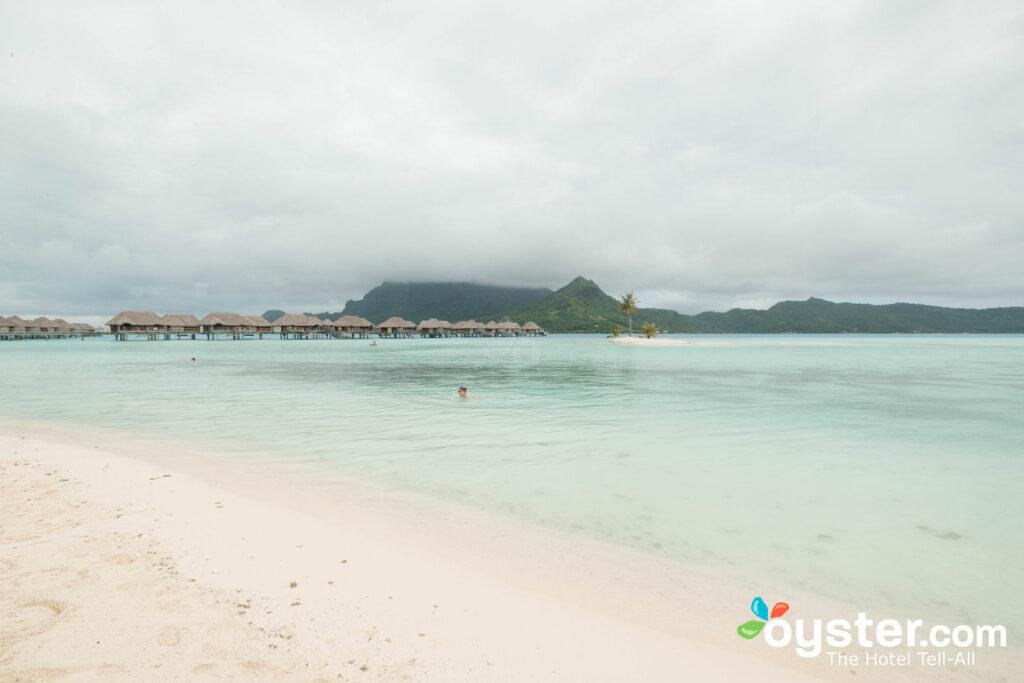 Located on a private motu about a 15-minute boat ride from the airport, the Four Seasons offers stunning views of Bora Bora's famous Mount Otemanu from its lovely beach. The long, soft stretch of sand abuts calm water that's ideal for swimming, plus there's a small beach purely dedicated to water sports, like kayaking, paddleboarding, and water biking.
Book Your Hotel Stay:
3. Beach at the Conrad Bora Bora Nui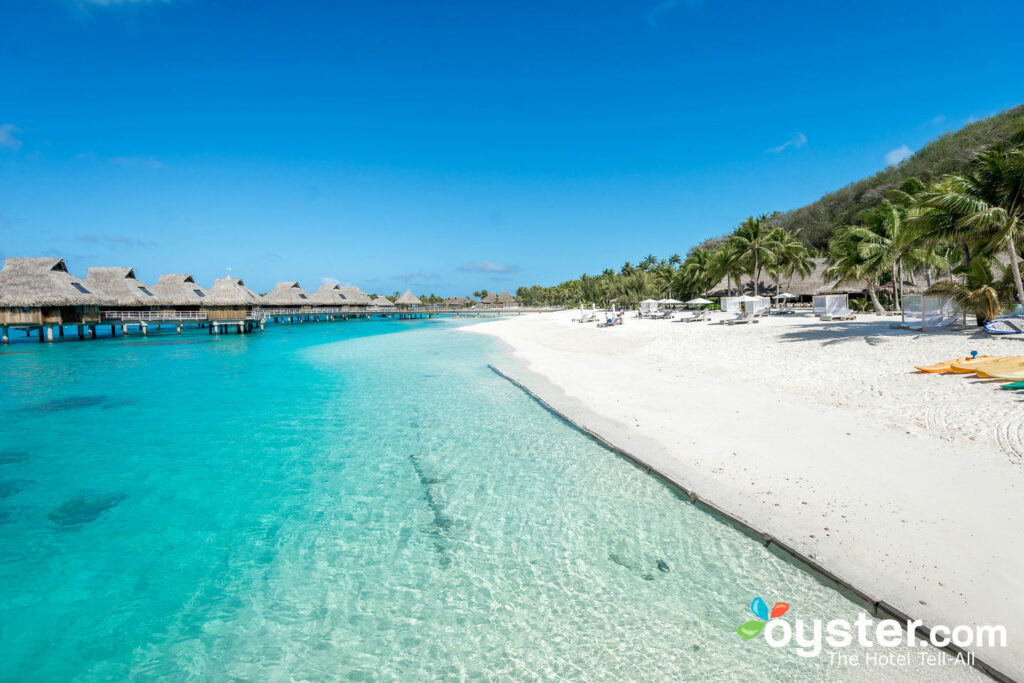 Unlike most properties that have beaches facing Bora Bora's mainland, the Conrad faces the lagoon, offering uninterrupted ocean vistas. Two long stretches of soft white sand are on either side of the main arrival walkway, and beaches are lined with cushioned loungers under umbrellas, plus a handful of shaded cabanas. Some bungalows provide direct beach access and a selection of free-to-use non-motorized water sports equipment, including kayaks, snorkeling gear, and pedal boats.
Book Your Hotel Stay:
4. Beach at the Bora Bora Pearl Beach Resort & Spa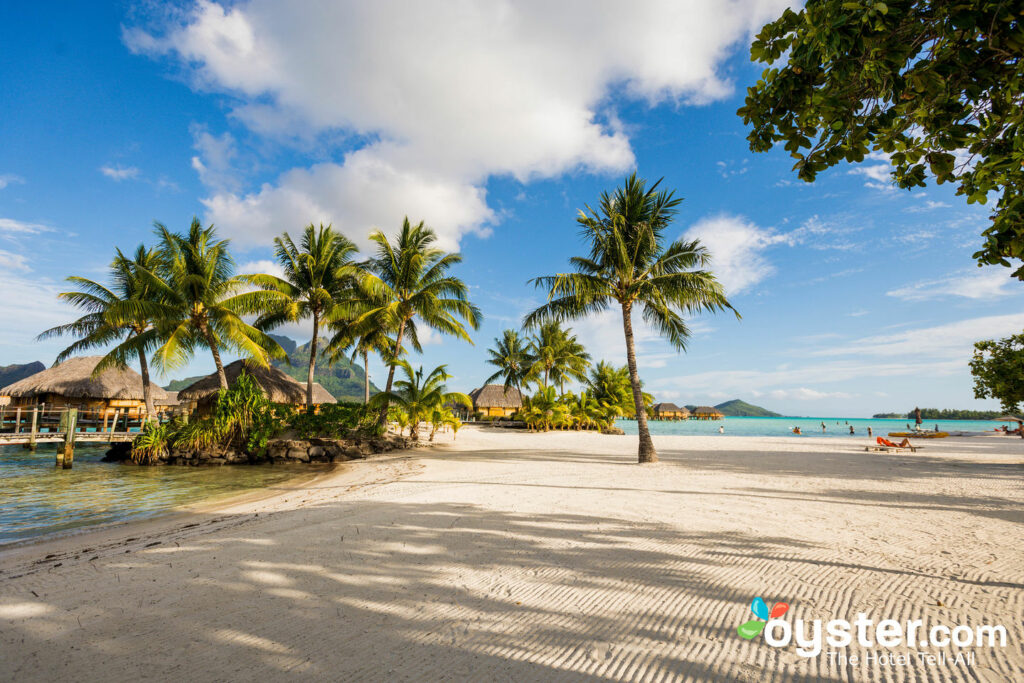 Occupying its own private island, the Bora Bora Pearl Beach Resort features a long and wide stretch of beach with breathtaking vistas of a coral garden, overwater bungalows, and Mount Otemanu on Bora Bora's mainland. Loungers, umbrellas, and hammocks make taking in the vista hassle-free, though many visitors opt for one of the free kayaks or stand-up paddleboards for a full panoramic view of the beach and surrounding scene.
Book Your Hotel Stay:
5. Beach at the St. Regis Bora Bora
Just south of the Four Seasons, the St. Regis Bora Bora has three stretches of alluring soft sand. Facing Mount Otemanu, the beach is wide and calm, suitable for quiet relaxing on hammocks, or activity via Hobie Cats, paddleboards, kayaks, and pedal boats.
Book Your Hotel Stay:
6. Beach at Le Meridien Bora Bora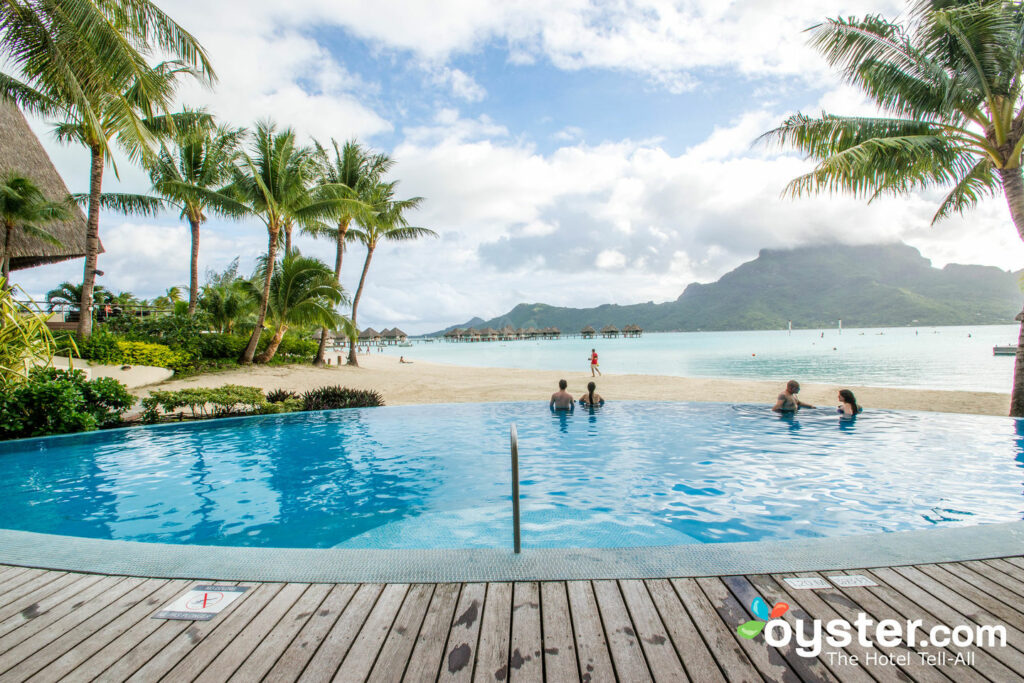 Again moving south, Le Meridien Bora Bora has a large, crescent-shaped beach that lies between its bungalows. It faces Mount Otemanu on one side and the hotel's protected interior lagoon on the other (the latter is an excellent spot to see marine life while snorkeling). Whether having a wedding ceremony, enjoying morning yoga, or simply plopping down on a lounger under a palm tree, the white-sand beach is a pretty setting for numerous island activities.
Book Your Hotel Stay:
7. Beach at InterContinental Bora Bora Resort & Thalasso Spa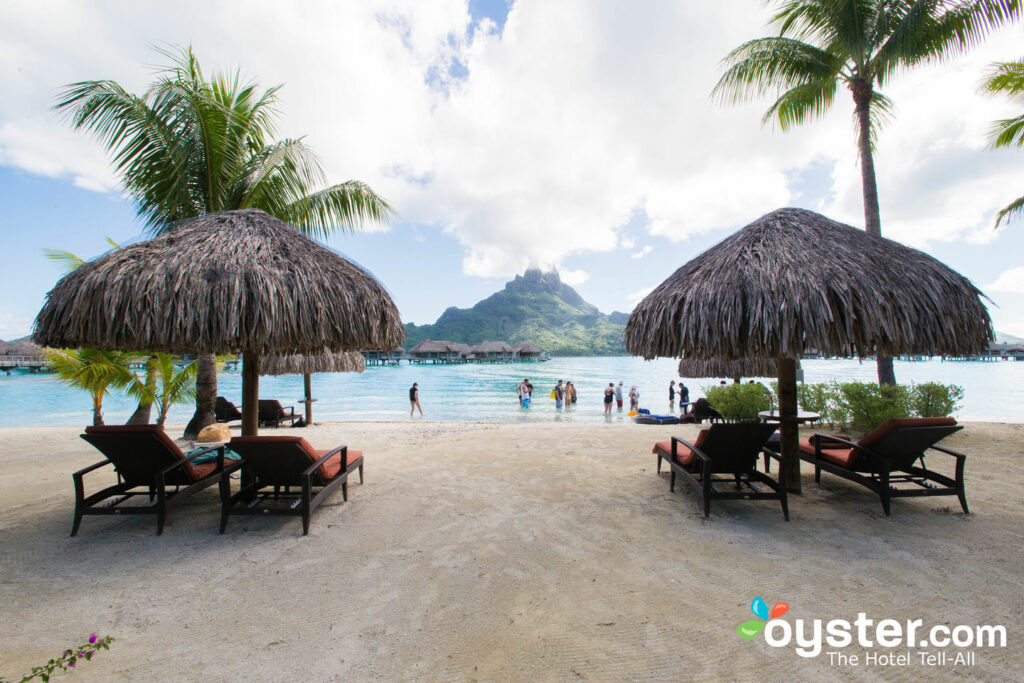 Neighboring InterContinental Bora Bora Resort & Thalasso Spa's beach isn't quite as nice, but it's still a standout. The stretch of sand is lined with rustling palm trees and straw umbrellas, and views stretch from the shore's pebbles to turquoise water to lush mountains. Calm water is perfect for snorkeling, paddleboarding, and kayaking, or visitors can sway in a hammock between the trees. One of the more popular things to do here is watch the daily stingray feeding.
Book Your Hotel Stay:
8. Beach at Pension Alice et Raphael
On a private motu in northern Bora Bora by the airport, Pension Alice et Raphael has a small beach, but it's beautiful and all but deserted, thanks to the two-room capacity. The small white-sand shore overlooks Mount Otemanu and Bora Bora's famed crystalline lagoon, providing visitors with a peaceful place to relish in the picturesque island.
Book Your Hotel Stay:
9. Beach at the Blue Heaven Island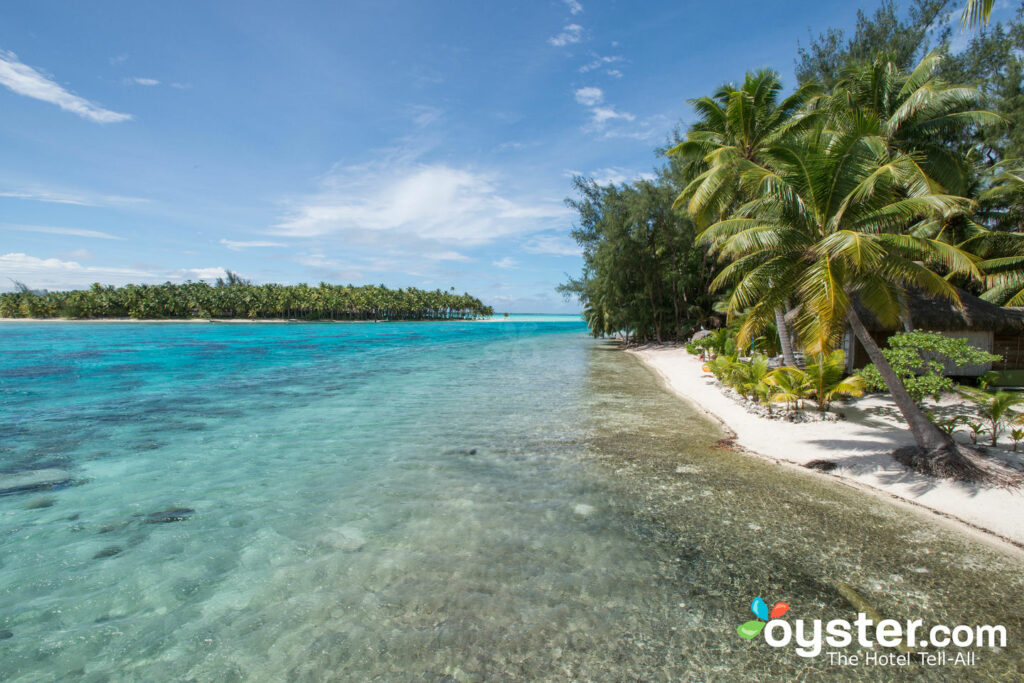 On the other side of the airport is Blue Heaven Island, with a secluded setting on a private motu. The rustic property offers Bora Bora visitors a less touristy beach getaway, with its beautiful — albeit narrow — stretch of white sand and rocky shoreline. Great snorkeling conditions mean guests can see giant eels, stingrays, reef sharks, and coral. A few beach chairs and kayaks are sufficient given there are only five wooden huts here.
Book Your Hotel Stay:
10. Beach at the Sofitel Bora Bora Private Island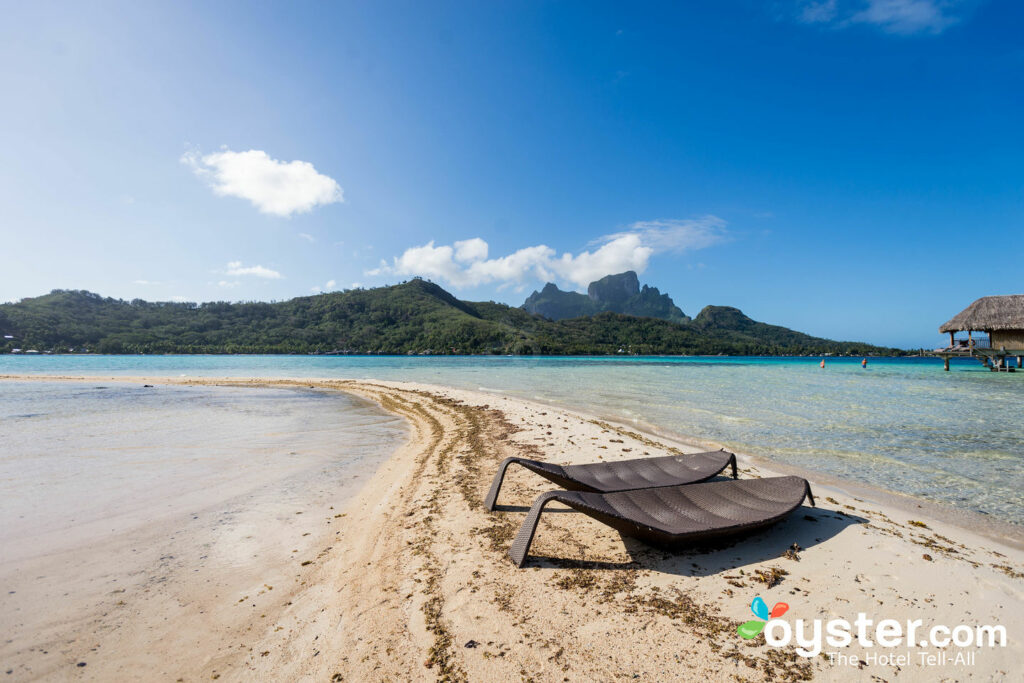 The beach at the Sofitel Bora Bora Private Island isn't the biggest or softest, but the resort's private island setting means it's quiet and has breathtaking vistas of the mainland. It snakes its way into the water, allowing visitors to lounge away from the resort. Calm, shallow water is warm around the beach and gradually gets deeper and cooler the farther out guests swim.
Book Your Hotel Stay:
You'll Also Like:
All products are independently selected by our writers and editors. If you buy something through our links, Oyster may earn an affiliate commission.