For your next 48-hour adventure, ditch the full-size, half-empty rolling suitcase for a versatile weekender bag. Typically made from canvas or nylon, spacious weekenders are meant to contain two or three days' worth of clothes, accessories, shoes, and toiletries in a top-zip main compartment with double handles. They're perfect for overnights and road trips; if your quick trip involves plane travel, weekenders can double as carry-ons and help you avoid . Take a look at some of our favorite weekender bags, the ultimate travel companion for short-haul getaways.
The foldaway travel bag is tough, but elegant and lightweight (under one pound, when empty), with an extendable section that increases volume by about a third — perfect for hauling back gifts, keepsakes, and duty-free purchases. When the extra storage isn't needed, the nylon bag folds flat or zips down to a smaller size. This style is more unstructured than other bags on this list; its body has two interior zippers, but no additional compartments or interior padding. Note that its straps are thin, but they're still comfortable on the shoulder.
Like the Aspire Tote, this two-size Longchamp carryall can fold flat when empty and enlarge as needed. Le Pliage has shorter top handles than the Victorinox version, but it adds an adjustable and removable canvas shoulder strap and water-resistant lining, plus leather trim. It's nearly a full pound heavier than Victorinox's (1.7 versus 0.8 pounds), and its higher price makes it more of an investment piece. But this highly useful expandable bag will last pretty much forever — the strong nylon is super-resistant to wear and tear — and makes a great personal item for flights.
In terms of carrying options, Herschel's durable duffle pulls out all the stops: It has grab handles on the top and both ends and a shoulder strap that can be adjusted or detached. But the real clincher here is the bag's straps on the bottom side that convert it into a backpack. Other cool details include a side shoe compartment and a clip-in laundry bag. Drawbacks are the weight (three pounds, empty) and lack of exterior pockets.
Under Armour's water-resistant weekender looks similar to Herschel's Outfitter, but there are some key differences. At just under two pounds, this duffel's baseline weight is about 30 percent less than the Outfitter's. There are not one, but two outside zip pockets for easily retrieving small items like boarding passes and headphones — a convenience not found on the Outfitter. Plus its inside has way more compartments, including a large slip pocket against the back wall, three mesh slip pouches, and two zippered compartments. But unlike the Herschel Outfitter, this style doesn't have a dedicated shoe compartment, backpack straps, or side grab handles. (You can still mix up how you carry it, with two shoulder straps and an adjustable cross-body band.)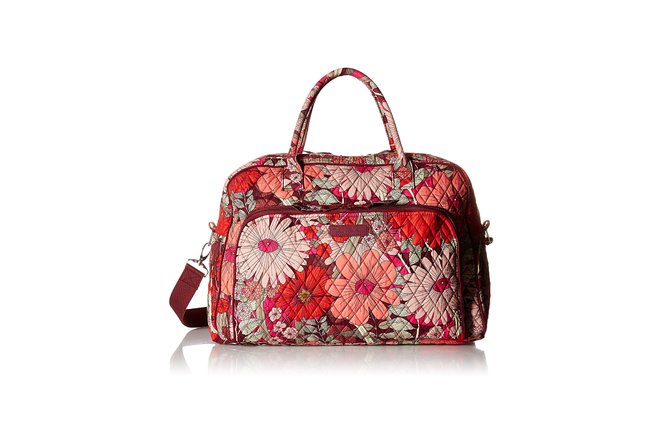 Bold and intricate flower prints may not be for everyone, but Vera Bradley's bags have earned a cult following for their excellent combination of strength, lightness, and malleability (and, yes, collect-'em-all patterns in bright colors). The quilted fabric is sturdily stitched and easy to wash, and it's soft enough to bend, but beefy enough to hold its shape. This particular style has pockets galore: three along the outside (perfect for cell phones and boarding documents) and six inner pockets. Both the inside and outside have one zippered compartment. The body can fit multiple outfits, and has a firm base for extra protection.
You'll Also Love:
Oyster.com is a participant in the Amazon Services LLC Associates Program, an affiliate advertising program designed to provide a means for sites to earn advertising fees by advertising and linking toAmazon.com.
All products are independently selected by our writers and editors. If you buy something through our links, Oyster may earn an affiliate commission.